surround systems
Tower Speakers Surround Sound Systems: Upgrade Your Sound Game.
Experience a new level of sound with our tower speakers surround sound systems. Whether you're listening to music, watching movies, or gaming, these powerful speakers will immerse you in a rich, surround sound experience.
With sleek design and superior audio quality, our tower speakers are the ultimate addition to your home entertainment setup. Upgrade your sound game today and elevate your listening experience.
Getting the best tower speakers to surround sound systems can be very complicated.
There are a lot of sound systems out there that pose to be the best and as such it will be difficult for less-experienced audio enthusiasts to discover the most suitable one which will be of great value to their budget.
Check out our review on Best Top Rated Bipolar Speakers
Well, we have done quite a couple of research to discover the best sound systems you should go for.
These products being reviewed here are suitable for any indoor audio purpose including gaming or playing back sound in any room size.
So, if you want to buy the best tower speakers and surround sound systems, here a handy article for you to follow.
Tower speakers surround sound systems review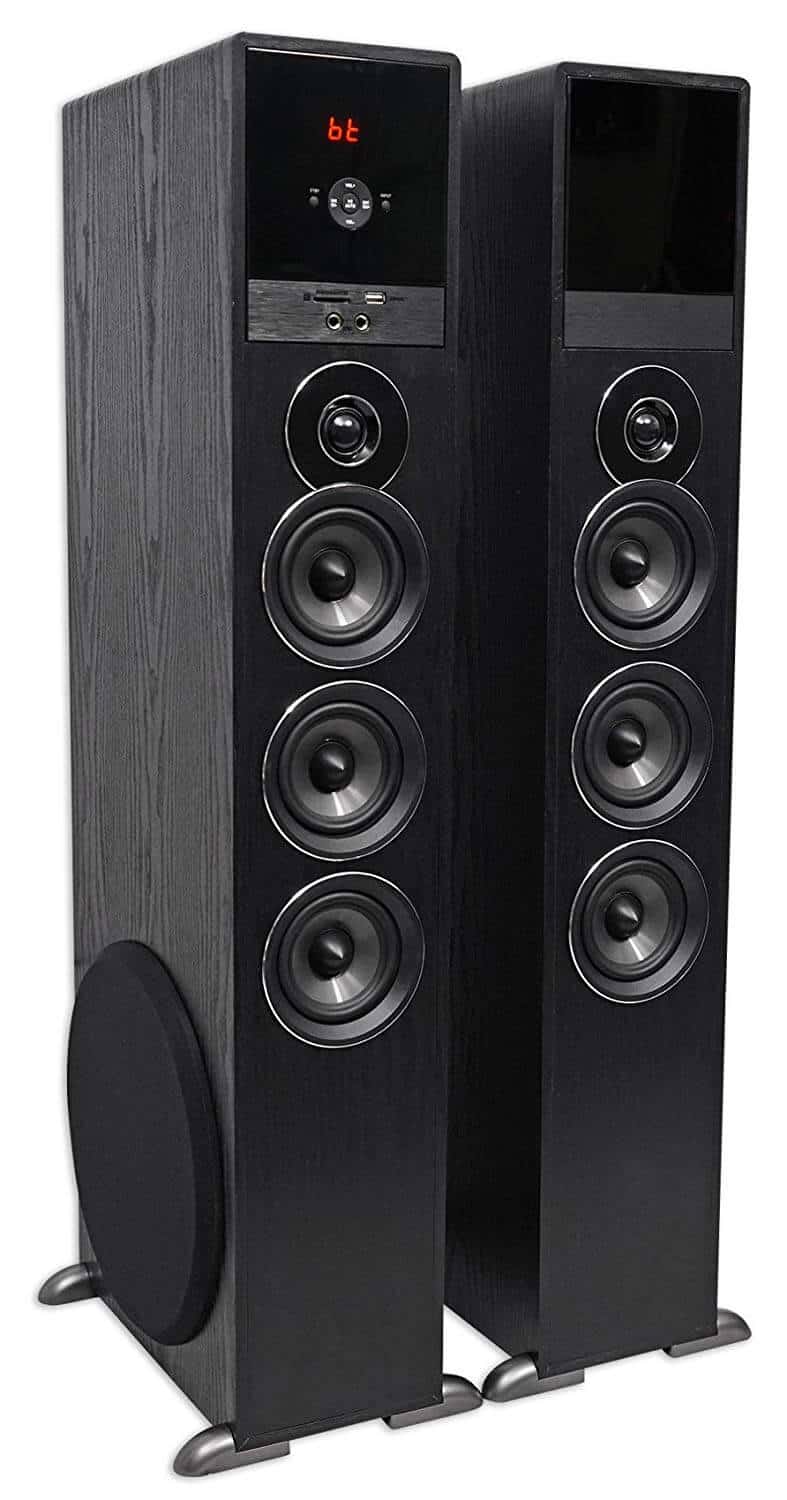 The brand name, Rockville is popular for making sturdy audio devices/equipment.
This tower sound system from the brand looks pretty at first and creates the impression of offering quality sound output.
Well, the Rockville TM150B tower sound system comes in pairs and is perfect for serving as surround speakers for any home theater system.
We found out that the installation process of this sound system is quite straightforward compared to a lot of other ones out there.
It comes powered with a 10-inch subwoofer for reproducing high-quality bass that will accompany the HiFi sound output.
This pair of speakers is sturdy being that they are designed with a robust cabinet.
Also, they feature a full range of drivers of about 4 inches (each), designed with polypropylene cones, rubber surrounds, and a billet dust cap.
A set of silk dome tweeters are available so you can listen to clear sounds even at incredibly high volume.
---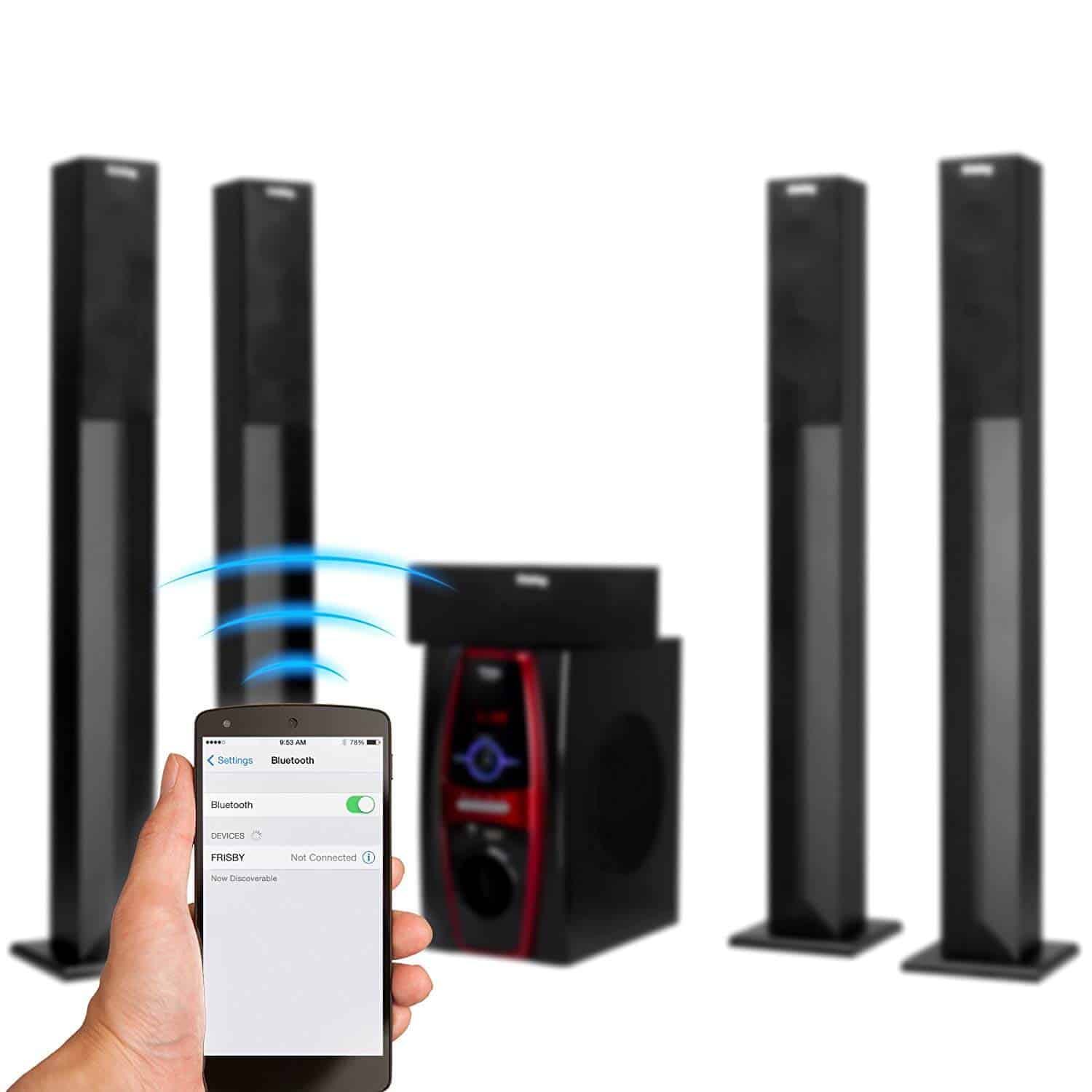 Here comes the best, complete surround sound system with up to four powerful tower speakers for immersive sound output.
The system is also compatible with Bluetooth-enabled devices so that users can playback the sound files they're streaming on a device directly from the speakers.
On the system lie quite a variety of input options which includes a typical USB 2.0 port, and an SD card slot.
You'll find the design of this sound system to be very attractive; it blends perfectly with several modern home décor.
We loved the tall surround speakers featured by this system. Frisby FS-6600BT is sold at a considerate price, and it is an all-in-one solution for home audio enthusiasts or audiophiles.
The sound output quality produced by the speakers of this surround sound system is high fidelity, thanks to the polished tweeters and sturdy bass architecture.
A 5.25-inch subwoofer driver hides inside the cabinet of this system's speakers which has an impedance rating of 8ohms, and an input sensitivity rate at 400mV.
While some individual tower speakers cost more than $200, this complete set comes at a price below that and still delivers great sound.
---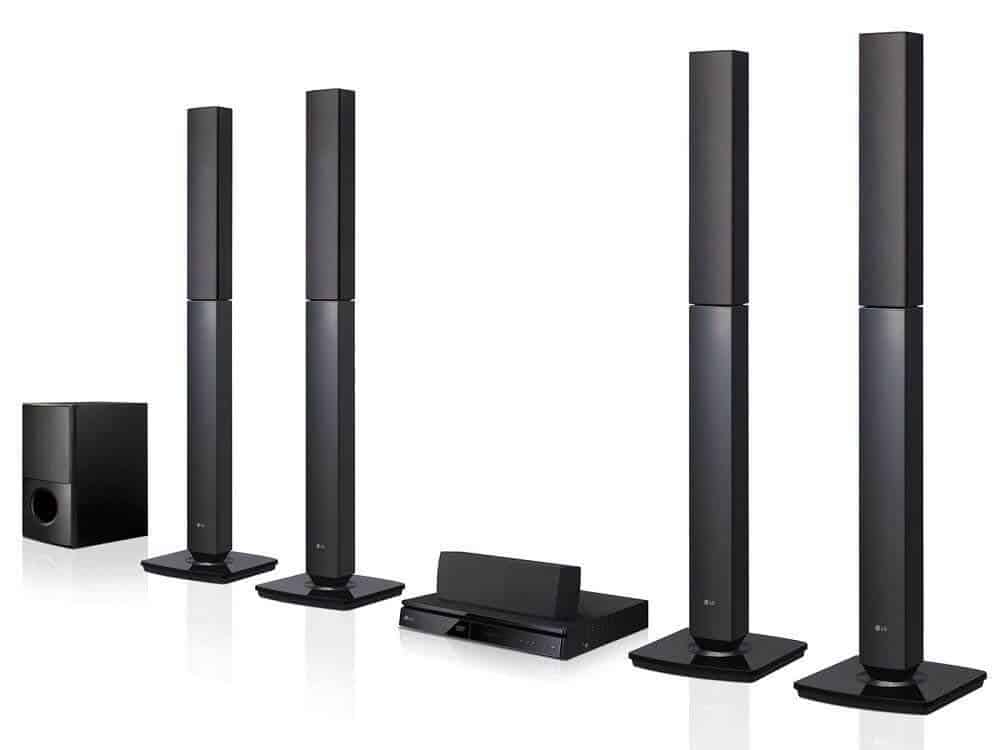 A lot of people already see LG as a brand that produces top-quality consumer electronics gear.
This set of tower speakers surround sound systems from the brand is slightly expensive but delivers exactly what you expected from a premium sound system.
The tower speakers that come along with this audio system are four in number; they play back your sounds with stunning clarity, even at high volumes from various input sources.
This is a region-free Home Theater system with support for PAL/NTSC. It'll work perfectly on all DVDs (Region 0-9), thanks to its inclusive DVD player.
One of the reasons to choose this surround sound system with angry tower speakers is due to the intuitive installation process.
Also, the system comes with a free HDMI cable for playing back the files saved on your PC directly. It supports Bluetooth connection too and lets you listen to radio channels.
---
4. Fluance SXHTBW High Fidelity Surround Sound Speakers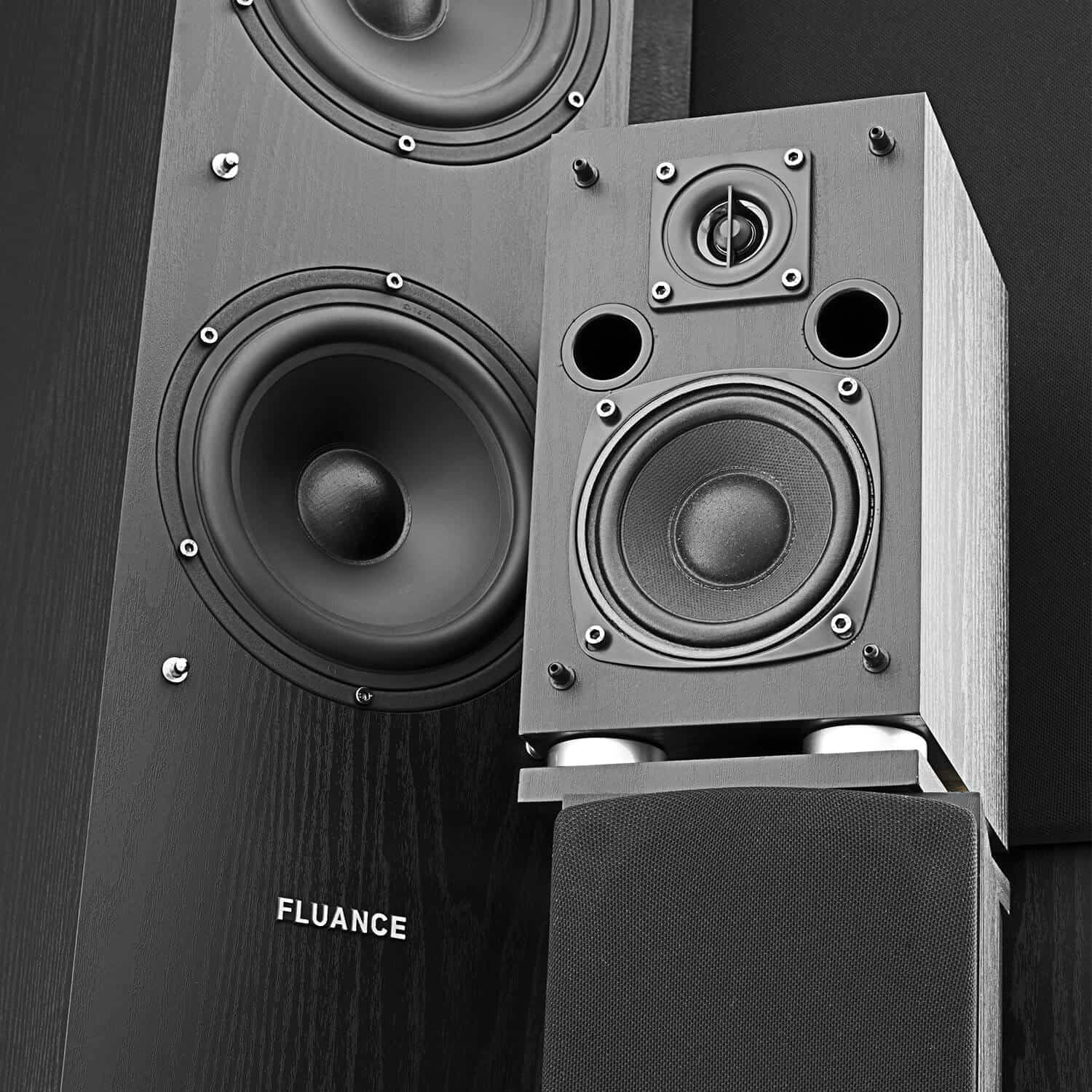 Here is another powerful set of tower speakers you can use for your home. This system comes with sturdy, HiFi speakers that are capable of reproducing any level of sound you wish for.
With this home audio system, you'll enjoy all your music and watch videos with unmatched pure sounds.
It comes with dual 6.5-inch active subwoofers that produce high-definition sound while utilizing low-frequency response.
Also, the cabinets of these speakers contained in this surround sound system set are designed with robust audio-grade MDF wood for minimal cabinet resonance and reproduction of pure sound.
The 1-inch silk dome tweeters help to balance sound output, thanks to the ferrofluid cooling mechanism that boosts the high-frequency response.
---
5. Premier Acoustic 5.1 Home Theater System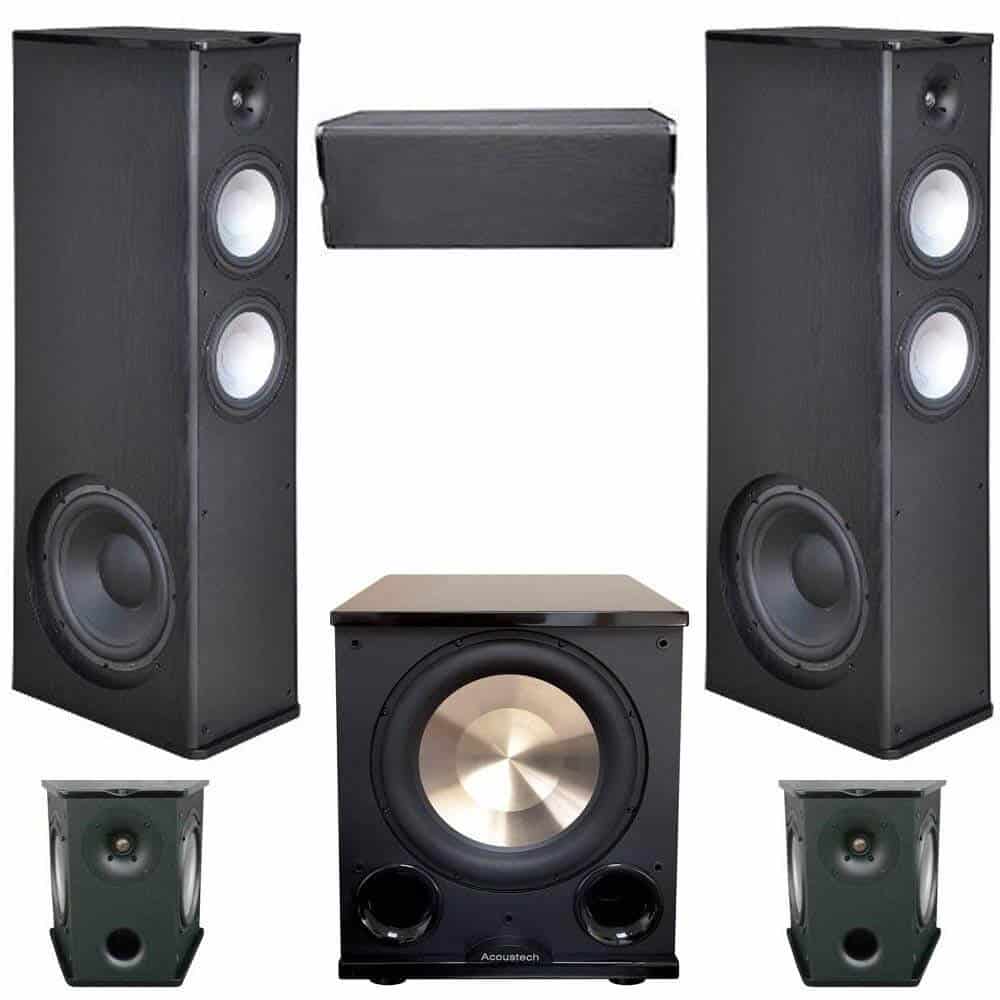 This surround sound system comes with the following components – double PA-8.12 Towers, dual PA-8S surrounds, and a single PA-8C center speaker accompanied by a single BIC/Acoustech PL-200II subwoofer.
The set delivers an incredible sound output that can fill any room size and the sound produced from the tower speakers are very clear/pure.
The Premier Acoustic sound system is quite expensive at the price, but it does deliver what you expected.
Its components are sturdy; the speakers are made with patented drivers to output a wide range of pure sounds irrespective of the equipment used.
Also, the design will perfectly blend with any home décor; the plain black finish is well-polished and even made the system appear stylish when you look at it.
---
6. BeFree home tower speakers surround sound system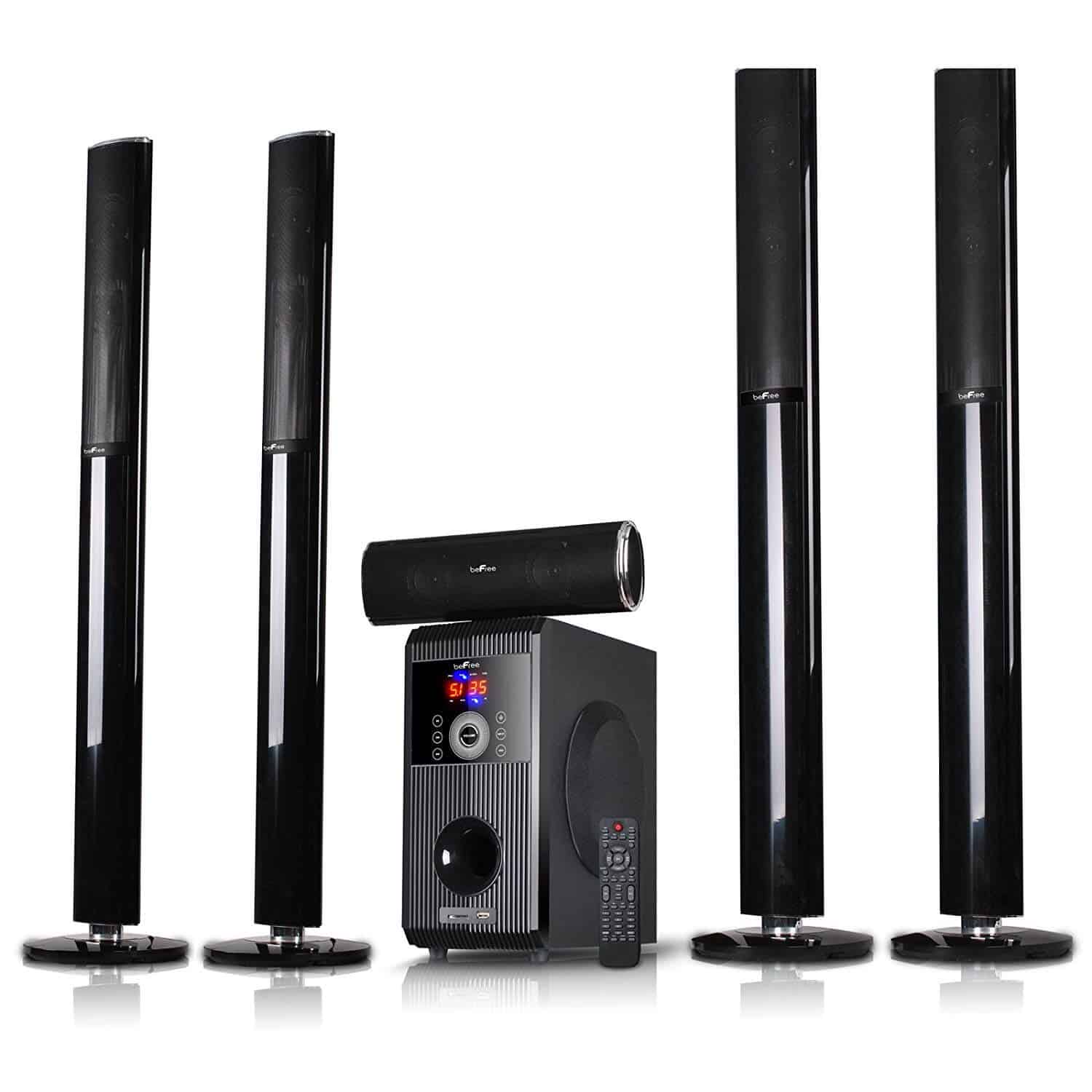 First, at the instance of seeing this complete sound set, you'll be attracted by the sleek design.
Secondly, the considerably budget-friendly price can trigger you to choose the set over the other ones available.
Well, it is a great set of tower speakers for your home, and it reproduces excellent sound for all room sizes.
The beFree home audio set comes with up to 4 tower speakers and remote control for adjusting sound settings.
Also, this surround sound system happens to feature a lot of inputs and even allows you to listen to FM radio.
There'll be no need for a 3rd party amplifier system when you've got this home audio system.
It is a complete solution for audiophiles and all home audio enthusiasts. Thanks to the inexpensive price, you won't break the bank to get this.
---
Here is a pair of tower speakers to add to your surround sound system for immersive sound reproduction.
The pair comes with an impressive tweeter that works efficiently in balancing the sound you hear.
This speaker system is truly sophisticated and coated with a premium-looking cabinet which adds a bit of style to the design.
With support for Bluetooth wireless connectivity, a USB port, an SD card slot, and FM radio capability, these tower speakers for surround sound systems are probably the best you need to get for yourself.
It also comes along with remote control for easy operations and adjustment of volumes. However, we saw quite a couple of users complain that this tower speaker set didn't live up to their expectations.
Everyone does not have the same experience with the same products; however, since it was just a few that complained, it is obvious, this system is suitable for audio enthusiasts.
---
8. BIC America Acoustech  PL-89 tower speaker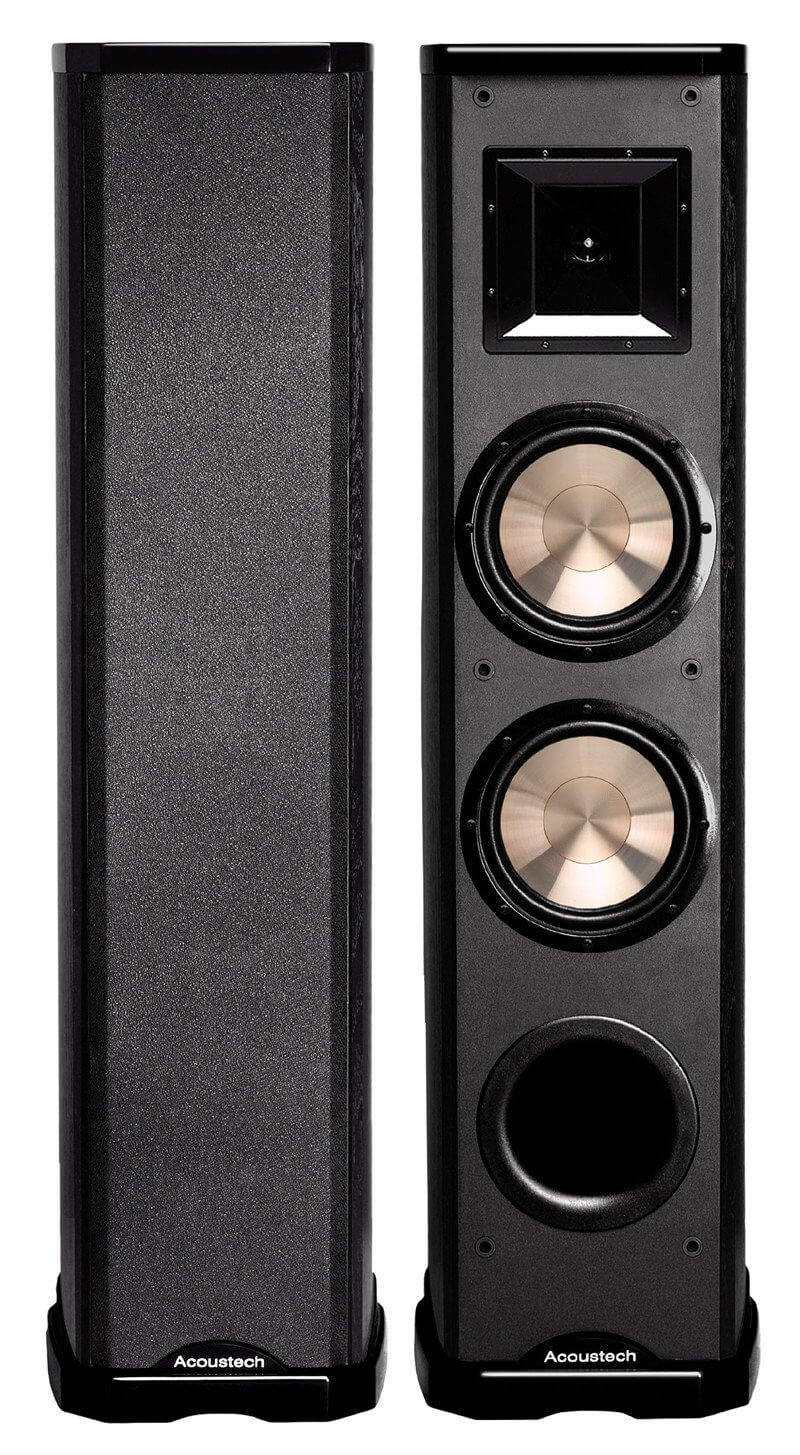 Although we consider the price of this pair of speakers to be high at its amount, we must confess that it is a perfect addition you can install to any home theater sound system to serve as surround speakers.
The units are stylishly designed with premium components to deliver the best possible outputs.
You'll enjoy your music and movies very well when you've got these as surround speakers for your audio system.
With the dual 8-Inch woofer drivers featured by this sound system, you'll hear every beat from your music as you play them.
The frequency response rate is 25Hz – 23kHz, 98dB noise level @ 1 meter, 8ohms impedance.
---
This surround speaker comes alone; no sound system accompanies it. Nevertheless, you can easily add it to any 5.1 or 7.1 home audio system setting.
It reproduces high-quality sound, thanks to its premium components and configurations; there are three 5-1/4-inch structured surface woofers with oversized magnets and vented poles to deliver top-quality bass output.
Also, a 1-inch high-efficiency soft dome tweeter is available on this speaker for smooth high-frequency reproduction irrespective of the volume levels.
The Pioneer SP-FS52 is a well-crafted surround tower speaker you need to complement your home audio setup.
However, it is sold individually and as such it is kind of costly because you could get a complete surround sound system with up to 4 tower speakers at the price you'd get two units of this tower speaker.
---
10. Polk Audio TSi300 Home Theater Speaker
The last option for the best tower speakers' surround sound systems as sourced out by our team of professional audio enthusiasts' is the Polk Audio TSi300.
This is a premium surround system that includes a pair of tower speakers for complete, pure sound reproduction.
The system also includes a pair of bookshelf HiFi speakers which all add up to ensure you get a clear room-filling sound irrespective of how big or small the room is.
Setting up the speakers from this sound system in your home is a straightforward process; the speakers are designed not to eat up big spaces in your home.
They are compatible, and you can easily mount the bookshelf speaker following our guide – Surround speaker placements.
---
Our professional advice for choosing the best tower speakers and surrounds sound systems
It is normal if you're confused about which of these sound systems would fit your home and based on your budget, your choices may be limited.
Well, here's our bit of professional advice. As an audiophile, if you already have a good multi-channel sound system, all you need to do is to complement it with a pair of tower speakers for the best outputs.
Tower speakers are typically floor-standing speakers; thus, you won't have to hang them anywhere or place speaker stands.
The Pioneer SP-FS52 is an excellent and trustworthy tower speaker, but it is quite costly. You may consider the beFree Sound BFS-T110W as an alternative for this.
However, if you're shopping for a new complete set of surround sound systems for your home, the Polk Audio TSi300, LG LHD657, and beFreehome surround sound systems are perfect options. Other ones on this list are still good for home audio setup.
When you buy through our links, we may earn a commission.