surround systems
Bipolar Speakers for Music: Experience the Ultimate Sound Quality Ever.
Get ready to elevate your music experience to a whole new level with our Bipolar Speakers for music – designed to bring you the ultimate in sound quality, these speakers will transport you to a new world of audio bliss, with a perfect balance of highs, mids, and lows that will leave you in awe.
Home audio enthusiasts know what it means to enjoy good sound, and one of the ways to achieve that is by playing back sounds with the best bipolar speakers for home use.
Bipolar speakers are proven to be the best for playing music or watching movies.
However, for some people, it is quite confusing to pick the best bipolar speaker suitable for their usage.
Thus, we are making this list of the best bipolar speakers for music. These speakers contained here are proven to be high quality by expert recommendations, user reviews, and our professional personal experiences.
Bipolar speakers will give you the level of sound you need for any size of room. Their best position in a room is at the room angles/corners due to the native triangular shape they often feature.
Sometimes, you'll hear people say bipolar surround, sound speakers. When you hear such, they're still referring to this series of speakers.
Read on to see the best bipolar speakers you could buy right now but don't forget to check out our post on How to place bipolar surround speakers in a room.
At the end of this post, we have provided some handy tips as regards why you need a surround bipolar speaker for home use.
Best Bipolar speakers for music
This speaker reproduces movie theater sound with immersive bipolar surrounds alongside a radiative pattern for the finest surround imaging.
Thanks to its premium components, the speaker works perfectly for various kinds of homes.
It is also easy to integrate this into your high-quality sound system, and it will give back natural sound coupled with continuous timbre to match the system.
The Fluance SXBP2 bipolar speaker comes in pairs and is offered at a price below $100.
These speakers will play back your music and movies with stunning sound clarity that may not be achieved with other types of speakers.
Also, the design looks absolutely premium and will match any modern home décor.
The exclusive configuration of these bipolar speakers develops a 3D soundstage in a trapezoidal shape; it fits perfectly for home theater systems.
Fluance SXBP2 bipolar speakers have the following specifications: 2 Way – 4 Driver, dual 1-inch neodymium balanced dome tweeter (Ferrofluid Cooled), and dual 4-inch polymer treated woofer.
---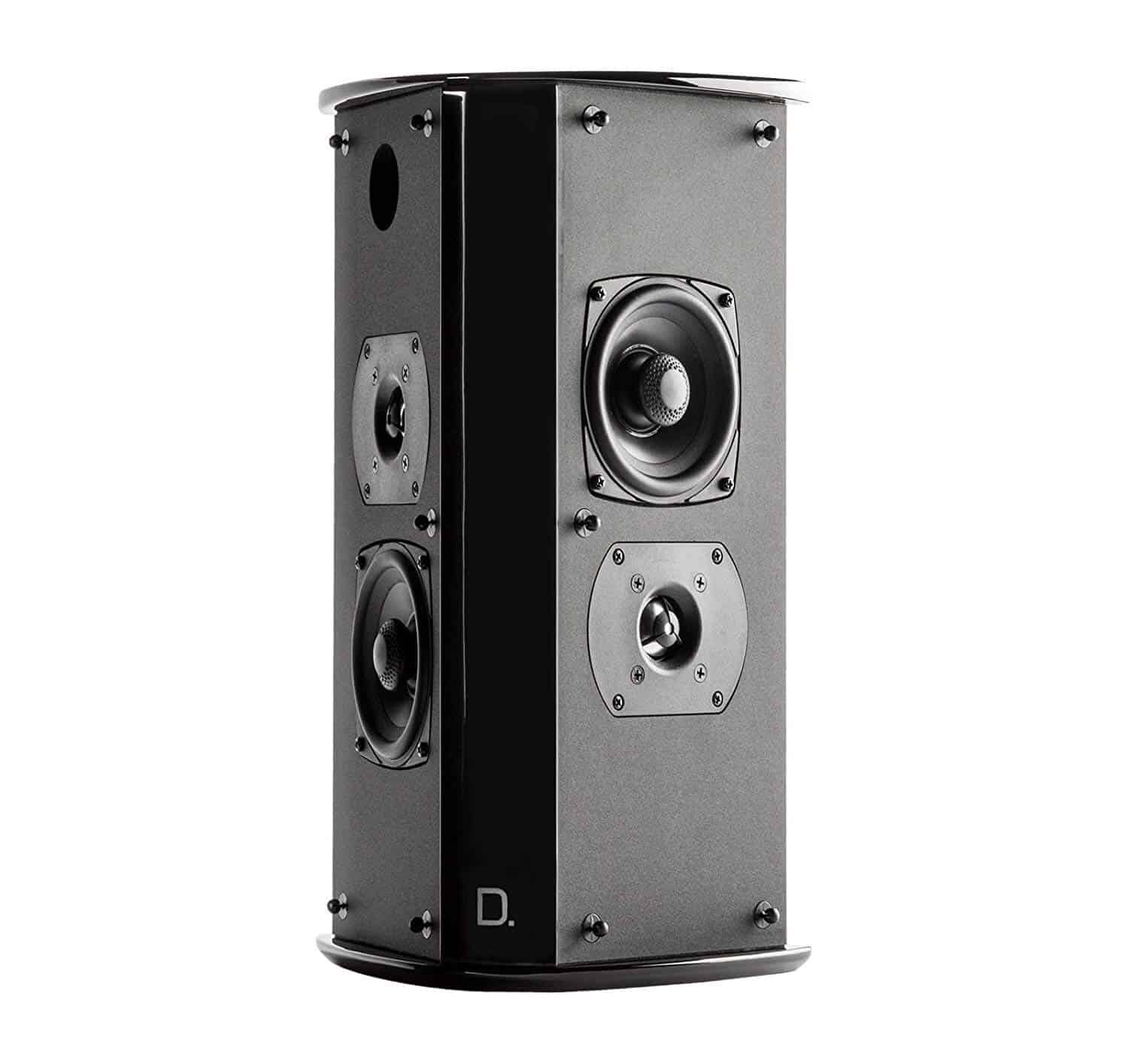 Here is a rear surround speaker to enjoy your music and movies at home. If you're an audio enthusiast, you should have come across speakers or other sound equipment from Definitive Technology.
The brand is renowned for making quality sound types of equipment for versatile usage.
This bipolar speaker from Definitive Technology is capable of delivering an immersive sound that would fill any size of the room where it is placed.
It is a robust, tall surround speaker that sits comfortably at any position you set it, thanks to its crafted shape; it will effortlessly fit into the wall corners.
Also, the design of this speaker is quite impressive; it looks attractive in the tinted black finish. However, the speaker doesn't come as a pair, and it is a bit pricey.
But, it delivers more immersive surround sound for an audiophile or audio enthusiast to enjoy his sounds.
---
3. Fluance Signature Hi-Fi Bipolar Speakers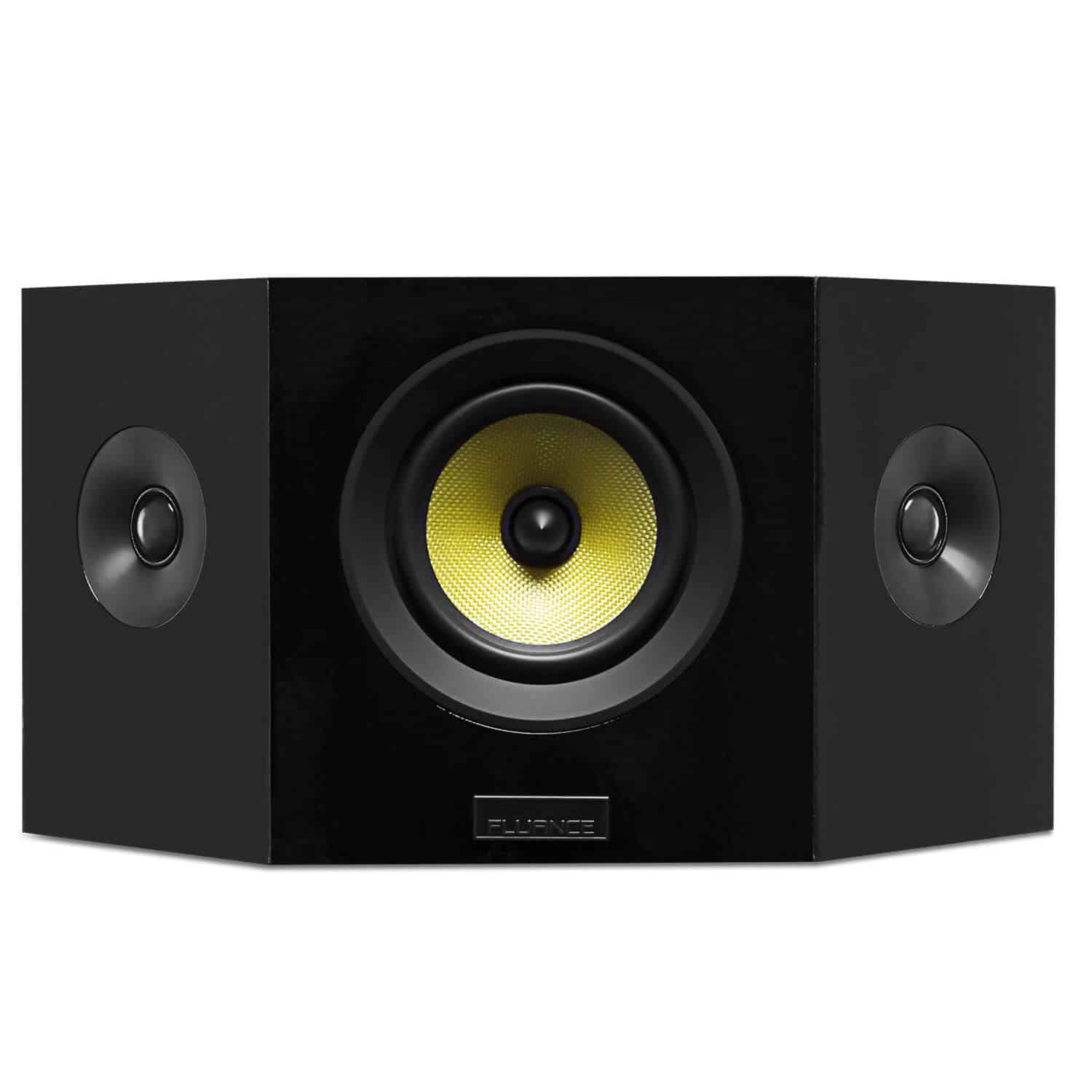 If you're looking for bipolar systems that will reproduce high-fidelity (HiFi) sound, this may be the best choice you've gotten so far.
This pair of speakers from Fluance is ultra-portable; you won't have issues with where to install them around a room.
They also feature classical finishing that blends with most modern homes at ease while providing immersive, mastering-wide dispersion and precisive sound output at all volume levels.
Well, what less could you expect from a bipolar speaker its components are designed with industry-leading technologies.
The configuration of this speaker creates a widely distributed 3-dimensional imaging; thanks to the high frequencies generated by the premium Neodymium tweeters which reproduce true immersive surround sound.
---
4. BIC Acoustech PL-66 Surround Speakers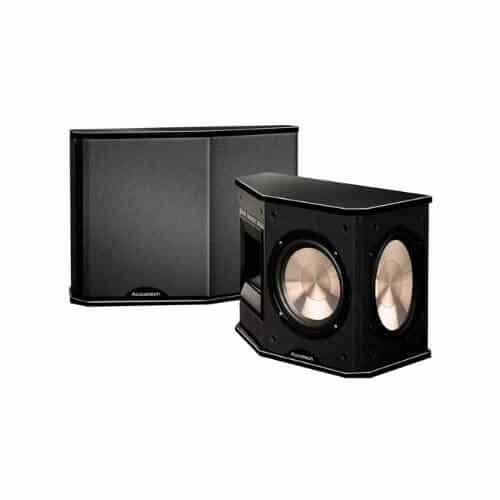 Here's another impressive bipolar speaker for music playback on several sound systems. It is very easy to install and the design blends perfectly with modern or even vintage home designs.
Upon purchase of this pair of speakers from Amazon following our link, you'll get two-way three-component bookshelf/surround speakers with flush wall mounts for swift installation.
It comes with a high-efficiency aluminum horn tweeter with a Neodymium magnet and an injected woofer with a butyl rubber surround. Also, there is a 5-inch x 7-inch passive radiator for more bass output.
The BIC Acoustech PL-66 Surround Speakers are quite attractive when you spot them in a store.
While these speakers look compatible, they are somewhat heavy when you hold them up. But that doesn't matter, anyway.
---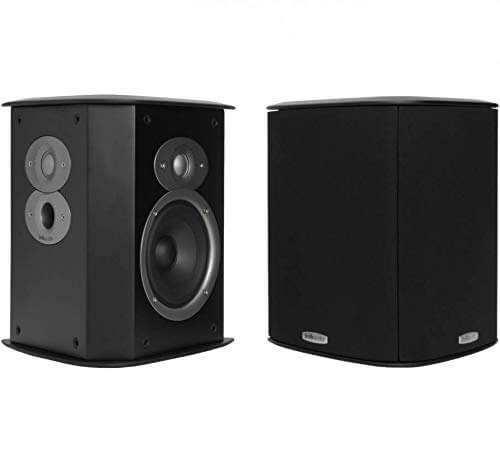 With a 5.25-inch dynamic-balance woofer and a set of dual 1-inch silk dome tweeters with a Neodymium magnet, this pair of surround speakers will deliver true immersive home-filling sound while consuming less power.
The impedance is rated 8ohm, and it is further equipped with a 5.25-inch dynamic balance driver alongside a polymer composite cone.
This is one of the best bipolar speakers for music which you can get at a "not-so-costly" price. It is intuitive to configure and install.
Plus, the designs are spectacular being finished with an asymmetric cabinet bracing that ensures resonance-free enclosures.
---
6. Definitive SR-8040BP (Ea) Bipolar Surround Speaker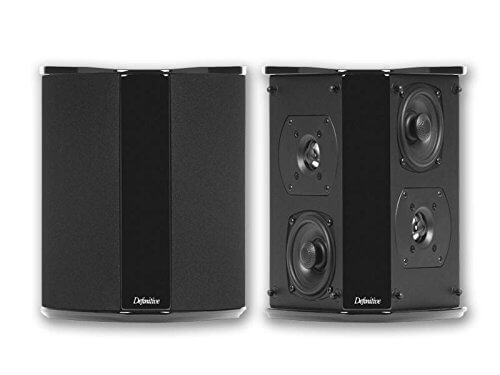 The sound output generated by this speaker will blow your mind, but, it is quite costly.
This bipolar surround speaker comes alone, but it is capable of doing more than what a pair of some other bipolar speakers could do.
It looks sturdy and quite gigantic; the best position of this speaker is at your wall edges.
There are dual 3-1/2-inch cast basket BDSS drivers (patented), plus another dual 1-inch pure aluminum dome tweeters available on this speaker.
When you buy from a verified seller, you'll get a wall mounting system as an added package.
This speaker is highly sensitive, and it reproduces sounds with untainted clarity (truly immersive).
---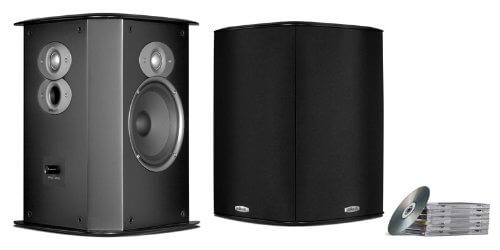 Here comes a pair of bipolar speakers that will reshuffle your mindset toward surround speakers.
If you've already got the Polk audio home theater system, this speaker will make a perfect completion. However, it still works efficiently with multi-channel music systems.
For an audiophile, this could be the best bipolar speaker to playback music or watch movies in an indoor environment.
It features a 6.5-inch dynamic balance driver and a set of dual silk dome tweeters. This pair of speakers can be mounted on the walls or serve a similar purpose as floor-standing speakers.
The important aspect is that it delivers pure HiFi sound.
---
8. Fluance XLBP Bipolar Sound Speakers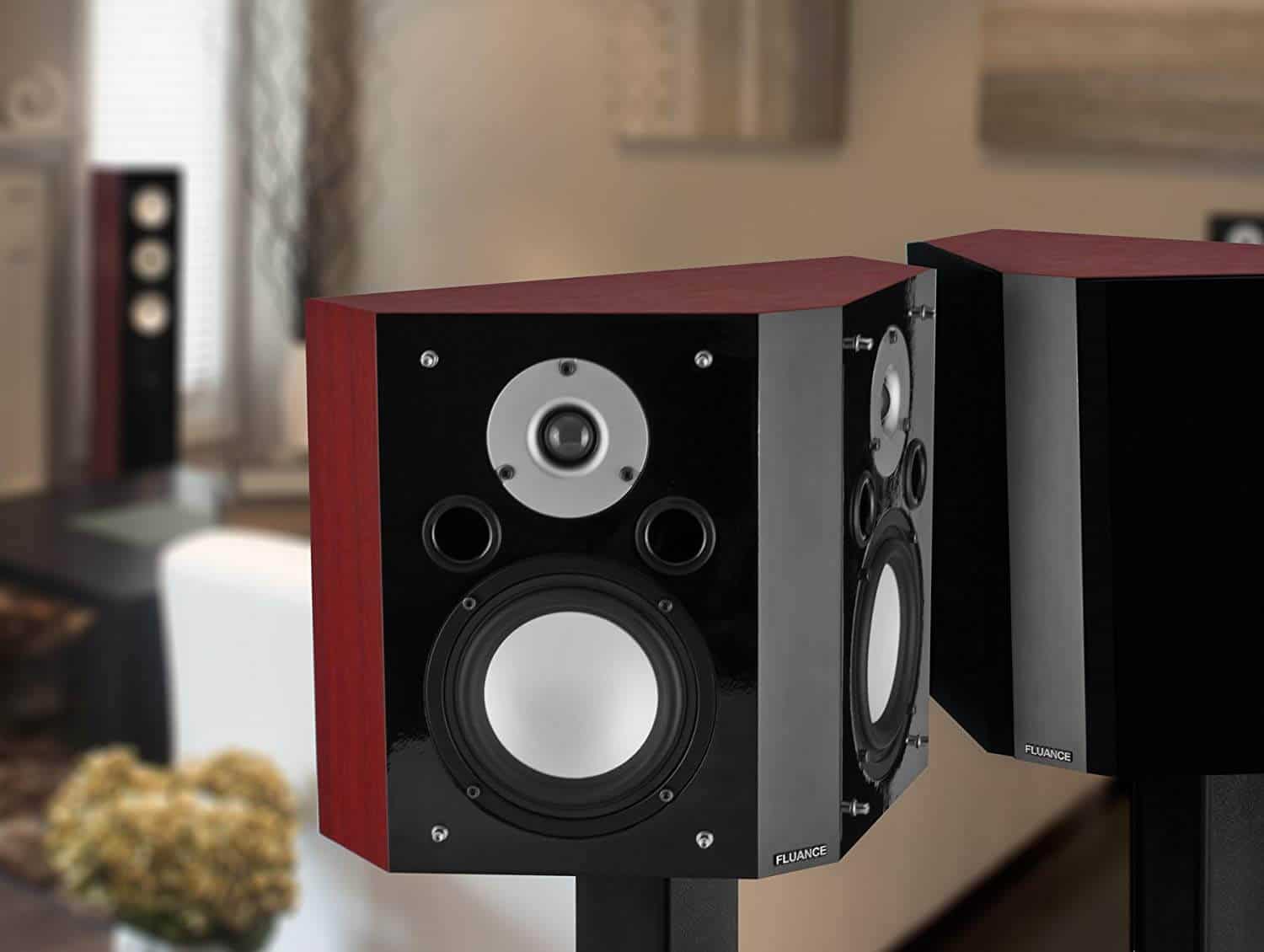 You'll enjoy these speakers best if you've got a robust home theater system. However, it will still work normally if you install it on your home sound system.
The pair replicate the movie theater experience with immersive bipolar surround sound in your home.
You'll love them when they start reproducing sounds; you'll hear every sound's inexplicable details.
Fluance is a remarkable bipolar speaker brand, and this model of its product comes in a typical "vintage" finish; it features an MDF wood cabinetry that helps to minimize resonance alongside a rich mahogany wood grain finish.
The speakers are moderately priced; so, you won't break the bank to get them into your home. Your home décor notwithstanding, this pair of bipolar speakers will blend perfectly.
---
9. Definitive BP9020 Bipolar Tower Speaker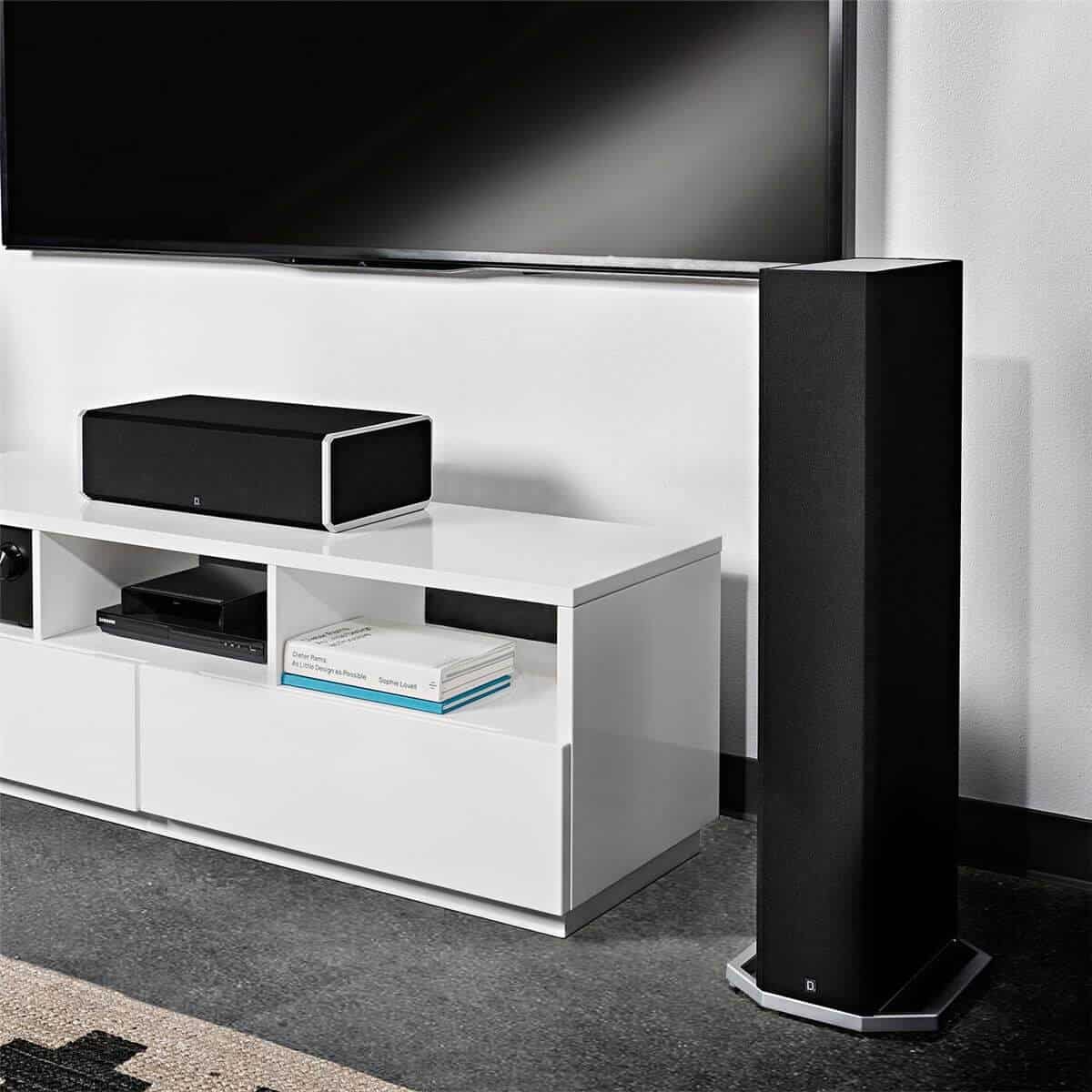 Unlike the other speakers you see on this list, the BP9020 bipolar speaker from Definitive Technology is very tall; it is a bipolar tower speaker, and it comes in pairs.
Each pair features an 8-inch subwoofer with a bass control system.
This speaker includes patented components to deliver stunning room-filling sound with precise details.
As expected, it comes with a set of aluminum dome tweeters alongside high-performance drivers.
The incorporated 8-inch subwoofer coupled with dual bass radiators provides the best loudspeaker experience.
These speakers stand on their own at any place you set them to be.
---
10. Definitive Technology UIW RSS II
So far, we have highlighted bipolar speakers that can be mounted on wall surfaces using a bracket. Now, let's see how an in-ceiling/in-wall surround speaker would produce a room-filling sound.
The UIWRSSII from definitive technologies is a high-end bipolar speaker that reproduces HiFi sound with super-amazing clarity you may not get from its counterparts.
It is a single reference speaker that looks sturdy. This bipolar speaker is geared with dual 6.5-inch mid-bass drivers, alongside another double 6.5-inch planar pressure-coupled low-bass radiator.
The frequency response rate is about 22Hz – 30kHz, which is quite high.  Also, the dual 1-inch pure aluminum dome tweeters do a good job in the sound reproduction process of this speaker.
This is a unique speaker for all audio enthusiasts and audiophiles. Even, any homeowner could buy this to enjoy the great sound output.
---
What more?
These are our professional top picks for the best bipolar speakers for music. They reproduce HiFi sound and fit into any home perfectly.
Important tips about bipolar speakers for music
Easy installation
Installation is always a tricky part of owning bipolar speakers. It doesn't just start working immediately out of the box.
While all the products we have in this article are easy to install or set up, some units can be very tough to fix. Nevertheless, you can always consult the manufacturer's manual to serve as your guide.
Why use bipolar speakers for music
The prefix "bi" means two or double. So, it means that bipolar speakers are simple speakers that output from two sides of their cabinet, thereby reproducing more pure sounds.
They can serve for many reasons including being used as side-surround speakers which will cause the playing sound to output in two sides of a room with the same output quality.
A bipolar speaker typically enhances the surround sound experience in a room or indoor environment.
When playing music with this type of speaker, normally, the experience is better than when other types of speakers are used.
How to know the best bipolar speaker for music
Already, we have carried out extensive research to come up with these products reviewed here.
For someone new to the audio world, there is no physical way to spot the best bipolar speaker.
You have to check out reviews such as this one, ask for expert recommendations, and also go through previous user reviews.
When you buy through our links, we may earn a commission.