Floor speakers
The Best narrow floor standing speakers to buy right now
When you buy through links on our site, we may earn an affiliate commission at no additional cost to you.
There are lots of narrow floor standing speakers you can get out there. They are the best choices for an audiophile or just a typical home audio enthusiast.
Floor standing speakers are very easy to set up as they do not need any speaker stand or bracket.
Also, this type of speaker can be referred to as a tower speaker. You need this type of speaker to complement your home audio setup if you wish to experience immersive sound output.
Here, we will share the best narrow floor standing speakers you can buy at the moment. They are "narrow" and as such would fit into any available space in your home.
We also added the Frequently Asked Questions (FAQs) and buyers' guides for your reference.
These products we are listing out here are the best in the market; our suggestions were based on personal experiences with the speakers as well as users' online reviews.
The best narrow floor standing speakers
1. KEF Q550 Floorstanding Speaker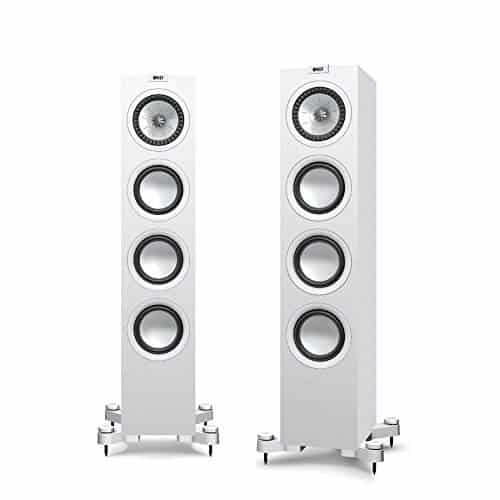 This floor-standing speaker is one of the sleekest products on this list. It appears in white and black color variants so you can choose the color that suits your home décor.
The KEF Q550 Floorstanding Speaker is not sold in pairs; you have to buy it each if you need more than one for your home audio setup.
You'll enjoy great sound quality with this speaker; it makes up for a perfect surround sound in a room.
Because this is a floor-standing speaker, it doesn't require you to think about where to mount it; simply place the speaker(s) at one corner of the room and that's all.
This speaker conceals an improved Uni-Q driver array (5.25-inch bass driver, and dual 5.25-inch auxiliary bass radiators) ensuring you enjoy pure sound by smoothing the treble frequencies.
If you have a big room, just two of these speakers can deliver a room-filling sound which you expected.
---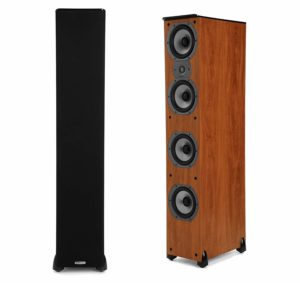 Tower speakers are typically floor-standing speakers, the terms shouldn't confuse you. This particular model from Polk audio comes in pairs and the price isn't really high.
It comes with a set of robust components that deliver the best possible sound possible. You will love this if you are looking for a surround speaker to use in a standard-sized room.
The Polk Audio TSi 500 Cherry Tower Speakers provide a room-filling sound that goes with clean bass output.
Inside this pair of floor-standing speakers lies the following components; 1–Inch silk composite dynamic balance-dome tweeter (each) accompanied by an efficient neodymium magnet that delivers pure, detailed high-frequency response for immersive vocals & instrument reproduction.
Also, the enclosure is made from a non–resonant–MDF material which has ¾-inch thick baffles that ascertains purer, sound quality.
Typical of Polk's tower speaker models, this pair features front–to–back and side–to–side internal bracing. You'll love this pair of floor-standing speakers because they'd deliver what you expected from them.
---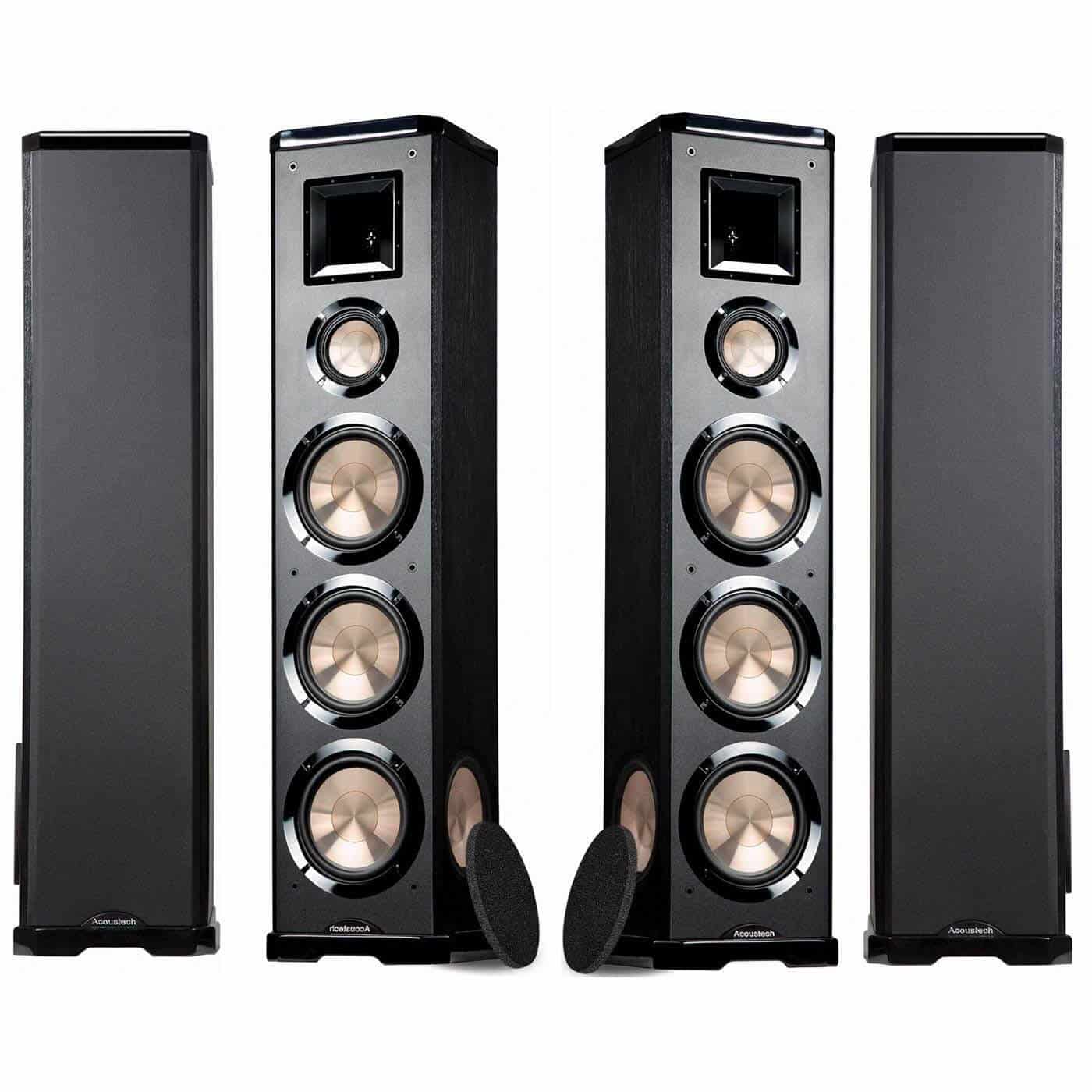 Specially designed to serve as left and right surround speakers, this pair of speakers should be considered when looking out for compatible/narrow floor standing speakers. The pair looks good in its design and is quite flexible so you can install it quickly as you want.
Already, the manufacturer has indicated this pair as left and right surround speakers, so you now know where is the best place to place them in a room.
The pair incorporates a 3-way multi-driver design that is dissimilar to the others with a 2-way driver design.
Thus, this speaker delivers outstanding performance, thanks to the enhanced frequencies that assure extended soundstage and dynamic range.
You'll enjoy this speaker when you're playing back music on your system or watching a movie. Each of these pairs comes with dual high-power 8-inch active woofers for low-quality frequencies.
It also houses dual 8-inch passive radiators that eliminate port noise as you increase the bass.
---
4. Klipsch Reference Premiere Floor-standing Speaker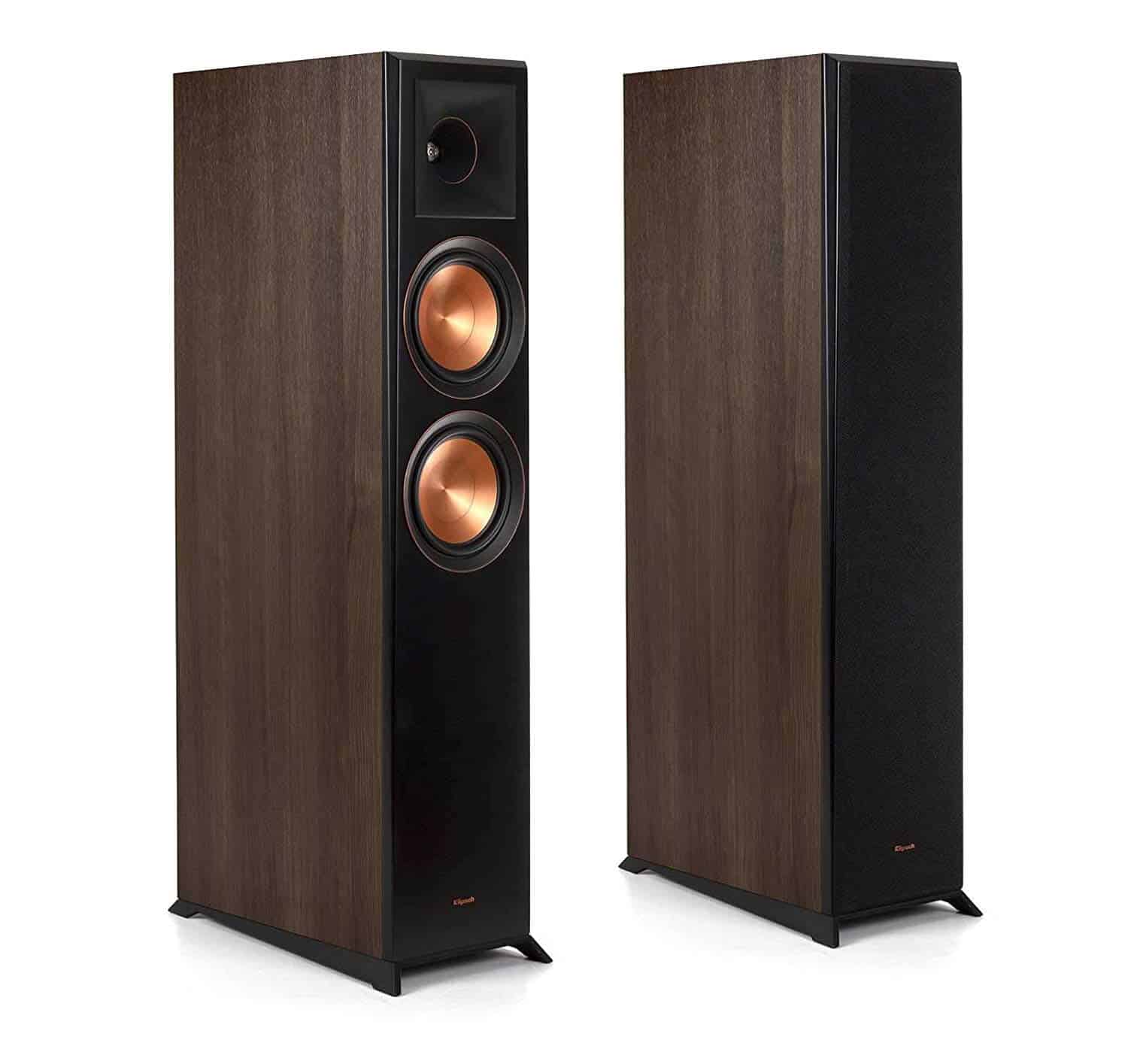 At an extreme price offer, you'll get this pair of speakers which conceals a high-efficiency 1-inch titanium tweeter, each. It comes as a pair and delivers high-quality room-filling sound.
The Klipsch RP-6000F Reference Premiere Floorstanding Speakers pair of speakers surprisingly reproduces superb bass response and punch which will make you enjoy a cinema-like experience while watching movies at the comfort of your home.
The 1-inch titanium LTS vented tweeter which includes a hybrid tractrix horn delivers the most balanced sound you'd expect from a speaker of this level.
Also, the pair comes with dual 6.5-inch spun copper Cera-metallic woofers and dual binding posts for bi-wire/bi-amp.
Furthermore, the grille is magnetic and flexible that you could remove it easily.
This pair of speakers looks good in its design and would definitely blend with most home décor.
They are equipped with lots of premium patented components that power it up to deliver the best sound you need at home.
---
5. Fluance Signature Series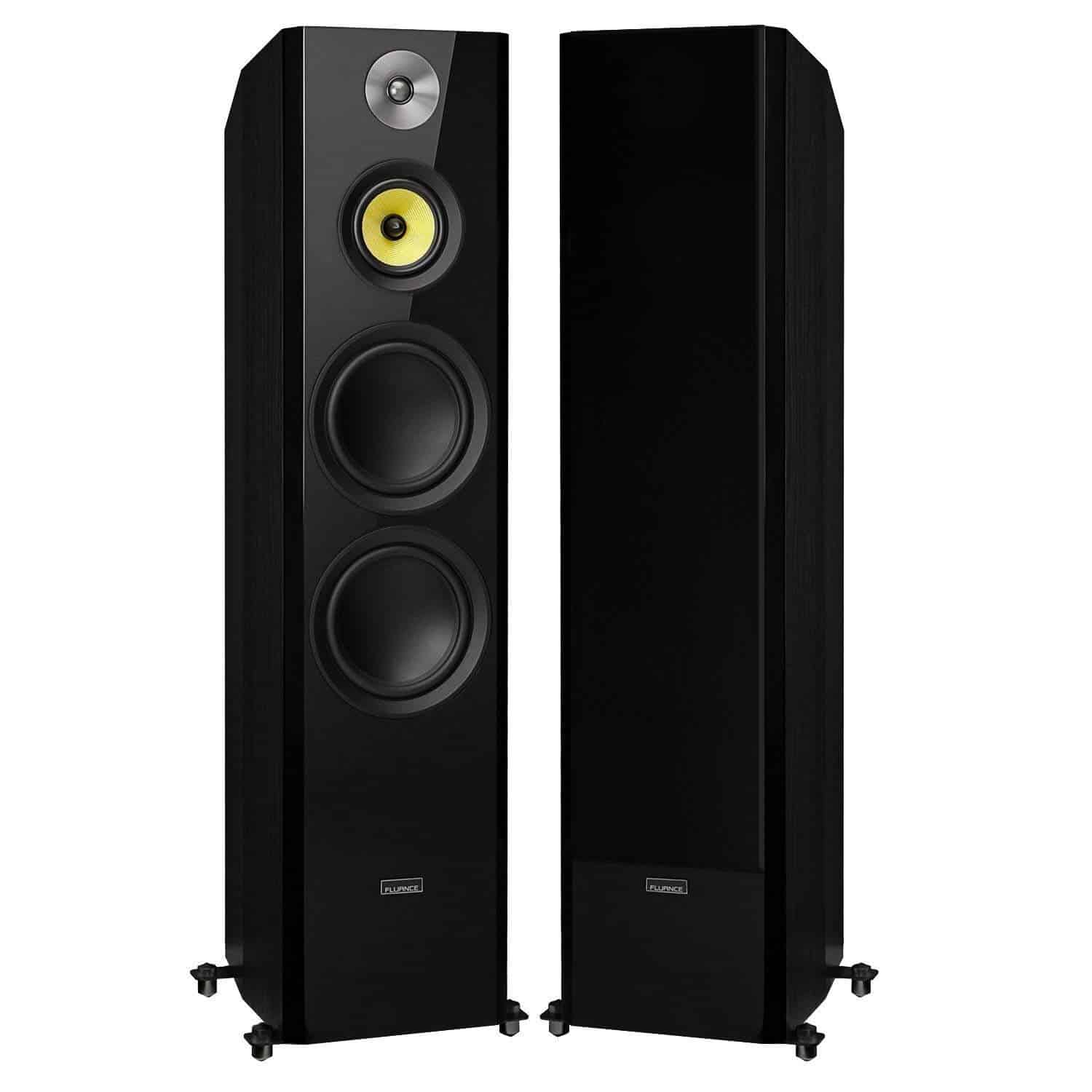 Here's another pair of 3-way floor-standing speakers from a renowned brand, Fluance. Audiophiles already know this brand for producing top-notched home speakers and sound systems.
The Fluance Signature Series comes along with dual 8-inch HFF woofers that deliver lifelike bass.
This pair of speakers reproduce HiFi sound, thanks to the symmetry, precision, and sonic accuracy incorporated components.
With serious cabinet engineering which conceals the powerful 8-inch woofers, a set of ultra-high-end tweeters, and robust midrange drivers, sounds from this pair are so realistic, purer, and clearer.
There is an instruction manual that comes along with this speaker so you can easily install and set it up in your home seamlessly.
Also, there are two magnetic grills on this pair. Plus, the manufacturer assures lifetime warranty support.
The power handling of this pair is 90 – 200 Watts. If you're looking for the best narrow/compatible floor-standing speaker, this is one of them.
---

Are you looking for a premium, yet affordable floor-standing speaker? This is one of the best you can get in the market right now.
The Yamaha NS-F210BL is a two-way bass-reflex floor standing speaker that is specially designed for home use.
It reproduces full, dynamic sound from HD sources, thanks to reliable components.
This pair of speakers from Yamaha is light, sleek, and actually narrowed; it will certainly add more beauty to your room as it is really sleek.
The speaker is equipped with light aluminum cone woofers so that they will respond faster than other of its counterparts.
You could use this pair directly with your TV; the slim, narrowed design matches all flat-panel TVs.
Interestingly, this high-end speaker (pair) sells out at a budget price which is way cheaper than most other ones contained in this list.
7/8-inch balanced-dome tweeter power each of these speakers to deliver a cinematic sound experience.
---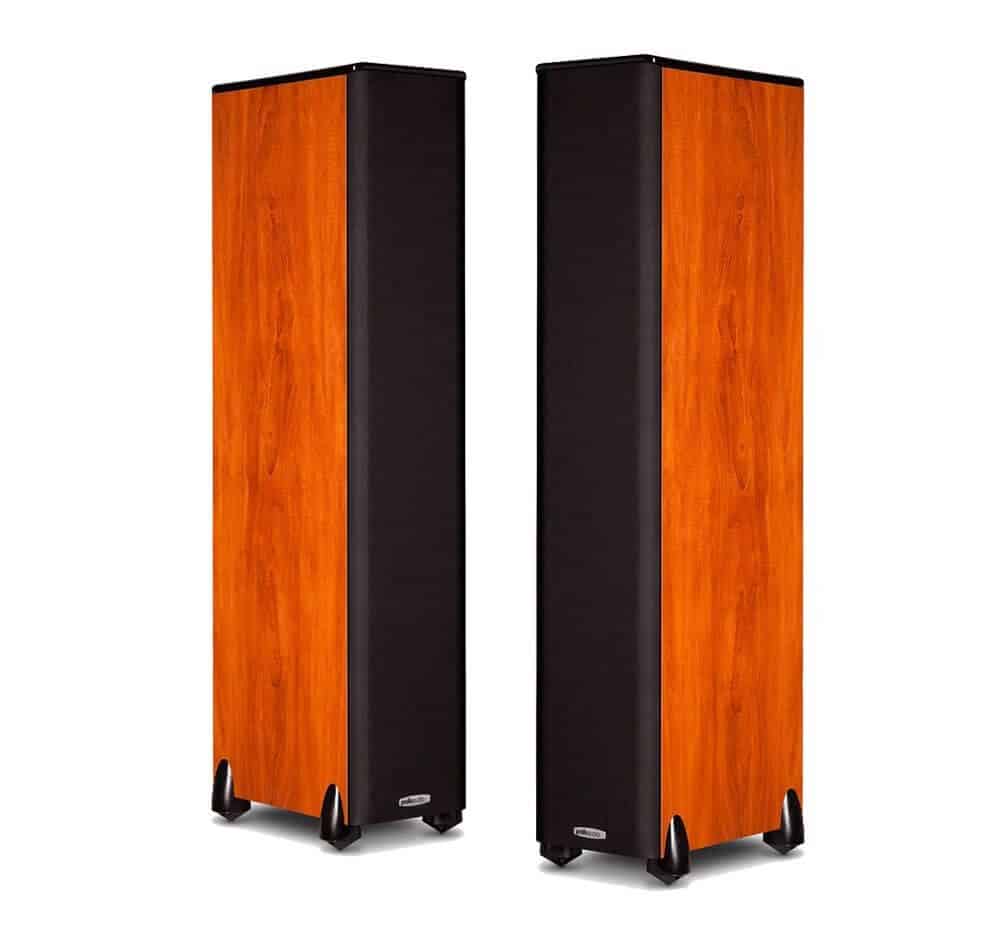 Here's another superb floor-standing speaker from Polk audio; this speaker comes in pairs and reproduces good sound just the others in its series.
You can easily place this speaker in any space in the home, thanks to its compatible design. However, the finish isn't so sleek but it would still blend perfectly with most home décor.
The Polk Audio TSi300 floor standing speakers (pair) come with 1-inch silk, polymer balanced-dome tweeter, alongside dual 5.25-inch diameter bi-laminate organic fiber cone woofers. It is a versatile high-performance tower loudspeaker for many homes.
Also, the frequency response of this pair is 35 – 25KHz while the recommended amplification is 20 – 150 watts/channel. You'll get this pair of speakers from Amazon at a considerate price.
---
8. Sony (Single) 3-Way Floor-Standing Speaker

This is a single-unit tower speaker that can serve various purposes; it is suitable for both home use and in other indoor environments. The Sony SSCS3 looks stunning in its refined finish and there is no other finish option except for black.
You'll love this speaker as it delivers clear, pure, classic sound; your music or movie will play back in detail.
The plain design makes the speaker a good choice for many modern homes. Sony is known for producing high-quality electronic equipment and even gadgets; this speaker from the brand is proven to be durable and best at its price.
Sony SSCS3 is a 3-way speaker with a four-speaker bass-reflex system, a 5-1/4-inch foamed-mica reinforced woofer, a ¾-inch Sony Super Tweeter (SST), and a 1-inch polyester main tweeter.
Sound staging on this speaker is immersive and it reproduces up to 50kHz (for Hi-Res Audio) with an impedance of 6 ohms. You'll get to love this speaker; plus, a pair of them doesn't cost above $190.
---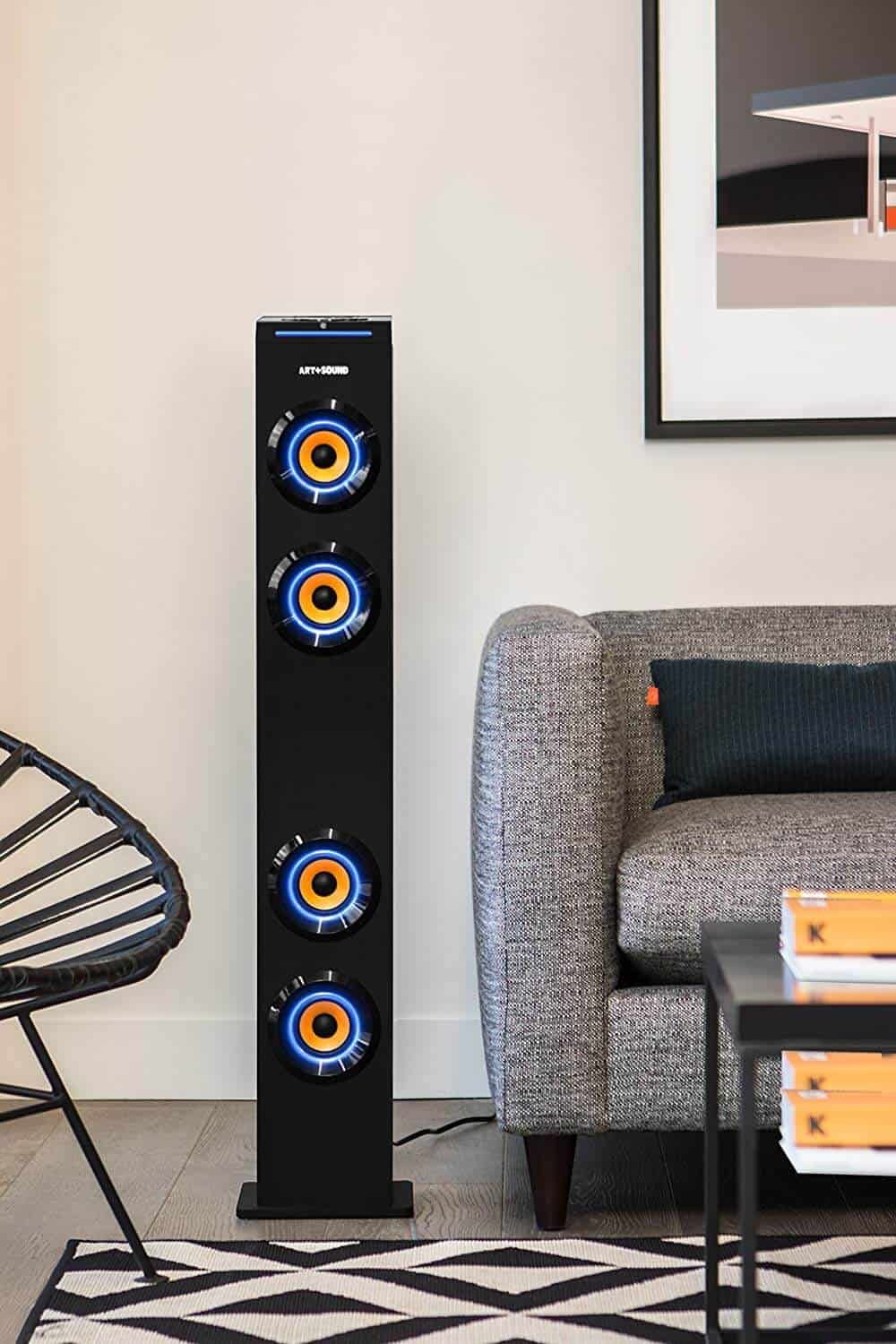 Dissimilar to the other ones available on this list, wireless narrow floor standing speakers connect to your system or TV via Bluetooth. It does reproduce stunning clear sound and the price isn't high.
Also, not only will this speaker deliver room-filling surround sound, but it will add more beauty to your home; especially during the night when the lights glow and the whole home will be filled with immersive sound sensation.
You can quickly synchronize your device with this speaker so that it plays back the sound from your music or videos which you're streaming from any host platform.
Thanks to the Bluetooth wireless connectivity support, you can connect any portable device with Bluetooth support to this speaker; devices such as smartphones, tablets, and even Laptops/Desktops can work with this speaker.
However, it is not available in pairs; you'll have to buy them per unit as much as you need.
---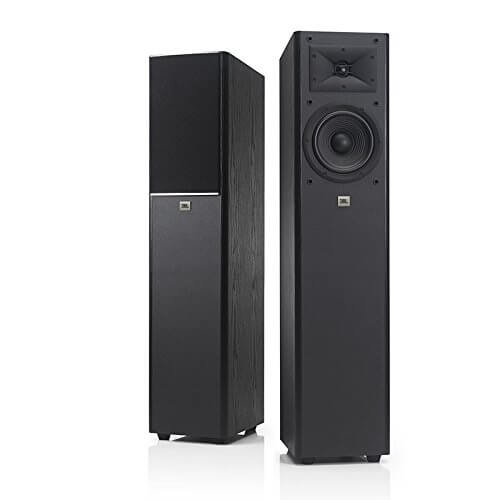 The JBL Arena 170 will close this list for the best narrow floor standing speakers. It is a premium versatile speaker from a top brand. JBL Arena 170 is designed with High Definition Imaging (HDI) waveguide technology.
This speaker is enclosed with a contemporary cabinet with an angled side and top panels that complement its sophisticated, modern look.
Interestingly, this tower speaker can serve for gaming or watching movies at the comfort of your home yet getting the same cinema-like experience.
It has a 7-inch poly-cellulose woofer coupled with a rear-firing bass port to produce a one-two punch for every sound.
What more?
These are the best narrow floor standing speakers you can buy right now. We carefully picked out these products and can assure you that they will offer great value for your budget.
---
---
Frequently Asked Questions
How many floor standing speakers are needed in a standard room?
A pair should be enough. However, you can get up to 4 units if the room is too big.
Do these speakers include warranty support?
Yes, they are covered by the manufacturer's warranty over specific periods and feasible based on certain terms and conditions.
How do one setup floor standing speakers?
Are they durable?
We carefully handpicked these products after looking up/testing quite a lot of them. They are durable and deliver the best sound.