Satellite speakers are not really wireless speakers, although most wireless speakers are also satellite speakers.
The basic function of a satellite speaker is to complement a home theater sound system while reproducing high-quality sound output. They come with tweeters and subwoofers just like every other speaker.
Typically, satellite speakers are small, and most of them are wireless, but, some units must be connected to the system using their wires. Today, we want to show you the best 5.1 satellite speakers you can buy at the moment.
From the topic, you could see that these satellite speakers to be reviewed in this article are most suitable for a 5.1 home audio system setup. We assure you that these products are indeed the best you can buy with confidence and they are even easy to set up/install.
Best Satellite Speakers for 5.1 Sound Systems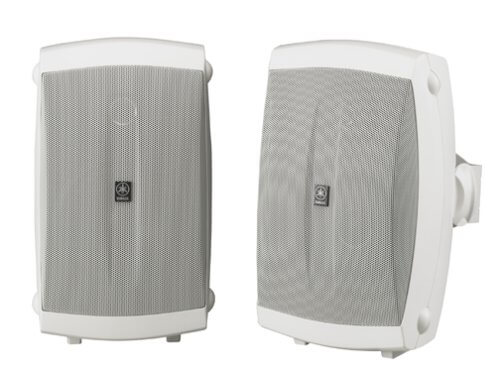 The Yamaha pair of satellite speakers occupy the Number position as our top pick. It is a tough speaker, anyway, and it reproduces pure sounds that go along with solid bass. You can use this pair for both indoor and outdoor sound playback.
Thanks to the Acoustic-suspension design that gears this speaker to reproduce clear sound & taut. Also, both speakers come with a frequency response rate of 80 to 40,000 Hz (+/-3 dB); this will deliver the best bass output you wished for.
find out the difference between 2.1 and 5.1 sound systems
An efficient 5-inch high-compliance woofer and 0.5-inch PEI dome tweeter are packed by this pair. Plus, the speaker is designed to resist water penetration into its system.
One of the reasons why most people would go for this speaker is due to the magnetic shield design which allows for this speaker to be mounted close to a video monitor or TV without having to fear picture degradation.
---
2. Dayton Audio 2-Way Satellite Speaker Black Pair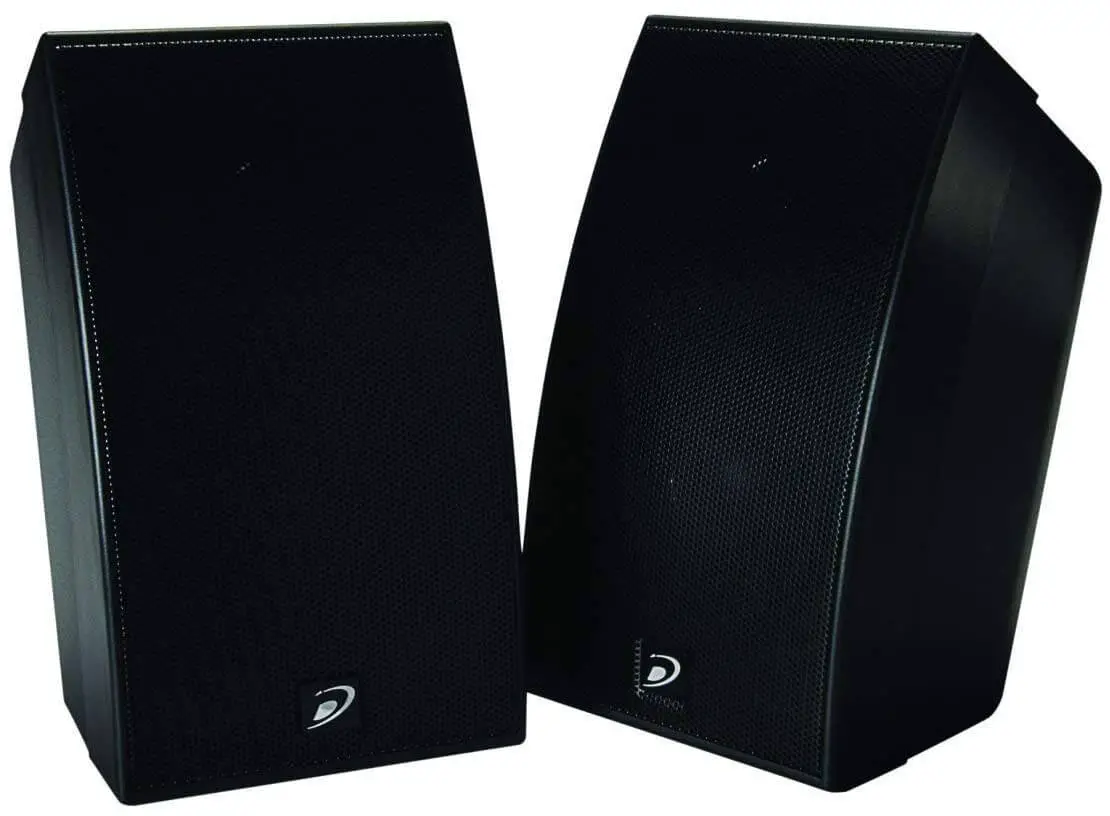 This is a compatible satellite speaker (pair) sold at a decent price which may even make you start thinking if it is high quality.
The Dayton SAT-BK pair or satellite speakers reproduce the level of sound you could ever wish for with decent clarity. It also delivers a stunning bass output that is suitable for indoor or outdoor purposes.
Typically, the speakers are compatible and equally magnetically shielded. The pair features optimized long-excursion woofers accompanied by flat, neutral frequency response.
You can use these satellite speakers to complement your 5.1 multichannel sound system. Also, you'll get to love the sleek design of these speakers as they will definitely blend with your home décor.
Dayton's SAT-BK pair or satellite speakers will offer great value for your budget and will fit perfectly for a 5.1 sound system set up to use indoor or outdoor.
---
3. Acoustic Audio AA321B Mountable Indoor Speakers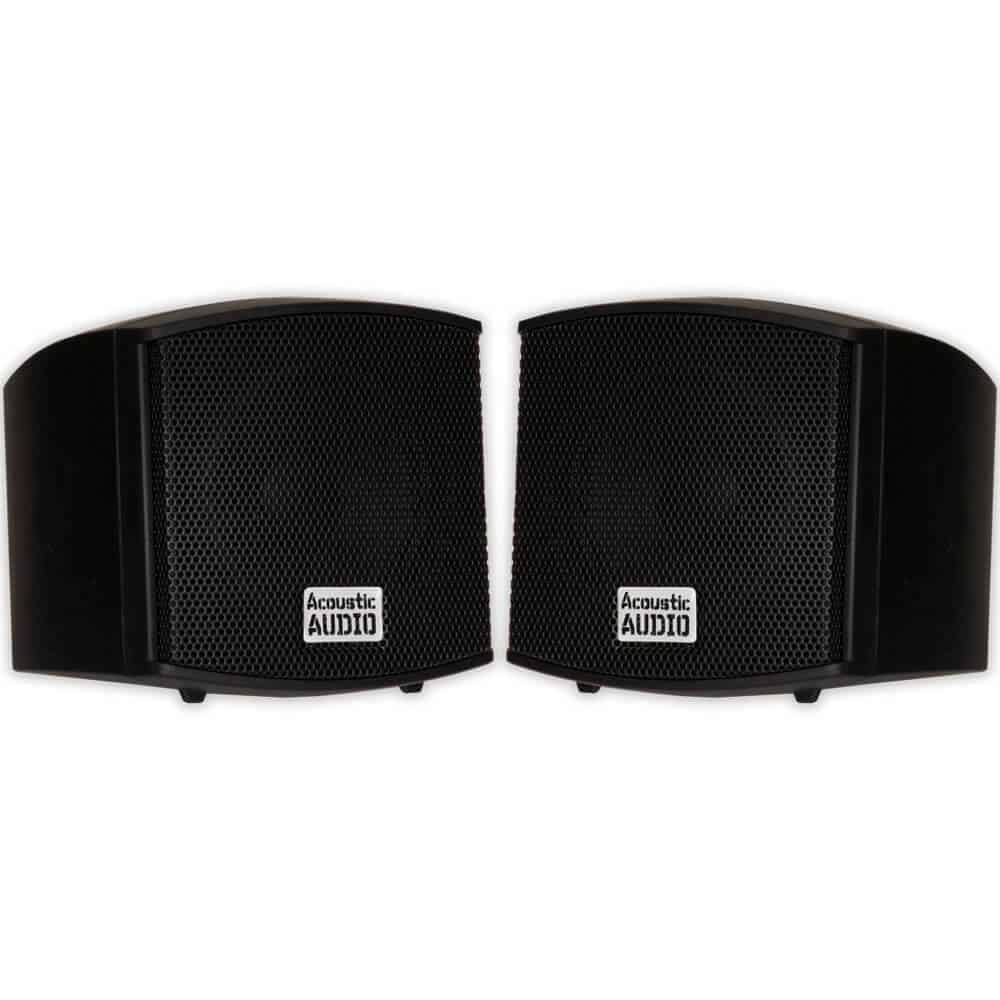 Here's another perfect 5.1 satellite speaker for your home theater system. The best usage of this pair of speakers is for indoor purposes. They are full-range speakers with a surprising frequency rate of 150Hz-20 kHz; efficiency is 88dB, 8ohmimpedance.
Unlike the Dayton speakers above, this pair comes with brackets that you'll use to mount them on the walls of your room.
Each of these pairs features 2.5-inch polypropylene full-range woofers for quality bass output. For an audiophile looking for satellite speakers to complete a home audio system, this is an ideal inexpensive alternative.
These speakers are quite light, and the designs are unique. However, the recommended power to use these satellite speakers is 20-400 watts. Installing the speaker is very easy, thanks to the included hardware/wall mounts.
---
4. Bose Speaker System Black Pair
The Bose 161 Speaker System is among the best 5.1 satellite speakers you can get in the market at a budget-friendly price. It is a pair of superb speakers that is suitable for outdoor or indoor use.
They are engineered with industry-leading cutting-edge technologies, so they generate balanced sound accompanied by solid bass.
These speakers are designed to deliver balanced stereo sound over a wide area. Also, thanks to the provided custom brackets, you can easily mount/install these speakers on any wall.
As expected, you can mount these speakers close to TVs or video monitors as they are magnetically shielded to avoid color degrading.
Unlike other satellite speakers we have seen and used, this particular pair comes with a unique technology hidden inside a well-crafted cabinet.
The tech is called "Twiddler drivers," it gears the speakers to pass out more air the little pores in the enclosure body to create a sound quality you may not have expected from a speaker of its level.
---
5. Leviton AESS5-WH Expansion Satellite Speaker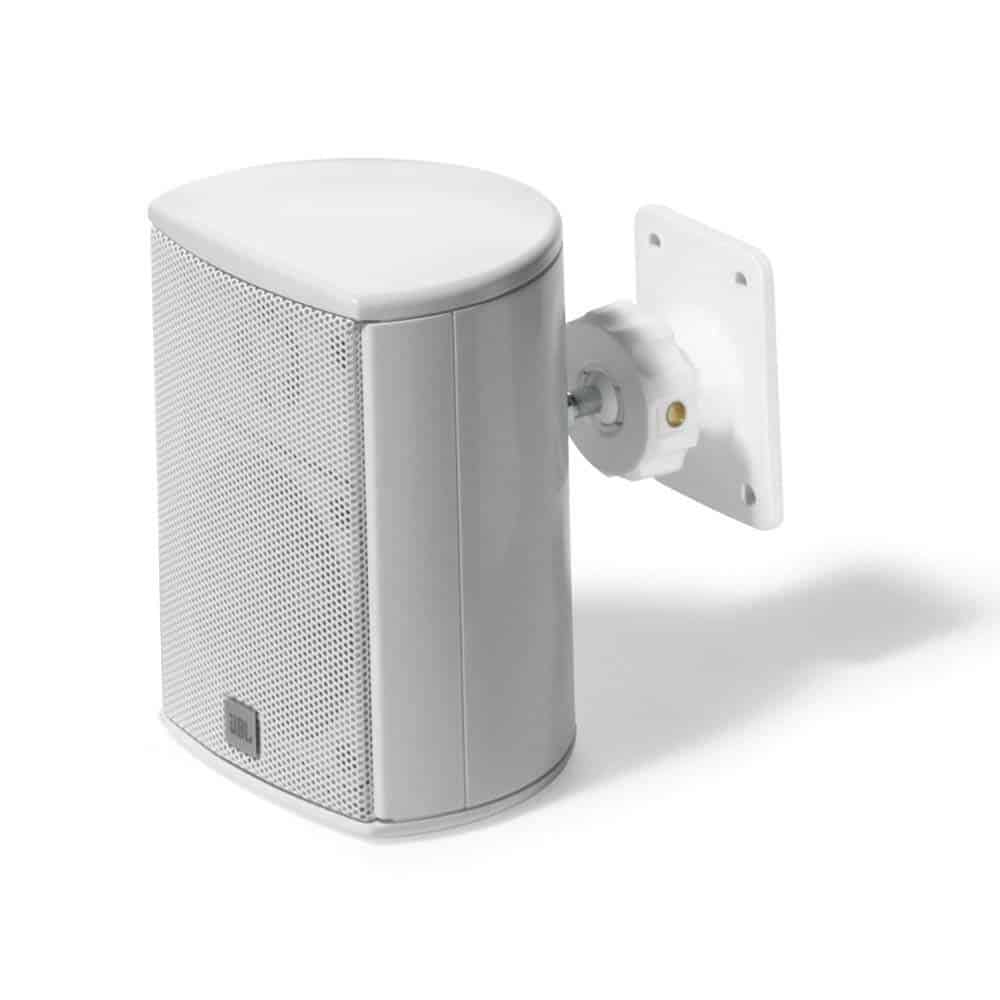 When looking for the best compact satellite speakers for home systems, this sleekly designed speaker should be among your considerations. It delivers superb sound and is very easy to install on both 5.1 and 7.1 home theater systems.
The speaker looks beautiful in its design and would definitely blend with your home décor. We tested this satellite speaker and indeed, it is a great option to go for if you need to upgrade your room sound.
This speaker comes as a single unit and not in pairs. However, the price is quite very cheap that you would get two units of this satellite speaker at a price under $80. 
A 2.5-inch woofer and a high-precision 0.5-inch tweeter power this speaker to reproduce high quality, pure sound and bass.
---
6. Polk Audio Blackstone TL1 Satellite Speaker
Polk Audio speakers are known for good sound quality; they come with powerful components that assure HiFi sound output. This satellite speaker from the brand is reliable and reproduces great sound.
It is compatible and straightforward to mount on walls. However, this speaker also does not come in pairs just as the Leviton AESS5-WH above.
Also, the beautiful design of this speaker is quite compelling; probably one of the reasons for the hiked price.
Interestingly, this speaker can be used as a surround speaker due to its high-quality sound output, thanks to the frequencies accompanied by high sensitivity.
Even, you can integrate this to any sound system starting from 2.1 to 7.1. However, you may need to buy two units of this speaker to get the best sound quality you wish for.
---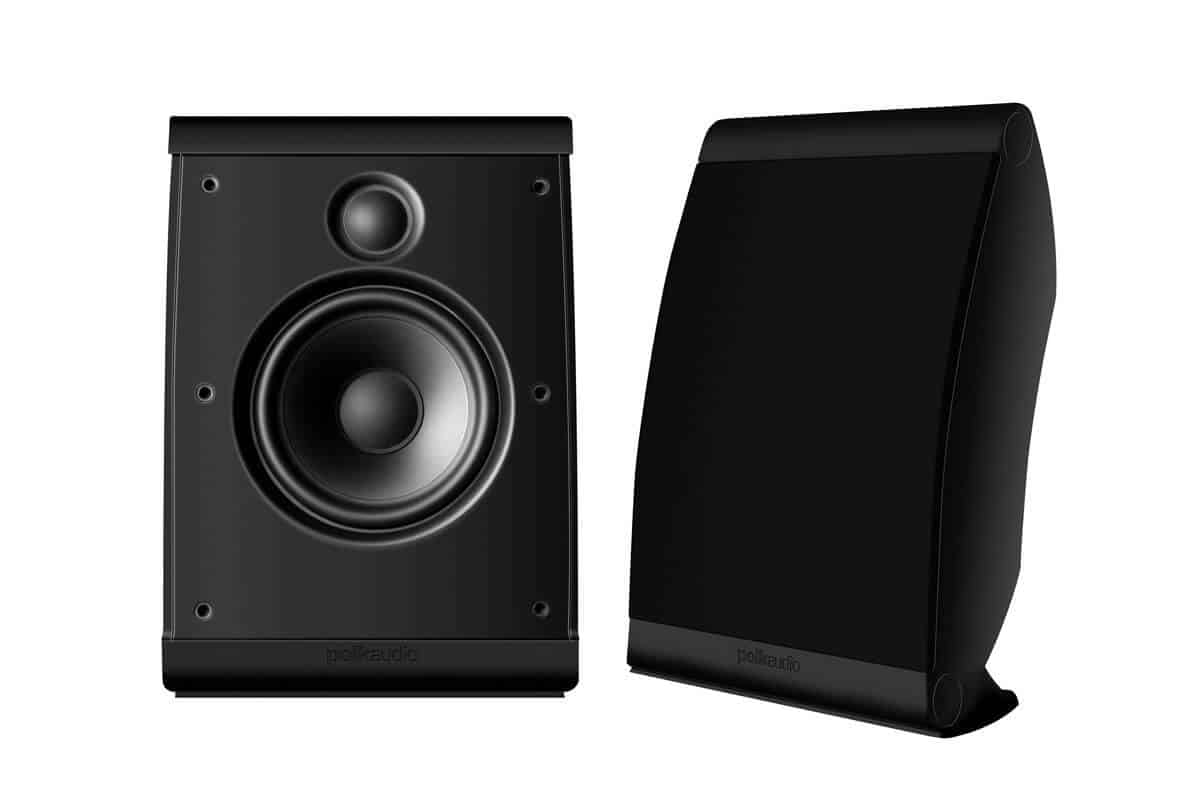 These could serve as bookshelf speakers or satellite speakers you can mount on walls. The sound produced from these speakers is high fidelity.
Polk Audio OWM3 pair of speakers is equipped with a 4.5-inch mid-woofer each and a 1-inch tweeter to deliver exclusive pure, balanced sound.
Also, they come with a patented technology codenames CCT – Capacitive Coupling Technology; this tech is believed to reproduce detailed audio that will cause you to enjoy good music when you play them back.
The bass output of this pair is equally high quality, even at high volumes; you'll still enjoy a balanced sound.
Thanks to the 80Hz – 25Hz speaker frequencies which go along with a nominal impedance of 8ohms and a sensitivity of 89dB.
Unlike other satellite speakers, the curved designs allow the possibility of mounting this pair of speakers horizontally, vertically, at corners, angular, shelf top, or even mount them on the wall.
---
8. Pyle PDIC60 In-Wall/In-Ceiling Midbass Speakers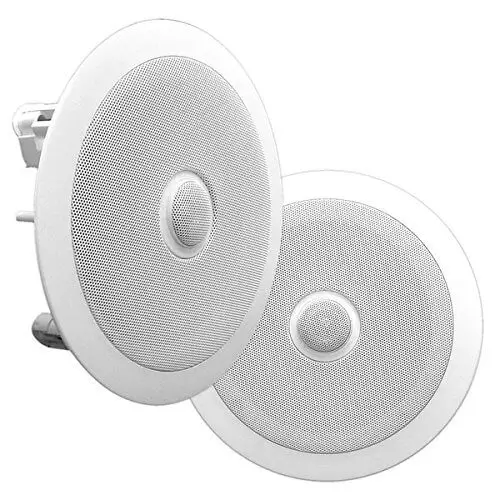 This pair is a 2-way satellite speaker with a powerful 1-inch Titanium-Dome tweeter featuring a flush mount design. The frequency rating is 65Hz – 22kHz.
In case you want a speaker you can hide in your celling so no one would easily notice where the sound the coming from, this is an ideal option.
The Pyle PDIC60 speakers come with robust bass drivers that accompany the directable 1-inch tweeter which delivers pure crystal sounds.
Whether you're planning on installing this speaker inside the ceiling of your room or on the walls, typically, the installation process is very easy.
You probably won't be needing any 3rd part help from someone. We loved this speaker because the sounds reproduced from its pores are pure and detailed.
---
When an audiophile hears or sees the name Fluance, he already knows a speaker is talking about top-quality audio equipment.
Well, the brand manufactures good sound speakers, and this pair of satellite speakers proves the fact, yet again.
Notwithstanding that this is the ninth product on our listing, it is a top-class speaker you really need to have in your home.
We could bear to complete this list for the best 5.1 satellite speakers without including this pair.
The likely most interesting part of owning this pair of speakers is that it could serve many purposes. These can act as your full surround speakers for multichannel audio sound systems.
What you'll find inside the cabinet of this part are premium patented components.
However, they are nothing more than dual 1-inch neodymium balanced-dome tweeters (Ferrofluid Cooled) and also double 4-inch polymer-treated woofers.
---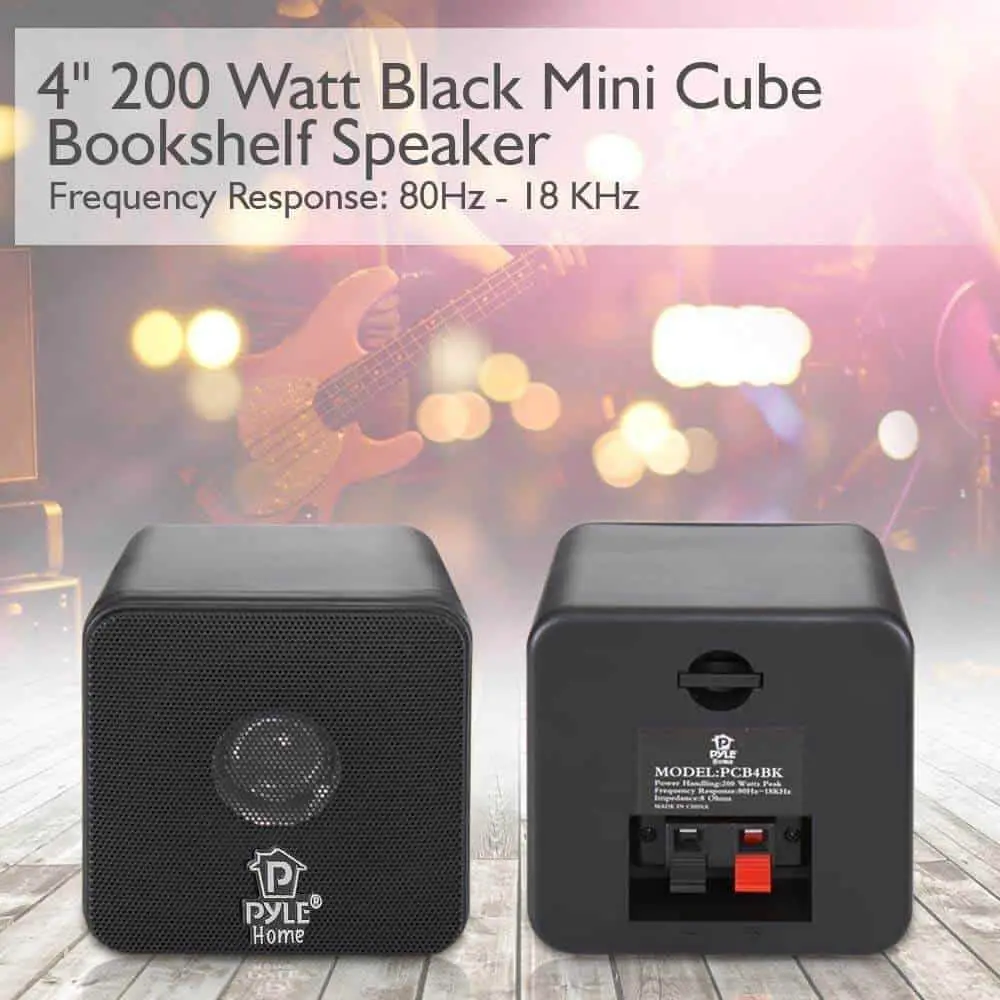 The simple design of this speaker is quite compelling that you would love to consider buying it for your home system.
It comes in pair just like the others and features powerful components which it utilizes to produce the best possible high-quality sound.
With a frequency response of 80Hz – 18 kHz and an impedance rating of 8Ohm, this pair of satellite speakers are suitable for 2.1, 3.1, up to 7.1 sound system setup.
Buyer's guide for shopping the best 5.1 satellite speakers
How many satellite speakers do you need?
Depending on the size of the room, you may need up to 4 satellite speakers to enjoy the best sound you wish for.
However, since most of the satellite speakers you'll see come in pairs, it means you'll buy two pairs if your room is so big.
A pair or even a single unit would do for small/compact rooms.
Price factor
The price factor always affects how people shop for what they need. In the case of satellite speakers, they are not too expensive; most of them are priced below $100, and they are available as pairs.
However, there are a few which cost up to $60 for a single unit and imply you'll get a pair of them at $120 which is not too costly either.
Compatibility
Typically, satellite speakers are quite small which allows you to fix them anywhere around the wall easily; either on shelves, walls, or on the ceiling.
Technology included
Most of the units we reviewed here are magnetically shielded so that even when mounted close to a television, it will not affect the color grading.
There are some which do not come with this tech, and there is almost no possible way to figure out that before buying. Thus, you have to follow reviews such as this or adhere to user reviews.
When you buy through our links, we may earn a commission.