Cables
How To Connect Home Speakers To A TV That Has RCA Jacks
As this article proceeds we learn why television speakers still underperform after all these years, how to connect home speakers to a TV that has RCA jacks, and other ways to connect Speakers to TV with other cables and connectors.
The quality standards for television picture has gone through some dramatic changes but sound quality has not changed much which means we need some of the best speakers to ameliorate our listening experience.
We need cables to connect these speakers to our television and the RCA jack is one of them.
WHY TELEVISION SPEAKERS UNDERPERFORM
Virtually every television set comes with in-built speakers but a common problem with all of them is their sound quality.
Most TVs have thin-sounding audio that underwhelms the movie displaying on the screen.
A plethora of TV producers have tried to ameliorate the sound quality of their television speakers but most of the time they still perform below par.
IMPROVING THE AUDIO QUALITY OF YOUR MOVIE, TV SHOW, AND MUSIC VIDEO EXPERIENCE VIA EXTERNAL SOURCES
The best substitute for the speakers on your television set is to connect it to an external surround system. It is rare to directly connect your TV to standard speakers.
There are a plethora of ways one can enhance the sound quality of what they view on the big screen.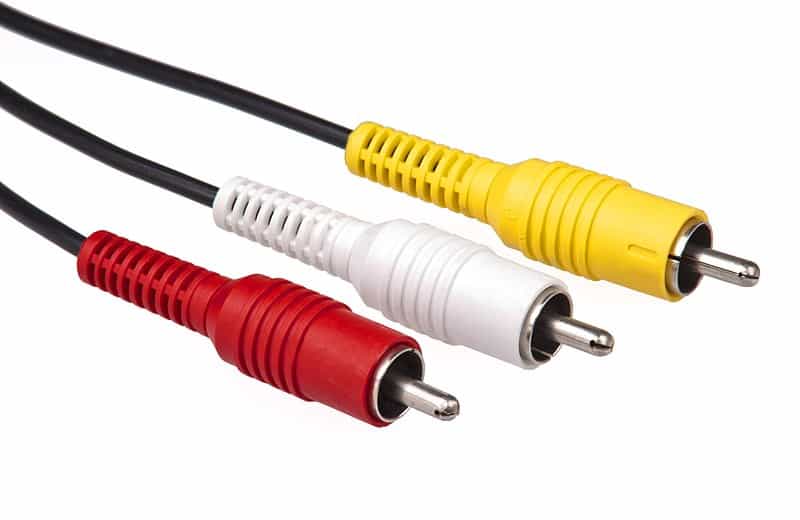 Although TVs with RCA jacks are a bit outdated but for the benefit of those who still have one of those we are going to look at it first before talking about other options.
HOW TO CONNECT HOME SPEAKERS TO A TV THAT HAS RCA JACKS
One of the simplest methods to ameliorate the audio quality of your television is by connecting an RCA output. Follow these simple steps to achieve this.
Get your cable connected to the TV's
Get the other ends of the RCA cables connected to a set of matching audio output on a home theater system, powered speakers, or soundbar.
After plugging everything in turn on your external audio system and adhere to the guidelines of your external audio.
Choose the input on your external system that you have your TV connected to so that you can hear the sound.
The output of the RCA connection sends a two-channel stereo to the external audio system to the TV.
Check to see if your soundbar has audio improvement functions if you are using one. Look out for features like; virtual surround that can get the soundstage expanded so you can get more of a surround-type audio performance.
If you connect it to a home theater receiver or home theater, look out for additional audio settings like; DTS:6 or Dolby. If this is the case, then you will be able to get a surround sound signal from the input signal of the stereo.
Several new TVs no longer have 3.5mm analog or RCA connections. What this means is that when you intend to buy a new TV and your external audio system has analog audio inputs you need to ensure that the TV you buy has that option. 
OTHER OPTIONS FOR IMPROVING THE AUDIO QUALITY OF YOUR TELEVISION
If your TV does not have an audio jack, then there are other options that you can utilize to improve the sound of your TV. Let us look at four of them.
DIGITAL OPTICAL CONNECTIONS
Follow these simple steps to connect your TV to your external audio system via digital optical connections.
Get a digital optical cable connected to the TV's digital optical output.
Get the other end of the cable connected to a matching digital optical output on your external audio system.
Follow the manual of the external audio system and your TV after the cable is connected.
Choose the digital optical input so the sound can be heard.
If you are unable to hear sound on your external audio system coming from the TV, consult the audio output settings of your TV and look for the PCM option. The problem may be corrected by this.
HDMI-ARC CONNECTION 
Another option to improve the audio quality of your TV is via HDMI-ARC. So if you have a TV with an HDMI connection, follow these simple steps.
The HDMI feature allows the audio signal to travel from the TV to a soundbar equipped with an HDMI-ARC without making a different analog or digital audio connection to the audio system from your TV.
To achieve this, you have to connect the same cable to the HDMI input connection of the TV labeled.
Apart from receiving an incoming video signal it also can output audio signals emanating from inside the TV to the external audio system that is ARC compatible and has an HDMI output connection.
What this means is that you do not have to carry out a different audio connection between the external audio system and the TV to delineate cable clutter.
To drive the point home, for you to fully enjoy the ARC, your external audio system, and your TV to incorporate this feature and you have to activate.
BLUETOOTH
This is one of the most convenient options you can find. The best thing about this option is the fact that you do not need any cable to get it connected.
Several modern TVs have Bluetooth connectivity features. You can find this feature on TVs like LG (Sound Sync) and Samsung (Sound Share).
Additionally, you ought to note that LG and Samsung Bluetooth options cannot be exchanged for one another.
What this means is that you may need to have a matching Bluetooth-enabled Samsung soundbar for a matching Bluetooth-enabled TV. These same options apply to LG.
Some of the setup and menu steps are different across TV models these are the steps to follow.
Power on your Bluetooth-enabled speaker and TV.
Visit the menu of TV's audio, choose Bluetooth, and start pairing.
Wait to get the pairing confirmation that the sound system and TV are connected.
WISA
WISA technology is another convenient option. In the wake of 2019, LG electronics innovated a method to connect your TV to a wireless external audio system with a line of NanaoCell LED/LCD and WISA-ready OLED TVs.
LG partnered with Wireless Speaker and Audio Association (WISA) to have some of their TVs equipped with in-built firmware that interacts with a certain USB dongle that has the appearance of a flash drive.
This USB dongle lets your TV send sound without any cable connection to one or more wireless speakers that are compatible.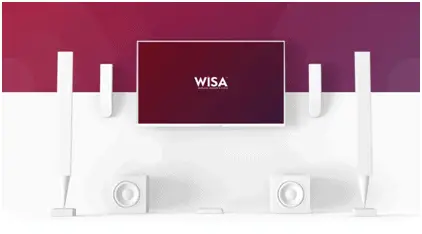 Your speakers have to be certified by WISA for them to work. Brands like Polk Audio, Klipsch, Axim, Enclave, and Bang & Olufsen make compatible WISA speakers and more brands are beginning to join the fray.
After plugging the wireless dongle and you turn your speakers on, you visit the audio set up a menu of the LG TV, and select sound out wisa speakers. Visit "device list wisa speakers" to get access to any extra setup.
If your TV is a Roku TV, You can make use of Roku Wireless Speakers. One thing to note is that WiSA speakers cannot be used with TVs and audio systems from other brands.
FINAL THOUGHTS
It is a chore and quite an unpleasant experience to endure the thin sound that your TV's speakers emanate.
You can connect home speakers to a TV that has RCA jacks to enhance the listening experience of your TV or you can use one of the other options.
With one of these enhancements, you can enjoy streaming content, TV programs, and other stuff at their maximum audio experience.
If you own a Blu-Ray/DVD Player, cable/satellite box, or any other device and you own an audio enhancement system like a home theater receiver, soundbar, or home theater in a box system then the best thing for you to do get the audio output connected to external audio system directly.
Get your TV connected to an external audio system for audio sources that pass through or originate from within your TV like on-air broadcasts.
If you own a smart TV, get audio connected from streaming content making use of one of the options that are available to you.
If none of these options are available to you or maybe you make use of your TV in a room where having an external audio connection is practical or undesirable, pay more attention to the sound of the TV instead of the picture. The audio settings options can also be checked. 
When you buy through our links, we may earn a commission.