surround systems
The Ultimate Bookshelf surround Sound System: Elevate Your Audio Experience
Introducing the ultimate audio upgrade for book lovers! Our bookshelf surround sound system seamlessly blends in with your home library, but don't let its subtle appearance fool you.
These bookshelf speakers pack a powerful punch and deliver immersive, room-filling sound that will bring your music, movies, and audiobooks to life like never before.
With their elegant design, these speakers not only improve your audio experience but also enhances the aesthetic of your home. Upgrade your reading nook to a movie theater, or your study to a concert hall.
Your home audio system setup is never complete until you add some bookshelf surround speakers. These speakers are renowned for reproducing great sound with stunning clear vocals accompanied by solid bass.
They are very important to an audiophile or a home audio enthusiast.
Here, we are presenting the best bookshelf surround sound systems which you should consider bringing into your home if you want to enjoy HiFi sound.
These bookshelf speakers listed here are proven to be the best by our expert team and also from the users' reviews available online.
So, feel relaxed and read through to discover which is the best for your budget.
The best bookshelf surround sound system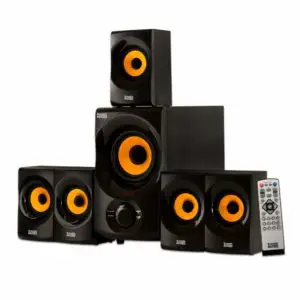 Our best choice is the Acoustic Audio AA5170 bookshelf surround sound system. At first sight, this system looks quite attractive that you'd want to look at it again.
It comes as a complete set of 5.1 bookshelf HiFi speakers and a "bass-hungry" subwoofer so that you'll enjoy great sound and bass altogether.
This bookshelf sound will suit any room size and still delivers pure room-filling sound at high volumes.
It also supports wireless connectivity via Bluetooth, and there are quite other input ports so you can comfortably play sounds from various compatible portable devices.
Also, the speakers that accompany this sound system are magnetically shielded; thus, you could mount them close to a TV or digital monitor without fear of color degrading.
You will get the full home audio system at a price slightly below $100 which is still very budget-friendly.
Plus, it has two color variants; so, you're getting the one that will perfectly blend with your home décor/design.
---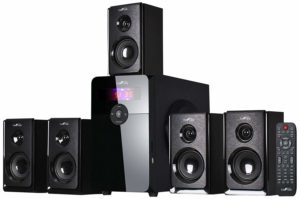 Coming from a popular sound equipment manufacturer, BeFree, this is a premium bookshelf surround sound system that will fit many purposes.
Merely looking at the set, this is quite a sophisticated sound system, well, it does live up to the expectations of a system within its price range.
The five independent bookshelves surround speakers that accompany this sound system and reproduce high-fidelity room-filling sound with clear vocals and bass.
You can as well listen to FM radio stations on this system and playback sounds from portable devices or removable drives.
BeFree Sound BFS-450 is sold at a considerable price so you won't have to break the bank to get it. There is a remote control attached to this sound set, but it has a limited range of 10m.
However, we found out that the speaker wires on the bookshelf speakers aren't so long; you may need to buy additional wires.
---

If you love premium stuff and wouldn't mind spending more to get them, this bookshelf surround sound system will be an ideal pick for you from this list.
There are up to six units of bookshelf surround speakers that come along with this system. It decodes true Dolby and DTS-HD Master Audio.
Also, thanks to the Total Harmonic Distortion + Noise (THD+N) tech which is rated at 0.06% with a frequency of 20Hz-20kHz, and an impedance of 8Ohms, this sound system delivers the best sound an audiophile would love.
Even, typically, you will get to stream music files or other sounds from compatible devices via wireless Bluetooth connectivity or any of the available input ports.
Similarly, it is easy to connect your other media players to this sound system such as your TVs; this system includes an Audio Return Channel (ARC) for amplifying TV broadcasts.
---
4. Yamaha 5.1-Channel Home Theater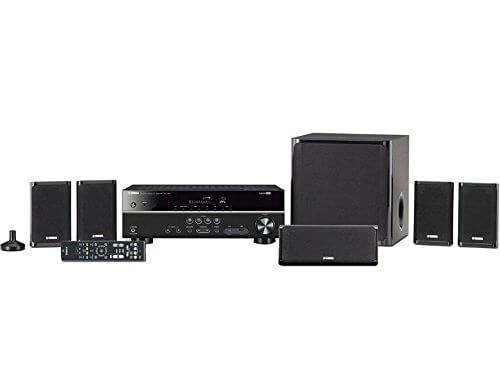 When an audiophile sees the name Yamaha, he already knows the product is worth checking out.
This set of home audio surround systems from Yamaha is one of the best you can get in the market right now, although it is quite expensive.
It supports Bluetooth connectivity for wireless music streaming with a compressed music Enhancer.
The Yamaha YHT-4930UBL is a complete 5.1 surround sound system for various homes. It supports a 4K UltraHD pass-through with HDCP 2.2.
Also, along with the five bookshelf surround speakers that come along with this system is a 6-1/2-inch, 100-watt powered subwoofer designed with Yamaha Advanced YST II technology to reproduce clear, strong bass.
This high-end sound system will suit a variety of indoor purposes which include gaming, cinema, or watching movies at home.
---
5. Klipsch Home Theater System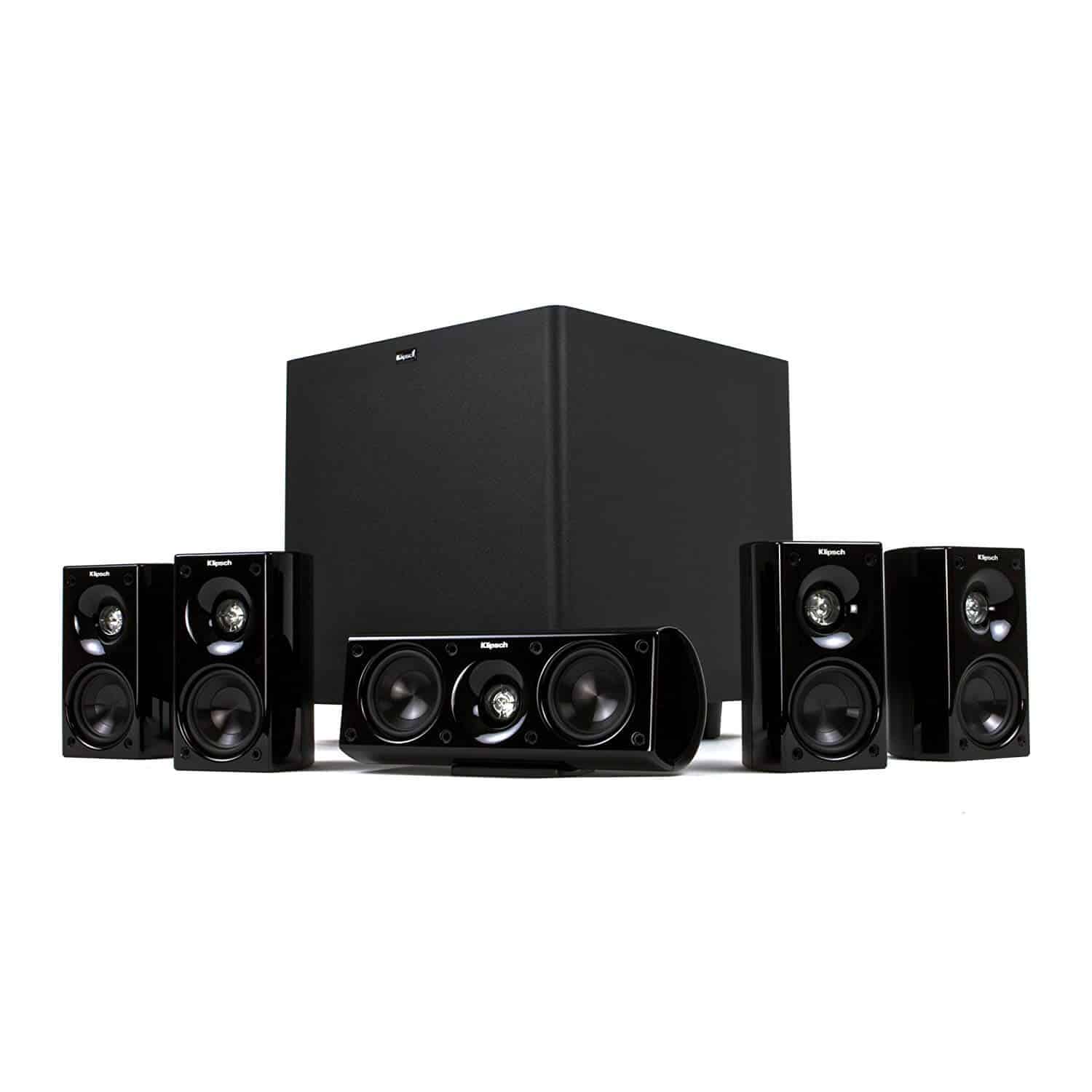 You'll be attracted by the super sleek design of this sound system. It comes with up to 4 multipurpose speakers, a center channel speaker, and an 8-inch subwoofer to deliver the best possible room-filling sound.
This sound system's tweeter is finished with the patented Klipsch horn-loaded technology for the best performance.
If you're looking for a good surround sound system for watching movies at home, this particular one adds crisp dialogue, brilliant music, and explosive effects to video content; it may be your best choice on this list.
Alternatively, you can use the provided wall brackets to mount the speakers that come along with this system on your walls if you won't prefer the use of speaker stands.
---
6. Frisby Home Theater 5.1 Surround Sound System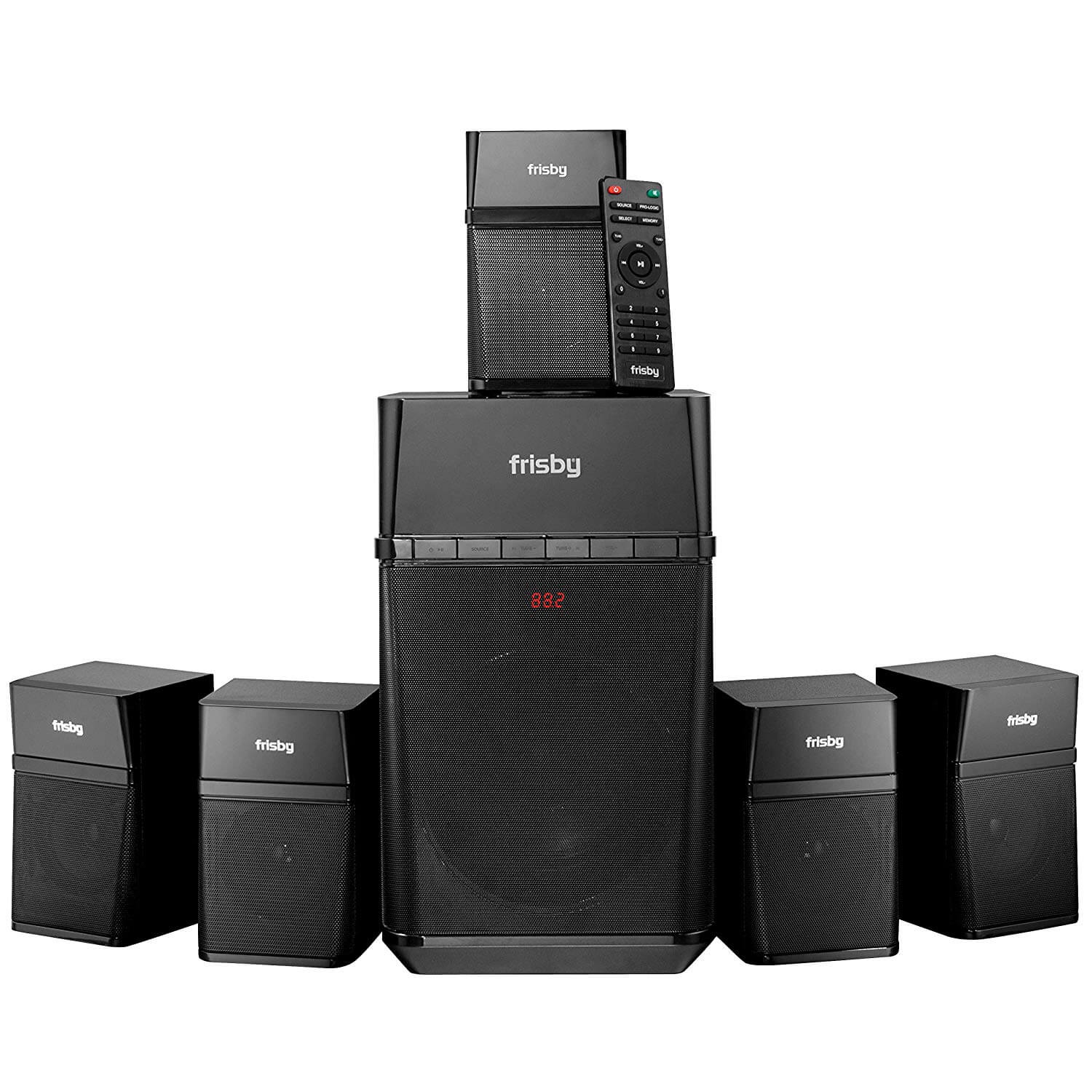 Maybe it's time to upgrade to a sturdier surround sound system or perhaps get a new one for your home.
The Frisby Home Theater 5.1 Surround Sound System looks very premium and does live up to your expectations for a speaker of its range.
It comes featuring a remote control; however, there are control buttons on the body of the subwoofer.
The system appears to be out-of-the-box ready as you won't get to engage in typical configurations to connect your media players.
You can as well connect a USB thumb drive or an SD card to this system to playback your sound files.
This home theater set would definitely blend with your home décor, thanks to the sleek body design/aesthetics.
---
7. BEFREE BFS-425 Surround Sound Bluetooth Speaker System
Here's another powerful bookshelf surround sound system from BeFree making it to our list.
This set comes with five independent surround speakers which can be placed on shelves or speaker stands.
The design of this sound system isn't so attractive, but it'll still blend with your home décor.
BEFREE SOUND BFS-425 reproduces sharp, detailed sound from its surround speakers and you can control the levels using the remote control.
Also, it comes with support for FM radio so that you can listen to interesting stations.
Additionally, or rather, typically, this surrounds sound system allows you to connect other portable media devices via Bluetooth wireless connection or input USB thumb drives in the available port.
---
8. Acoustic Audio 2.1 Bluetooth Speaker System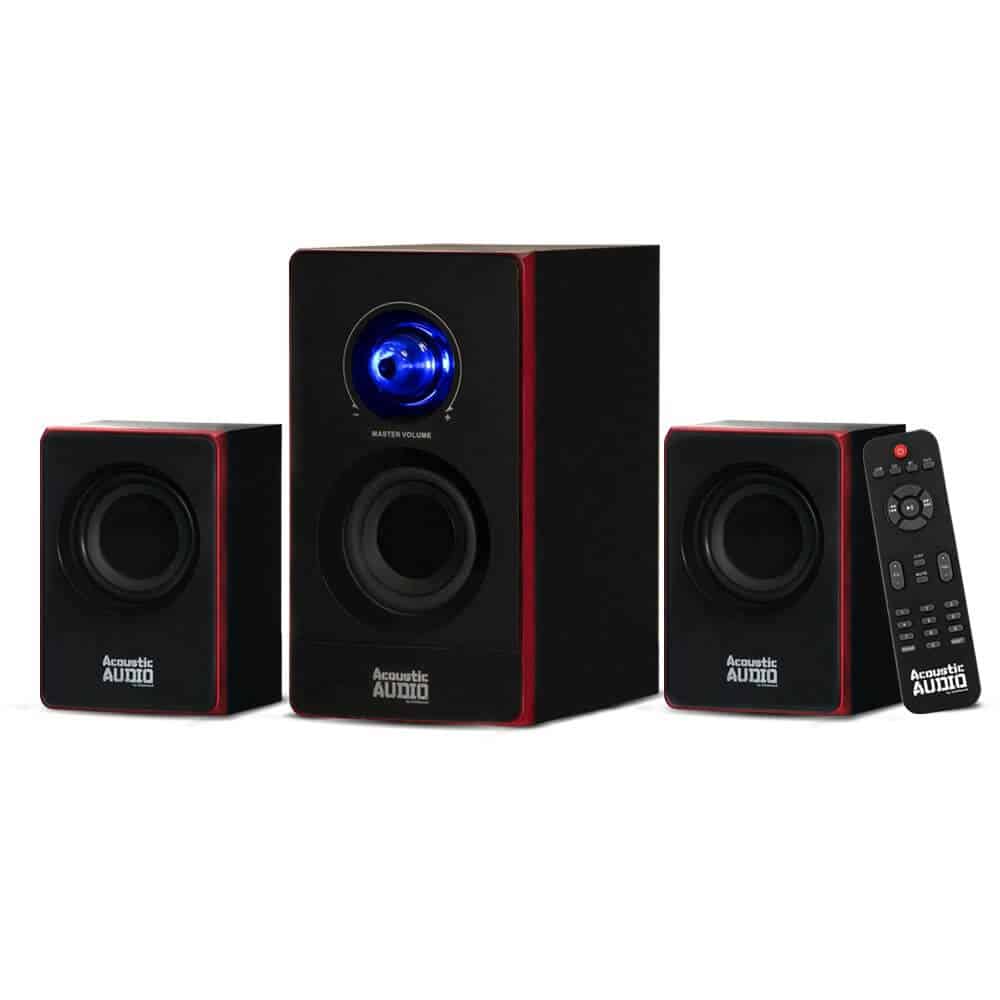 This is merely a 2.1 Bluetooth speaker system for small rooms; it won't produce enough sound that could fill a large room.
The Acoustic Audio AA2103 2.1 sound system comes with just double side speakers which do reproduce balanced sound at low, mid, and average levels.
Interestingly, the dual surround speakers featured by this system are magnetically shielded; thus, they can be installed anywhere in a room, even close to the TV.
This sound system is suitable for home entertainment (small rooms), use on laptops or PCs, suitable for DVD movie playback, gaming, and much more indoor purposes.
You'll love the design of this sound system, and the blue light that displays around the traditional volume control on the subwoofer adds more beauty.
---
9. Polk Audio 100 Watt Home Theater Bookshelf Speakers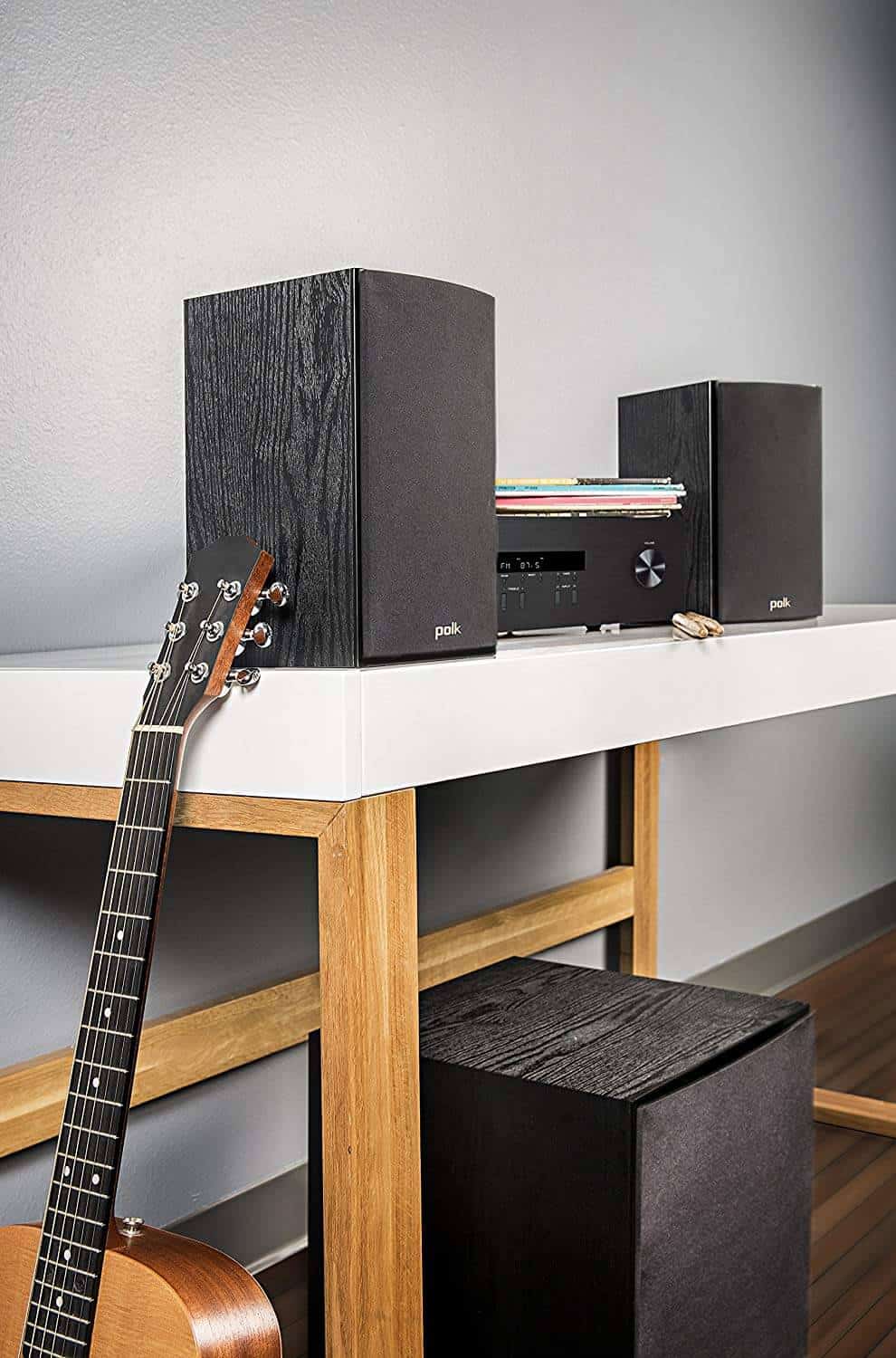 Actually, this isn't a surround sound system but a pair of bookshelf speakers that can act as rear surround speakers. The Polk Audio T15 bookshelf speaker is one of those great speakers you'll find out there to be very useful.
It comes in pairs and reproduces great sounds. This pair of bookshelf surround speakers will complement your sound system to deliver more than what you expected.
Interestingly, this pair doesn't cost much; at a price below $60, you can get them and implement them into your home sound system.
Inside these speakers lie a single 1-inch tweeter that efficiently balances sound and a 5.25-inch bass driver that produces detailed beats from a playing sound.
With this pair of bookshelf surround speakers from Polk Audio, you're set for a mind-blowing home audio experience. You can as well mount these speakers on the wall or placed them on top of speaker stands.
They would fit perfectly for a 5.1 home theater system setup. However, you could still use them for 7.1 or even 9.1 audio setups; this pair of speakers can serve a variety of purposes, thanks to the compact design and cute finishing.
---
10. Toshiba TY-ASW91 Micro Component Speaker System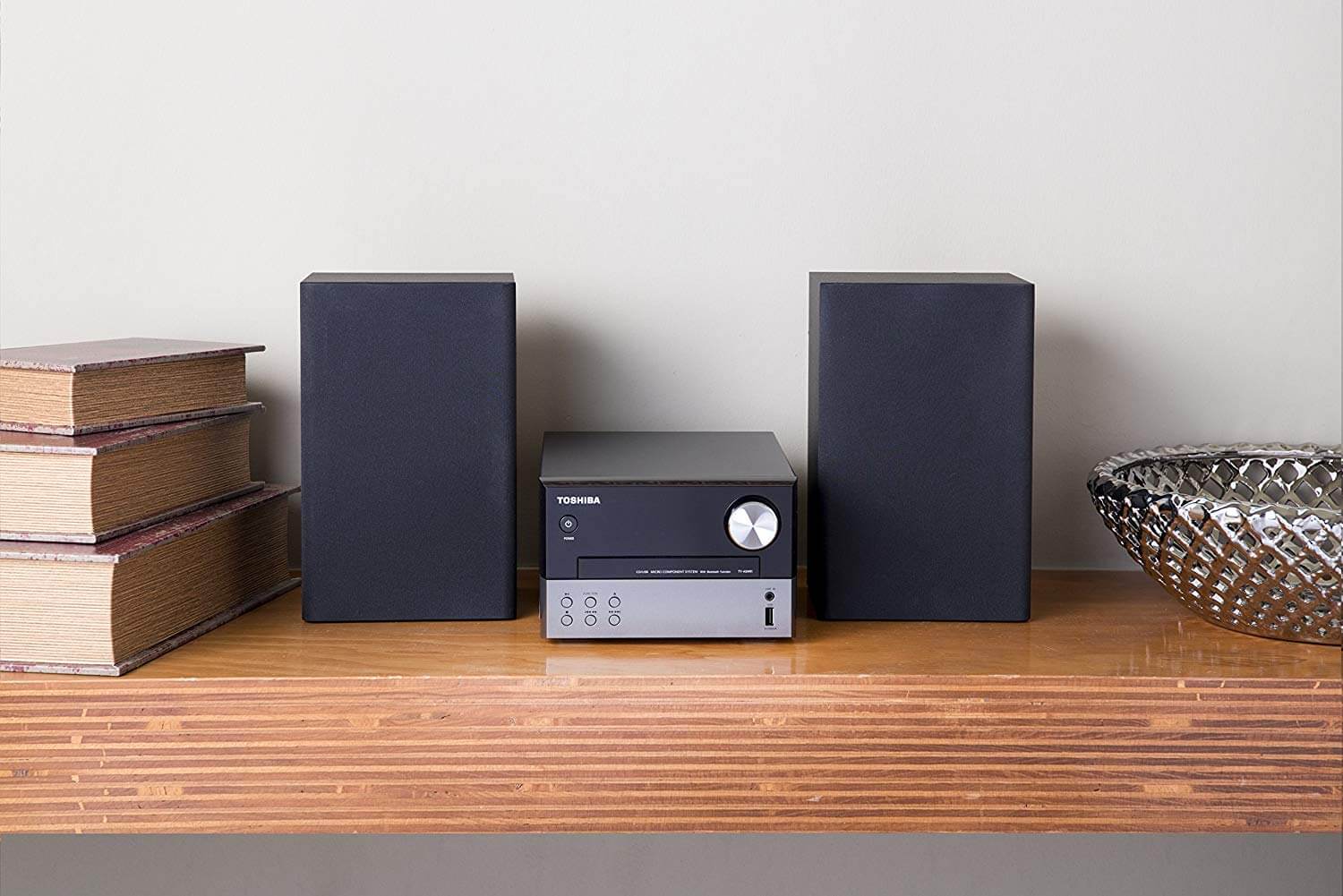 This will make for a perfect bookshelf surround sound system in a small room; it is not a complete home sound system, anyway. But, the pair of bookshelf speakers that come along with the system can make do as surround speakers in a small room.
We do not recommend this speaker for large rooms; its best fit will be for a compact room as it comes along with an external sound control system with a built-in amplifier.
On the sound system, you can connect your devices that are Bluetooth compatible to playback sounds from them.
Also, there is a USB port, AUX input unit, and a built-in CD player offering you a variety of options to playback your sound files.
Thanks to the remote control unit which made it easier for users to control the sound levels or settings from a distance.
This bookshelf surround sound system isn't the best for an audiophile but will make do for students or people looking for budget sound systems for their minor rooms.
Characteristics Of Best Bookshelf Surround Sound System For Indoor Use
We were able to put up this list following the tips we are going to provide in this section. Hopefully, you'll find the tips to be helpful.
Room size
The first thing to consider when shopping for a home surround sound system is the room size where it will be used. Large rooms require a surround system with at least up to five speakers so as to provide enough sound that could fill the room.
On the other hand, small rooms may do with 2.1 or 3.1 audio setups. However, installing a 5.1 or higher home theater system in a small room isn't prohibited; it depends on your taste and budget.
Budget
Always try to shop for the units within your defined budget. Although, in some cases, you may have to increase your budget to get the best product.
This list contains a variety of attested bookshelf surround sound systems available at cheap prices; you can choose from here.
Multiple inputs
You may have to consider the systems with multiple input options. This is because there are certain times you will want to stream music from a portable device or a removable drive.
Magnetically shielded speakers
If the available space in your room to mount your speakers is close to the television, then, you should consider going for a sound system with magnetically shielded speakers to avoid degrading your TV color output.
When you buy through our links, we may earn a commission.