surround systems
Polk Audio Surround Sound Setup: Experience Sound Like Never Before.
The Polk Audio Surround Sound Setup is the ultimate addition to your home theater experience. Immerse yourself in the world of cinematic audio with this premium setup.
Experience sound like never before with powerful and dynamic speakers that deliver thundering bass and crystal-clear highs.
The setup includes multiple speakers that are strategically placed to create a surround sound experience that will transport you right into the heart of the action.
Whether it's for movies, music, or gaming, the Polk Audio Surround Sound Setup will take your entertainment to the next level.
Upgrade your home theater today and experience the difference that a professional surround sound setup can make.
Here is a professional guide to the Polk audio surround sound setup. Also, we have listed the best speakers from Polk that you should consider using as surrounds in a home theater system setup.
The name Polk Audio is familiar to audiophiles and many home audio lovers. The brand (Polk) is renowned for manufacturing great speakers and a sound home theater system.
You'll also find a lot of wireless soundbar speakers from this brand that can be connected to TVs.
However, our primary focus in this article is how you can set up Polk audio surround sound systems to get the best room-filling sound you need to enjoy your movies and the music you play at home.
Typically, Polk surrounds speakers are engineered for tough action and reproduction of great surround sound so you can enjoy whatever you're watching or playing back on your home system.
Plus, Polk surrounds speakers are seamlessly compatible with Dolby and DTS surround formats. You can learn How to sync your subwoofer to the Polk soundbar
Irrespective of whether you're running a 2.1, 3.1, 4.1, to 9.1 home audio system setup, the addition of Polk audio surround speakers will help to create more impact.
However, if you need to enjoy the full impact of Polk's surround speakers, you may need to consider stepping up your sound system speaker set up to 5.1, 7.1, 9.1, or even more.
Anything below this setting will still deliver excellent sound but won't be as impactful as you had expected.
Thus, if you're running the native three-speaker setup, maybe you should get a pair of Polk audio surround speakers or even in-ceiling speakers for Dolby Atmos sound quality.
How to set up Polk audio surround sound:
First, let's talk about how you can place your Polk audio surround speakers in a room. We have equally provided an extensive guide on how you should place your Bipolar surround speakers in any size of room.
So, let's understand how you can place the speakers before configuring/installing/setting them up to work with your existing Polk audio home theater sound system or any other multichannel sound system.
Dissimilar to the native three speakers which should be at the front and reproduce pure/clear sound surround speakers do a different job; although not too different, anyway.
The front speakers are meant to reproduce sharply, detailed images, while your Polk audio surround speakers tend to deliver (subtle) ambiance sound that envelops (surrounds) the listening audience.
Getting an intriguing clear room-filling sound is obtainable when you have surround speakers available in the room; they are the perfect fit for different sound setups.
So how do you place/setup surround speakers
Typically, irrespective of the brand that manufactured your surround speakers, to get the best surround sound, you have to place the speakers at a height that should be about 60cm above the listener's head; it shouldn't be at the ear level range.
It is still cool if you place them at a height of about 1.8 – 2.1m above the floor or mount them on the walls slightly behind the audience.
In a setup that involves front-firing speakers, the speakers should be facing each other so that sound is projected over the listeners' heads.
Some homes have their seating areas affixed to the rear wall, and they can't possibly place their speakers on the side walls.
What to do in such a situation? Place the surround speakers bi-directional which will require you should buy a bipolar surround speaker for this placement to be effective.
When you can place your surround speakers on the sidewalls because of your home settings, bipolar surround speakers will be best as they'd reproduce a subtle sound effect. It may work perfectly if you try out in-wall/in-ceiling speakers.
Polk Audio Surround Sound Setup
place the surround speakers
following our speaker placement guide above, place the Polk audio speakers at suitable locations within your living room.
Bonus tip: you should space the speakers a minimum of 10 feet apart

wire attached to your Polk surround speaker
The native speaker wire attached to your Polk surround speaker may not be long enough. Even, sometimes, there is no wire.

So, you may have to get a lengthy speaker wire so that the length reaches your amplifier, home theater system, or any receiver you have. Cut off the edges/ends of the speaker wire at both sides (make use of wire strippers for accuracy).

Fix both sides of the speaker wire.
Fix both sides of the speaker wire to your equipment (fix the wires at one end to the Polk surround speaker by opening the red and black spring clips respectively and putting in the wires; the red wire end goes into the red spring clip, and so does the black goes into the black clip).

Once they are inside, secure them by releasing the clips and continue with the other end.

Connect the other speaker wire end.
Connect the other speaker wire end to the sound system, receiver, or amplifier matching the terminals as you did on the speaker end.

switch on the system.
There's nothing more to set up, simply switch on the system and start enjoying the ambiance sound from your Polk audio speakers.

If there are more surround speakers, you'd want to set up, follow these steps and step up your system to 7.1, 9.1, or even higher.
Frequently asked questions about Polk Audio Surround Speakers
A lot of people have asked several questions about the Polk Audio surround speakers. We'll be sharing those questions here alongside the answers to them.
These will help you in buying a good Polk audio surround sound system as well as how you can set it up in any room.
Can they serve as L/R front speakers in a 7.1 sound setup?
Yes, irrespective of the model, all Polk audio surround speakers can serve this purpose.
What kind of warranty does Polk surround speakers have?
Typically, they are eligible for 3 – 5 years of warranty coverage depending on the model you bought.
Also, ensure you bought the speakers from a verified retailer/store for the warranty to be valid.
Can they be set up using speaker stands?
Certainly, you can place a Polk audio surround system on a speaker stand.
Are Polk audio surround speakers sold in pairs?
Yes, you'll get these speakers in pairs.
Can the surround speakers from Polk Audio be used for other purposes?
They are meant to complement Polk audio surround sound setup; thus, they are merely surrounded, speakers. However, you can try them out for other purposes.
For Polk audio in-wall surround speakers, how much depth is needed?
3 ½ inches deepness will be safe to install these on walls
For in-ceiling Polk audio surround speakers, how do you set it up?
The process is typical as you would install any in-ceiling surround speaker. You can engage an audio expert to help you out.
The best Polk audio surround system
Since you've just learned how to place, install, and set up Polk audio speakers as surrounds for your home sound setup, it is better we present to you the best products you can get in the market.
Here are the best Polk audio surround speakers to complement your 5.1, 7.1, or even 9.1 sound system set up for the best home audio experience.
---
Polk Audio OWM3 Surround Speakers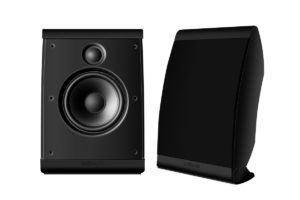 This pair of surround speakers are durable as proven by users' reviews and the price isn't that costly.
However, if you opt for the white color variant, it is sold at a price up to 10X higher than the black variant so no particular reason.
These surrounds will deliver crisp sounds high-performance4.5-inch mid-woofer and 1-inch tweeter.
They reproduce balanced sounds, thanks to the patented Capacitive Coupling Technology (CCT) which is present inside the units.
You can easily place this pair respectively at different corners or available positions in a room as it is stylishly designed to suit about seven placement options.
If you're looking towards a Polk audio surround sound setup, this pair of surround speakers will make a perfect choice.
---
Polk Audio Signature Series S10 Bookshelf Speakers for Home Theater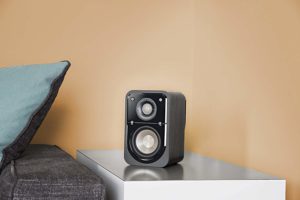 Here comes a pair of premium surround speakers that could serve for any home audio system setup. Both speakers deliver High Fidelity sound output complemented by strong bass quality.
You'll enjoy a vivid room-filling sound when you integrate these surround speakers.
They are very easy to configure and install on multi-channel systems. The Polk Audio S20 will complement a standard Polk audio surround setup.
Thanks to the sleek design of this speaker, it will perfectly blend with your home décor.
Featuring a dynamic balance acoustic array, these pair of passive surround speakers with 4-inch drivers respectively and a 1-inch Terylene tweeter dome reproduce cinematic sound experience in your home.
Even, Polk's patented PPT (Power Port Technology) powers this pair to deliver deeper bass, smoothen turbulence and minimize distortion to make sure that the sound reproduced is the best quality for TV, movies, and music.
This pair of rear surround speakers from a home audio giant – Polk is versatile and would suit any home running on any home theater setup from the native 3.1 up to 9.1.
Interestingly, these series have earned Hi-Res certification from a reputable body, and they are sold at a good price.
---
Polk Audio RC85i 2-way Premium In-Wall 8″ Speakers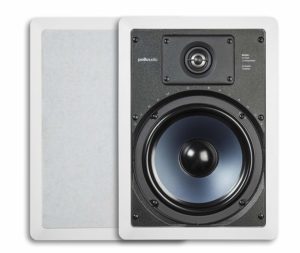 We somewhere talked about in-wall surround speakers, and this is one of the best from Polk audio to complete your surround sound setup.
These speakers (although comes in pair) produce seamless sound; they are designed with timbre-matched discrete that improve the sound quality reproduced from the components inside.
This Polk Audio RC85i delivers crisp dialogue with a more balanced sound output you'd love to hear.
Interestingly, it comes with a high-performance 8-inch dynamic-balance woofer that produces full bass that accompanies the separate 1-inch metalized soft-dome tweeter for more detailed sound reproduction when listening to music or watching movies/TV.
To ensure that this speaker lasts for a long time, Polk has manufactured it with a robust cabinet that conceals a mineral-filled polymer cone and a strong composite driver basket for moving parts to remain firm and produce a balanced sound.
You'll enjoy your sounds perfectly when you add this pair to your Polk audio surround sound setup for 3.1, 4.1, up to 9.1.
---
Polk Audio RC80i 2-way Premium In-Ceiling 8-Round Speakers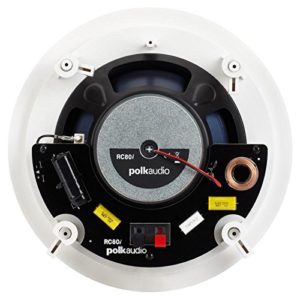 Quite similar to the in-wall unit above; however, this pair is meant to be installed in the ceiling. It stays up in the ceiling and yet produces room-filling surround sound with precise details.
Interestingly, you can use this pair of speakers for both outdoor and indoor sound setups. But, our primary consideration is for Polk audio surround setup.
Since this is yet a product from Polk audio, it will complete your Polk audio setup aiding other speakers toward immersive sound reproduction.
So that you'll enjoy your playbacks and watch your movies in the comfort of your home while still getting the same cinematic experience.
Similar to the in-wall surround speakers, this product comes with an 8-inch subwoofer driver and a 1-inch tweeter to deliver crisp sound.
The price for the pair doesn't cost much per se, although it costs slightly above $100.
What more?
Actually, this post is created to guide you on how to set up Polk audio surround sound to get the best sound reproduction at home.
Nevertheless, we have included a couple of Polk Audio surround speakers you may want to buy if you're planning on improving your home theater setup or maybe moving to a bigger house with large rooms which require more speakers for room-filling surround sound.
Polk is a reputable brand known by audiophiles as a top manufacturer of premium and high-quality equipment/systems for enjoying cinematic sound at home.
Have any questions to ask? Leave a comment, and we'll attend to that.
When you buy through our links, we may earn a commission.