Cables
How To Connect RCA Surround Sound System
RCA Surround sound system connections are an effective method to connect your surround sound entertainment speakers if you do not have access to optical or HDMI options.
RCA surround connections take the analog stereo's basic connection but utilize it to give power to a 7.1 or 5.1 surround sound.
In this text, we take a look at this sort of connection thoroughly and in clear detail and try to comprehend when and how to make use of them.
A Multichannel RCA Connection: What Does It Look Like?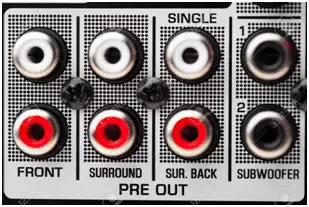 RCA surround sound connectors can be positioned at the rear of your sound system and it will have a similar look to the picture above.
This is mostly normal on something like a DVD or Blu-Ray player, but not all players are equipped with these.
There are six RCA jacks for every one of the 5.1 surround sound connections which are; Centre, front left/right, subwoofer, and surround left/right.
More connections than the aforementioned may be found on some devices and this would likely be for 6.1 and 7.1 connections.
In the instance given, there are two ports on the right area for your subwoofers.
A Surround Sound RCA Cable: What Does It Look Like?
It is not a necessity to get special cables for connecting to a device when dealing with an analog multichannel output. You just make use of a basic analog RCA to RCA cables.
For example, you could make use of three stereo RCA interconnect cables to carry out the connections or carry out six distinct connections.
In all that you do, ensure that you connect the same jacks together between the amplifier and the player output; front left output to front left input, front right output to the front right input, and center output to center input. If you do not do this, you might land yourself in a nasty situation.
Surround Sound RCA Connection: What Does It Do?
An RCA Surround sound connection is utilized for transmitting multichannel analog signals. For instance, a surround soundtrack on a Blu-ray or DVD. The RCA Surround Sound Connection does not support digital audio signals.
RCA Surround Sound Connections: When Can They Be Used?
In a plethora of scenarios, if you intended to send multichannel audio to an amplifier or AV receiver, you would make use of a digital audio connection like optical digital audio, HDMI connector, or coaxial digital audio.
However, the case may be that your Blu-ray or DVD Player or your amp is not equipped with any connections for digital audio.
In this situation, the surround sound system can still be heard in your room if both your amplifier and player had analog multi-channel jacks.
Additionally, in other scenarios, you may need to make use of analog multi-channel outputs from a Blu-ray or DVD player in order to hear some kinds of multichannel audio like Dolby TrueHD, DTS-HD Master Audio, and SACD.
Multichannel RCA: One More Thing You Should Know About It
With manufacturers in the audio industry manufacturing more devices that are equipped with digital audio connections, it is becoming decreasingly common to come across audio-visual components with an analog multichannel output.
Regardless of that fact, the presence of this sort of connection can elongate the lifespan of older devices by eradicating the dependency on digital connections.
Taking it into perspective, a digital audio connection has a plethora of good things about it, but the copy-protection that is seen on some of these digital audio signals is not one of them which is the point where analog multi-channel devices can come into their own.
As long as your Blu-Ray or DVD player has the ability to decode the digital audio on-board, you can hear the sound performance from the analog outputs without bothering yourself about having a compatible digital amp.
Just carry out your analog connection with the ports in the first picture above. This connection will allow you to hear DVD-A, DTS-HD Master Audio, SACD, and Dolby TrueHD soundtracks without spending more than necessary in the bid to upgrade all your equipment.
How To Connect Your RCA Sound System
In order to set up an RCA surround sound system, you ought to have the appropriate tools and cables handy and a little bit of patience, and meticulous and strategic planning.
The sort of tools and equipment required are different and are determined by the kind of inputs your AV receiver and other devices support and the sort of speakers you intend to connect.
Select Your Cables
While some of the other equipment and tolls aforementioned are usually necessary in most situations, the sort of cables you really require depends heavily on your type of surround sound system and other tools.
If your devices have several HDMI inputs, then HDMI inputs are certainly the path to toe.  But if that is not the case, check the ports to ascertain the type of cables you will require.
Steps On Getting The AV Receiver Set Up
Every RCs sound system are accompanied by an AV receiver, which performs as the epicenter of your surround system. How you are able to integrate the receiver relies heavily on the model you have bought.
Some models like the RTB1013 and RT151 integrate the receiver into a sub-woofer and Blu-ray player respectively, while other models like the RT2770 have a distinct dedicated receiver.
First Step
Have the receiver set up on your entertainment center close to your other devices and TV? If you are making use of a sub receiver, have it set on the floor instead of close to your other devices.
Second Step
Get the receiver plugged into the outlet in the wall, but endeavor to leave the back accessible for the moment.
Third Step
Get your TV connected to the receiver's video-out port.
If you are making use of HDMI, have the cable connected to the HDMI-In on your television and HDMI-Out on the receiver.
If you are making use of component video, have the component connected to the Component-In on your TV and your receiver's Component-Out. Component video cables are color-coded; blue, green, and red.
If you are making use of composite video, have the yellow cable connected to the Composite-In port or Video-In on your TV and the Composite-Out or Video-Out port on your receiver.
Fourth Step
Have any other devices like Blu-ray or DVD players connected and consoles following the same procedure. Go to your owner's documentation for certain directives on getting each device set up.
Getting The Speakers Set Up
Speaker setups are different according to the wired or wireless state of your speakers. Where the speakers are placed are also different relying somehow on the shape of your apartment and the wall space available.
Preparing The Speaker Wire
First Step
Have the difference between the receiver and speaker measured and cut the wire slightly longer than necessary. This additional length allows a little bit of slack during setup, in the case that a need arises for it.
Second Step
Making use of your wire cutter's stripper, take off the sheath from the last 0.5 to 1 millimeter of the wire on both ends.
How much wire you will require relies on your speakers' connection terminals but in most cases, you will not require more than 1mm of wire length.
The Arrangement And Connection Of Your Speaker (s)
First Step
The center channel speaker should be placed below the TV, and line up strategically to align it with the main sitting position or "sweet spot". Get the speaker as close to being on the same height as your ear for the best sound performance.
Second Step
Position the left and right speakers to the left and right-center channels. The amount of space you leave between them relies on your room's layout, but you should endeavor to space them out as much as possible.
Third Step
Get the surround satellite speaker arranged. In some scenarios, the speakers can be directly mounted on your wall making use of a power drill, some drywall anchors, and screws. Otherwise, you require speaker towers to keep the speakers in place.
Fourth Step
Get each speaker connected to the sub-woofer by securing and inserting the wires into the terminals.
How the terminal works are different depending on the speaker type and brand. Some make use of a clip to position the wire in place, while others screw down to hold the wire.
The receiver is equipped with marked terminals for each speaker;
SL and SR for the surround-right and surround-left speakers respectively.
CT or CEN for the center channel.
FR and FL for the front-right and front-left speakers.
SUB for the sub-woofer if it is not integrated into the AV receiver.
Getting Your Surround Sound Tested
Take a sit in the "sweet spot" and get some music or movie started to get the sound tested. If some of the speakers refuse to work, double-check on the AV receiver if you are set to "surround" mode and make sure that all cable connections are secure.
When you buy through our links, we may earn a commission.