Cables
The Sound of Success: How to Connect Your Aux Cable to Your Speakers Like a Pro.
Are you tired of silent nights and lackluster sound quality? Look no further! Our ultimate guide to connecting your aux cable to your speakers will have you rockin' out in no time.
With our easy-to-follow steps and creative tips, you'll be able to unlock the full potential of your sound system and elevate your audio experience.
Say goodbye to soundless nights and hello to crystal-clear sounds. Don't wait, master the art of connecting your aux cable to your speakers today.
Looking for how to connect aux cable to speakers? Here, we will provide a comprehensive guide as regards how you can make use of AUX cables for transmitting sounds from a device to your speakers.
The process is not so difficult anyway; it is something you may be even familiar with.
A lot of information will be shared in this article which includes a definitive overview of what the Aux cable really represents.
How you can use AUX cables for your car speakers, and lots more. You can use this cable for different purposes and you'll learn them here.
What is an aux cable?
The full name is Auxiliary, and as you may know, auxiliary stands for a kind of alternative/secondary.
It is an alternative cable that connects your portable audio device/smartphone to your sound system to play back sounds later.
Well, some people also refer to this cable as an audio cable. However, the actual name is Auxiliary Portable cable.
This cable has a 3.5mm jack on both ends; the typical 3.5mm jack you will see on headphones and earphones.
If you have a sound system (a home theater) at home, with the help of this cable, it is possible to play music directly from your portable device and it will playback on your sound system utilizing the high-end surround and center speakers for massive sound reproduction.
So, simply, an AUX cable or an Auxiliary Portable cable is an audio cable with a 3.5mm jack on both ends used for transmitting sounds from a mobile device to a sound system (home theater).
Also, check What's the Difference Between USB and Aux
That said, it means that you could be watching a movie on your smartphone or any other display device and the sounds from the movie will be playing on your home theater speakers.
You can use this cable to transmit sounds from any device with an earpiece jack (3.5mm) to your home or office sound system.
Also, an auxiliary cable does not only work for sending sounds from a portable device to a sound system, but it also works if you wish to connect and playback sounds from your device on a portable wireless speaker with a 3.5mm port.
Thus, if you have a premium wireless speaker that features a 3.5mm port, it is possible not to connect your device with Bluetooth; instead, you can use an Aux cable.
A lot of people have come to love this cable and are making use of it in several ways including inside their cars.
The technique behind how aux cables push sounds from one device to another is quite simple; just like how your headphone collects sound from your device using the 3.5mm jack and playback the sound on its speakers which are plugged into your ears.
This cable can be used on TVs, DVD players, and a variety of other devices; once the other system has a 3.5mm jack input port and speakers, you can transmit sounds from your device to the device using an auxiliary cable.
We made a "video version of this blog post" so you can watch it, check it out below ↓
meanwhile, below is a comprehensive tutorial and how can connect this cable to different sound systems as well as other speaker devices.
How to connect aux cable to speakers?
Here, we will show you how to use this flexible cable to playback sounds from your device on different devices.
Connecting an aux cable to a home theater system
This is quite very simple and straightforward for everyone. First, you need to get a working aux cable (we reviewed some good aux cables below).
When you have the cable, you can go on with the intuitive steps below.
That's all, you can now play music, movie, or any other sound on your mobile device (smartphone), automatically, the sound will playback on the speakers connected/integrated to your audio system.
So, if you have a set of 5.1, 7.1, or higher speaker setups, definitely, you'll enjoy the sound being played back in clear detail.
Now, let's see how you can connect your smartphone or portable player with an aux cable for immersive sound playback.
Connecting an aux cable to a car stereo
Yeah, it is possible to connect your smartphone and play sounds from the device on your car stereo.
Maybe you've got sweet jingles or songs saved on your mobile device which you'd love to listen to while driving; obviously, your local smartphone speaker won't produce good sound.
Therefore, an aux cable is needed to push sounds from your device to your car stereo so that you can still listen to the playback of your favorite songs in clear sound details as you drive.
Below are the steps for this action, follow them carefully.
Typically, you'll find a port on your car stereo labeled "AUX;" take note of this port
Get a functioning aux cable (you can buy a new one from our links below)
Connect one end of the cable to your smartphone
Then, connect the other end to your car stereo (into the "aux" port)
You're done! Sounds from your smartphone will be transferred to playback on your car stereo speakers.
Thus, if you have a good sound system installed in your car, you'll enjoy great playback while driving all the way to your destination.
In case your sounds didn't start playing on the stereo speakers after connecting an aux cable properly, do not bother, it may be that the stereo is not set to play sounds from aux inputs. Simply change the audio source to "aux" and enjoy your sounds.
Connecting the aux cable to a portable speaker
It is possible to connect your smartphone to a portable (wireless) speaker using an aux cable.
While this is quite old-fashioned due to the advent of wireless Bluetooth speakers which connect with your device wirelessly to playback sounds, it is still an alternative way to get your sounds to play on a portable speaker for more clarity.
It works perfectly if your device is having Bluetooth connectivity issues or the portable speaker does not support wireless connectivity.
So, here is the guide to connecting a smartphone to a portable speaker using an Aux cable.
Check to see if the portable speaker supports an auxiliary input
If your portable supports this, then, get your aux cable
Connect one of the ends to your smartphone/device
Set the audio source to "aux" and start playing sounds
Bottom line:
The steps to connect an aux cable to a speaker device or system are practically the same. However, if your aux cable is not good, definitely, there would be no sound transmission.
So, we are going to show you how to troubleshoot the problems that may occur while trying to connect the aux cable to the speakers.
Troubleshooting aux cable issues
Well, the first thing to do when you experience issues with this connection is to ensure both ends of the cable are fitted into the jacks firmly.
Check to see if the cable ends are dancing (shaking) inside the jacks or if they are firmly held.
If they are firmly held, then, check to see if you have set the audio source to "aux" on your sound system, wireless speaker, or car stereo.
This is the most common issue experienced by people when they use this connection method.
However, some systems will automatically play your sounds when you connect an aux cable, even without you defining the audio source.
Also, another common reason why sounds from your device won't playback on the connected sound system when you connect an aux cable is likened to a result of damaged cables.
Probably, your aux cable defaults, and as such sounds couldn't pass from the main device to the expected playback system.
If you have checked and the aux cable is firmly fitted into the connected devices/systems, yet your sounds are not transmitted, then, you need to get another aux cable (you can get any of the ones we recommended below).
How to know if an aux cable is damaged?
Unfortunately, there is no possible way to detect if your aux cable is damaged unless it has a physical bruise.
However, since they don't cost much, you can always get a new one to replace an old one.
Because you won't want to constantly shop for new cables almost every week, we have listed the most reliable ones you can buy.
The units we have listed below are reliable, durable, and super-effective; plus, they look sleek/beautiful.
Also, these cables do not cost much and can be used for versatile purposes; they can be used to transmit sound from your device to a car stereo, as well as suitable for a home theater connection.
We recommend these cables they are all available on Amazon.
The best reliable auxiliary cables to buy
1. Anker Premium Auxiliary Audio Cable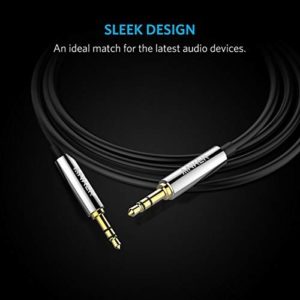 This is a reliable cable that serves multiple purposes; it can be used for home theater systems, car stereos, headphones, iPods, iPad, smartphones, and more.
The manufacturer of this cable attaches an 18-month warranty which is feasible.
Anker is a renowned audio brand and this cable from them has been proven by lots of other users to be a great one.
Using this aux cable ascertains HiFi sound transmission and output.
Plus, the length is 4ft and there is an option to request the 8ft variant. The black color finish is perfect and sleek.
---
2. AmazonBasics Male to Male Stereo Audio Cable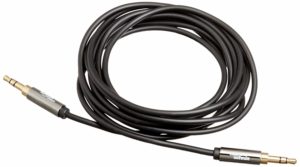 This patented aux cable is available at a formidable price is proven to be durable by us and a lot of other users.
The cable is finished with a shiny black coating and the length is 4 feet. Both ends are exactly 3.5mm and would fit into any jack input meant to accommodate it.
You can use this as an audio jack. With this cable, you can connect your smartphone to lots of stereo systems.
It looks fancy and sleek and comes with the manufacturer's warranty coverage (12 months, limited).
---
3. iXCC Male to Male Auxiliary Cable with Gold Plated Connectors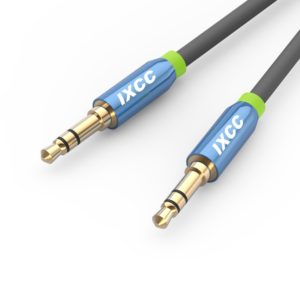 Dissimilar to the other two products above, this aux cable features a 3ft long cable; the other ones above are 4ft long.
However, the manufacturer of this cable is reputable and the cable itself has been proven by over 9000 users to be perfect for this purpose.
The cable connects your smartphone to several other systems or stereos so you can listen to high-quality sound playback for your music or movies saved on a smartphone.
You're covered with 2-year warranty support from the manufacturer on the purchase of this aux cable from a registered retailer.
---
4. Syncwire Premium

Male to Male AUX Cord

Cable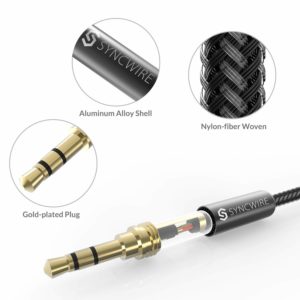 Here is a stylish aux cable that is also compatible with lots of devices and assures of HiFi sound output.
This cable is 3.3ft long and can be used for car stereo connections of home audio system connections.
Also, the cable is tangle-free, crafted with polished 24K gold-plated connectors that eliminate signal loss and prevent noise.
3 years of warranty coverage is attached to this product from the manufacturer and it is original.
All your devices with 3.5mm jack support are compatible with this aux cable.
---
5. iVanky 3.5mm Auxiliary Audio Cable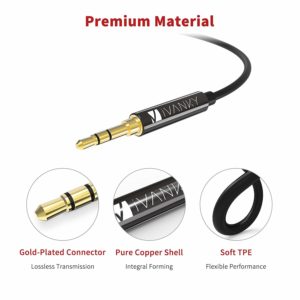 The unconditional lifetime warranty support is one of the reasons people tend to go for this cable.
However, it is sleekly designed and the length is 4ft. This aux cable is compatible with lots of devices/systems with 3.5mm jack support.
Also, this aux cable assures high-quality sound transmission and works right out of the box. Interestingly, you'll two iVankyaux cables at the price of one if you buy from our link.
Not only us but also a lot of other users have proved that this cable is durable and reliable.
---
Wrap Up:
In conclusion, connecting your aux cable to your speakers is a simple and easy process that can greatly enhance your listening experience. With the help of our guide, you can say goodbye to silent nights and hello to crystal-clear sounds.
Don't let mediocre audio hold you back any longer. Master the art of audio connection and elevate your listening experience today.
When you buy through our links, we may earn a commission.