How Many Speakers Does Google Home Have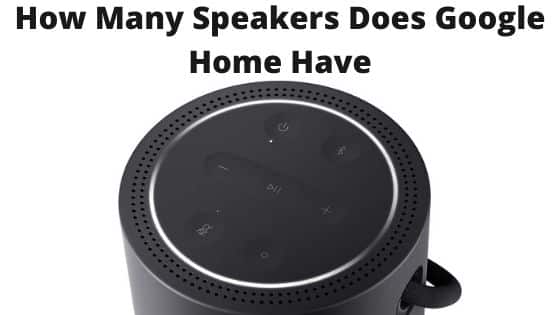 Affiliate Disclosure: Hey! By the way… any links on this page that lead to products on Amazon or any other merchant site, are affiliate links and I get paid a commission if you purchase. These commissions will never come at a cost to yourself.
Finding the best Google home speaker is dependent on what you need. Google and other smart home producers have a vast selection of displays and speakers that are suitable for different scenarios.
These ranges of speakers give you many options to choose from but you should not buy everyone.
Each of these speakers is equipped with Google Assistant, a virtual helping hand that is pre-installed in Google Home, Nest Mini, or Google Nest Hub Max Speaker (the three original Google Home speakers).
With one of these Google devices, you can enjoy the best Google Assistant commands.
Since the inception of Google Home speakers, there have been emergences of impeccable third-party speakers that are equipped with Google Assistant.
How Many Speakers Does Google Home Have?
There are three original Google Home Speakers which are the aforementioned; Google Home, Google Nest Mini, and Google Nest Hub Max Speaker, but since their inception the world of smart speakers has seen impeccable speakers that also support Google Assistant.
Some of these speakers perform better than others and are portable. In this article we are going to discuss four of these Google Assistant-enabled "Google Home" speakers.
What Are The Best Google Home Speakers?
In this text, some of the best Google Home speakers are highlighted below with their pros and cons.
If you are looking to get a Google Home speaker, then one of these would be suitable.
Before we proceed, let me just state that we think that the Google Home Nest Mini (One of the original Google home speakers) is the best amongst the original Google Home speakers.
Placed as a rival to the Echo Dot, the Google Nest Mini is an affordable and compact speaker that allows you to maximize the superpowers of Google Assistant.
It has a fantastic sound performance for its size; it is equipped with far-field mics that can pick up on "OK Google" in any noisy environment.
The Nest Mini has a fabric-swathed, fashionable design that hides the fact that it is an electronic gadget or a sound system.
The in-built in-wall mount of the Nest Mini means that it will not take too much space, not that it can in the first place.
However, for the best Google Assistant-enabled Home speaker, look no further than the Sonos One. It is larger than the Nest Mini and that size is evident in its sound performance.
With or without Google Assistant, the Sonos one is great for giving you good music delivery in every part of your home.
With the Sonos One, your audio profile can be customized and you can also stream music from a plethora of sources or pair it to your smart TV.
On the other hand, the Google Home and Google Nest Hub Max are some of the best Google Home speakers also.
As Google's pioneer smart speaker, Google Home is still a top smart home hub that is easy to set up and it is a great gadget for individuals that desire to up their IQ.
The Four Best Google Home Speakers On Amazon
Sonos One (Gen 2) – Voice Controlled Smart Speaker with Amazon Alexa Built-in
The Sonos One is not just one of the best Google Home speakers; it is additionally one of the best smart speakers you will find in the market today.
To date, we have not come across a smart speaker that sounds better than it does, hearing this speaker for the first time gives you the feeling of listening to a larger sound system.
The Sonos One has a stereo sound feature that allows you to pair two of them together or have them connected to other speakers from the brand to form a full home audio entertainment system.
Apart from impeccable quality, another top feature of the Sonos one is that you can stream from a plethora of audio streaming services, from popular apps like Spotify to more unknown channels and radio stations all over the planet.
Although the Sonos One is not equipped with all of Google Assistant's abilities, it comes with the basic features.
Of course, the Sonos one may be a bit more expensive than a Google produced smart speaker, but its sound performance is worth it.
---
Sonos Move – Battery-powered Smart Speaker
Sonos makes another entry with one of the best Google Home speakers and arguably the best overall sounding portable smart speaker you will find in the market today.
You can carry it around your apartment and outside too while being able to access Sonos' complete streaming collection.
The Sonos move is also equipped with Auto True Play, a brilliant technology that utilizes the speaker's internal mics to give it a great sound according to its environment, whether it's a small front porch or a large backyard.
The Sonos move is additionally weather-resistant and has a very strong built that makes it strong enough to drop on concrete without sustaining any damage.
The speaker is weighty at about 6 pounds. One thing to note is that if you are away from the speaker's WiFi range, all of its smart features get deactivated which means that you have to depend on a Bluetooth connection.
Although the Sonos move is quite expensive, if you want the best audio in an outdoor setting, this is your best bet.
---
Lenovo Smart Clock with The Google Assistant
This is one of our favorite Google Home Speakers. The Lenovo Smart clock has an adorable four-inch display; it is the most suitable smart home device to place on the table beside your bed due to its alarm-clock feature.
You have the option of a plethora of alarm clock faces in various styles and colors, depending on the aesthetic of your room.
The Lenovo Smart Clock display dims and plays soothing and relaxing noises at night. This device boasts of a decent audio performance much better than you would anticipate from a smart clock.
The sound is so impressive that its bassline would vibrate your mattress, which is a good thing if you find it difficult to get off your bed in the morning.
---
The Bose Portable Home Speaker
Bose has always excelled in its products and they shine once more with the Bose Portable Home Speaker.
This is one of the best Google Home speakers because it emanates top-class sound, is impressively portable, and has Google Assistant integration.
We discovered that this Google Home Speaker is a great choice if you love the Bose brand and likes a voice assistant that follows you around.
Although many individuals prefer the Sonos move, the Bose Portable Home speaker offers fuller listening with its 360-degree setup.
Additionally, it has a cute, fabric-swathed handle and lightweight design which makes it easier for you to carry around with you.
The Bose Portable Home Speaker has a modern look that is ensured by its black and white-silver matte finishes.
How To Select The Best Google Home Speaker
The main thing you have to decide when shopping or window shopping for your preferred Google Home Speakers is whether you seek a portable speaker, a standard wired speaker, or a speaker with a display.
If this is the first time getting one of these, then we advise that you go for the Sonos One. It is simple to set up and can be the forerunner for getting your other devices connected.
If you have a full house or are inside your kitchen a lot, then going for a smart speaker with a display is a good choice.
You can check on your video doorbells and security cameras, make calls and get recipe advice on the go.
If you are always mobile and want to take your soundtrack with you, consider choosing one of the portable Google Home speaker options like the Sonos Move.
What Are The Basic Commands For Google Home
Google has done well in the expansion of its Google Home commands, so if you intend to purchase one of the aforementioned devices, or you already have one then you need to get familiar with some of the basic commands:
To increase the volume, say: "Hey Google, louder" or "OK Google, turn it up."
To reduce the volume, say: "OK Google, turn it down" or "OK Google decrease volume".
To stop action, say: "OK Google, be quiet," or "stop" or, "pause".
Conclusion
Smart speakers have been a welcome innovation, and Google Home has some of the best in the market today, take advantage of these, and get one today.