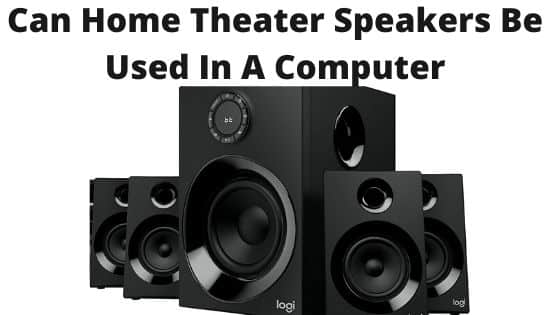 Affiliate Disclosure: Hey! By the way… any links on this page that lead to products on Amazon or any other merchant site, are affiliate links and I get paid a commission if you purchase. These commissions will never come at a cost to yourself.
Several individuals are uncertain as to whether can home theater speakers be used in a computer.
Sometimes you may want to take a break from working with your PC and use it as a way to relax via watching movies and listening to music or you may want to listen to music while you work, either way you may need a speaker to get the full sound experience.
Some may have the extra cash for separate speakers for your computer while others do not, again either way it would be a solid scenario if your home theater speakers can be used in your computer.
Well, you have no worries because your home theater speakers can indeed be used in a computer, in this article, you will learn not only how to connect your speakers to your PC, but also how your TV can be used as a PC monitor for whatever purpose, as a matter of fact, new are going to start by learning how to use your TV as your computer monitor before proceeding to the speaker side of things.
How To Use Your TV As Your Computer Monitor
The simplest method to integrate your computer with your home theater is by connecting it to your television. With the HD and 4K Ultra HD TVs of today, the overall image and display resolution quality can be as crisp as most computer monitors.
Before you begin, check your television for a VGA input port. If your TV does not have this, then you will have to buy a USB-to-HDMI or VGA-to-HDMI converter.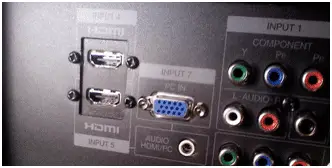 If your Tv is equipped with a DVI output, you can utilize a DVI-to-HDMI adapter to connect your PC to the TV.
If your PC is equipped with am HDMI output, this eradicates the requirement for an extra adapter. You can connect the HDMI output to your computer directly to the TV's HDMI input.
After successfully connecting your PC connected to your television, you are provided with a large screen area where you can work.
This is not only suitable for viewing videos and photos, but also for: video creation, photo, internet browsing, document, and editing has a different and clearer feel to it.
As for gamers, some Ultra HD TVs and HDs support 1080p 120Hz frame rate input signals.
If you are thinking about using your television as part of your online gaming experience, check both your TV and PC if they have the features to handle this.
Now that we are done with learning how to use your TV as your PC monitor, let us learn how to access audio from your computer on your home theater system and use your home theater in a computer.
If your PC is equipped with HDMI, have it connected to one of your TV's HDMI inputs or the receiver of your Home Theater.
If you make use of the HDMI connection, it should also transfer audio, as HDMI can pass both audio and video signals.
Whether you have the HDMI routed through the receiver of your home theater or directly connected to your TV, the screen of your PC should be displayed on your TV and you should be able to hear the audio from your home theater receiver or TV.
Additionally, if your home theater receiver detects an incoming Dolby Digital bitstream while routing your HDMI connections through it, the receiver will decode the signal for a complete surround sound listening experience.
If your computer is not equipped with HDMI but has VGA or DVI, there are ways it can still be worked to grant you audio access.
One way to achieve this is to see if one of the TV's HDMI input has a set of analog audio inputs paired with it.
If that is the case, have your PC connected to that HDMI input to gain access to video and then connect your PC's audio output to the analog input that comes with that HDMI input.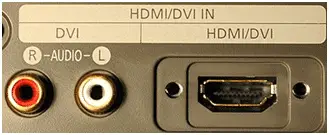 Additionally, if your TV has a VGA input, the instructions above can also be applied.
If you are making use of a home theater receiver, check to if your computer is equipped with multi-channel outputs that are mostly utilized for a high-end computer surround sound speaker system.
If that is the case, those same outputs can be used to connect to a home theater receiver that has a set of analog multi-channel preamp inputs. You can connect your PC to a digital optical input on your home theater receiver if it has a digital optical audio output.
When making use of digital optical audio or the multi-channel analog solution with your home theater receiver, you should connect the VGA or HDMI output of your PC to the TV directly and do your audio connections separately to the receiver of your home theater.
After trying one of the options above and you are unable to get audio, then check the user guide or HDMI input settings money of your TV for any extra steps required to activate this option.
You Can Also Connect Your PC To Your Home Theater Via A Network
The aforementioned for connecting your PC to your home theater all need your PC to be close to your home theater receiver and TV.
However, there is also another option for connecting your PC to your home theater even if it is located in a separate room through a network.
Apart from your PC, you can connect a media streamer, a smart TV, several Blu-ray players, and a plethora of home theater receivers to your internet router to create a basic home network.
Depending on the features of your connected devices, you may have the ability to access and stream video, audio, and photos that are in your PC's storage directly to your TV or routed via a compatible media streamer or Blu-ray disc player.
This can only work if your Blu-ray Disc player, TV, or media streamer is equipped with an in-built app, or downloadable apps that make it recognize and interact with your computer, which displays as a media server.
Once recognized, you can utilize your television or a different device to search your computer for media files that are playable.
The only turn off is that relying on the app used or your device may be daunting because not all media files are compatible, but it provides you a method to relish PC-stored media content without having to sit in front of your computer.
You Can Setup And Control Your Home Theater System With Your Computer
Another method of making your PC part of your home theater system is as an instrument for setting up and controlling the system.
Virtually all home theater receivers are equipped with a speaker setup system. These systems are known by different names depending on the brand of the AVR, examples include MCACC (Pioneer), Accu EQ (Onkyo), Anthem Room Correction (Anthem AV), Audyssey (Denon/Marantz), YPAO (Yamaha).
Although some of these details are different, the systems all function by utilizing an added mic that is placed in the main listening position. The receiver produces test tones which it analyzes.
The analysis allows the receiver to set the proper cross over points and speaker levels between the subwoofer and speaker so that your system gives you impeccable sound performance.
On select high-end home theater receivers, a computer can be utilized to start and monitor the process and the set up results of the speaker.
The results may have frequency graphs or numerical tables that can be exported and printed out with your PC.
From room connection systems that benefit from monitor and PC start, the computer needs to be connected to your home theater receiver directly, but if the receiver undergoes all the tasks from within and just export the results to a flash drive, then the computer can be anywhere.
Home Theater Control
Another method of making your PC even more useful is by utilizing it as your home theater system's control hub.
If your main components like your Home Theater Receiver and TV and your PC has Ethernet ports, Wi-Fi, and RS232, then they can be linked together with internet protocol so that the PC can control all functions from selection and source labeling of the settings required to perform the tasks to manage, access, and play your audio and video content.
Additionally in some cases, your PC can control room temperature, lighting, and in the case of video projection systems it can control motorized screens.
Final Thoughts
Aside from connecting your home theater speakers to your computer, there are a plethora of ways you can make use of your computer as a vital part of your home entertainment.
However, any laptop or PC can be connected into a home theater set up in some way, to ensure total compatibility with your home theater audio system, streaming needs, gaming, and TV, you should think about building or purchasing your own Home Theater PC.