The Best Bluetooth Transmitter Adapter For Mp3 Players
Affiliate Disclosure: Hey! By the way… any links on this page that lead to products on Amazon or any other merchant site, are affiliate links and I get paid a commission if you purchase. These commissions will never come at a cost to yourself.
If you're looking for the best Bluetooth transmitter adapter for MP3 players, you should first know about Bluetooth adapters and then how to make a better choice. Here's a comprehensive article for your needs.
With a good Bluetooth transmitter adapter, you can turn any MP3 player (without Bluetooth support) to a function like the one which has Bluetooth connectivity support.
Most MP3 players feature 3.5mm (AUX) jack input and a slot for your memory card. This means that you can only use a wired headphone or earphone to listen to the music being played by the MP3 device.
However, technology has made it possible that you can now use any of these transmitter adapters to turn any MP3 into a wireless player so that you can enjoy your songs, podcasts, and audio wireless on the go.
These adapters will offer Bluetooth connectivity support to your MP3 device, and you can now use the MP3 as a Bluetooth-compatible device.
How to use Bluetooth transmitter adapter for MP3 players
Below is how to turn your MP3 player into a Bluetooth MP3 Player using a specific tech.
Time needed: 2 minutes.
how to turn your MP3 player into a Bluetooth MP3 Player
choose from our recommendations

There's a lot of this tech available in the market; however, we have reviewed the best models you can buy in this article (below).

You can choose from our recommendations.

Connect the Bluetooth transmitter

Connect the Bluetooth transmitter to a power source; some are USB-powered, while some have to be connected to the socket.

Power the adapter and connect your MP3 using an AUX (3.55mm) jack cable, but don't' power the MP3 yet.

Pair the Bluetooth transmitter

Pair the Bluetooth transmitter adapter with your wireless headphone or earbuds.

Power the MP3

Power the MP3 and start playing music; sounds from the MP3 player will be transmitted to the connected wireless device via the Bluetooth transmitter adapter.
Now you can listen to your audio without range restrictions or carrying your MP3 player everywhere you go.
The best Bluetooth transmitter adapter for MP3 players
1. TaoTronics Bluetooth 5.0 Transmitter and Receiver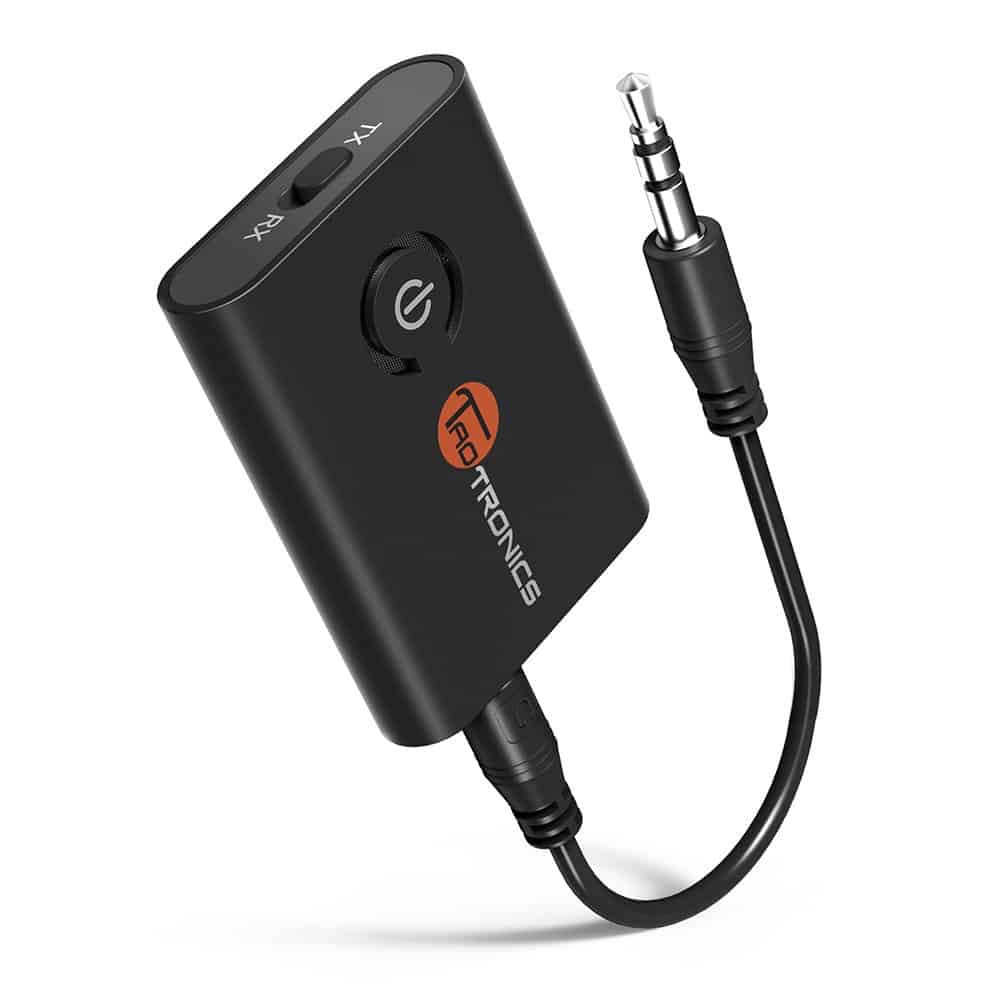 The TaoTronics Bluetooth transmitter and receiver is a compact unit that allows you to turn most non-Bluetooth media players to become Bluetooth media players.
It is very portable and acts as a transmitter or a receiver. More so, you can pair this adapter with two headphones at the same time.
It supports Bluetooth v5.0 and stays connected to your device up to 100ft (unobstructed) distance.
Interestingly, you can use this adapter while it is charging; however, it comes with a rechargeable battery that lasts for quite a couple of hours after a full charge.
You can virtually connect any device in your home to this adapter and enjoy wireless audio transmission. This adapter can be used for TVs, PCs, CD players, iPods, MP3 / MP4, and more. 
Furthermore, you'll enjoy pure, high-quality audio with this transmitter/receiver.
---
2. Nulaxy aptX HD Long Range Bluetooth Transmitter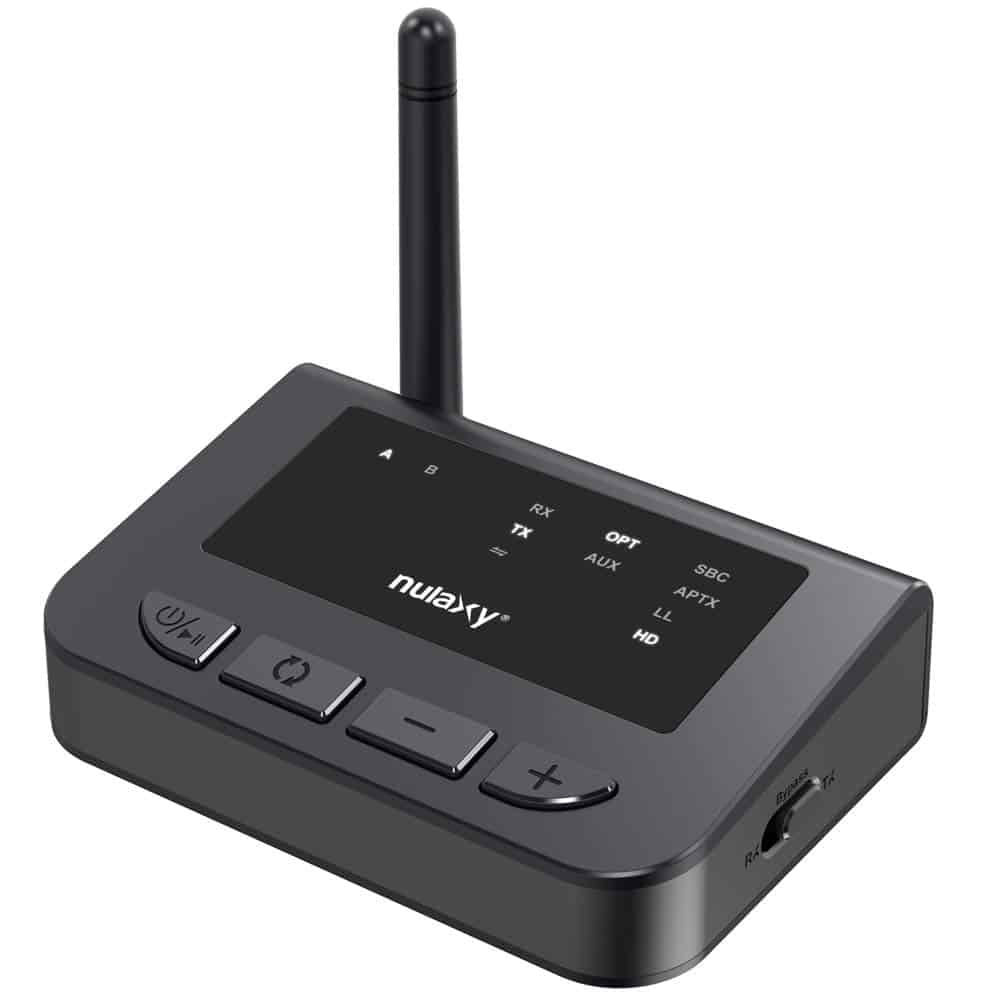 This adapter also works as a Bluetooth receiver that gets signals from your mobile phone or computer to your headset.
It delivers HIFI sound quality and comes with a bunch of features / physical buttons.
The Nulaxy Bluetooth Transmitter/Receiver is quite portable, supports Bluetooth 5.0, and promises to stay connected to your device up to 150ft away.
Plus, you can pair two devices to this adapter at a go.
Nulaxy BX04 comes with more options, as well as supports aptX HD to provide you with pure audio sounds.
There are different input ports supported by this adapter; you can connect your devices with digital optical, aux, or RCA audio cables.
The versatility of this adapter is one of the main reasons we included it on our list. However, the price is reasonable, and it works very well.
Interestingly, the manufacturer of this product offers 180 days money-back guarantee and lifetime warranty.
However, you must buy this product from any of the verified retail stores (online or offline) to become eligible for the guarantee and warranty.
---
3. TROND Bluetooth V5.0 Transmitter Receiver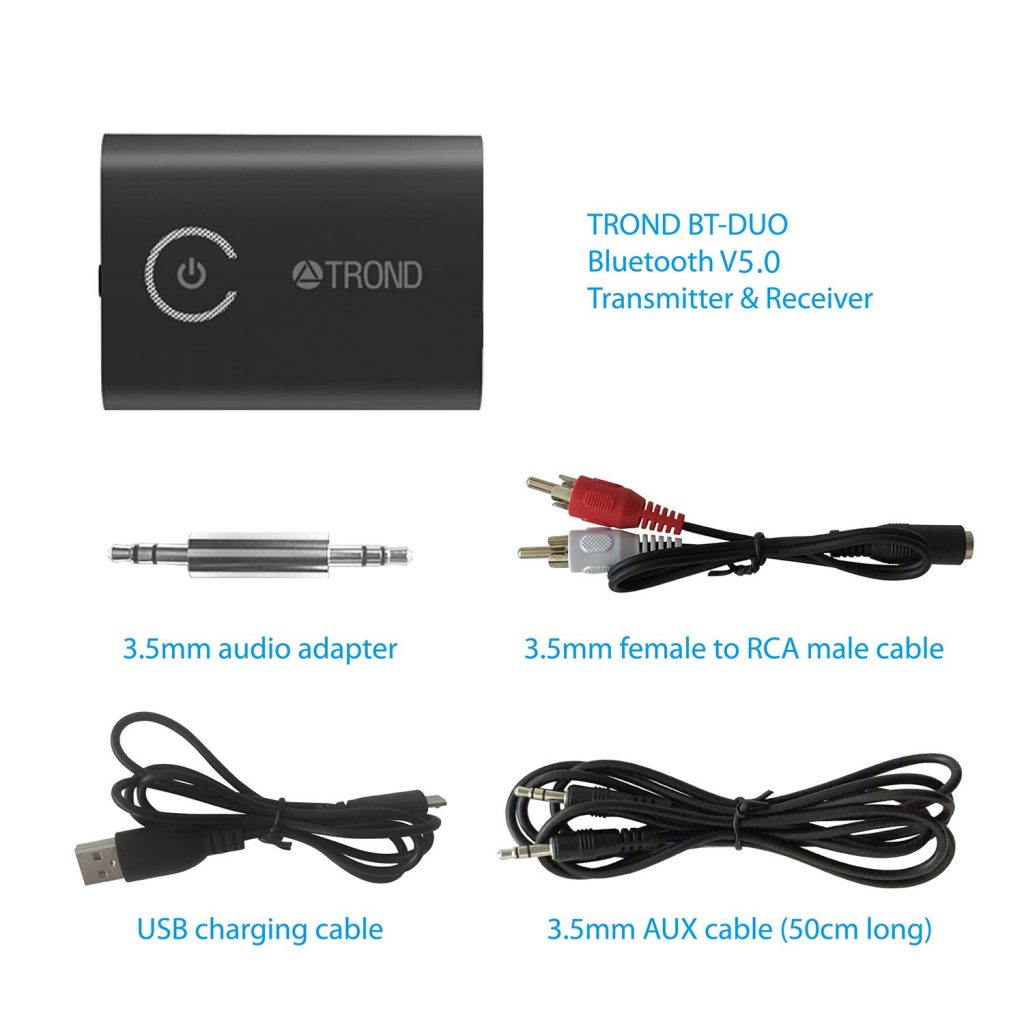 Powered by a premium CSR8670 chipset, this Bluetooth transmitter and receiver support apt & apt Low Latency for both TX and RX modes.
With this gadget, you can turn your mp3 player to a Bluetooth transmitter so that you can enjoy your music wirelessly.
The transmitter delivers high-quality audio with minimal lag; however, your Bluetooth headphone has to support apt Low Latency for you to enjoy your music without delay.
Also, this adapter can transmit audio from various sources such as your TV, non-Bluetooth MP3 player, CD player, E-Reader, or even laptop.
Pairing your Bluetooth device with this adapter doesn't take time in either of the supported modes.
This Bluetooth transmitter/receiver is sold at a considerable price; it is very much portable, and the design is quite sleek.
The dual-stream and multipoint support available on this adapter allows you to pair up to two devices at the same time.
The Bluetooth version supported by this gadget is v5.0, and it hides a rechargeable battery inside.
---
4. Boltune Transmitter and Receiver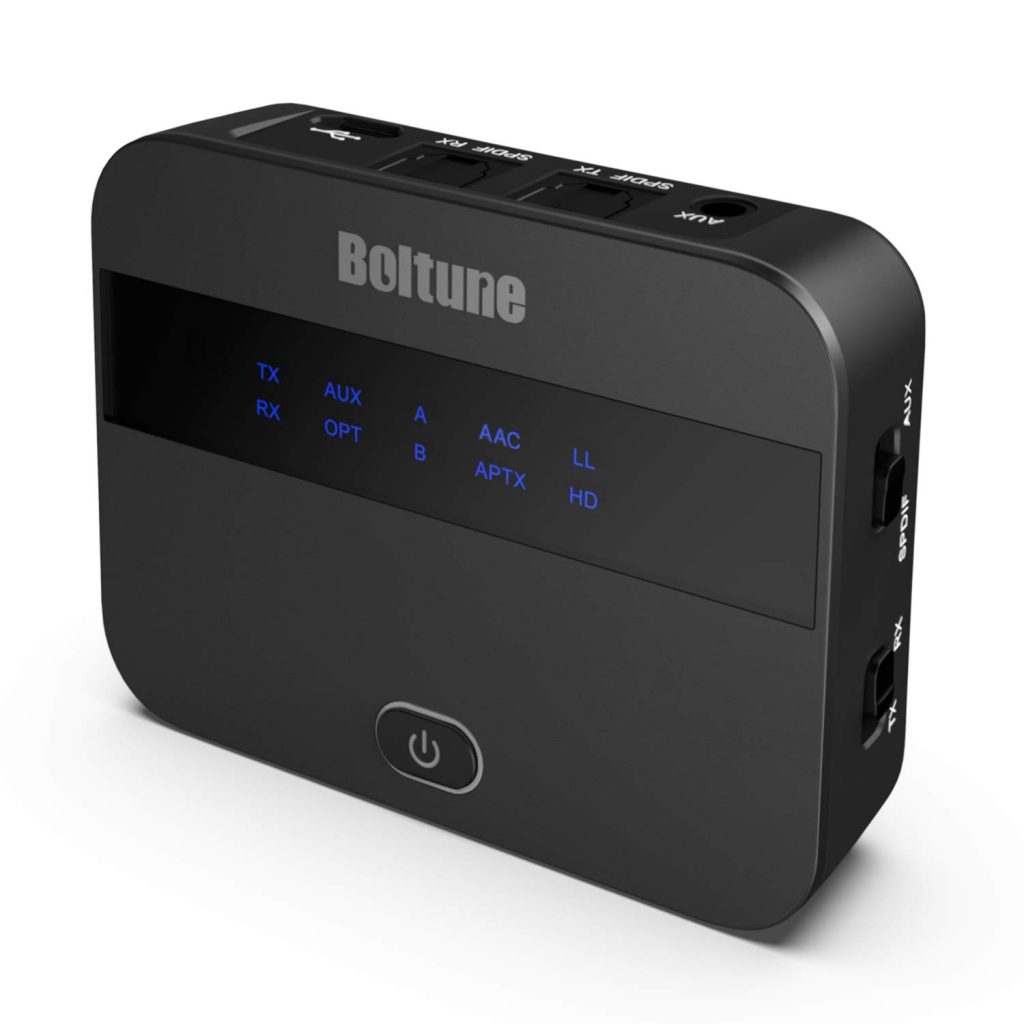 The price and the long-lasting battery life of this adapter will likely get your attention. This Bluetooth adapter can act as a transmitter or a receiver with long-range connectivity support.
It supports the latest Bluetooth technology and features, as well as conceals a long-lasting Lithium polymer battery.
Also, there's a LED display screen that displays a variety of information on this adapter; thus, this is easy to use the device.
Coming to the audio quality aspect, this Bluetooth transmitter/receiver supports aptX HD, with standard CD quality – 16bit.
However, you'll enjoy better wirelessly stream with 24bit audio quality; this is "better-than-CD" listening, you can use this device with just any aptX-HD Bluetooth device to stream audio in pure HD quality.
Furthermore, this device connects quickly to your wireless device and also reconnects quickly. There are quite a variety of output/input ports on this adapter.
Plus, it works with up to 99% of TVs and MP3 in the market. The manufacturer of this adapter promises 18-month warranty support and replacement of damaged products.
---
5. TaoTronics BA08 Transmitter/Receiver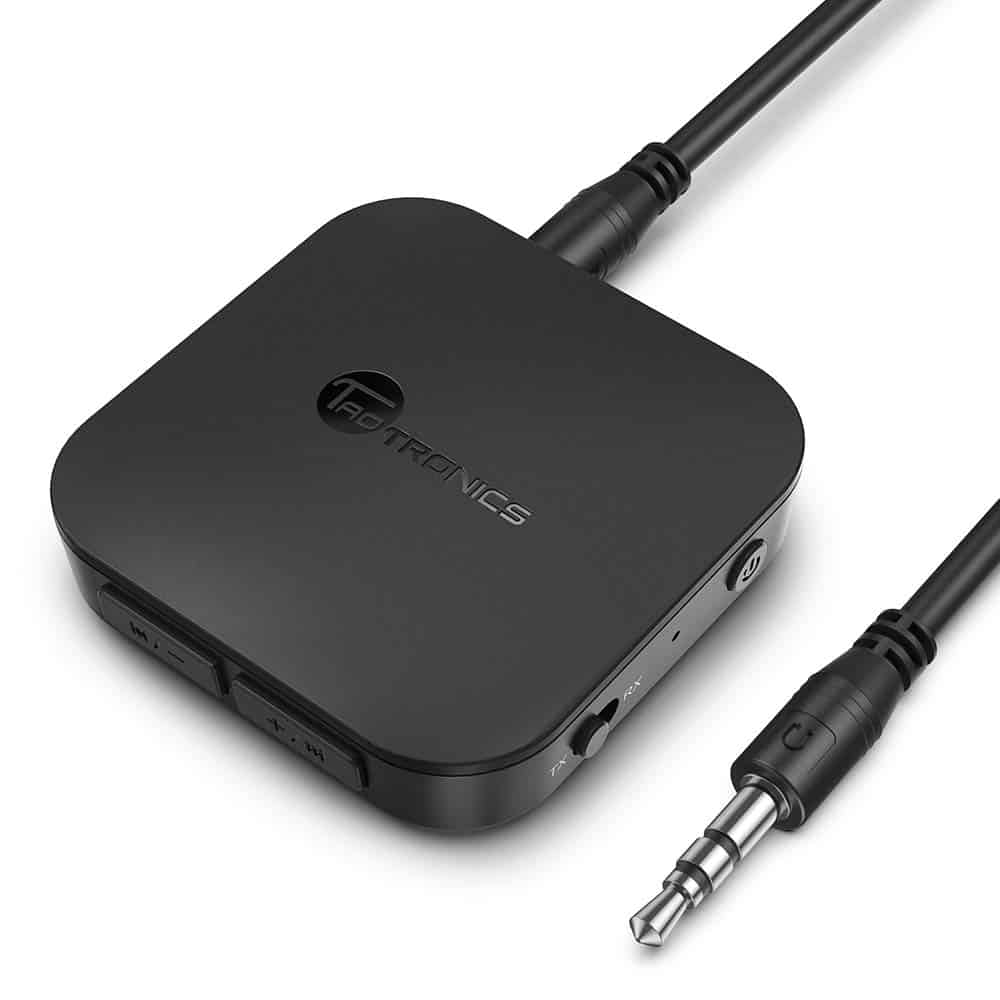 This Bluetooth adapter from Taotronics is yet another impressive unit to get at an affordable budget. As expected, it functions as a transmitter or receiver for streaming your audio wirelessly.
The adapter can be used with any device with 3.5mm jack input support, and it houses a rechargeable battery.
Just like the model reviewed as the #1 on this list, this TraTronics Bluetooth adapter can be used while it's been charged; the battery is promising, anyway.
You can easily set up this adapter to either act as a receiver or a transmitter. Pairing your devices doesn't take time, and you will enjoy the good sound quality.
Furthermore, the Bluetooth version supported by this gadget is v5.0. Plus, there are a few physical control buttons arranged on the adapter's surface.
This transmitter/receiver is easy to use, portable, but quite pricey.
---
6. Giveet Transmitter and Receiver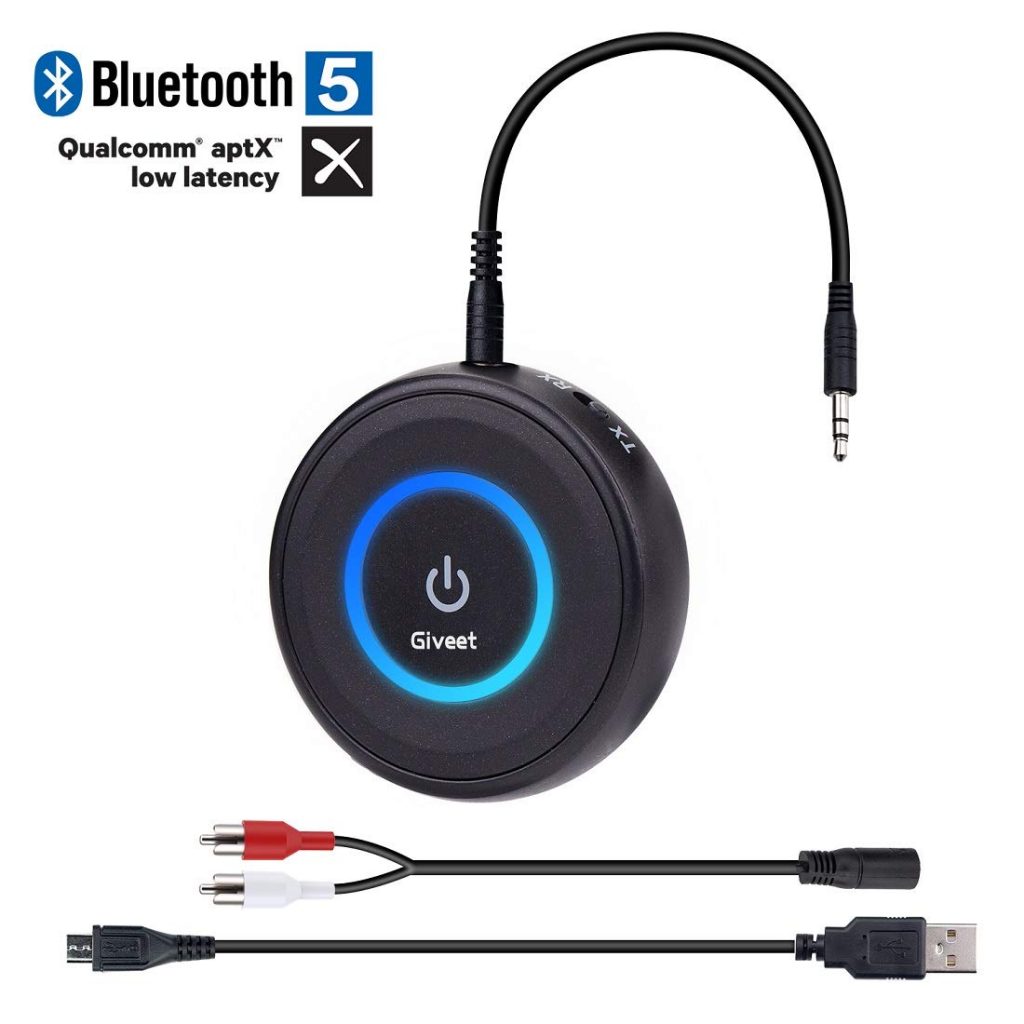 The design is unique; it looks very small, yet very powerful, and useful for its need. Giveet's Bluetooth adapter has the capability to either act as a receiver or a transmitter.
It conceals a bunch of cutting-edge technologies, including Bluetooth 5.0. This transmitter can connect to a device about 100 ft away, and it supports aptX Low Latency.
You could use this adapter for transmitting audio from game consoles to your headphones; you can pair up two headphones or any two Bluetooth devices simultaneously.
Also, the portability of this adapter makes it a universal option for all your Bluetooth transmission need.
More so, you can keep this adapter in any place while you enjoy your sounds wirelessly and privately.
The built-in aptX Low Latency codec (aptX LL) delivers a minimal delay of about 40 milliseconds so that you can enjoy good music.
---
7. Carpuride Bluetooth Transmitter for TV/PC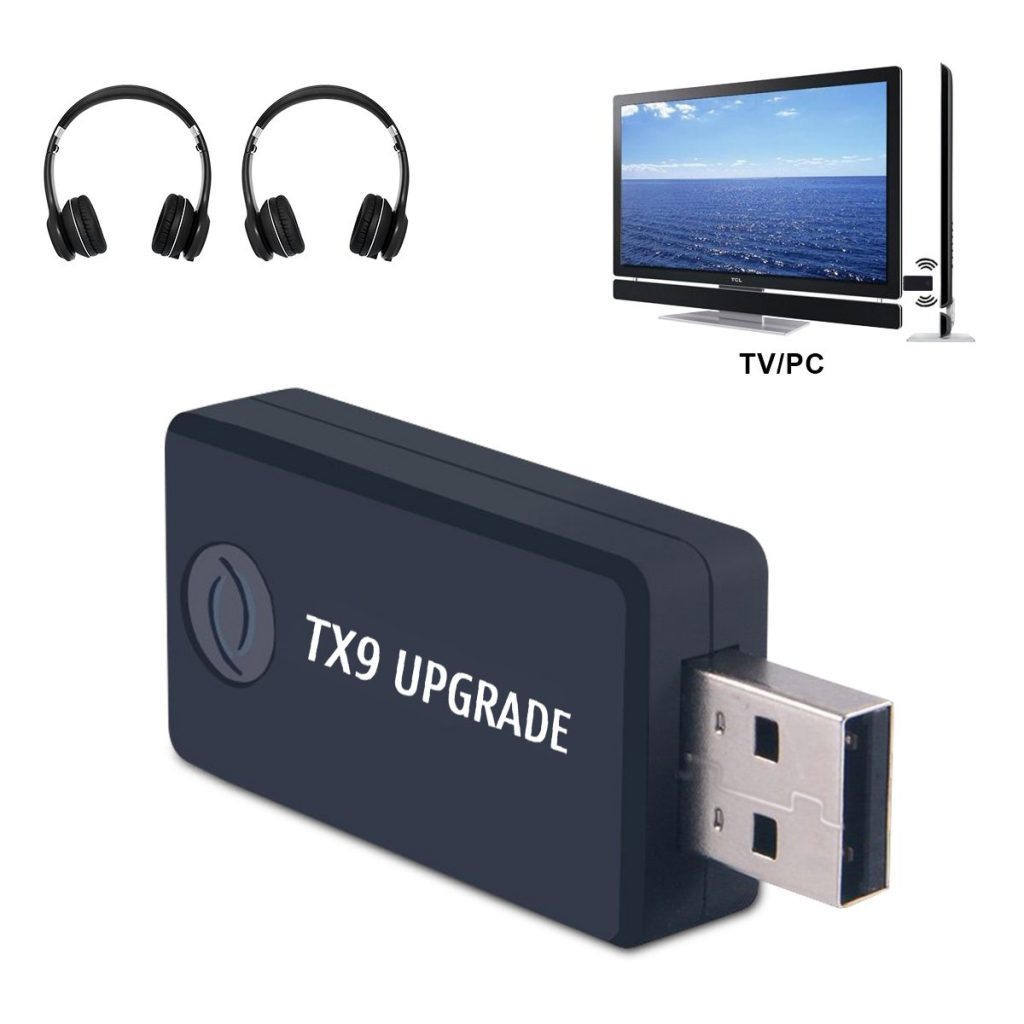 Although this is just a Bluetooth transmitter and does not act as a receiver, it is one of the best you can get in the market for your wireless audio needs.
The USB flash-shaped design of this adapter makes it very easy to take it with you everywhere you go, as it is pocketable.
Also, you can use this adapter on laptops, desktops, TVs (with USB port), MP3, and quite other devices, then pair your headphones or wireless earbuds to enjoys limitless, wireless audio streams.
This Bluetooth transmitter is USB-powered, there's no battery inside. Thus, it does not require charging; simply plug-in the USB to a source, and the device powers on immediately.
However, there's a USB extension cable included in the package, along with an RCA cable and AUX cable. Also, you can pair up to two devices at the same time to this transmitter.
---
8. YETOR Bluetooth Transmitter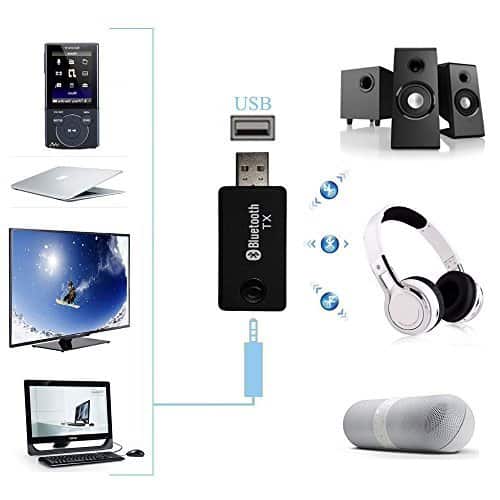 We love the user-friendly design of this Bluetooth transmitter. Plus, it is compatible with a variety of devices and media gadgets/accessories.
This transmitter is ultra-portable, can be paired one device at a time, and support Bluetooth 4.0 technology. It connects over long-range and can be used with any MP3 player.
The function of this adapter is not different from what the other products have to offer. But, for some people, this may be the best option.
This Bluetooth transmitter is USB-powered, and it will remain powered until you unplug it from the power source.
You'll enjoy using this transmitter adapter, as it promises to offer good sound quality.
---
9. Jupi-storm Bluetooth Transmitter Receiver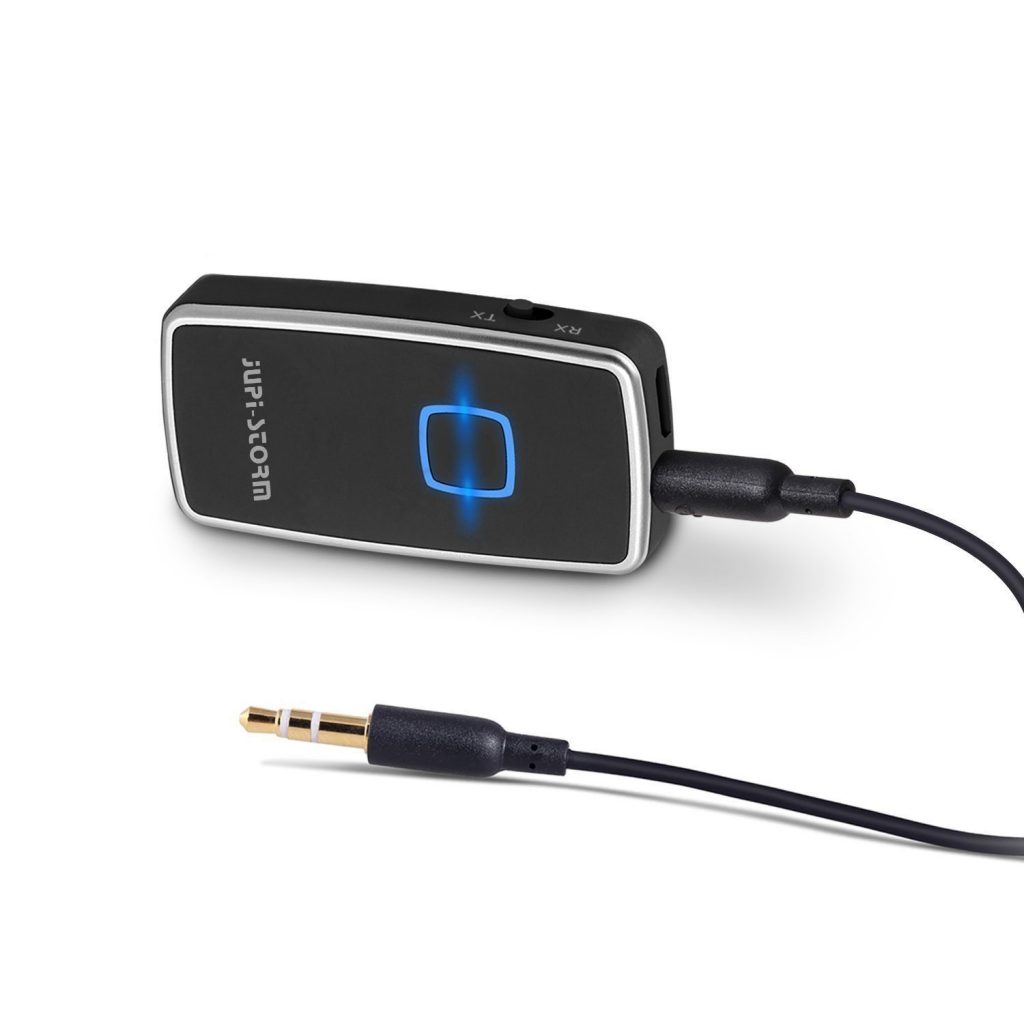 Comes as a Bluetooth receiver and transmitter, this adapter works with virtually any device with a 3.5mm interface.
It has an inbuilt battery that lasts pretty long after charging it for a long time. Also, the adapter is very portable (small), so you can easily put it into a bag as you enjoy your audio wirelessly on the go.
Furthermore, the price of this adapter is quite cheap. Plus, the adapter can work for car MP3 or typical MP3 players.
If your device gets disconnected because of distance or obstruction, this device will automatically reconnect with the device once you're within range.
Even though without aptX support, you'll still enjoy good audio quality with this adapter.
---
10. BOIROS Bluetooth 5.0 Transmitter Receiver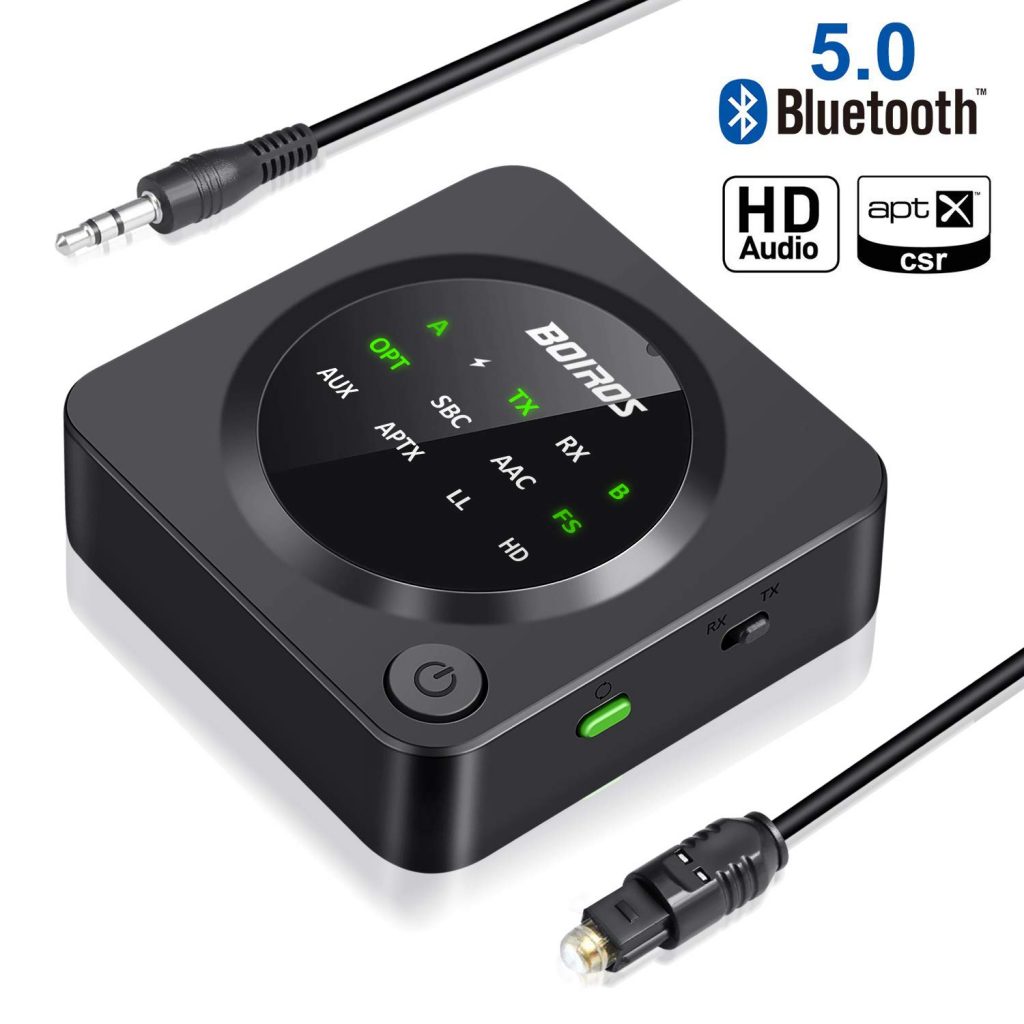 This is for people who are willing to pay to have a sturdy and powerful Bluetooth audio adapter with dual functions.
The BOIROS Bluetooth audio adapter can be an audio receiver or transmitter; depending on the purpose you want it to serve.
It comes with an LED display panel, supports aptX Low Latency, and allows you to pair 2 devices at a time.
Also, this adapter conceals a 450mAh rechargeable battery, which lasts for quite a lot of hours. Plus, you can use the adapter while it is charging.
More so, unlike most others on this list, the Boiros adapter supports the optical connection.
Wrap up:
These are the best Bluetooth transmitter adapters for MP3 players. However, they also work for many other devices such as TVs, laptops, and more.