Interestingly, you can get a DVD player that supports Bluetooth technology.
However, it isn't the typical DVD you know; instead, these DVD players with Bluetooth capability are mostly available as portable DVDs with a display screen; just like a laptop.
Before we list the best DVD with Bluetooth supports, let's talk about technology and why you need a DVD that supports Bluetooth connectivity.
There are quite some reasons that will make you want a Bluetooth compatible DVD player; quickly, it allows you to do some stuff wireless, and that sounds interesting, doesn't it? Well, below are the reasons why you need such a DVD.
Our experts have carefully researched this topic to come up with this extensive article.
Why need a DVD player that supports Bluetooth technology
Bluetooth is certainly becoming more popular recently. It is one of the common and widely used wireless connectivity technology.
People now search for Bluetooth speakers, Bluetooth-compatible home gadgets, and equipment.
Now, it's all about Bluetooth-compatible DVD players. What's going to make you get interested in this? Let's see below.
When you've got such a DVD with support for Bluetooth technology, you can enjoy the following; fully wireless home entertainment: you will get to stream movies from your mobile device or a supported platform.
This comes in handy, especially when you already got some wireless home equipment set, such as home theater, speakers, and all that.
It doesn't stop here; most DVD players with Bluetooth support also have support for Airplay, Miracast, FM, etc.
Plus, they typically feature HDMI, as well as support playing files from USB devices.
More so, you get to enjoy 4k upscaling with Sony BDP-S6700 DVD Player, which also supports Blu-ray discs.
We have actually seen many benefits of using DVD players with Bluetooth support; hence we are putting up this article.
Buyers' Guide for buying the best DVD with Bluetooth capability
Here's our professional guide to how you can buy this type of DVD player and complete your wireless home setup.
Thoroughly choose the type of Bluetooth DVD you need
Actually, there aren't many units of Bluetooth-compatible DVD players. They are few in the market that are available in different types.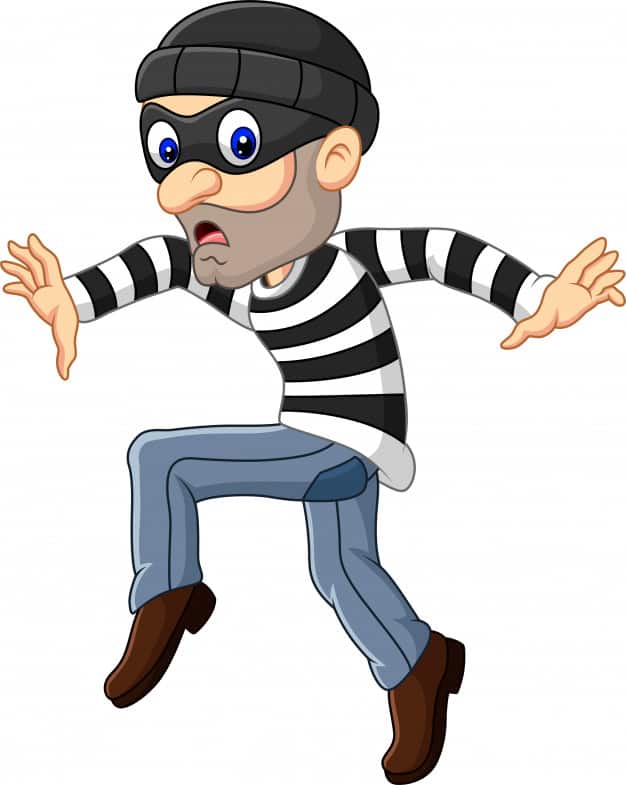 There are portable DVDs with an integrated screen display that has Bluetooth connectivity support.
Also, there are typical DVD players with Bluetooth support; they look like the normal DVD players you know. Finally, there are ultra-portable DVD players that support Bluetooth technology.
In choosing a Bluetooth DVD speaker, you have to go for the type you like. Between these three types discussed above, you can pick anyone depending on your preference.
Build
It is very important to check out the build of a gadget before you go ahead to purchase it. The build quality tells you how durable and reliable your prospective DVD player is.
Also, it lets you know if you're paying a convenience fee to buy the player. We have never missed checking out this feature before paying for any product.
Thus, our experts strongly recommend this as a keen factor for choosing the best product for your needs.
Features
Now, this may vary by person. Different people will prefer to have different features on their devices or gadget.
However, while this aspect may be based on personal choices, these are some of the features we suggest to be available on your new Bluetooth DVD player.
You will find DVD speakers with Bluetooth support that has USB ports, Bluetooth remote controller, an HDMI port, a 3.5mm jack, and more.
However, as we said, the choice of features may differ from individuals, but these ones listed out are quite essential and handy.
Follow expert recommendations
One of the best ways to end up with the right product for your needs is by following recommendations by experts.
There are people who are experienced in home audio and they often share their recommended products via blogs, pages, and websites.
MyHomeSpeakers is an example of a blog where you can read up expert recommendations about various home audio equipment and gadgets.
Also, there are other places where you can read up experts' recommended products; they could guide you in buying the best product for your needs.
Read other users reviews
Most times, the product we wish to buy has got reviews from other users; don't ignore those reviews as they are very important and helpful.
Reading up other users' reviews can help you identify the actual PROS and CONS of a particular product before you spend your budget to purchase it.
You can check out users' reviews on platforms such as Amazon, eBay, and the likes. These are places you can read up real unbiased reviews from people who have previously used the good you want to buy.
Trust us; this is a great guide to buying the best product.
Keep to your budget
Finally, you should be conscious of your budget when shopping for a new product or want to upgrade an old equipment/device.
Obviously, you will find quite a lot of good stuff in the market (both offline and online), and you may tend to get confused. However, you should always know your budget and filter the products, equipment, or gadget when checking them out.
Interestingly, these DVD players with Bluetooth capability are considerably cheap; thus, at any budget, you will get yourself a good unit that is really durable.
The Best DVD Players with Bluetooth Capability
Here are the few units we recommend for everyone in search of this kind of DVD player. These units can be purchased from Amazon.
You may also find them available in some offline retail shops around your neighborhood.
1. YACEG Portable Bluetooth DVD/CD Player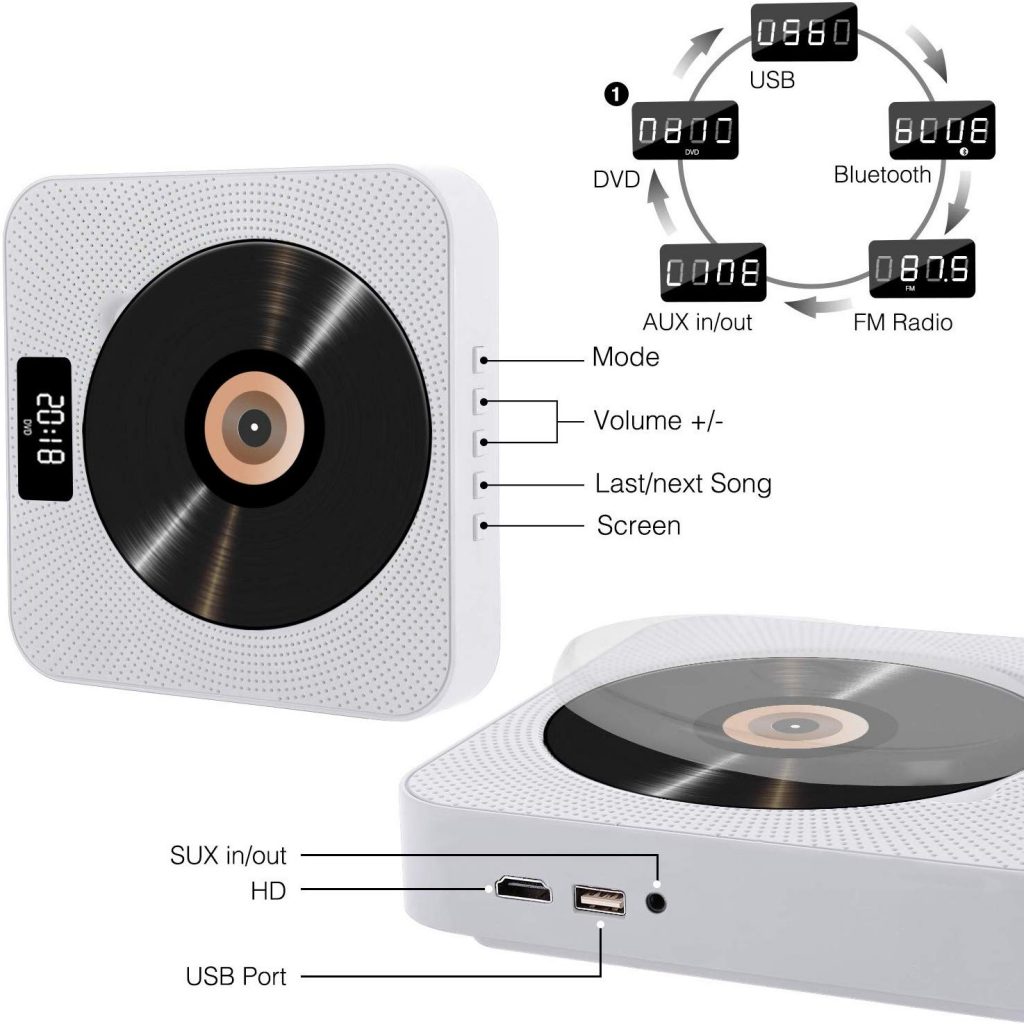 This is our top choice for this list. It is a portable player that does not occupy much space in your home.
The player is stylishly designed to match most home decors, and it is really attractive; you will not want to take your eyes off this player when you spot it in a store.
At first, it was the design that caught our attention; however, the player yet proved to be a worthy unit; it performed impressively in our tests and was able to play the following discs: CD, CD-R, CD-WMA, DVD, DVD-R, DVD-RW, DVD-WMA, SVCD, VCD, and HDCD.
From the list of discs above, you could see that this player can play, virtually all CDs and DVDs. That's was pretty impressive from such a compact DVD player.
It doesn't just stop in supporting a wide variety of disc types, it goes on to include Bluetooth support, which seems to be our main focus.
The Bluetooth technology integrated into this player is actually for the speakers. This player comes with Bluetooth HiFi speakers.
However, you can connect your device (mobile phone or tablet) to this player via Bluetooth, thanks to the built-in Bluetooth receiver chip.
More so, there are a lot of ports supported by this player so you can connect a variety of devices/equipment to it.
---
2. Sony BDP-S6700 Blu-Ray DVD Player with Wireless Multiroom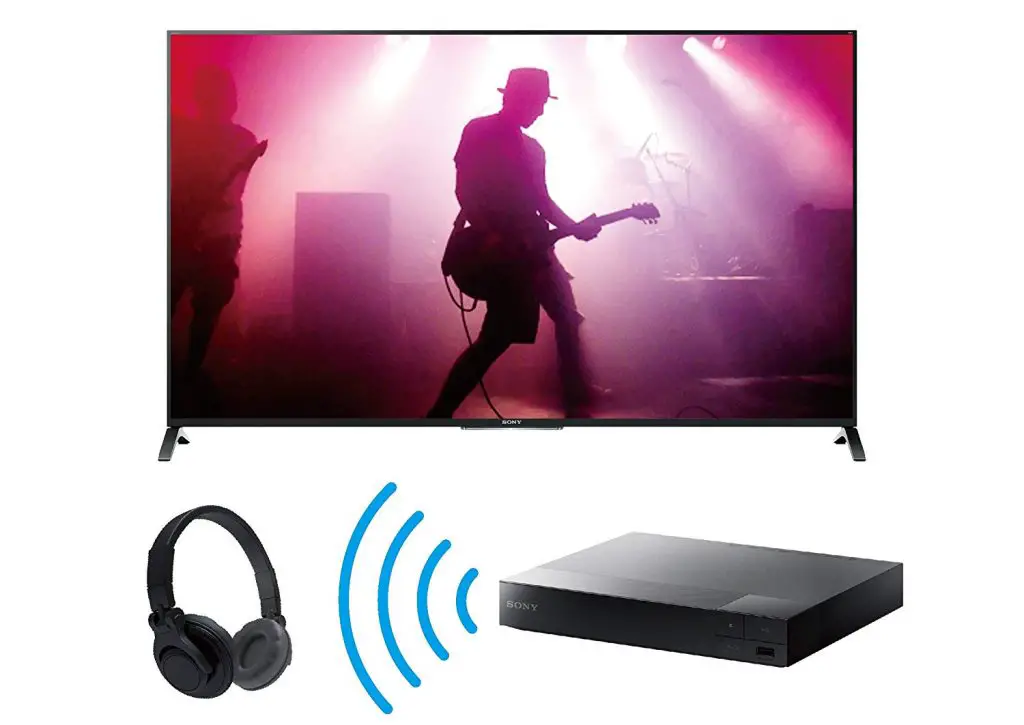 When we saw the name "Sony," we knew we're into some real stuff that's reliable. Well, it didn't disappoint; Sony yet proved to be that reputable brand that would never seize to design durable products.
This Sony DVD is something you'd love to know more about; it can play Blu-ray, and it has Bluetooth support.
The Sony BDP-S6700 DVD player looks like the typical DVD player you know, but, it comes with extended capabilities. Discussing the features of this player in detail will take many lines.
However, here's a brief of what you'll get from this Sony Blu-ray Player; it supports upscaling (up to 4k), seamlessly plays 3D Blu-ray Disc movies in Full HD quality (if you've got a compatible HDTV).
Also, the player goes on to support Mirocast; thus you can mirror your smartphone screen and stream movies saved on your device to your TV.
Furthermore, it supports dual-band Wi-Fi technology, Bluetooth technology, allows streaming of PS3 games, compatible with the SideView mobile app, and lots more stuff.
Sony really stocked this system with a lot of cutting-edge technologies that define a modern DVD player.
Definitely, you're getting a remote control when you buy this player. There are tons of commands you can run with the remote control (as expected).
Plus, you'll enjoy seamless video streaming, thanks to the dual-band WiFi.
---
3. DDAUTO Tablet Android 6.0 Portable DVD Player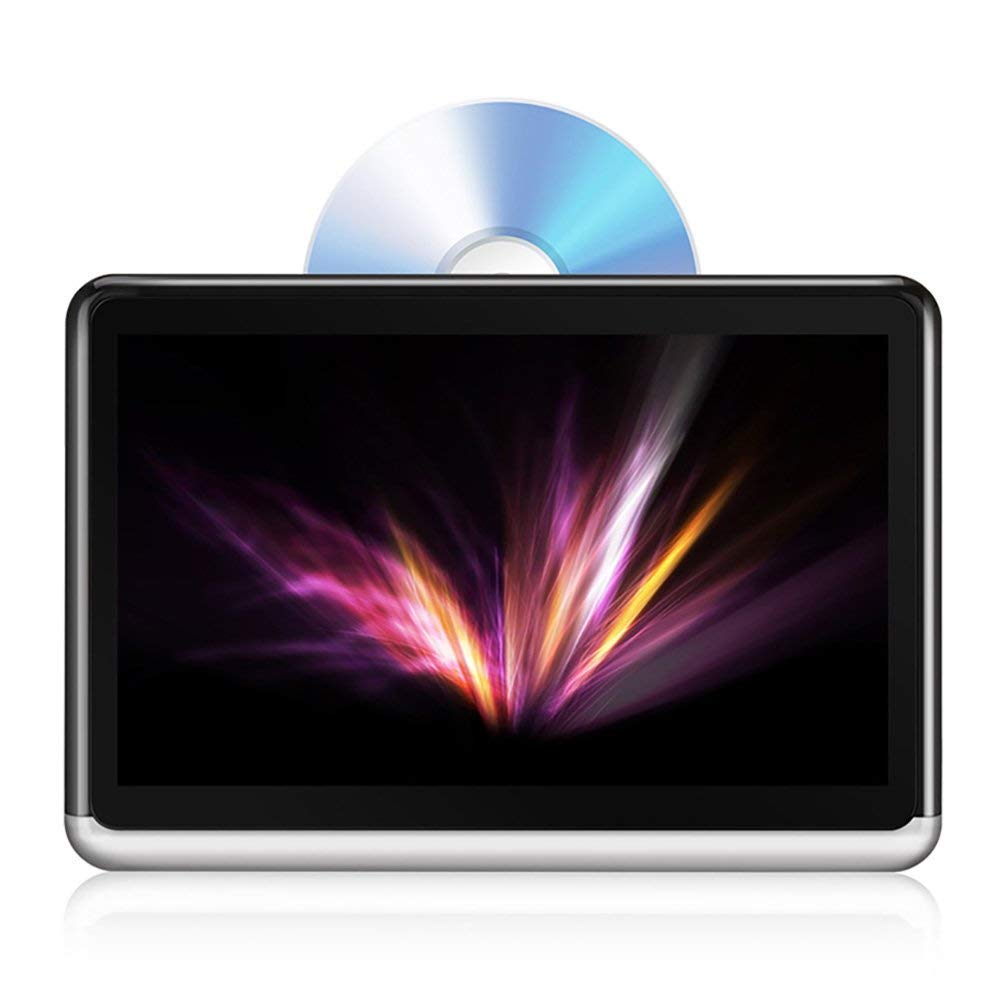 From the name, you can really make a good guess of the purpose of this DVD player, and where it can be used.
Well, for the benefit of the doubt, this is not a regular DVD player that can be used in a home.
It is obviously a portable DVD designed for car owners. Nevertheless, you can still use this player for other purposes.
It is built like a tablet, runs on Android Operating System, version 6.0 (marshmallow), supports Bluetooth & WiFi technology, comes with a remote controller, as well as features an HDMI port, plus other features.
Inside this modern player hides a powerful Quad-Core ARM A7 processor chip, which clocks at 1.3Ghz, alongside an 8GB ROM chip, accompanied by a 1GB RAM chip.
The player is designed to offer the experience of a tablet device, but with the capability to run DVD discs.
Sure, you can download and use Android apps on this player, as well as surf the internet. The screen size is 10.1-inch; the technology is an IPS display with 1366 x 768 pixels.
Actually, it's an LCD touch screen. With the built-in 4000mAh battery, your interest should be drawn to this sleek DVD player. It is likely a perfect option for car owners.
---
4. Rayrow Portable Wall Mountable CD/DVD Bluetooth Player with Built-in HiFi Speakers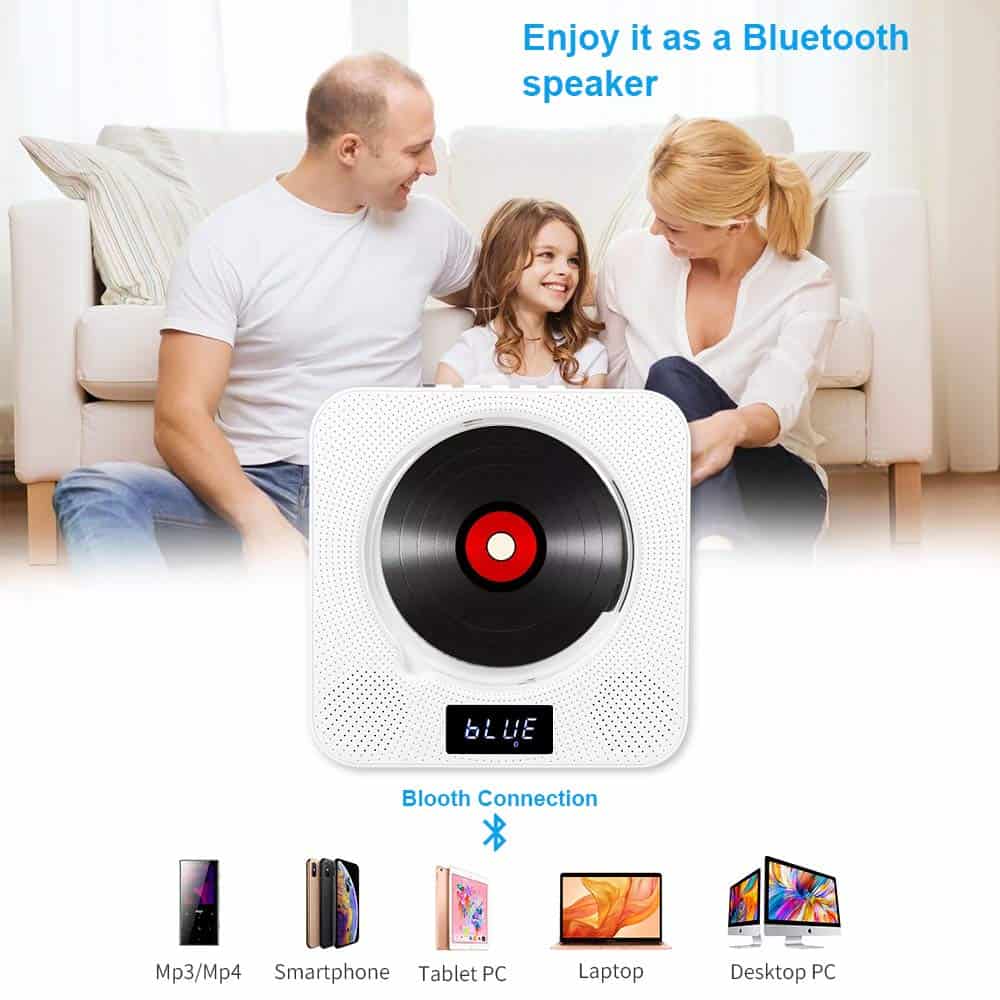 You've got some CDs to play? Let's do this with the Rayrow DVD Player. This is an impressive player that promises to be multifunctional.
First, it has a compact design that you'd find interesting, and the white, stylish finish blends perfectly with most home designs.
The Rayrow DVD Player is suitable to be used for your home audio setup. It can upscale your DVD video up to Full HD 1080p quality so that you can enjoy your movies.
The speakers were used to surround the player; they are actually Bluetooth HiFi speaker; this could be your mini home boombox.
Also, it supports FM radio. Plus, you can connect a USB flash device and playback the media files saved inside.
For personal listening, there's a 3.5mm jack input available on this device where you can connect your headphones. Quite a lot of other features are available on this multifunctional player.
More interestingly, it can play the following disc types/formats: CD, CD-R, CD-WMA, DVD-R, DVD, WMA, DVD-RW, HDCD, VCD, SVCD, CD-RW, MP3, and WMA CD.
Furthermore, this player is equipped with a wall mount, making it possible for you to set up the player in any part of the room close to your TV. The manufacturer assures that this is a durable product.
Nevertheless, a couple of other users' have shared positive reviews about this DVD player. It should be among your options when making a choice.
What more?
We have tried to make this a comprehensive article for everyone looking out for a DVD player with Bluetooth capability.
These products reviewed in this article are fully recommended by MHS.
When you buy through our links, we may earn a commission.