Cables
When should I use HDMI ARC?
When should I use HDMI ARC? There are certain conditions to determine whether you should use HDMI ARC or any other type of connection to set up your home speakers and TV.
Ever since HDMI ARC launched, a lot of people are confused about the technology – how it works and how to connect their devices that support the tech.
Well, HDMI ARC is one of the best features of HDMI. Its benefits are pretty numerous, but most especially, it simplifies audio setup by minimizing the number of cables you use.
With the ARC feature introduced in HDMI 1.4, virtually all TVs and Soundbars produced after 2009 support the feature.
But, what exactly is this feature, and how can you use it to connect your TV and soundbar or audio receiver? Let's discuss that.
What is HDMI ARC and How Does It Work?
The ARC we're talking about here is short for "Audio Return Channel," it is a feature included in HDMI 1.4 to allow compatible devices to send audio and video signals using one HDMI cable.
Prior to the introduction of this feature, the HDMI interface can only transmit video signals; you'd need another cable to transmit audio, which could make your setup area look nasty with so many wire clusters.
However, HDMI ARC has requirements that must be met by the connecting devices before the technology would work for sending audio and video signals. Now, you may want to ask, "What are these requirements?"
Well, they are simple. First things first, the two devices to be connected must feature a dedicated HDMI ARC port.
What does this imply? It implies to say that if you're connecting your TV and soundbar, both the TV and the soundbar must support HDMI ARC before the technology would work.
Now, this is basically the only requirement for HDMI ARC to work for you. In essence, if one of your devices supports ARC and the other does not, you won't be able to transmit audio and video signals over a single HDMI cable.
This is where many people get confused about the HDI ARC function. Below is a practical example of how HDMI ARC works.
For instance, let's say you have a 2008 model TV and a 2010 model soundbar. Most likely, the soundbar would support HDMI ARC, but your TV won't support it. Why? This is because ARC was introduced in 2009 when HDMI 1.4 launched.
So, all TVs and soundbars produced before 2009 do not support the feature, and in contrast, virtually all TVs and Soundbars produced after 2009 support the feature.
With this example, you cannot use HDMI ARC to connect your TV and soundbar. The easiest way to know a device that supports this technology is to look out for the HDMI port with ARC labeling.
That is to say, you need to turn the rear side of your TV or soundbar and check for an HDMI port labeled ARC.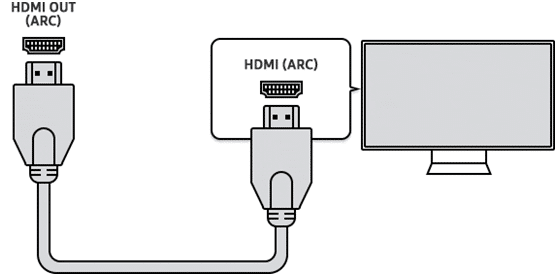 Apparently, any device that supports HDMI ARC features a dedicated port for the connection.
Yes, you just need to connect your HDMI cable into the dedicated ARC ports on your TV and soundbar for the audio-video transmission to work perfectly.
If you can't find the HDMI ARC port on your device, most definitely, the device does not support the tech.
When should I use HDMI ARC?
Obviously, you can only use HDMI ARC if your devices support the technology.
That is to say, if there's an ARC port on your TV, and also an ARC port on your soundbar or audio receiver, then you can use the tech to connect both devices.
Actually, you do not need a different HDMI cable to connect two ARC-ready devices. Your regular HDMI cable would do the job perfectly, irrespective of whether it is a standard cable or a high-speed cable.
However, for a special connection, you may need a specific type of HDMI cable. So, below is how to connect your devices that are ARC-ready.
Being ARC-ready simply means that the devices feature dedicated HDMI ARC ports; thus, they are ready to use the technology to transmit your signals. It's not a technical setup anyway – it's something anyone could do.
The Steps To Use HDMI ARC:
Get your HDMI cable and connect one of the ends to your TV's HDMI ARC port.
Take the other end of the cable and insert it into the HDMI ARC port on your soundbar or audio receiver.
Once this connection is done, turn on both devices and playback a movie or sound from your TV – you should hear the sound from your soundbar.
Notwithstanding, on some TVs, you need to turn on a particular settings option before ARC transmission would work.
For example, on Samsung TVs, you need to turn on the Anynet + (HDMI CEC) feature for your connection to be successful.
But, this is not basic for all TVs, as some TV models come with HDMI CEC activated by default.
If you connected your devices via HDMI ARC and you're getting the sound transmitted from your TV or transmitter to the receiver, then you should contact your TV manufacturer to know where to find the HDMI CEC settings and turn it on.
Furthermore, sometimes, your HDMI cable may be faulty, and as such, you'd notice that even though you did the connection right, you're not getting the result you wanted. So, ensure to use a working HDMI cable for the connection.
The Best HDMI ARC To Buy
These cables are all available on Amazon, eBay, and other popular e-commerce stores that operate online. Nevertheless, you could still buy them from local stores around you.
The IVANKY HDMI cable is pretty fast and compatible with HDMI ARC. It is built to last and can be used on all devices, including projectors, monitors, TVs, DVD players, and even PCs.
More interestingly, this HDMI cable transmits data at a very fast speed, up to 18 Gbps. It is one of the best you would find out there, and it can transmit lossless 7.1 surround sound and 4K videos.
This cable is available in different lengths, from 1ft to 50ft.
---
Merely looking at this cable, you would clearly see the rigidity. The iBirdie 4K HDMI cable is one of the best out there with a decent transfer speed rating.
It can transfer 8GB every second and is fit for use with TVs, gaming console, PCs, and every other place where an HDMI cable is required.
Furthermore, this cable is inexpensive, available in different sizes, and built to deliver the best performance you'd expect from an HDMI cable of such quality.
What More?
If one of your devices does not support HDMI ARC, that means you will need to transmit audio using an optical cable or a TOSLINK cable while the HDMI cable sends video signals.
Optical cables typically deliver more stable audio and support the same quality audio as HDMI ARC.
More so, it is important to say that HDMI ARC cannot transmit Dolby HD or 7.1 surround sound losslessly. It's downstream the audio to somewhat 5.1 and then transmit it to the receiver.
If you want to enjoy lossless audio transmission, you need devices that support eARC – the enhanced version of HDMI ARC.
When you buy through our links, we may earn a commission.