Cables
How To Use Apple Earbuds On PC: The Complete Guide.
How to use apple earbuds on PC? Using Apple earbuds on a non-Apple device can be quite stressful.
Apple designs its devices to function with each other; that is to say, Apple devices are designed to pair and function with other Apple devices.
If you need to use an Apple product with a non-Apple device, you may need to purchase an external adapter or cable.
Apple earbuds are designed differently; some of them come with lighting cables, and some other models are designed to function wirelessly.
For earbuds with a lighting cable, you can use them as a mic for Windows PCs by connecting a lighting-to-USB-A/USB-C adapter. Well, there are a couple of ways to connect and use Apple earbuds with PCs.
How To Use Apple Earbuds On PC?
You can either connect the earbuds wirelessly or use specific cables required for the connection.
1. Using 3.5mm or Lighting Cable
First things first, check if your earbuds come with a 3.5mm cable or lightning cable. If the buds come with such cable, that's pretty simple on your end.
Windows computers support 3.5mm connections via the earphone port. So, all you need is to connect the 3.5mm cable from your earbuds to the PC and you're good to go.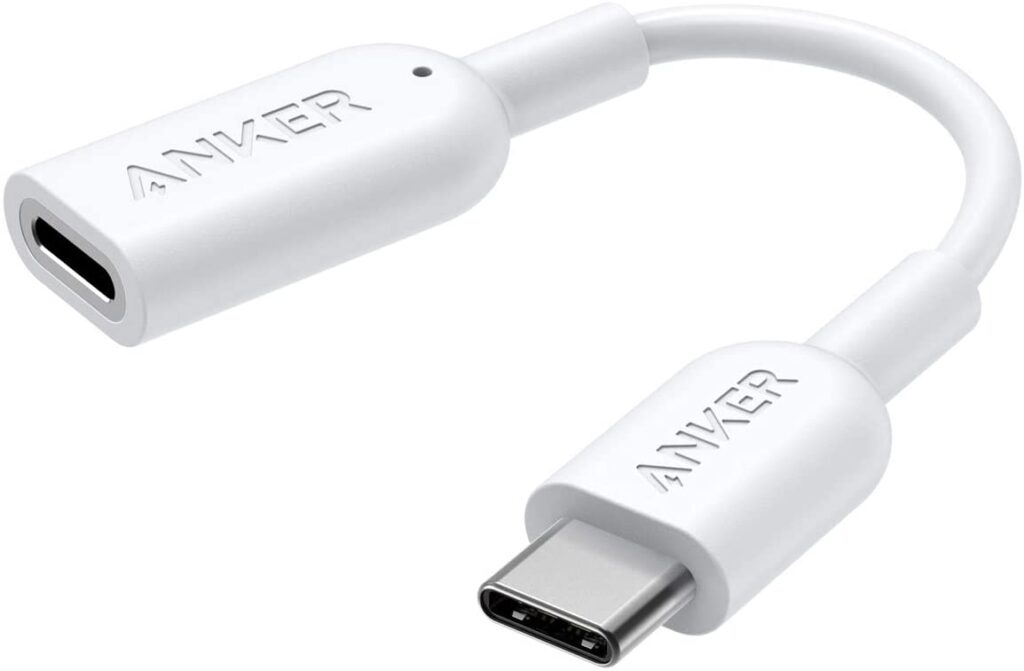 On the other hand, if what your earbuds have is a lighting cable, you'd need an adapter for the connection.
This implies that you need to buy a lightning-to-USB adapter; so, you'd connect the earbuds cable to the lighting port, and connect the other USB end to your PC.
Depending on the type of USB port(s) available on your PC, you may need to get the lighting to USB-A connector, or lighting to USB-C connector.
2. Audio Splitter
An audio splitter helps to "split" audio signals into two paths. The splitter gets audio from a source, and splits the signals into two paths; the connector is usually a 3.5mm male jack.
This type of connection is needed when your PC has dedicated 3.5mm ports for headphone and mic connections.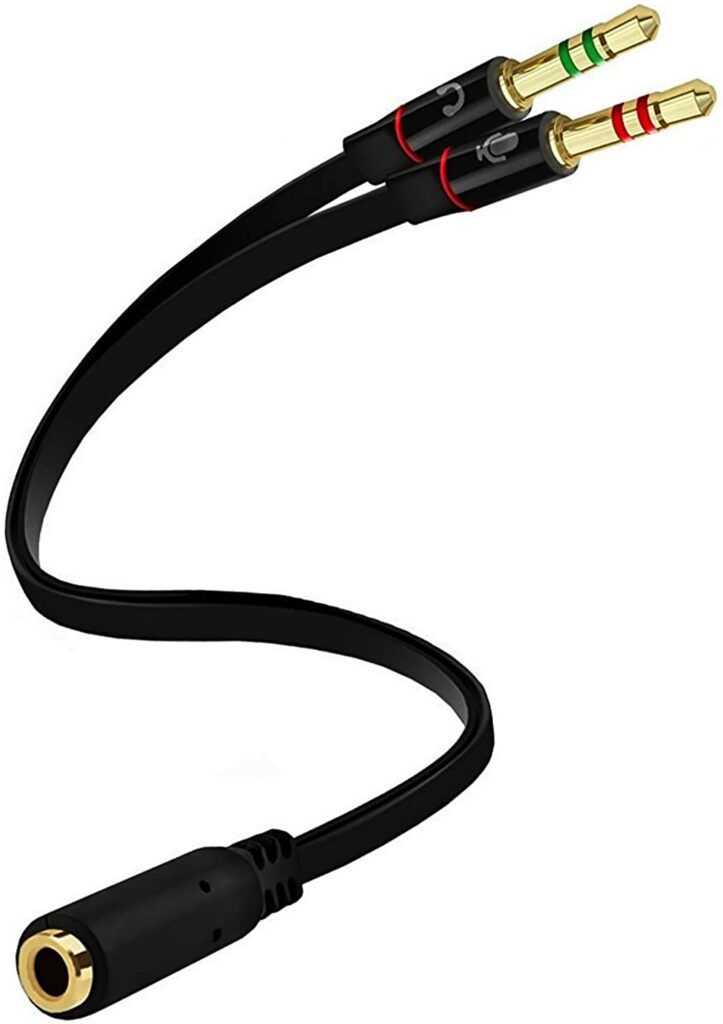 If you need to use your Apple earbuds to hear sound from your PC, and also use it as a mic for conferencing and video calls, that's where you need this connector.
Also, your earbuds must support a 3.5mm male connector for this method to work.
So, all you need to do is to connect the earbuds male connector to the female connector on your audio splitter adapter, then connect the male connectors on the splitter into the respective mic and headphone ports on your PC.
Audio splitters are quite inexpensive, and you can get one from Amazon or local stores.
3. Bluetooth Connection
You can connect your Apple earbuds wirelessly if they support Bluetooth technology. This method of connecting Apple earbuds is pretty straightforward.
You just need to turn on the Bluetooth of your PC and pair up your earbuds, and you're done.
Hereunder is a detailed procedure on how you can connect Apple earbuds with your Windows computer.
First things first, you have to leave the AirPods inside the charging case. The pair needs to be inside the case before you can connect them to your PC via Bluetooth.
Ensure that the AirPods are charged; open the charging case lid (don't remove the AirPods, just open the case).
Tap and hold the circular button on the rear side of the charging case until the light blinks white.
Open Bluetooth settings on your Windows PC and choose the option to connect a new device.
When the Bluetooth search runs completely, it would display a list of all available Bluetooth devices.
After the Bluetooth connection has been established successfully, you can remove the AirPods from the charging case and use them to listen to the sounds from your PC.
If the AirPods gets disconnected, you can reconnect it by simply opening the Bluetooth settings page on your Windows PC. When you open the Bluetooth page, find the AirPods name, click on it, and click "Connect."
How To Use Earbuds As Mic On Windows PC?
Yes, you can use your pair of earbuds as a mic for Zoom meetings, and other kinds of conference calls. However, this implies setting up the earbuds as a mic.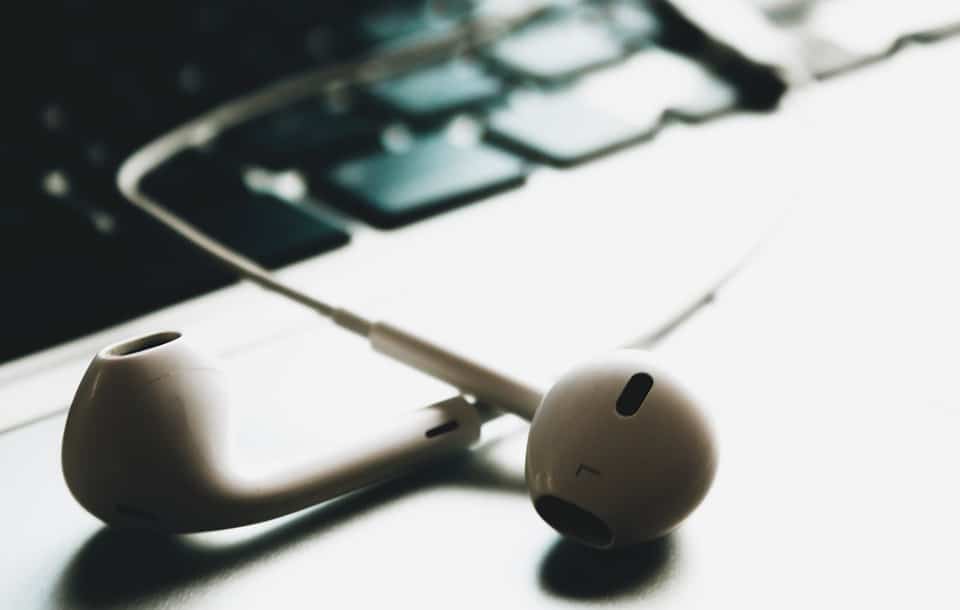 Similarly, as you would do if your earbuds have a 3.5mm cable for aux connections; you need to connect the 3.5mm connector to the mic port on your PC.
Using 3.5mm Connector
Connect the 3.5mm cable into the mic port in your Windows PC. You have to look closely to identify which of the ports is for the mic.
Usually, most PCs with a 15.6-inch screen have dual 3.5mm ports; one for audio output (earbuds and headphones), while the other is for audio input (microphone).
After connecting your earbuds as a mic, you need to accomplish some configurations to set up the device your PC should receive audio from. The settings are thus:
Right-click on the speaker icon on your PC's taskbar
Select "Open Sound Settings"
On the Sound settings pane, scroll down to the "Input" section and choose your connected earbuds as your mic device
You can proceed to adjust other audio settings if you really know what they perform; else, leave them at their default settings.
Buy lighting-to-USB adapter Now.
What More?
You can use your earbuds as the mic for Zoom, Skype, and other video conferencing apps.
All you need to do is to get into the app's audio settings page and choose your AirPods/earbuds as the mic input device to use.
How to select an external mic device differs from platform to platform, but the settings are always available under the "Sound" or "Audio" section in the app's/platform's setting page.
So, if you're looking for how to use apple earbuds on a PC, the guides provided in this article would help you out.
First of all, the type of connection to use depends on the type of earbuds you've got.
If it's wired, you can connect it directly to your PC, or use an adapter. In contrast, if it's completely wireless, you will use Bluetooth to make the connection.
When you buy through our links, we may earn a commission.