Home speakers
What Is The Difference Between Q Acoustics 3050 And 3050i
If you're an audiophile, you must have bought Q Acoustics speakers at some time – or you may be even using them at the moment.
However, if you're not yet a customer of Q Acoustics, the company is one of the best producers of high-end, premium speakers for home use.
Here, we'd be reviewing the difference between Q Acoustics 3050 and 3050i speakers.
Q Acoustics has two main speaker series, the standard 2000, 3000, and 5000 series, and then the 2000i, 3000i, and 5000i series.
The addition of "i" in the later series is to signify that the series is the higher-end version of the speakers found in the standard series.
These are pairs of floorstanding speakers that deliver impressive clean sound with decent bass responses.
Q Acoustics Speakers Overview
Q Acoustics is a top speaker brand known to have made different award-winning speaker models.
The brand launched the 3000 series in 2015, and it has produced several HiFi speakers under this series.
See our:
Q Acoustics M2 Soundbase
Q Acoustics Q B12 Subwoofer review
Q Acoustics Concept 500 Review
Q Acoustics 3030i Review
Review Of Q Acoustics M3 Soundbar
As an upgrade to offer more value to its customers, Q Acoustics launched the 3000i series.
Currently, the brand has the 2000 and 2000i series, along with the 3000 and 3000i series.
Practically all speakers from the brand are top-quality and built with the finest drivers you can imagine in a highly-priced speaker.
Q Acoustics 3050 vs 3050i Speakers
These two speakers are top quality, but the 3050i includes more advanced audio drivers and technologies that justify its higher price tag than the 3050 model.
Q Acoustics 3050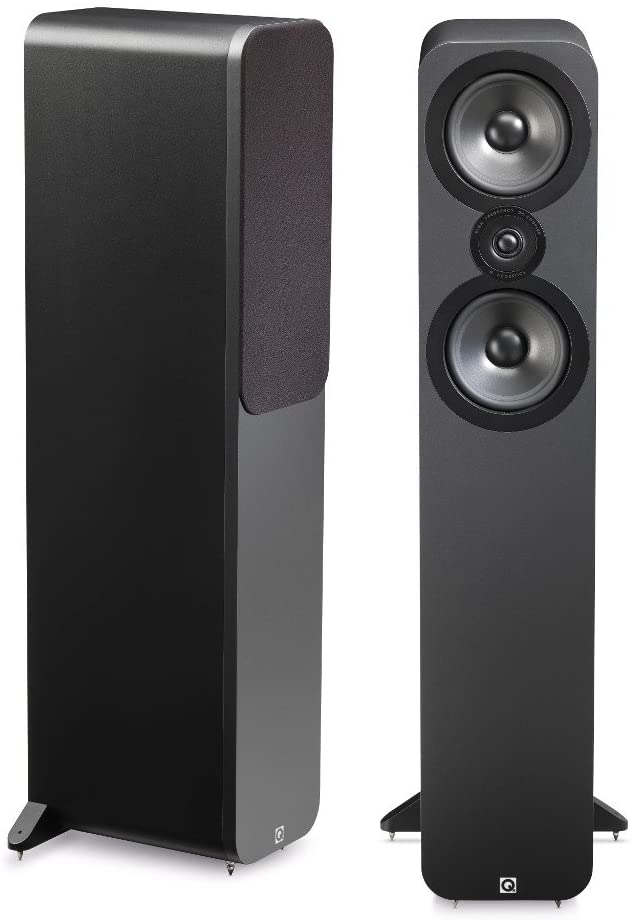 Q Acoustics 3050 floorstanders are a pair of award-winning speakers built with premium drivers that deliver an impressive sound and bass response.
They are pretty much smaller than the 2050s and still come with sturdy drivers concealed in sleek, attractive cabinets.
These speaker series come with dual 16.5cm mid/bass drivers with 25mm tweeters that are tweaked to offer improved treble performance.
The tweeters are decoupled from the main cabinets; thus, isolating them from the vibrations of the cabinet. The crossover is built with higher-grade components to minimize distortions.
Coming to the cabinet; the 3050 speakers' cabinet was built with 15mm MDF panels, along with a dual-layered 20mm top plate and thick front baffle (braced).
The speakers support bi-wiring, and the terminals are located at the rear panel.
You can use the Q Acoustics 3050 speaker alone or pair them up with your existing sound system to increase the number of channels for more immersive home entertainment.
Where To Buy Q Acoustics 3050
Q Acoustics 3050i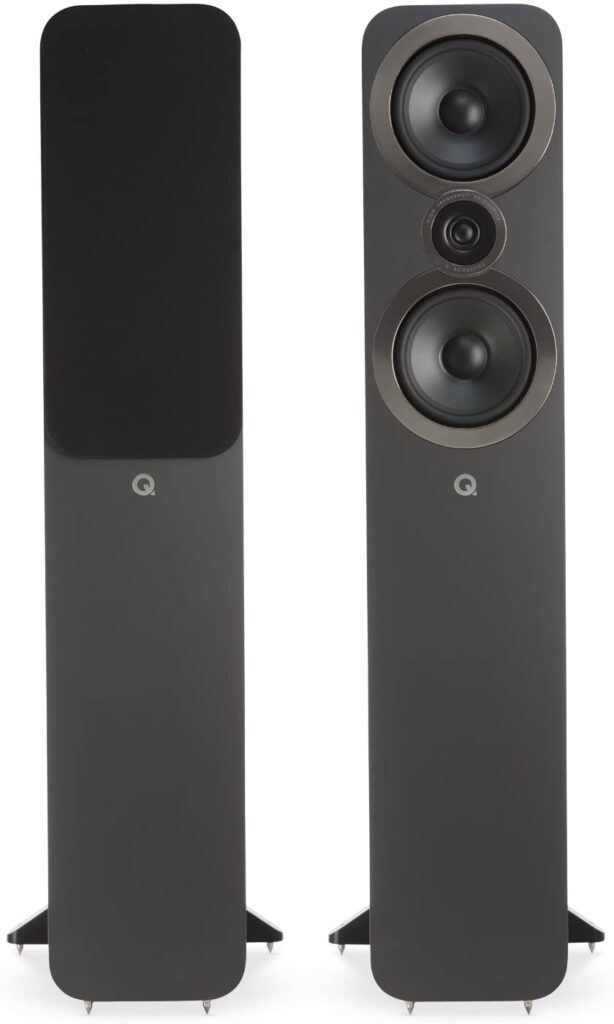 Basically, the is not much difference in the design of Q Acoustics 3050i and 3050 standard model – it is just the sleeker cabinet finish with prettier colors.
Well, if you're looking for a decent floorstanding speaker for your audio setup, the Q Acoustics 3050i is a good choice.
It comes in pairs and delivers deep bass, thanks to the 6.5-inch driver.
There are also many colors to choose from, and it utilizes Q Acoustics' Point-to-Point (P2P) bracing technique, and the speaker wire terminals are located at the rear panel – just as seen on the 3050-floor standers.
The 3050i speakers are more evolutionary than revolutionary in performance and aesthetics.
Notwithstanding, in terms of performance, the 3050i performs slightly differently from its predecessors.
Where To Buy Q Acoustics 3050i
What is the Difference Between Q Acoustics 3050 and 3050i?
Comparing 3050 vs 3050i, there are no serious differences.
The major difference is that you'd get clearer sound and punchier bass with the 3050i than what you'd get on the standard 3050 model.
Also, as the newer version, the 3050is are fancier when you look at them – the finish looks better and sleeker than what was used in the 3050s.
Of course, the 3050i speakers are costlier than the standard 3050 speakers. Notwithstanding, both series are sold in pairs.
Thence, put simply if you're bothered about the budget and would want to enjoy the even cleaner sound, you can go for the 3050i speakers.
However, if you're on a budget and need a pair of premium floorstanding speakers for immersive home entertainment, the 3050 speakers are a good buy.
Specifications
| | | |
| --- | --- | --- |
| Speaker/Feature | Q Acoustics 3050 | Q Acoustics 3050i |
| Enclosure type | 2-way reflex | 2-way reflex |
| Mid (Bass) Driver | 2 x 165 mm (6.5 in) | 2 x 165 mm (6.5 in) |
| Tweeter | 22 mm (0.9 in) | 22 mm (0.9 in) |
| Frequency | 17.8kg (39.2 lbs) | (+3 dB, -6 dB):44 Hz – 30 kHz |
| Impedance | 6 Ohm | 6 Ohm |
| Sensitivity | 92dB | 91dB (2.83 V@1 m) |
| Crossover Frequency | 2.6kHz | 5 Hz |
| Weight (per speaker) | 17.8kg (39.2 lbs) | 17.8 kg (39.2 lbs) |
Summary
Both Q Acoustics 3050 and 3050i are top-end floorstanding speakers you can use alone or pair with your existing home audio setup.
They both perform excellently, but the 3050i speakers are quite better, thanks to the slight improvements in the drivers and technologies used.
When you buy through our links, we may earn a commission.