In wall surround sound systems do not only add a sense of professional style to your home entertainment systems but they give you an all-encompassing sound performance.
Directly mounting them into a wall can help surround sound setups and make them a much more precise sound reproducing device.
In-wall speakers are the perfect sound systems if you have a small apartment space. If you are fed up with wires cluttering your apartment then In-wall surrounds systems are just what the doctor ordered.
What Is An In-Wall Speaker?
Before we give the list of the best In-wall speakers and surround systems, first we have to familiarize ourselves with what it means.
I will try to sound as polite as possible, but In-wall speakers are exactly what their name implies. It is a speaker that has been constructed specifically to be mounted directly into the walls of your apartment.
What this connotes is that they need a proper hole in your wall to fit into. Drilling into a wall is a systematic risk; Several In-wall models are accompanied by a helpful template to draw around before you make the hole.
They should by all means be mounted on false walls or drywalls and you must know where load-bearing supports are located in your apartments as well as pipes and electrical wirings and connections.
Best In Wall Surround Sound Systems
Micca M-8S 8 Inch 2-Way in-Wall Speaker
We commence our list of the best in-wall surround sound systems with this regal 8 inch model from Micca.
The Micca M-8S is a two-way speaker that is equipped with a small soft dome tweeter and an 8-inch poly woofer.
These speakers are painstakingly well-constructed and contain meticulously chosen components; they provide you a dynamic and versatile combination together.
The Micca M-8S do very well with a frequency response of a wide range and give you everything from high impact multi-channel home entertainment system demands and ambient background audio.
The sound systems woofer has the ability of a robust output; the tweeter leverages the pivoting build to its sound channeling which can easily be tweaked for the best sound experience.
The Micca In-wall speakers are adequately built and are equipped with an advanced crossover network to tackle the midrange regions to give you a complete and properly distributed sound.
These speakers can be easily installed because they have in-built tabs, and they are accompanied by a template to mark your wall to help you cut into drywall.
These speakers are made in different design styles according to the tastes of different clients.
These surround systems can handle 100 watts of power and have a shallow mounting depth; they are sold in singles so you have to get two to complete the pair.
---
Polk Audio RC65i 2-way Premium In-Wall Speakers
The Polk Audio RC65i is another amazing two-way speaker. It is a premium in-wall surround system from a brand that is prominent for making pristine audio products and these do not disappoint.
Although they are not as large as other speakers on this list, they do deliver impeccable sound performance.
These In-wall speakers are perfect for external or internal mounting as the core electrical components been painstakingly and professionally built and housed using top quality long-lasting, moisture-resistant equipment.
The speaker's polymer composite cone is filled with mineral and positioned in a rubber surround it gives you dynamic and well-balanced audio. The tweeter of the Polk masterpiece is a soft dome and is swivel-mounted.  
The Polk Audio RC65i is perfect for bigger spaces and has a wide dispersion design. Quick and easy installation is ensured by its easy rotational cams.
---
JBL SP6II In-Wall/In-Ceiling Home Theater Surround Sound Loudspeaker
If you require a pair of twinned in-wall surround sound system, another product with a good price is the JBL SP6II.
These are two-way in-wall speakers and their dynamic mounting system connotes that they can be positioned in the wall seamlessly.
The JBL SP6II delivers a tight, punchy bass with their titanium plated cone woofers. The tweeter is also titanium plated, they offer between them a vast variety of wide frequency response with admirable clarity in the deep lows and highs. They have a combined peak RMS of 80 watts.
The JBL SP6II has a complimentary template to help you cut your mount holes. They are equipped with dog-ear brackets and are accompanied by click-fit grilles.
---
Klipsch R-5502-W II In-Wall Speaker
The other in-wall speaker we are going to talk about is quite expensive from the world-renowned Klipsch.
The Klipsch R-5502-WII is a three-way speaker that harbors top quality component and ensure sound boosting technology.
This In-wall speaker is equipped with a tractrix horn with a titanium diaphragm compression driver and double ceramic cone woofers.
The impressive horn-loaded technology gives you a bigger acoustic output with a significantly delineated risk of distortion.
This sound system offers listeners high-def. audio and is built from durable expensive caliber parts. It can be easily installed and the grilles attach magnetically and users can paint it.
---
Polk Audio 255c-RT In-Wall Center Channel Speaker
This time we feature a three-way central channel in-wall speaker that is perfect for your walls and ceilings.
These speakers are part of Polk's revered Vanishing series and pack with the company's unique balance technology components from the RT series.
The Speaker's advanced design techniques depend heavily on data garnered from laser imaging research carried out at John Hopkins University.
The tweeter's vibrating surfaces were observed on a microscopic level to take note of the resonances built as the motion of the cone. The resonance ensures all high-end distortion.
Under construction observation, the technicians at Polk engineered the perfect mixture of equipment and optimal geometry to go against undesirable resonances.
The Polk 255C-RT is equipped with a deck-of-cards-slim, magnetically secured, a grille that barely protrudes from its compartment.
The speakers have good dual bandpass bass inputs to ensure clear low registers. These In-wall speakers are equipped with a basic one-cut, drop in the installation process.
---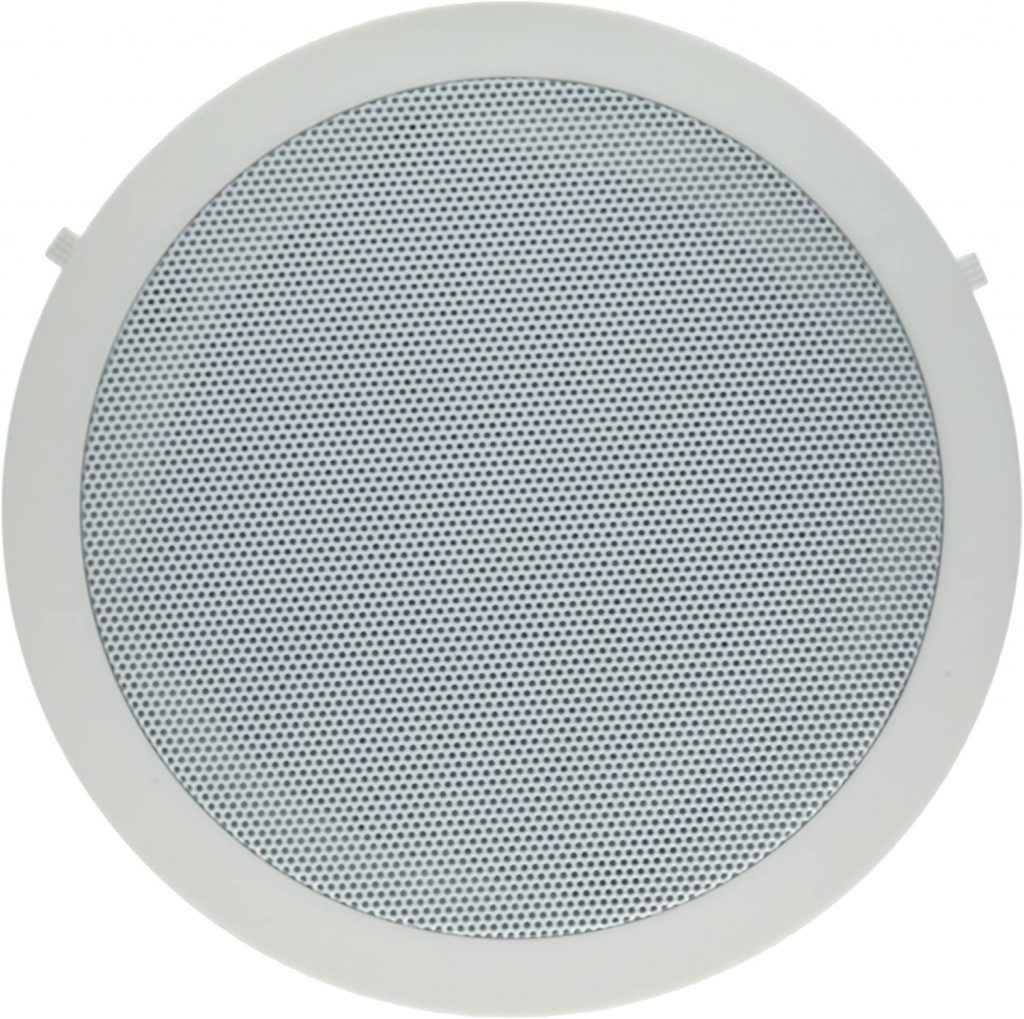 The Acoustic Audio R191 is a two-way speaker with about 20 t0 200 watts of power on each one.
These speakers combine a 12mm soft tweeter, 5.25-inch woofer, and low impendence crossover circuitry to give you a great full-range audio performance.
When connected, they provide real depth and immersive volumes with crisp, detailed clarity.
The Acoustic Audio R191 leverage a weatherproofed component builds which is good to hear if you are looking to buy a boat. This component makes them perfect for sauna or spa usage.
Their housings are subtle, with a mounting depth of 3 inches and an overall size of about 7.625 inches for each speaker.
Just like the other speakers mentioned in this list so far, the Acoustic Audio R191 also has a handy template to aid you in cutting holes.
---
Monoprice 3-Way Fiber In-Wall Speakers
Coming from Monoprice's Caliber line is the budget-friendly Monoprice 106816 in-wall surround system. They are a properly built three-way class pair.
The speakers' 8 inches woofers have advanced cone designs with woven Kevlar fibers installed in them.
The Kevlar is rigid but lightweight; a perfect blend for the reproduction of clean bass as it has little or no distortion.
The In-wall speakers are also equipped with large magnets that emanate punchier bass with a more significant impact.
The speakers' designated tweeters are composite and are pivoting which results in a silk titanium membrane that helps delineate the danger of overheating.
This allows the tweeters to endure incredibly high frequencies with more precision for much pleasant sounding and well-defined highs.
The switch of the crossover can be adjusted. They have a power handling capability of 200 watts for each speaker.
Final Thoughts
Directly mounting speakers to your wall does not need to be a difficult task. Most In-wall speakers have been specifically built to simply mount, and most of them like the ones listed above are accompanied by templates to ensure seamless wall cutting.
Owning a concealed home surround sound system does not need to break your bank in today's world due to the fast advancement of the audio industry.
A plethora of budget-friendly options is shocked when placed optimally in a set up for their respective functions and working harmoniously as part of a bigger system.
If you are a sound and audio freak, you will preferably opt for the more expensive models over the budget-friendly ones.
Each of the speakers on this list is great additions or good choice to augment your home entertainment system.
If you are getting one of them for the first time and do not know much about where to start, then it is highly recommended to look at a complete series that has a price summation to is best for you.
When you buy through our links, we may earn a commission.