Home speakers
10 All-round Best Vintage Speakers Under 500 Dollars.
There are not so many vintage speakers you can find out there. However, we have crafted out these 10 best vintage speakers under 500 dollars for you to make a perfect choice.
These speakers flaunt old-fashioned designs, and they are not available in one style. Quite a lot of people love vintage gears; if you're such, then, this article will be handy.
All the products reviewed here are priced below $500, and they are flexible.
Our experts have carefully handpicked the products you will easily find in different online and offline stores.
Read through this review carefully and pick out the best vintage speaker that's convenient for you.
The best vintage speakers under 500 dollars
1. Fluance SX6W High Definition Two-Way Bookshelf Loudspeakers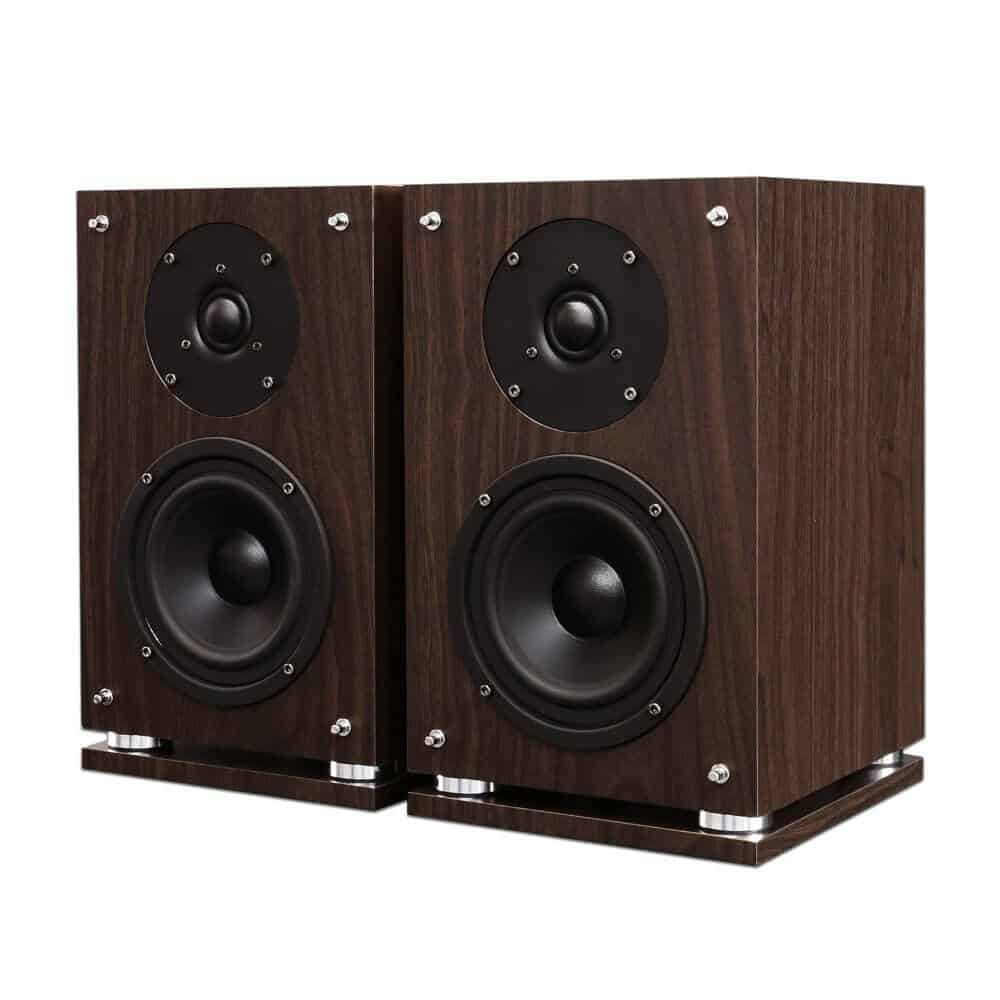 Speaker type: Bookshelf speaker (pair)
Sensitivity: ±3db @2.83v/1m
Frequency: 50hz – 20khz
Power consumption: 30 – 100 Watts
Drivers: 5-inch Polymer treated woofer driver and 1-inch neodymium tweeter (each of the pair)
We like the convenient price tag.
We dislike: the black color finish model isn't really vintage
When looking out for vintage speakers that can serve multi-purpose, this is an option to consider. The Fluance SX6W vintage speaker comes in pairs and does not cost up to $150 (per pair).
It is a typical HiFi bookshelf speaker powered with great components to reproduce the best room-filling sound you want to hear.
Configuring and setting up this pair as surround speakers in any home theater set up is seamless and straightforward. There are two finish options for this speaker model, and they're both offered at the same price.
Fluance SX6W has its cabinet constructed with hardened wood, concealing an ultra-high-end neodymium tweeter and a 5-inch polymer driver. It is possible to place these speakers on stands or mount them on the wall.
This pair of speakers will complement your home which is designed with vintage décor. Nevertheless, these speakers look quite stylish with the four stainless-plated base irons.
---
Speaker type: Bluetooth speaker
Frequency: 50/60hz
Power consumption: 40 Watts
We like:  the portability and nice design
We dislike: it didn't deliver the kind of immersive sound we expected for a speaker of that price
This speaker is one of the best portable vintage speakers we were able to lay hands on. Its design really looked good, and the price is friendly.
The AmazonBasics vintage speaker is functional via Bluetooth connection unlike some other ones on this list which require speaker wire connection.
Interestingly, it is possible to use this portable vintage speaker in charging other devices as it comes with a USB port.
The design of this is quite spectacular, and it will certainly meet your needs. AmazonBasics had designed this speaker to deliver pure sounds and it possible to stream songs from your smartphone to the speaker using a 3.5mm jack cord.
Generally, this is a nice vintage speaker you can get for yourself; the sound output is great, and its power handling is commendable.
However, this speaker doesn't have a built-in battery; it has to be connected to a power source all the while it will be playing.
---

Speaker type: Floorstanding speaker (single)
Sensitivity: 95 dB
Frequency: 45-24,000 Hz (±3dB)
Power consumption: 75 watts RMS (300 watts peak)
Drivers: Dual 4.5-inch copper-spun, high-output woofers, and a dynamic horn-loaded tweeter
We like: reproduces HiFi sound
We dislike: it is not sold in pairs; this would have minimized the price
Floorstanding speakers can also be vintage, do you know? The Klipsch R-24F speaker is a floor-standing speaker which delivers great sound, and it flaunts a kind of vintage design.
This speaker is actually not sold in pairs; however, you can get two of it at a considerable amount which is still below $500.
Klipsch has designed this floor-standing speaker with the best possible components it could use for a speaker of this nature.
The speaker delivers a room-filling sound if paired with another one. This speaker is versatile and can fit into any place you wish to keep it in your room.
We could discover that although this speaker doesn't come with the sturdiest design, the impact it creates is undeniable.
---
4. TEWELL portable vintage speaker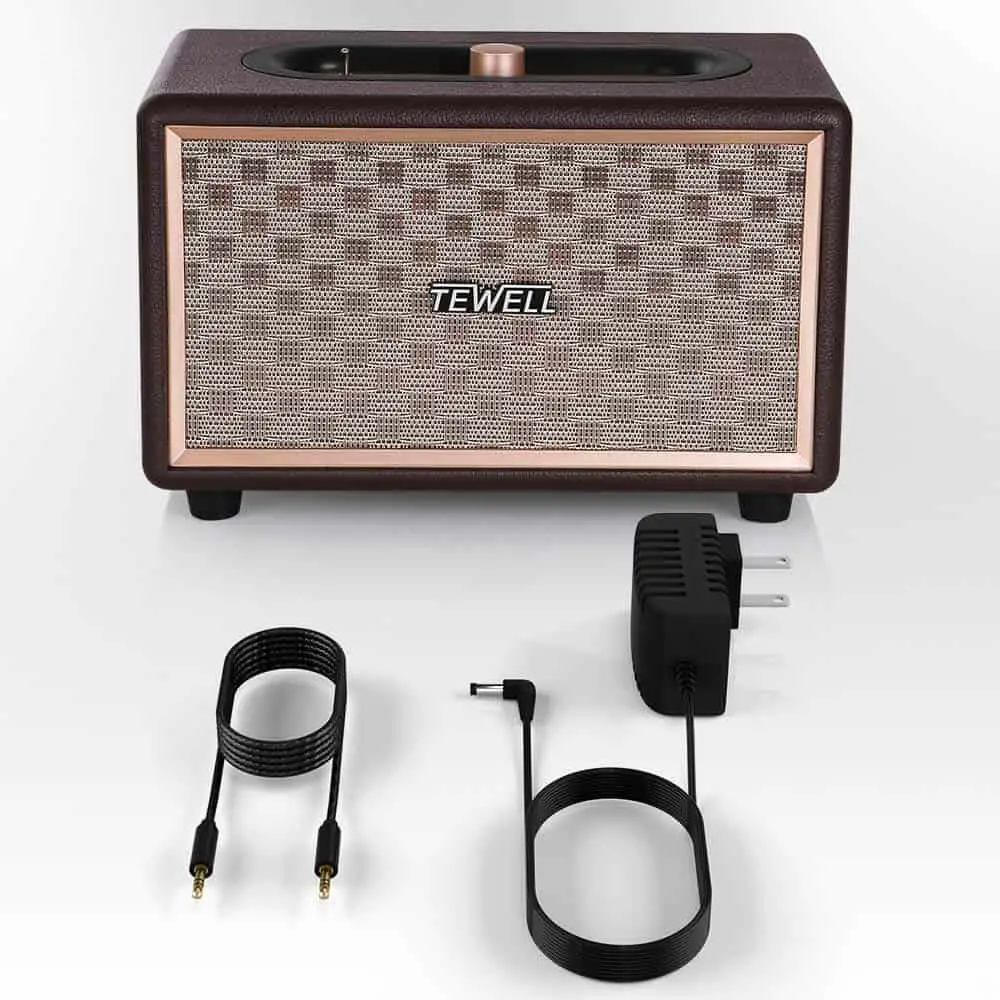 Speaker type: Bookshelf Bluetooth speaker
Sensitivity: 95 dB
Drivers: Bass Reflex System, professionally-tuned drivers
We like: it connects and serves for multipurpose
We dislike: the Bluetooth connection range is not too far
All of us did like that the Tewell speaker could deliver an amazing sound such as it did. Well, it was quite impressive; the Tewell Bluetooth speaker is good but somewhat heavy.
It delivers great sound and features an old-fashioned design that you'd love if you're a fan of vintage gears.
The speaker is tunable and can work with projectors and TVs to playback sounds.
With the help of dual full-frequency drivers, this speaker will deliver room-filling sounds with clear details for small rooms.
Also, the bass output is quite impressive; you'll hear all the actions from your movie playback in explicit details. The Bluetooth connectivity tech is 4.2, and its coverage range is up to 33ft.
A multipurpose 3.5mm jack is available on this speaker. So you can connect your smartphone or other compatible devices.
However, there is a free Nylon Braided Audio Cable included with this speaker when you buy from our link.
---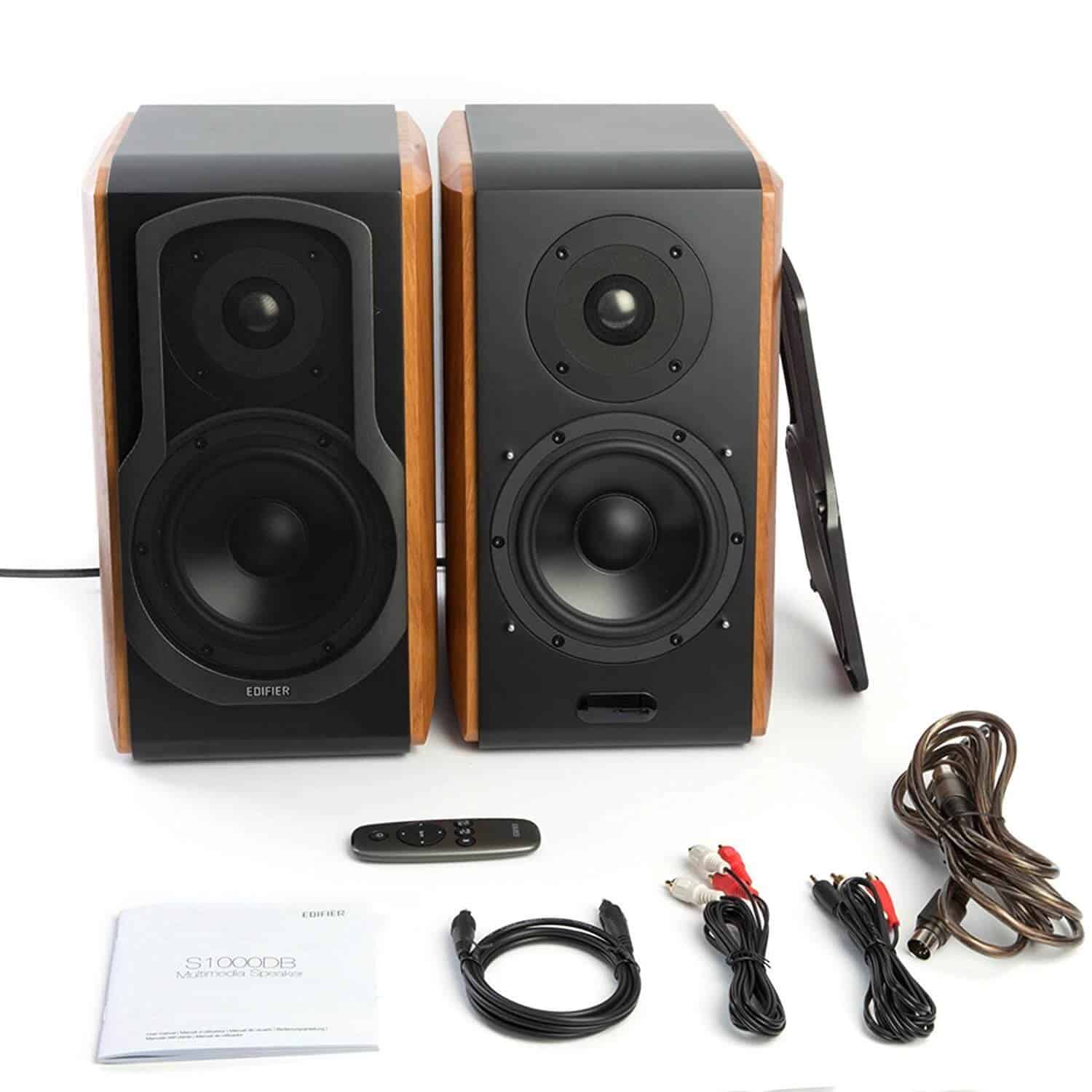 Speaker type: Bookshelf speaker (pair)
Sensitivity: ≥85dBA
Frequency: 48Hz~20KHz (±4dB)
Power consumption: 120 watts RMS
Drivers: 5.5-inch woofer driver and a 1-inch treble driver
We like: The design is classical, premium, and it includes a remote controller.
We dislike: the sound output is great but not perfect as expected
If you're an audiophile, this may be your best vintage speaker on this list. This pair of bookshelf speakers from the Edifier looks premium, and the sound output is purely high fidelity.
We loved what we got from the 300 bucks speaker which we could easily install to an existing 5.1 home theater system setup.
Edifier S1000DB supports Bluetooth 4.0 technology; so, you can connect portable devices to playback sounds in clarity and detail.
The manufacturer of this portable speaker had backed it with 2-year warranty coverage. You can even use this pair to complement your professional studio setup as you can connect to multiple sources at a time.
Thanks to the 5.5-inch subwoofer which is blended with Digital Sound Processing (DSP) technology, this speaker utilizes up to 120 watts to deliver RMS quality sound.
A remote controller is attached to the speaker; you can use the controller to switch between input sources instantly, as well as adjust the volumes.
---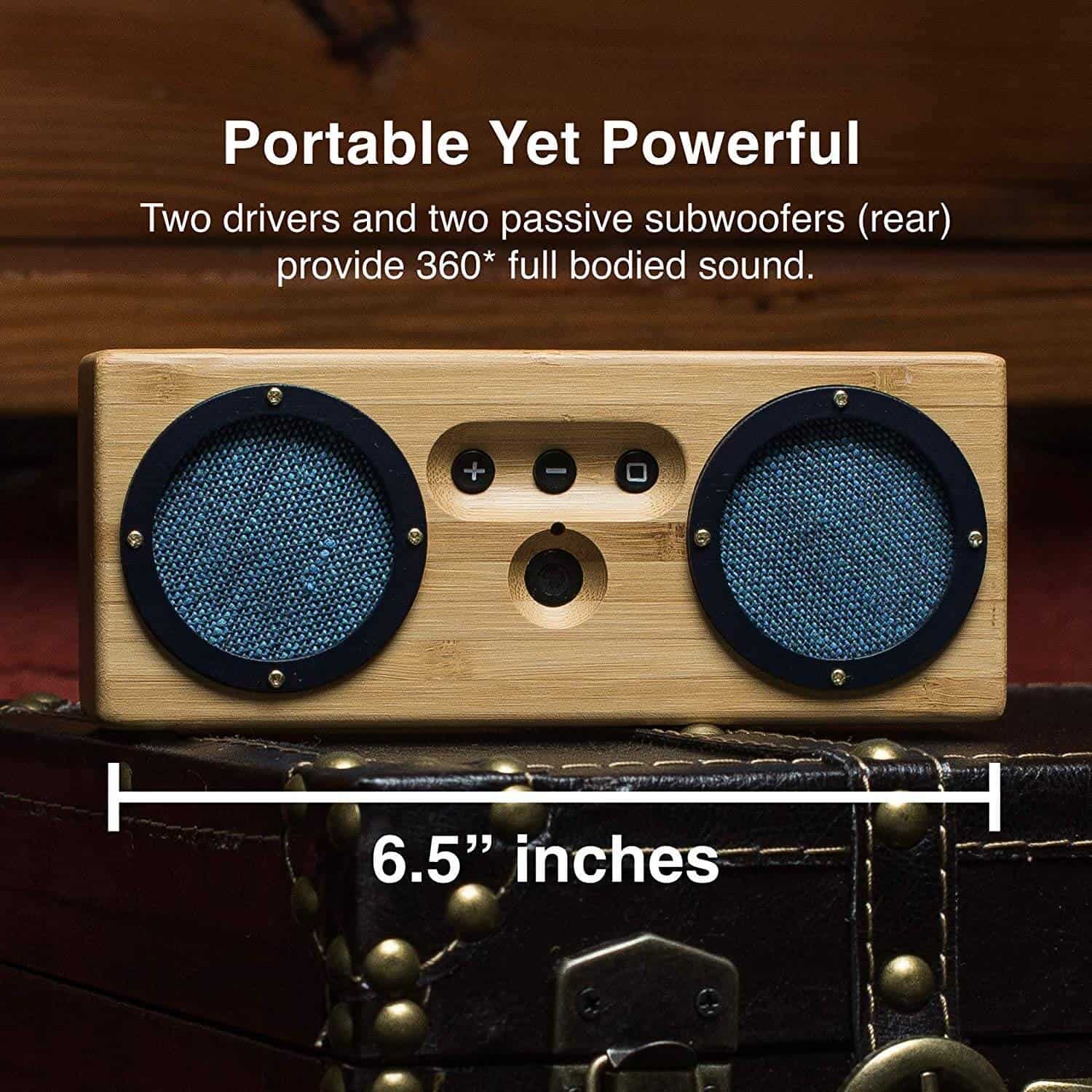 Speaker type: Bluetooth speaker
Connection range: 33 feet
Power: battery (up to 15 hours when fully charged)
Drivers: dual 1.5-inch "rare-earth" drivers and 1.75-inch isolated passive bass radiators
We like:  the portability and premium look
We dislike: the sound output isn't impressive while in outdoor environments
This is a premium Bluetooth speaker with a kind of vintage design you'd love. It delivers the type of sound you would expect from a speaker of its nature and connects to your devices wirelessly via Bluetooth.
The speaker's body is crafted with beautiful bamboo flaunting the typical style of a retro radio. However, the speaker is flexible, lightweight, durable, as well as renewable; a type of speaker you can travel along with or take it along when going for an outdoor hangout.
Nothing was as impressive about this speaker as the portability; it is incredibly portable and would fit into your backpack while getting on the go.
The 33 feet Bluetooth coverage range is acceptable. Plus, the battery lasts for up to 15 hours after a full charge. You can use this speaker anywhere, both indoor and outdoor.
---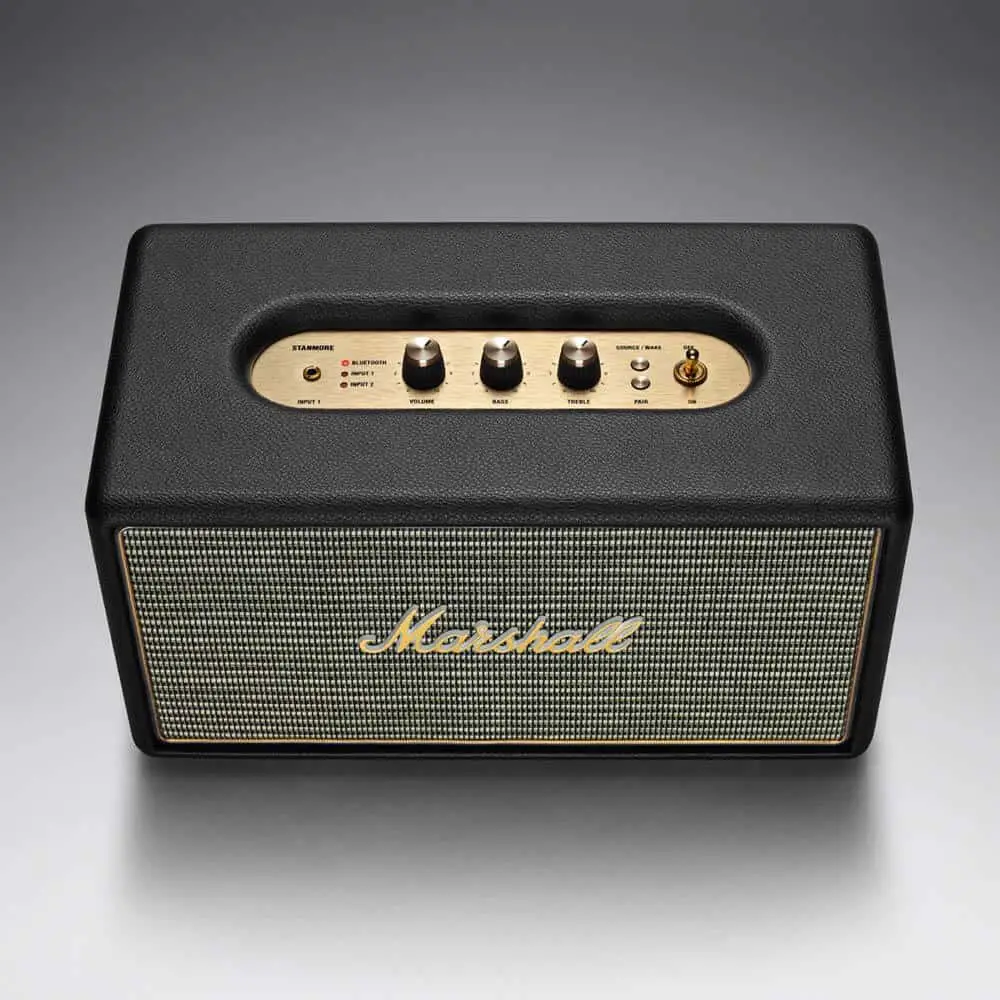 Speaker type: Bluetooth speaker
Frequency: 35- 22.000Hz
Power consumption: 80W
Drivers: dual 5 ¼-inch woofer driver and dual 1-in dome tweeter
We like: delivers stunning sound with great clarity and it comes with some useful freebies
We dislike: It is expensive for no special reason
Here's another portable Bluetooth gadget we found to be among the best vintage speakers.
The design is quite compelling when you take a closer look at the speaker; however, we see this speaker be unreasonably expensive.
Well, the sound output is as expected with 80W power consumption. Marshall Stanmore portable speaker is available in different color finishes and blends with the vintage home perfectly.
It is possible to connect this speaker to different systems via RCA or 3.55mm jack input, as well as connect with portable devices such as smartphones via Bluetooth. Setting up this speaker is very intuitive, straightforward.
---
8. Klipsch 2 Way Black Bookshelf Speakers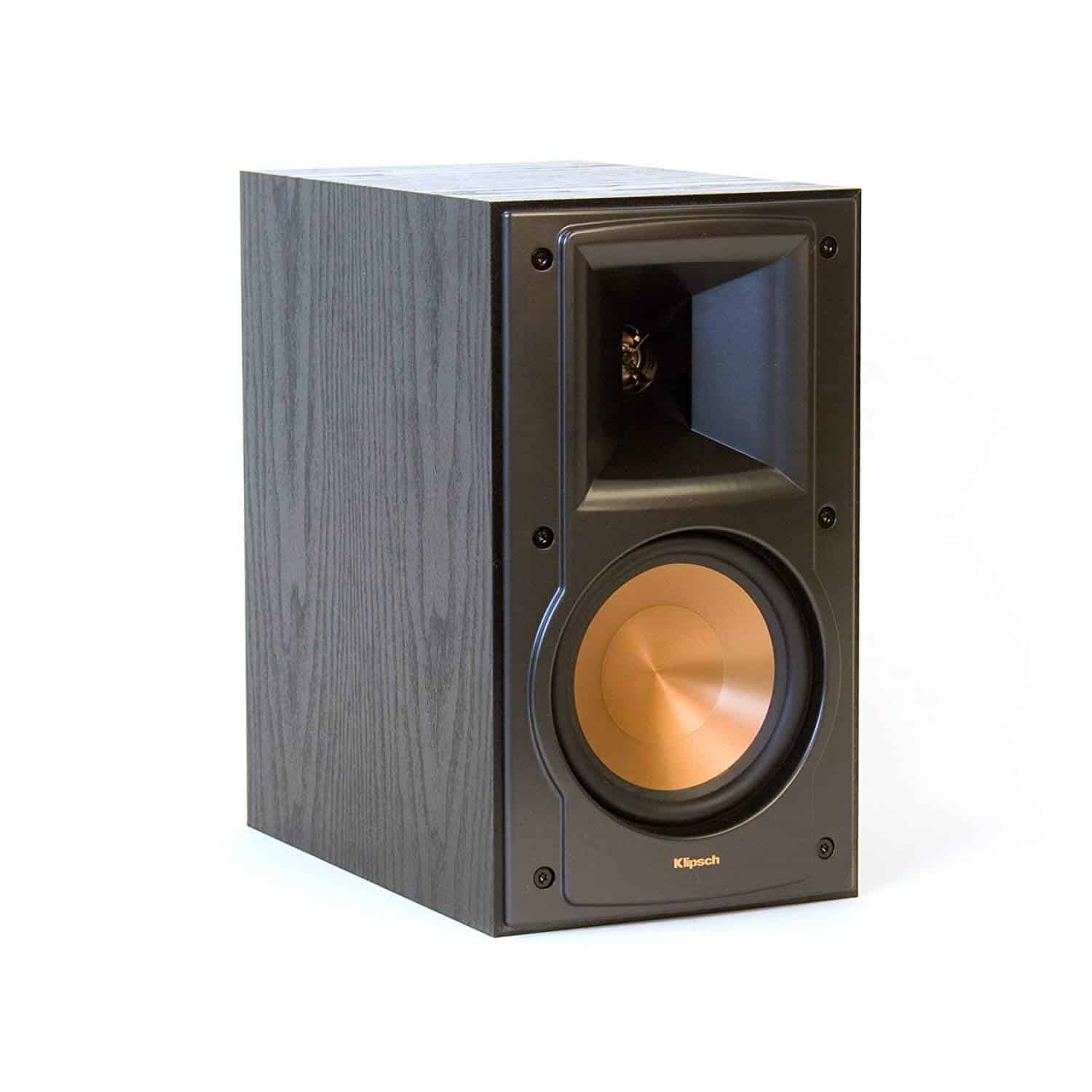 Speaker type: Bookshelf speaker
Drivers: 5.25-inch high-output Cera-metallic woofer driver and 1-inch titanium tweeter
We like: it is flexible and delivers excellent sound reproduction
We dislike: not available as pair
The Klipsch RB-51 II (Pr)is a 2-way vintage bookshelf speaker that is available as a pair and works perfectly for surround sound setup.
This pair of speakers will complement your home décor, thanks to the stylish finish and architecture.
We discovered that using only this pair won't deliver room-filling sound for a big room; however, for small and some mid-sized rooms, they are perfect, thanks to the dynamic sound reproduction.
Klipsch RB-51 II comes with a set of robust components which it utilizes in sound reproduction.
You'll enjoy using this speaker if you love enjoying the good sound. The manufacturer is renowned for quality, and this speaker proves that, yet again.
You may not find this speaker to buy in pairs; you need to buy two units at $219 each. Nevertheless, the total cost of a pair of these speakers is still under $500.
---
9. Edifier R1700BT Active Near-Field Studio Bluetooth Bookshelf Speakers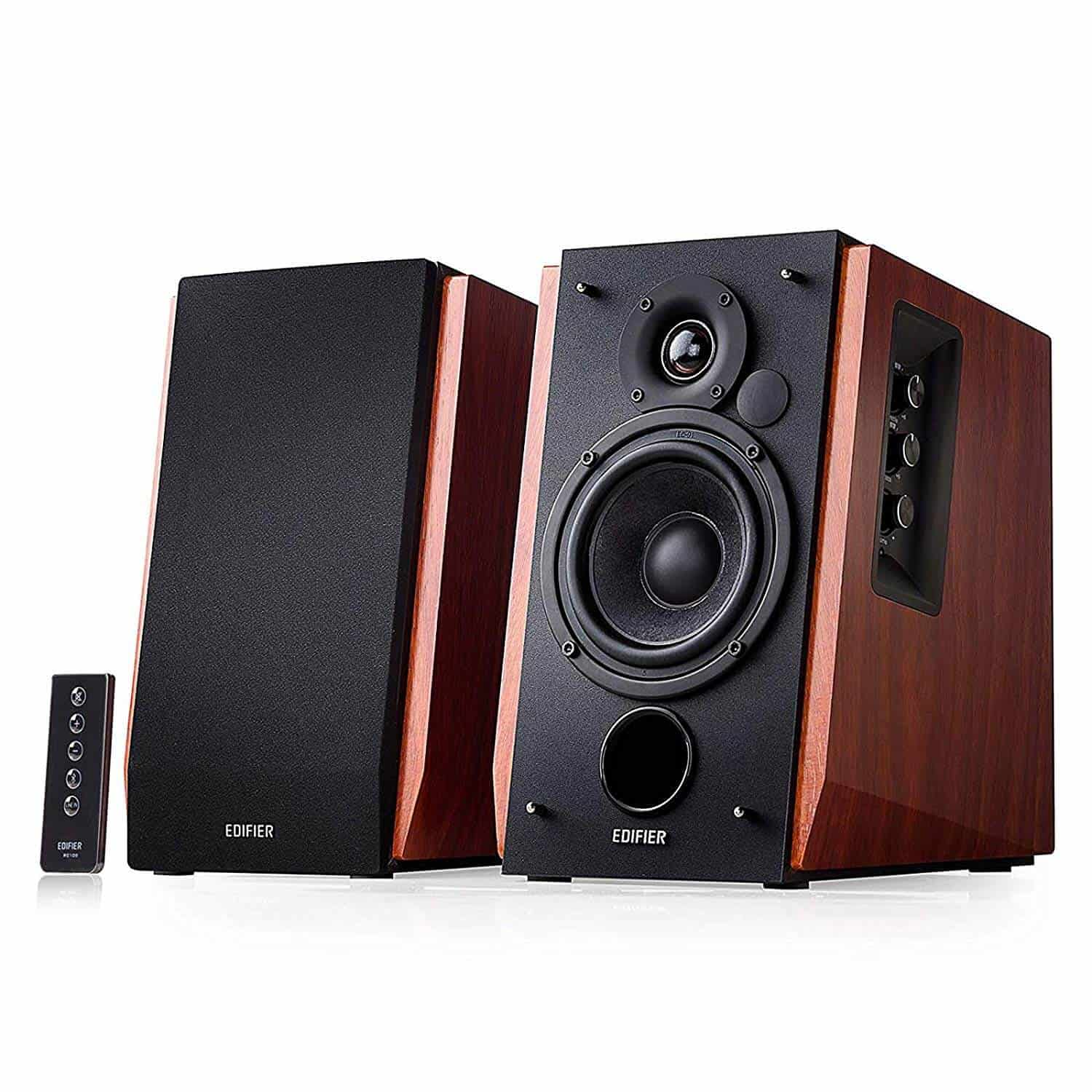 Speaker type: Bookshelf speaker (pair)
Sensitivity: ≥85dBA
Frequency: 60Hz ~ 20kHz +/-6db
Power consumption: 66W RMS
Drivers: 4-inch bass driver and 1-inch silk-dome tweeter (each of the pair)
We like: classic design, remote controller, intuitive controls, good price
We dislike: issues with the Bluetooth connectivity support
The 2-year warranty support is feasible, unlike the ones we do see from other manufacturers.
Typically, Edifier manufactures vintage speakers that aren't high-priced while still delivering top-quality High Fidelity sound output.
There are quite a lot of input ports available on this pair of speakers; these ports are arraigned at the side of the cabinets.
You can connect your smartphone or other portable displays devices with Bluetooth connectivity support to this speaker.
Also, it a tradition to get a remote controller for your edifier speaker; thus, this model comes along with an intuitive remote controller.
Furthermore, it is the wood finishing that made this speaker look classical/vintage. In all, you will enjoy great sound with this pair of speakers, and it does not cost more than $150.
Plus, all the cord/cables you need to use this speaker are available for free.
---
10. Edifier R1280T Active Near-Field Studio Bluetooth Bookshelf Speakers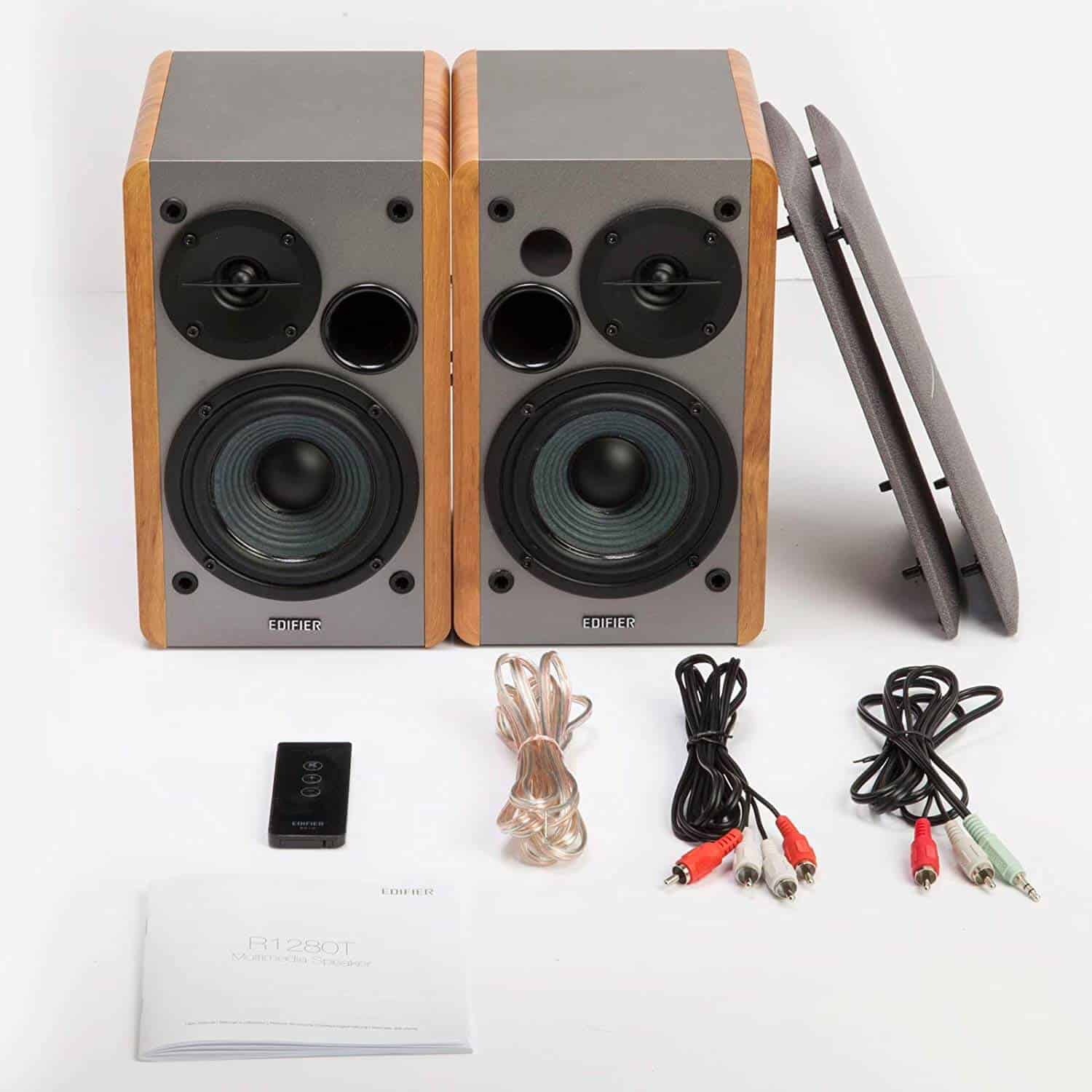 Speaker type: Bookshelf speaker (pair)
Sensitivity: ≥85dBA
Power consumption: 21W x 2
Drivers: 4-inch full-range woofer driver and 13mm silk-dome tweeter(each of the pair)
We like: The good price and compatible
We dislike: the sound output won't fill a big room
Sometimes, we prefer bringing the best at last. This pair of bookshelf speakers flaunts a classic design that suits almost every modern and traditional home décor.
It supports quite a variety of inputs which includes Bluetooth connectivity and AUX input. Switching between the various support inputs is feasible and swift with the help of a standard remote controller.
Interestingly, the Edifier R1280T delivers the amazing sound output with the help of a 13mm silk-dome tweeter coupled with a banging 4-inch full-range driver.
Adjust the volumes to enjoy clear sound using the remote control. This pair of vintage bookshelf speakers is available at a price under 100, and the performance is as expected from a speaker of its level.
---
Wrap up:
These are the best vintage speaker you can buy below $500. We tested them and found them reliable, durable, and worthy of your budget.
They are available in different styles; bookshelf speakers, floor standing speakers, as well as Bluetooth speakers.
When you buy through our links, we may earn a commission.