Home speakers
[UPDATED] Which Is The Best Portable Speaker For 2023
So which is the best portable speaker? There are many good portable speakers in the market, and different people can call them the best they could serve for their needs. Before you buy your next portable speaker you need to read this.
With tons of portable speakers available in the market, it is difficult to know which is the best portable speaker to buy.
However, following the tips we are going to share in this article, you'll be able to know the best portable speaker that's worth your money.
We will try to be concise yet detailing everything you should know about Bluetooth speakers.
There are rugged portable speakers which do not last as you expect them to do, while there are some likened cheap portable speakers that are the real deal.
Portable speakers have advanced from being just speakers to use with smartphones to becoming superior audio equipment for house parties, beach parties, and even home audio channel expansion.
Some of these portable Bluetooth speakers can work with your TVs, Laptop/Mac, and other compatible devices.
Also, we now see portable speakers that support a variety of inputs and technologies such as Aux, Bluetooth, WiFi, and other types of input.
What is a portable speaker?
Simply, in a layman's understanding, a portable speaker is a speaker that you could easily move around with and also store it in any available space.
Portable speakers feature a compact design that most of them are pocketable (can be hidden inside your pocket).
These types of speakers are popularly referred to as Bluetooth speakers because they all support Bluetooth connectivity.
Which is the best portable speaker in 2022?
---
1. Anker SoundCore Mini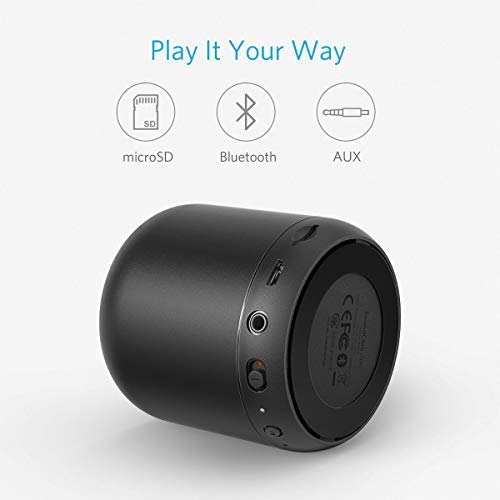 The Anker SoundCore Mini is a premium portable Bluetooth speaker with a reliable battery. It lasts for over 10 hours, and the bass quality is amazing.
Anker SoundCore Mini flaunts a compact design structured with a rubber-like material to last long.
This Bluetooth speaker stays connected even up to a 66-feet distance from the connected device.
There is black color and white color version of this speaker; however, there are still some other color options.
Also, you can play music from your SD card by inserting it into the SD card port available on this speaker.
Aux connection is equally supported by this speaker in case your streaming device does not support Bluetooth.
Inside the hood of this speaker hides a robust/efficient 5W driver and a passive subwoofer. With these two drivers, SoundCore Mini generates rich sound and bass that could fill a room.
Thanks to the built-in noise-canceling microphone, it allows for seamless hands-free calling.
---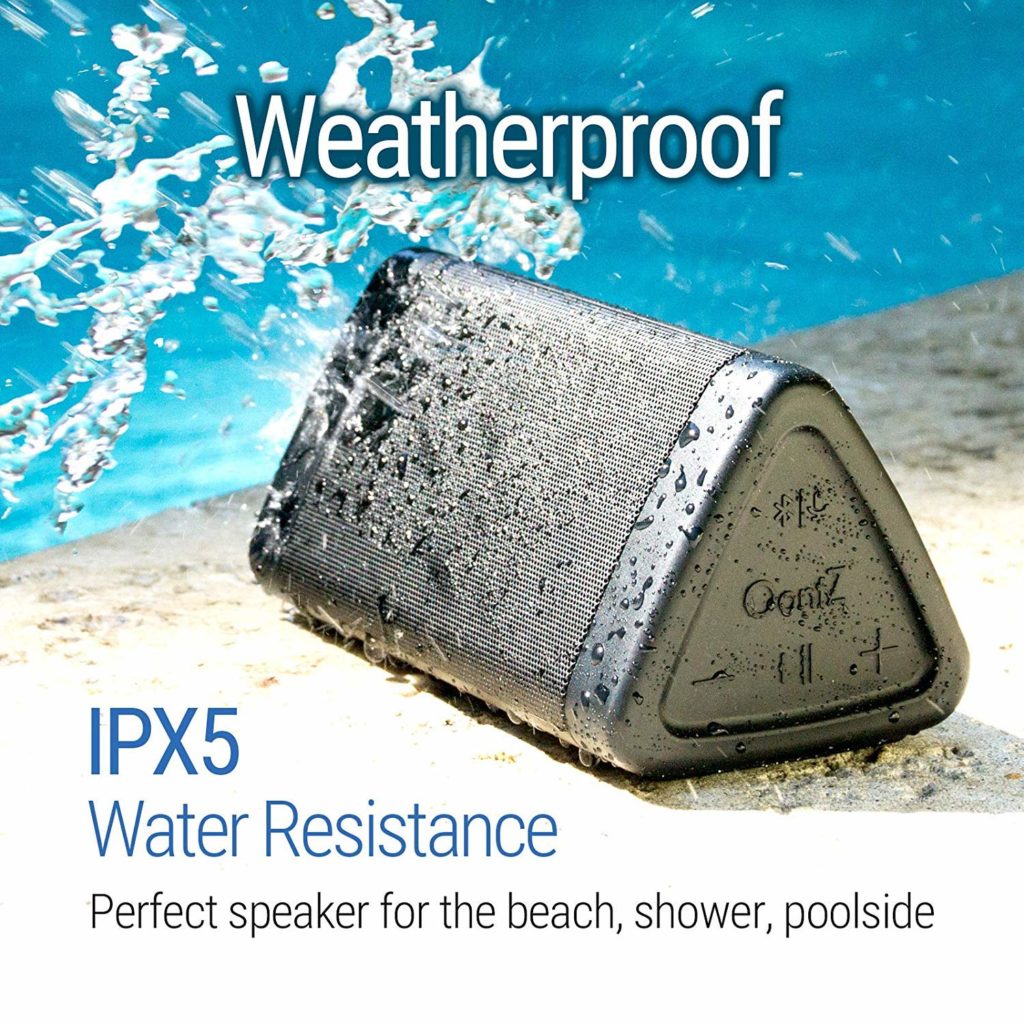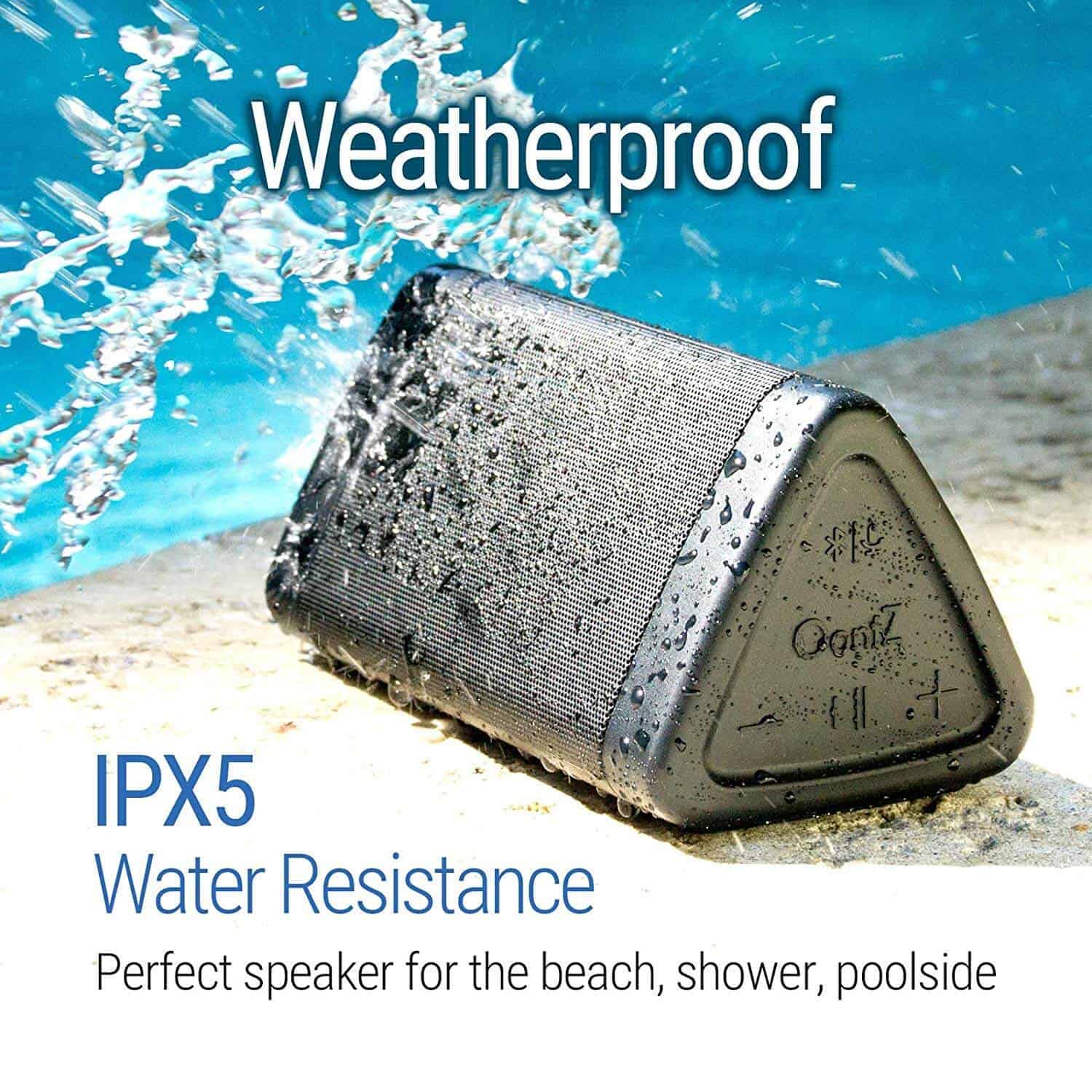 You'll, first of all, love the design/aesthetics of this portable speaker. It is available in different color designs so that you will pick the color of your choice.
This portable speaker by Oontz is one of the best-selling in the market and it goes for a budget-friendly price. The speaker delivers rich, deep bass alongside crystal clear sound.
Interestingly, Oontz has designed this speaker with IPX5 rated material; this means that this speaker is water-resistant; thus, it can be used at bays, beaches, and other places without fear of the speaker getting damaged because of contact with water.
You'll enjoy greater clarity sound, accurate mids and clear highs from the dual precision acoustic stereo drivers hidden in this speaker device.
The bass produced by this speaker comes out from a patented passive bass radiator.
Also, the volume of this speaker is very loud and can fill any room, thanks to the Volume Booster 10+ watt power AMP.
This speaker can be paired with any smartphone or device with Bluetooth support.
---
3. TribitX Sound Go Bluetooth Speakers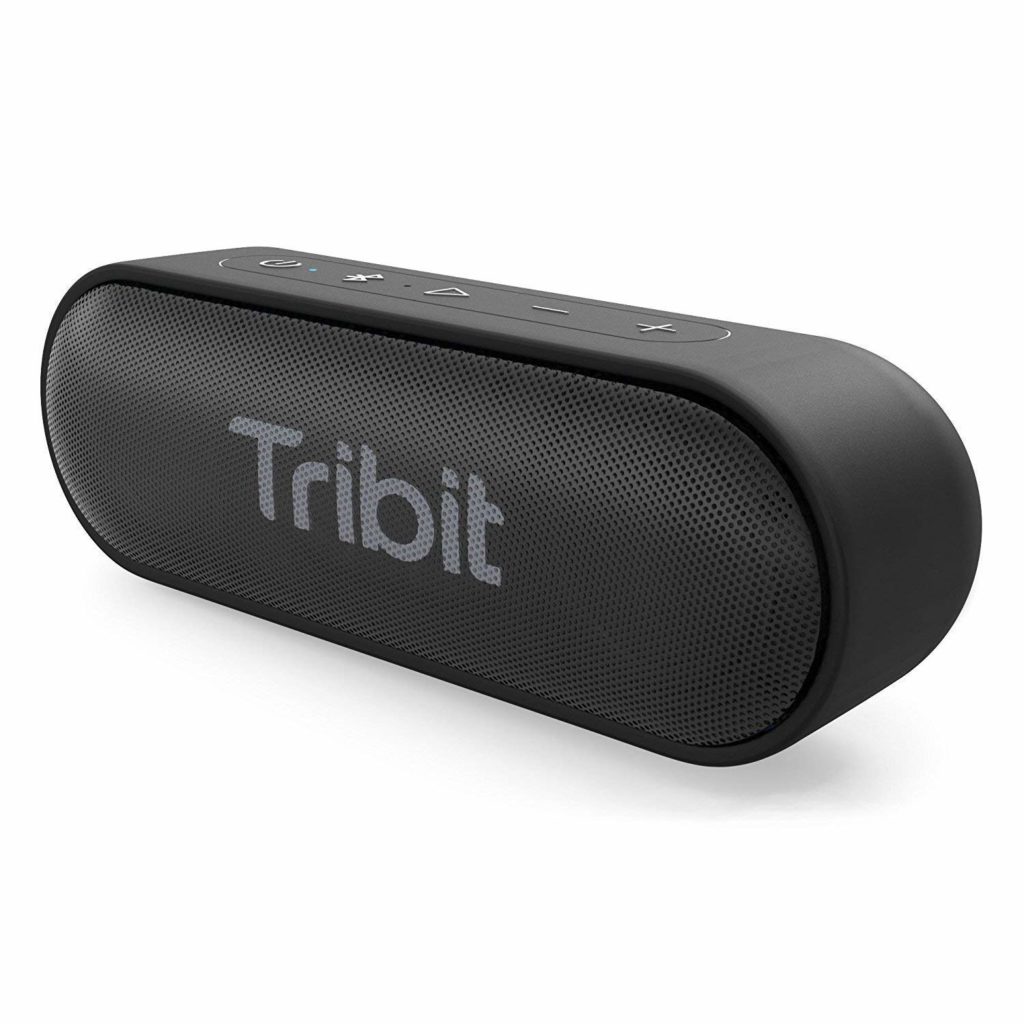 Some dudes love to play some sweet blues when inside the bathroom taking some shower.
For such people, this is a sturdy water-resistant Bluetooth speaker that delivers great sound with bass at any volume.
You can use this portable speaker at any time during the summer season. Its battery is powerful and lasts for up to 16 hours after a full charge.
More so, you can stash this speaker in your backpack, purse, or even pockets, thanks to its compact design.
Tribit has carefully designed this speaker with Bluetooth 4.2 technology. Its connection range is about the 66ft range.
The exterior of this speaker seems to be designed with strong material, so it withstands quite a lot of pressure or force. More interestingly, this speaker works with Amazon Echo and Amazon Echo Dot.
---
4. Vtin Sound Hot Q1 Portable Bluetooth Speaker
Don't bother about the small nature of this portable speaker; it is a pocketable speaker with an 8W high-performance driver inside to deliver stunning clear sound for various needs. The speaker is also available in different color options with slight price differences.
There is a 1000mAh Li-Ion battery inside this speaker which powers it for up to 8 hours or more depending on how you use the speaker.
It is also designed with waterproofed material so that it can be used at any time irrespective of the weather condition.
You can connect this speaker with a lot of devices; plus, it has space where you can insert a TF card.
Also, you may like the rope design that allows you to easily hang this speaker to the suction cup.
The wide versatility of this speaker is amazing, and its design is just the best most people would love.
---
5. Bose SoundLink Revolve+ Long-Lasting Bluetooth Speaker
If you're willing to spend more, then, this can be the perfect choice for you. It is a superior portable speaker with so many supports.
This speaker comes with mobile app support and it can be connected to a variety of devices.
Interestingly, this Bose speaker delivers deep bass and clear sound utilizing the patented True 360-degree coverage tech.
There's a handle to carry the speaker around and its body is designed with an aluminum material rated IPX4.
Also, the battery in this speaker is quite strong and can last up to 14 hours. Inside the hood of this portable speaker is an efficient 3.6 inches Full Range Driver.
More so, it is possible to pair two of these speakers to function as one for depth stereo or party mode playback.
---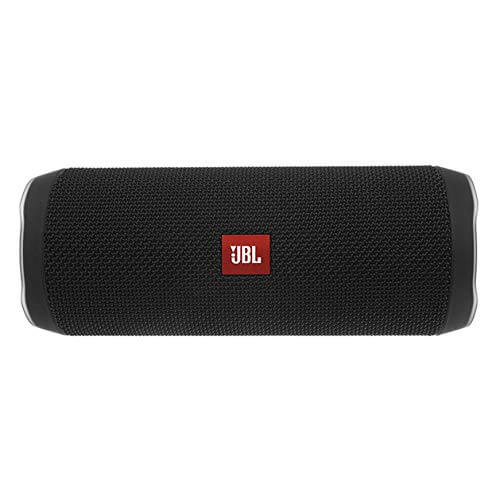 When it comes to portable speakers, the name JBL is remarkable for making high-quality Bluetooth speakers for multipurpose use.
The Flip 4 Bluetooth speaker by JBL is a sturdy portable speaker sold at a budget-friendly price, and it is stocked with all the features you'll expect from a speaker of its kind.
Firstly, there are many color options for this speaker available. Its battery is rated 3000mAh and it lasts pretty long.
More interestingly, you can connect up to 50 of this speaker to function at the same time.
The dual external passive radiators on this speaker deliver rich bass so you can enjoy your playbacks. Designed with an IPX7 rated material, this speaker can submerge in water for long.
It is an ideal device for beach party addicts. Quite a lot of tweaks can be done with this speaker.
---
7. BUGANI Bluetooth, Waterproof Outdoor Speakers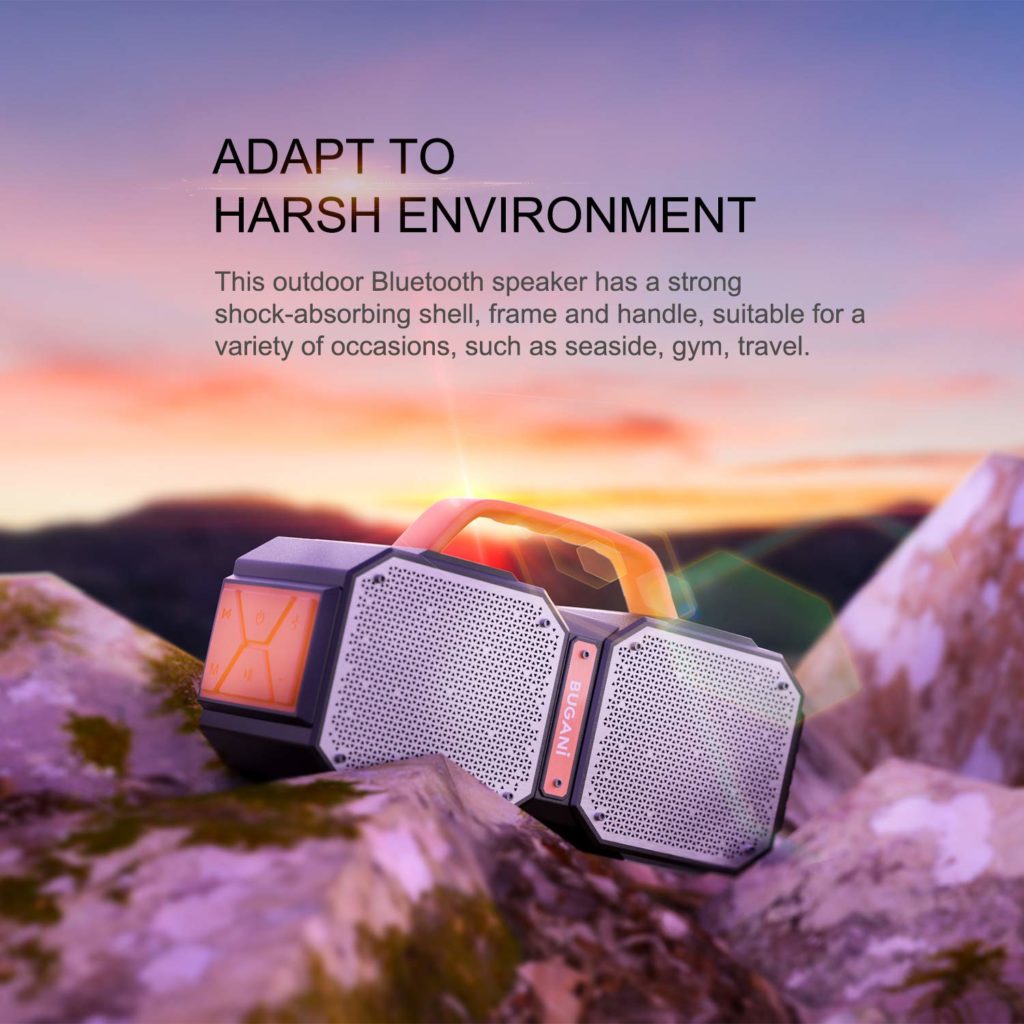 If you love rugged stuff, then you will love this speaker. The appearance looks rugged and it is really sturdy, designed to be used in time irrespective of the weather condition.
BUGANI Bluetooth Speaker is stocked with highly efficient dual tweeters and dual subwoofer drivers. It delivers the best quality of sound/bass you can expect.
Typically, this is designed as an outdoor portable speaker for mini parties; however, it is also perfect for indoor use.
This speaker functions with Bluetooth 5.0 technology; plus, it has ports for aux input, as well as an SD card slot.
Thus, you can play or stream music from different devices with the Bugani Bluetooth Speaker.
More interestingly, this speaker could serve as a power bank for charging your other portable devices such as smartphones.
The speaker itself is equipped with a strong 8000mAh battery, and there is a USB port to connect your cable and charge your smartphone.
---
8. Vanzon X5 Pro Bluetooth Speakers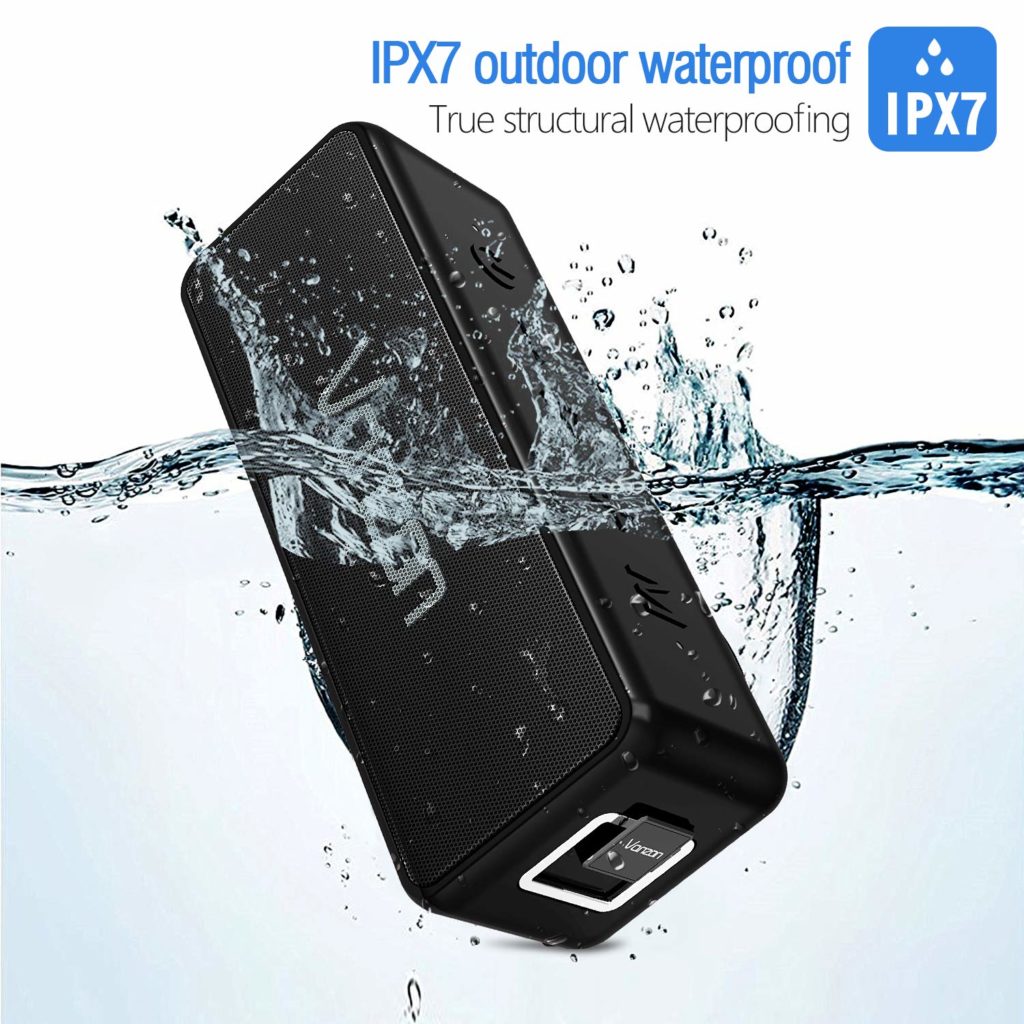 Designed with IPX7 material, this portable speaker is suitable to be used in any location. The exterior is a silicone case with port cover structured to allow you to enjoy your playbacks in a variety of environments.
Also, the manufacturer says that a patented TWS technology included in this speaker allows you to pair more than one Vanzon Bluetooth speaker with one device so experience true dual enhanced stereo sound.
The small size nature of this speaker makes it an ideal speaker to move along with every day; it fits into any available storage space.
Also, this speaker remains connected up to 66ft range away from the streaming device.
Built-in mic function is one of the features some audiophiles lookout to get from their portable speakers.
There are three play modes supported by this speaker, and you can directly connect your SD card or use AUX if the streaming device does not support Bluetooth.
---
9. Anker Soundcore Bluetooth Loud Stereo Sound Speaker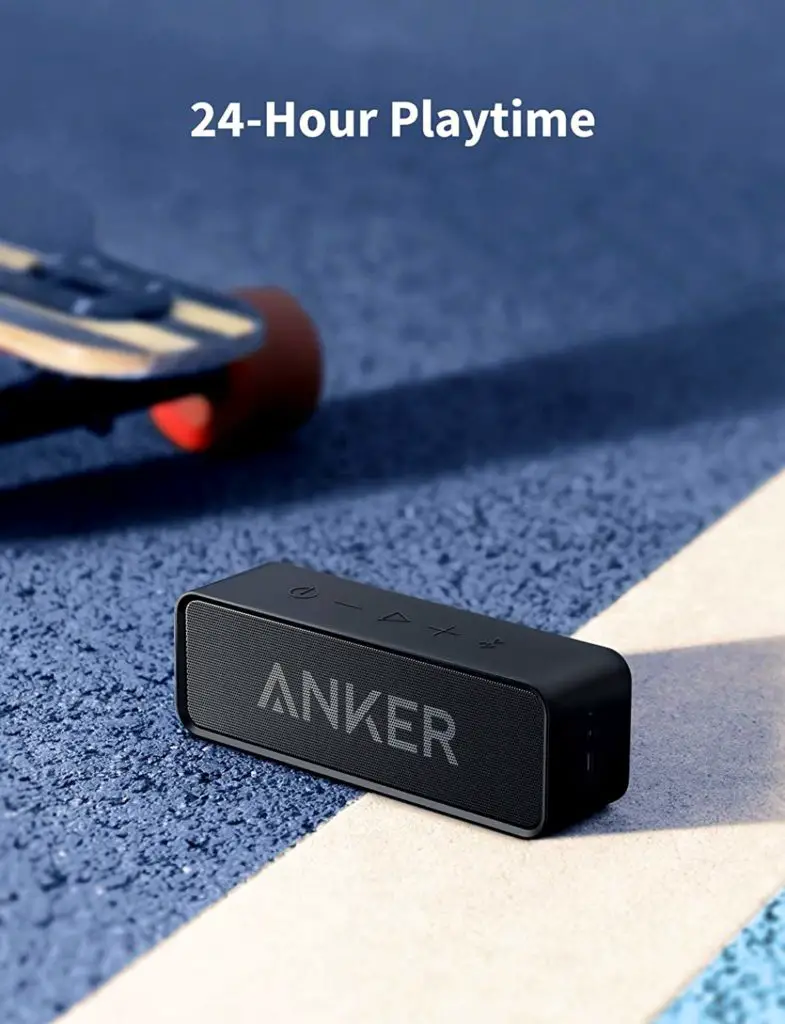 This portable speaker promises up to 18 hours of playtime, thanks to the battery. You will enjoy non-stop entertainment with the Anker SoundCore Bluetooth speaker, and it can be connected to any smartphone (iPhone, Android, and Windows mobile).
Anker SoundCore has a built-in mic feature, conceals dual full-range drivers, a patented bass port, and a fine-tuned Digital Signal Processor; you know you're in to get the best possible cinematic sound from a portable speaker.
SoundCore is compatible with Amazon's voice assistant (Alexa); plus, its body design is sturdy, and the speaker can be used anywhere; however, it has no IP rating, so you've got to be careful when using this speaker close a water body.
---
10. Oraolo Portable Speaker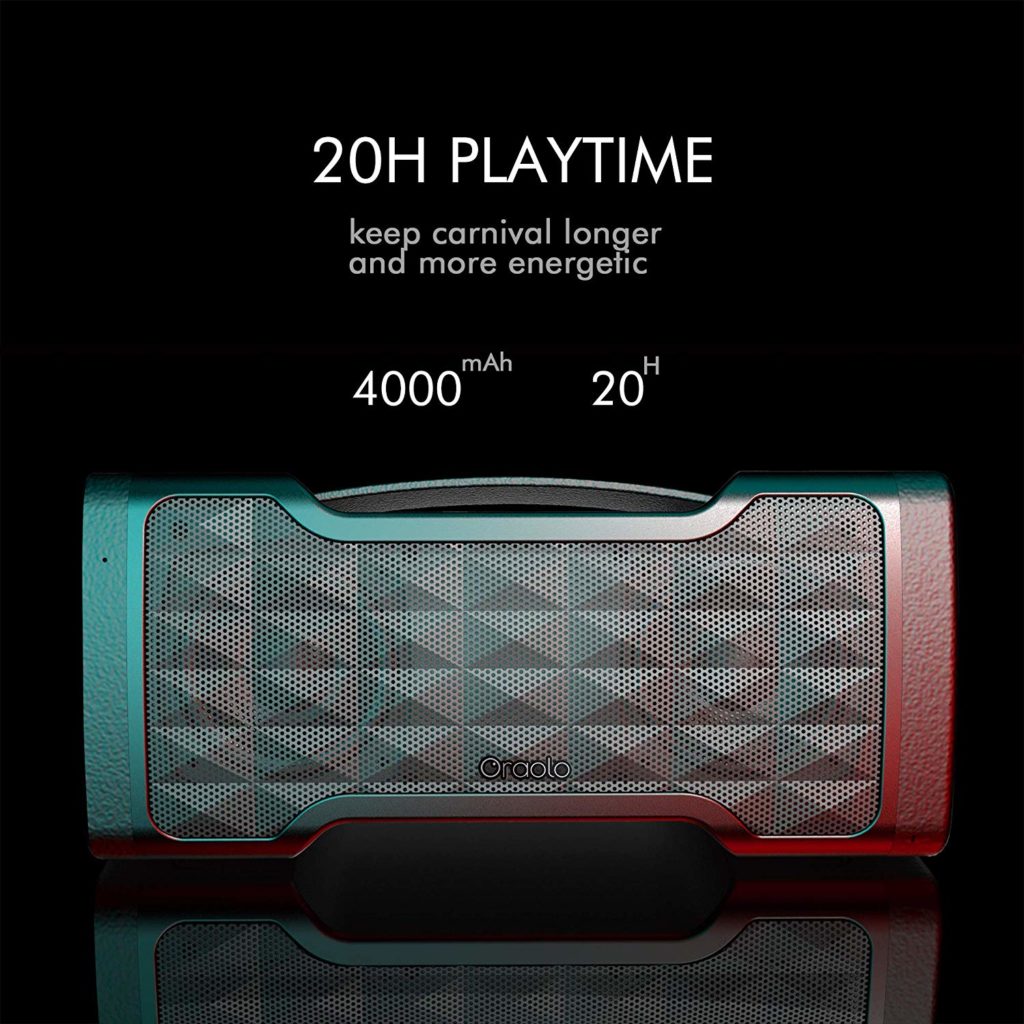 Finally, the Oraolo Portable Speaker is going to be the last on our list for the best portable speakers to use.
This speaker comes with the typical features you'll find on every other portable Bluetooth speaker, which it utilizes to produce more than 20W of crystal clear sound alongside deep bass.
However, the design doesn't seem so portable, but this is a speaker you can easily move with every day.
Bluetooth 5.0 support makes it easier to connect and Bluetooth-enabled device with this speaker in less than 2 minutes, so you can enjoy seamless streaming.
The battery on this speaker is another interesting feature; nevertheless, when you tune the volume to the highest, the battery runs down faster.
This speaker is certified with an IPX5 rating, making it suitable to be used in pool parties or beach parties. Buttons to control this speaker are available on the body.
---
Conclusion
We hope this article helps you while choosing Which is the best portable speaker in 2022. These are all great speakers with patented technologies to deliver cinematic sound footage.
When you buy through our links, we may earn a commission.