Hifi speakers
Q Acoustics Brings Hi-fi And Home Cinema Sound Back.
A home is never complete without a good set of speakers – an impressive sound system for all kinds of playbacks.
Yeah, there are many good speaker brands out there that produce some of the best speakers and home theater sound systems at affordable prices.
But Q Acoustics Brings Hi-fi And Home Cinema Sound Back.
HiFi speakers are premium speakers that try to reproduce the same exact sound quality as with the original audio from the movie, music, or game you're playing.
The Q Acoustics brand is an award-winning audio brand with several top-quality speakers in the market.
Q Acoustics speakers are rolled out in series; the brand has 2000 series, 2000i series, 3000 series, 3000i series, and so on.
Typically, with Q Acoustics speakers, you'd enjoy cinematic sound at home.
While speakers from Q Acoustics are typically expensive, there are cheaper options that start at $149.00.
Whether you're looking for satellite speakers, surround speakers, floorstanders, center channels, or subwoofers, Q Acoustics has it all.
Q Acoustics Brings Hi-Fi and Home Cinema Sound Back.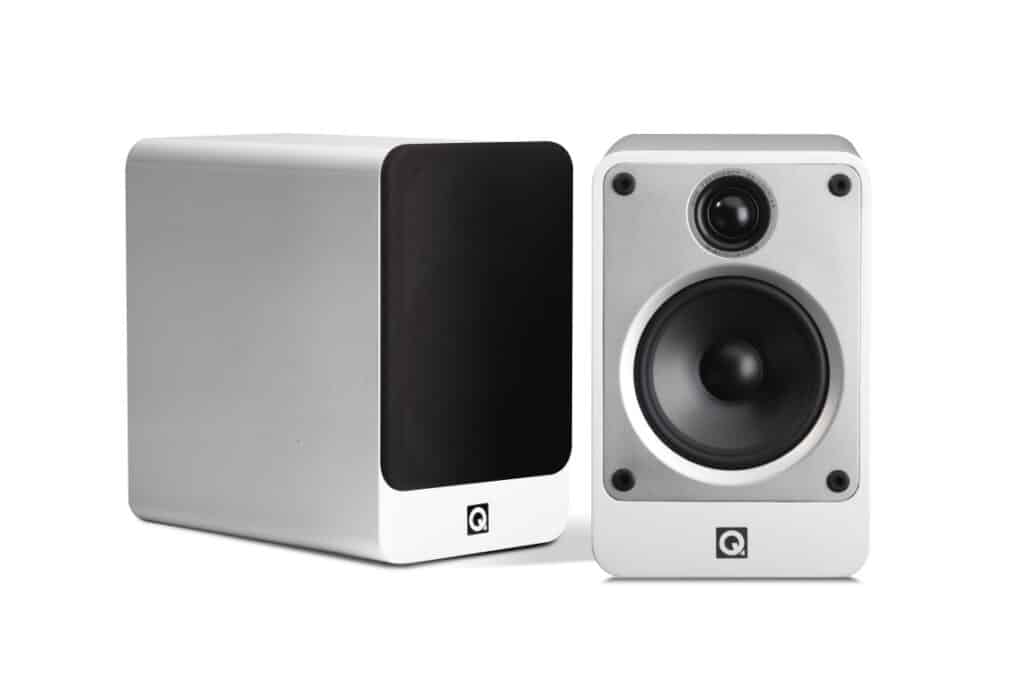 Q Acoustics' range of loudspeakers delivers class-leading performance in a stylishly crafted design that blends seamlessly with your home design.
The speakers offer a great value for their various prices and you don't have to worry about poor sound anymore.
They are all HiFi speakers and feature a compact and flexible design that allows for different installation options.
Whether you're trying to upgrade your existing sound system by adding a new pair of HiFi speakers or you're building from scratch, Q Acoustics' loudspeakers would fit it perfectly.
The speakers are built with the finest drivers in the industry – fine-tuned to reproduce clean, crisp audio for all playback modes.
Available in different colors, you could easily find a Q Acoustics' loudspeaker that would match your room design. The loudspeakers are sold in pairs and they are wall mountable.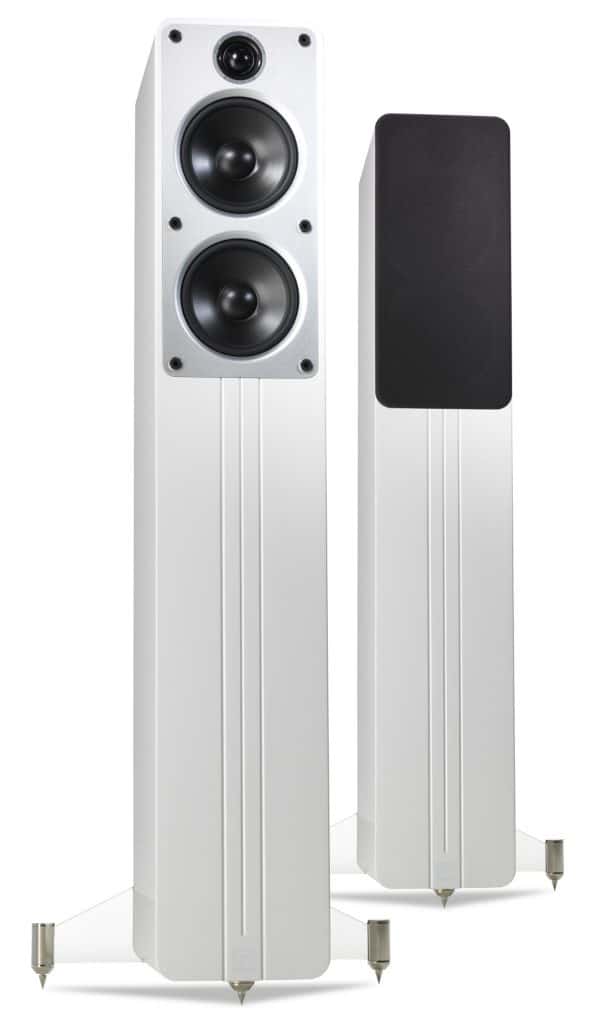 If what you need is some floorstanding speakers, there are affordable models for homeowners on a budget.
You could get the Q Acoustics Concept 20 at $499.99 per pair, which looks great – considering the specifications and performance of the speakers.
Also, the Gloss White / Gloss Black finishes of the Concept 20 floorstanders look stunning and premium.
Even in homes with vintage interiors, these speakers would blend in, and add to the room's beauty.
The speaker wire terminals are hidden on the rear side for neat wiring.
Q Acoustics Speaker Series
Actually, Q Acoustics has several speaker series or ranges as some may call them.
Each series boats of compact loudspeakers and floorstanders; subwoofers and center channels are available in some series.
Hereunder is a complete list of all Q Acoustics speaker series for building HiFi home audio setups.
2000 series (2010, 2020, 2050, etc.)
2000i series (2010i, 2020i, 2050i, etc.)
3000 series (3010, 3020, 3050, etc.)
3000i series (3010i, 3020i, 3050i, etc.)
5000 series (5010i, 5020i, 5050i, etc.)
5000i series (5010i, 5020i, 5050i, etc.)
If you look closely, Q Acoustics typically makes its speakers twice – a standard version and then an improved version indicated with the addition of the letter "i" to the name.
Also, as you may guess, the standard models are the cheaper options – and they are not too different from the improved versions.
The difference is mainly on the appearance/design, and in some cases like the 3050 and 3050i, the latter produces more details, almost insignificant to notice for someone who's not an audiophile.
Affordable Q Acoustics Speakers for Home HiFi Audio Setup
These are some really affordable Q Acoustics speakers that are notable for delivering HiFi audio for home entertainment.
– Q Acoustics 2010i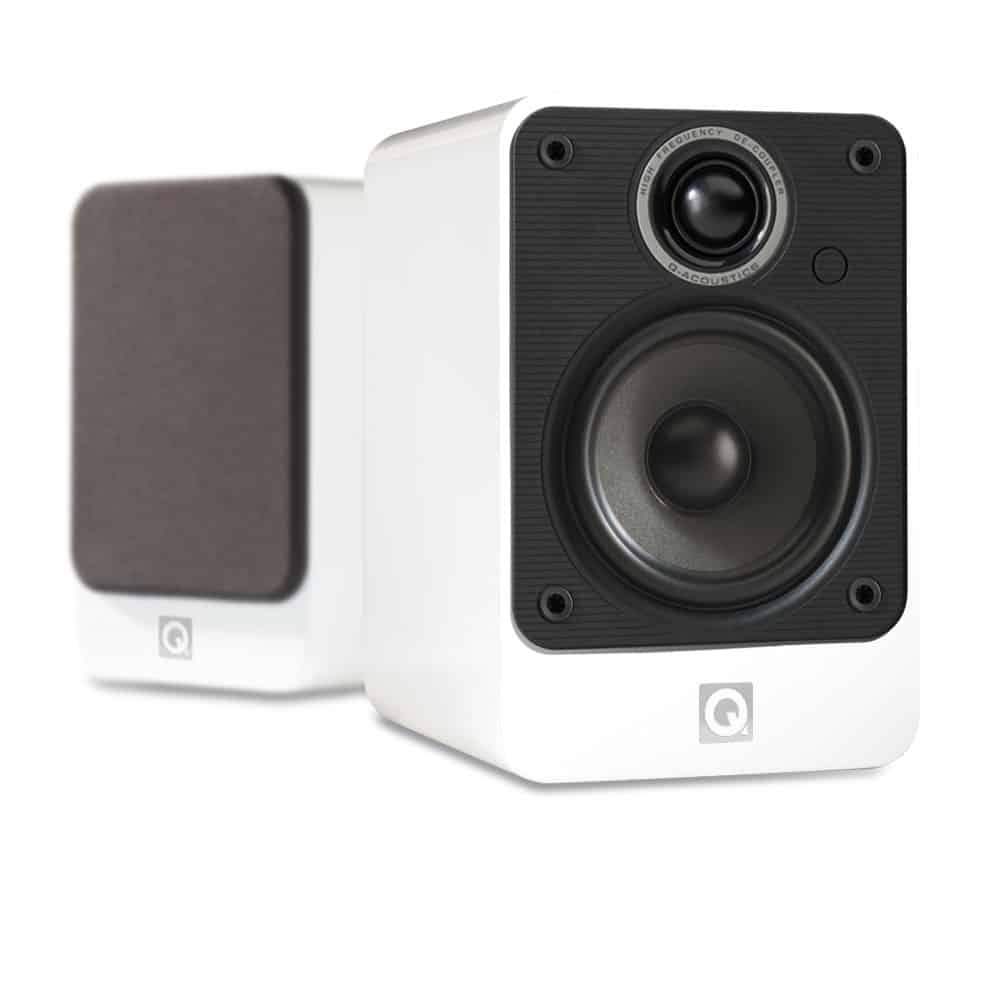 This is an award-winning HiFi speaker model from Q Acoustics.
It is a pair of class-leading entry-level hi-fi and home cinema speakers built with original drivers.
The 2010is flaunt a compact design that would easily fit into any space.
They can serve as bookshelf speakers, wall-mounted speakers, or you can stand on the standmount.
With the available fancy colors, the 2010is are striking. Starts at £99.95 ($149.99).
Buy Q Acoustics 2010i from Amazon or qacoustics.co.uk
Q Acoustics 2020i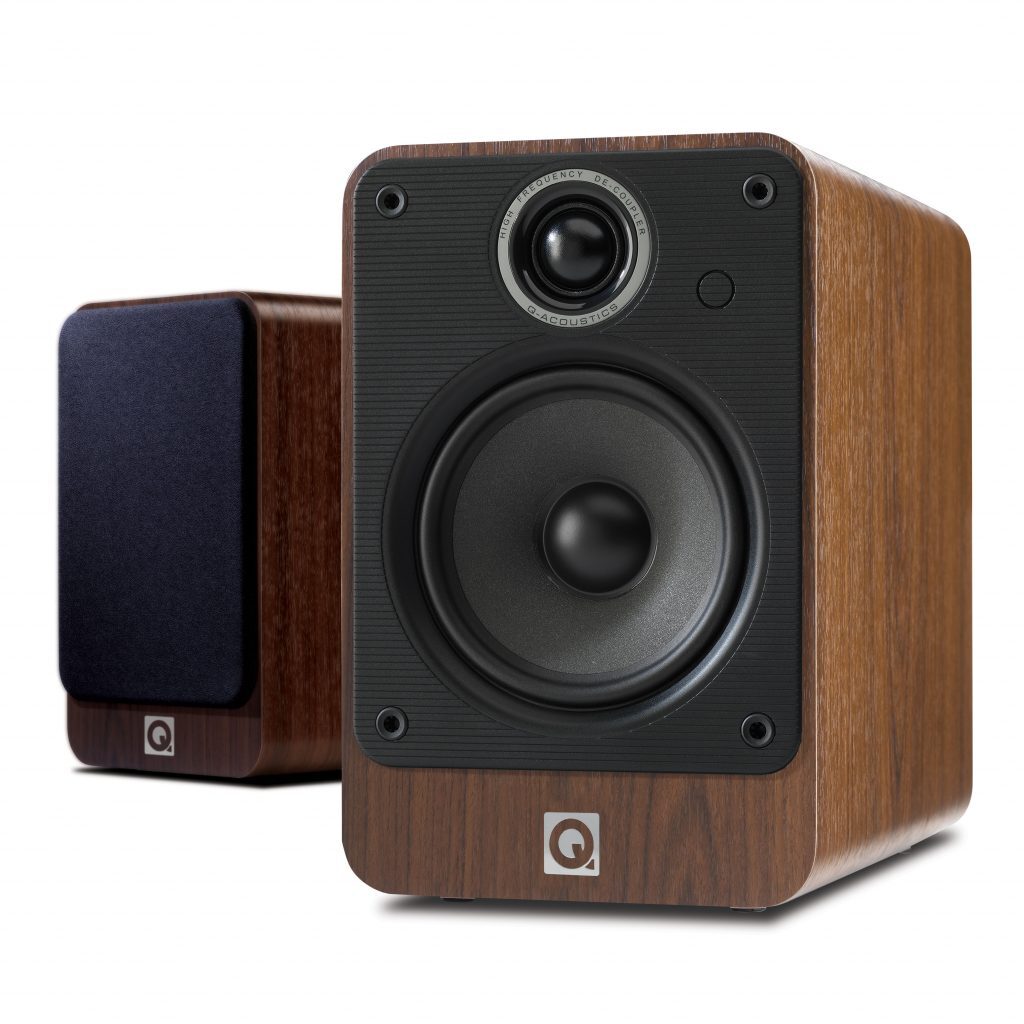 The 2020s are an upgrade from 2010i – they're a pair of medium-sized bookshelf speakers awarded the Best Stereo Speakers Up To £200 by What Hi-Fi.
Q Acoustics 2020i speakers are beautifully finished and deliver a much better bass response than in the 2010s.
As with the 2010s, you can mount the pair on a speaker stand or the wall – they can serve as bookshelf speakers too.
Starts at £129.95 ($179.99) per pair. Buy Q Acoustics 2020i from Amazon or eBay
– Q Acoustics 3010 and 3020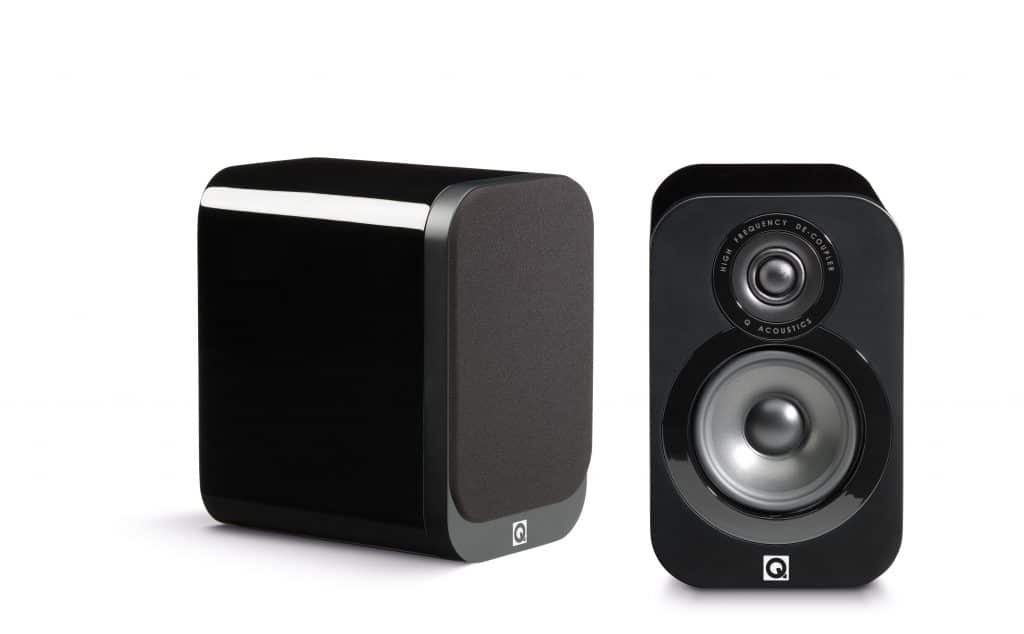 Starting at £159 ($199.99) per pair, and available in five striking finishes: Walnut, Graphite, Gloss Black, Gloss White, and Leather, the 3010s are about the best HiFi speakers ever produced by Q Acoustics.
The speakers are a blend of sleekness and superb performance.
The successor, 3020 is pretty more expensive at £199 ($289.99) per pair because it is built with an upgraded driver for mids and lows.
– Q Acoustics 2050i and 3050i Floorstanding Speakers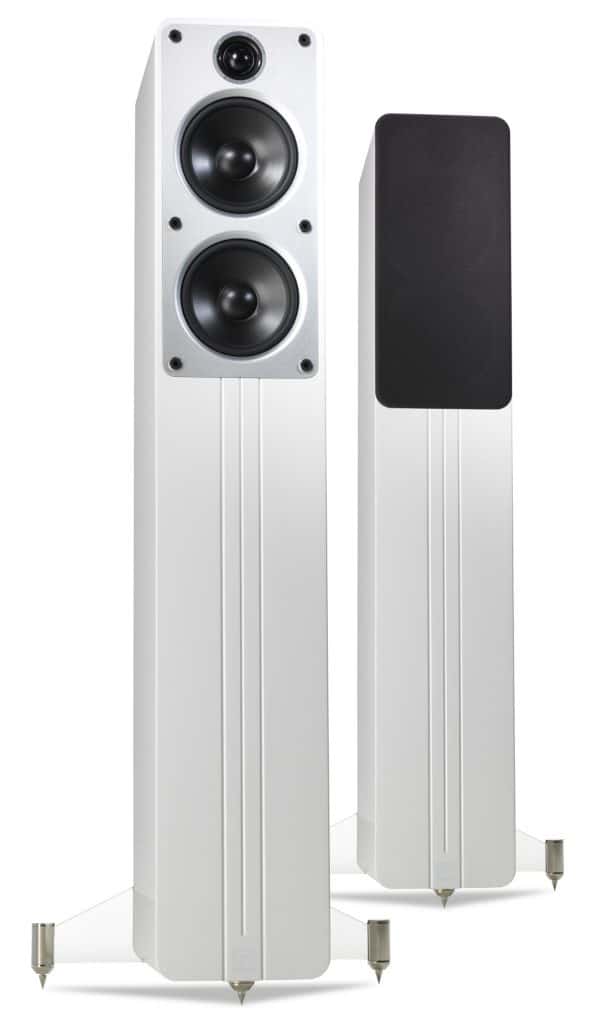 Practically the affordable floorstanding speaker from Q Acoustics, the 2050i is designed for large rooms.
It delivers full-range performance for the price – reproducing stunning clear sounds that go along with exceptional bass response for your classic songs, movies, and games.
Q Acoustics 2050i goes for £349.96 ($489.99) per pair. Available colors include Walnut, Gloss Black, Graphite, and Gloss White.
The newer model, 3050i comes with dual 165mm and 22mm precision drivers for improved clarity and bass response.
You can easily stand these speakers at any corner of the room, where they would deliver room-filling sound.
What More?
There are other better Q Acoustics speakers you can get for home entertainment, but they are way above $1,000.
These particular models mentioned above are the affordable ones you can buy on a budget.
PS: All images in the blog post is gotten from newsroom.qacoustics.co.uk
When you buy through our links, we may earn a commission.