Home speakers
Q Acoustics Q B12 Subwoofer Review: Option For Immersive Cinema Sound
How about getting a subwoofer that could cause your neighbors to relocate? Yes, you read that right, some subwoofers are so powerful that they'd trouble your neighbors – each time you turn it on – to the point of relocating.
Now, let's get over to the business of the day, Q Acoustics Q B12 subwoofer.
If you're willing to spend huge bucks on sound systems, the premium models from Q Acoustics are a great buy for their various price tags.
See our:
Q Acoustics 3030i Review.
Q Acoustics New 3000i Loudspeaker Series Review
Q Acoustics M2 Soundbase Review.
Q Acoustics Concept 500 Review
Q Acoustics Concept 300 Review: The Brand Most Advanced Loudspeakers.
Q Acoustics Q B12 subwoofer is Q Acoustics' first-ever subwoofer to feature a 12-inch driver, paired with a 220W Class D amplifier, along with a 50mm voice coil for thermal compression.
For almost $700 – $1,000, you'd be going home with the super-powerful subwoofer that delivers ground-shaking bass for all playback types.
Q Acoustics Q B12 subwoofer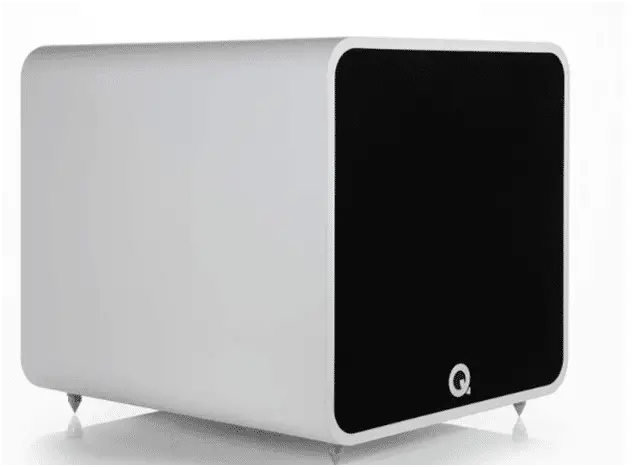 Buy Q Acoustics Q B12 subwoofer from the below stores
Buy from Amazon
Buy from Sevenoaks (UK)
Buy from Richersounds (UK)
Buy from eBay (US)
Buy from Qacoustics.com (US)
Q Acoustics Q B12 subwoofer is a really impressive subwoofer suitable for any type of home entertainment application, or purpose.
Well, it'd take up quite a lot of space, so you have to be conscious of the space you've got before paying to order for this sub. What makes the Q B12 subwoofer special? Let's talk about that.
Caution: If you've got close neighbors that don't love being disturbed by sound/noise, you may need to think twice before getting this powerhouse.
That's because the bass output from Q B12 would definitely affect (shake) surrounding rooms. 
Design and Build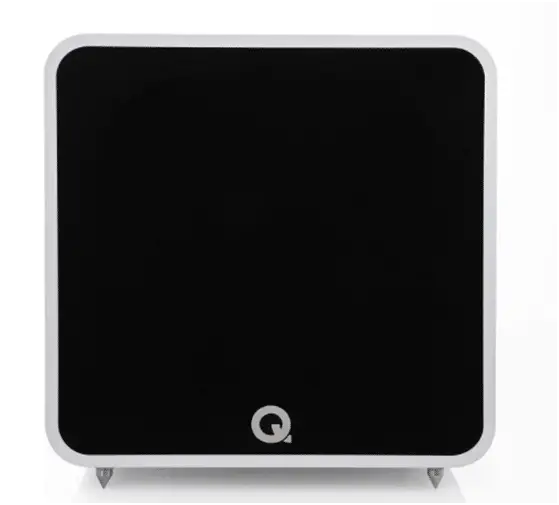 Let's kick off with the design and build; Q Acoustics Q B12 looks astonishing in its different colors. There are four unique colors to choose from: white, black, gloss black, and gloss white.
The "Gloss" variants are the most expensive – about $300 costlier than the "regular" black and white variants.
This subwoofer is rigid and strong; it weighs about 21.5kg out of the box. Featuring a sealed cabinet with a black or white vinyl finish – just like the 3000i speakers; as earlier stated, the gloss variants are the "premium" options.
Q Acoustics QB12 is almost cube-shaped, and yes, it's big – won't be easy to stay hidden in any setup.
The "infinite baffle" cabinet is sealed and braced to deliver maximum stiffness to its motor system. With mechanical stability comes aural satisfaction for the user.
Performance and Drivers
Inside the cabinet lies a big long-throw 12-inch driver powered by an ultra low-distortion 220W Class D amplifier, engineered for tight, powerful bass response.
A 50mm voice coil is included for minimal thermal compression. Apparently, you'd hear every bit of bass (sound) from your movie, audio, or gameplay.
If tuned to what seems to be high volume, the bass response from the QB12 would hit you right in the stomach – insomuch that your heartbeat begins to correspond with the bass response from your media.
The sound performance of QB12 is precise, detailed, and dynamic.
You won't feel the might of this subwoofer until the media or video game you're playing gets to a scene that'd trigger a bass response from the connected sound system – that's when you'd know what you've got.
If not tuned moderately, your neighbors may knock at your door due to the thumping bass from your QB12 – well, you won't hear the knock(s) still.
Setting Up and Installation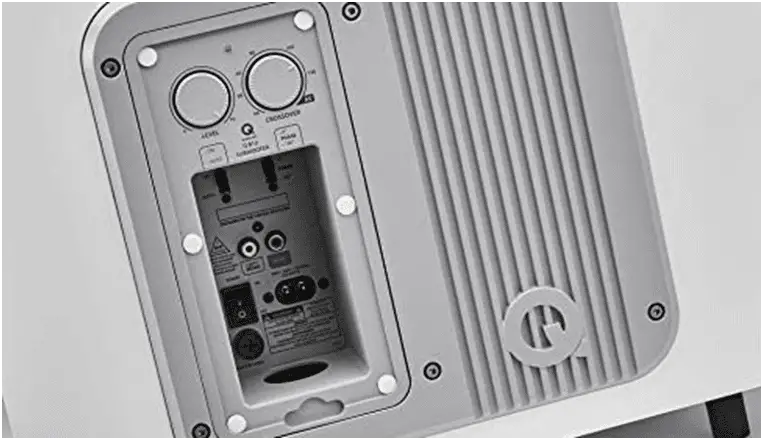 Out of the box, your QB12 subwoofer is almost ready to play; it seamlessly pairs with Q Acoustics sound systems while featuring a few connection ports in a recessed area at the rear.
various connection ports provide you with a means to connect your existing sound system via RCA connections.
There are two rotary dials placed atop the recessed area; the dials are for level and crossover; they remain visible even when the recessed area is closed with its enclosure.
Well, this subwoofer doesn't integrate an EQ, which implies that you'd be needing a receiver to get the most of the bass output from your media or game.
Technical Specifications
| | |
| --- | --- |
| Amplified Power | Peak: 440W Continuous: 220 W |
| Crossover Frequency | 70 Hz – 225 Hz |
| Dimensions | 16.8 x 15.7 x 17.3 inches |
| Enclosure Material | MDF |
| Enclosure Type | Infinite baffle |
| Frequency | 28 Hz – 300 Hz |
| Impedance | 13 kΩ |
| Power | Class D Amp |
| Sensitivity | 150 mV |
| Weight | 21.5kg (47.4 lbs) |
Reasons to Love Q Acoustics Q B12 subwoofer
There are pretty enough factors that could cause you to fall in love with this powerful subwoofer.
Delivers ground-shaking bass
Astonishing vinyl finish; matches any modern or vintage home decor
Connects seamlessly with Q Acoustics sound systems and other systems from other manufacturers
Rigid and solid build quality – well-crafted to deliver the best bass response.
The design is very attractive and appealing; you wouldn't want to take your eyes off this subwoofer until it's yours.
It is the first-ever Q Acoustics  subwoofer with a 12-inch driver
Buy Q Acoustics Q B12 subwoofer from the below stores
Buy from Amazon
Buy from Sevenoaks (UK)
Buy from Richersounds (UK)
Buy from eBay (US)
Buy from Qacoustics.com (US)
Reasons to Ignore Q Acoustics Q B12 Subwoofer
It is generally believed that everything has an advantage and disadvantages. Well, here are some things that may cause you to "Pass" the trendy QB12 subwoofer.
The "Gloss" finish variants are about $320 more expensive than the "regular" variants finished with vinyl.
There are not too many ways to connect this subwoofer to your existing sound system; it only features a pair or RCA connector for RCA connections.
For the price, the bass could be made to go deeper; but, it's still satisfactory anyways.
The QB12 subwoofer is quite bulky and takes up a lot of space
Verdict
There are many factors to consider when choosing a new sound system, or shopping for a new speaker/soundbar to add to your existing setup. The factors include:
Space
Budget
Your environment
Compatibility
Connectivity options
Audio/bass output quality
Ease of installation/set up
You need to be sure that your new subwoofer would seamlessly fit into the available space in your sitting room.
Also, you'd need a subwoofer that falls within your budget, while featuring any of the common audio out connectivity such as aux, RCA, or HDMI.
Furthermore, you should consider your environment when picking up a new subwoofer; a subwoofer like the QB12 would definitely disturb your neighbor is tuned to a high volume.
Notwithstanding, the Q Acoustics Q B12 subwoofer is a decent buy for the price (excluding the pricey "Gloss" finish variants).
When you buy through our links, we may earn a commission.