Home speakers
Q Acoustics 3030i Review: Q Acoustics Adds a "Deal Breaker" to its 3000i Series
Say hello to the Q Acoustics 3030i loudspeaker, which delivers more bass and power than most other models in the brand's 3000i series.
It is so interesting and appealing that this loudspeaker can be used in different forms; it could serve as a pair of bookshelf speakers (without the standmount) or floor standing speakers (using the standmount).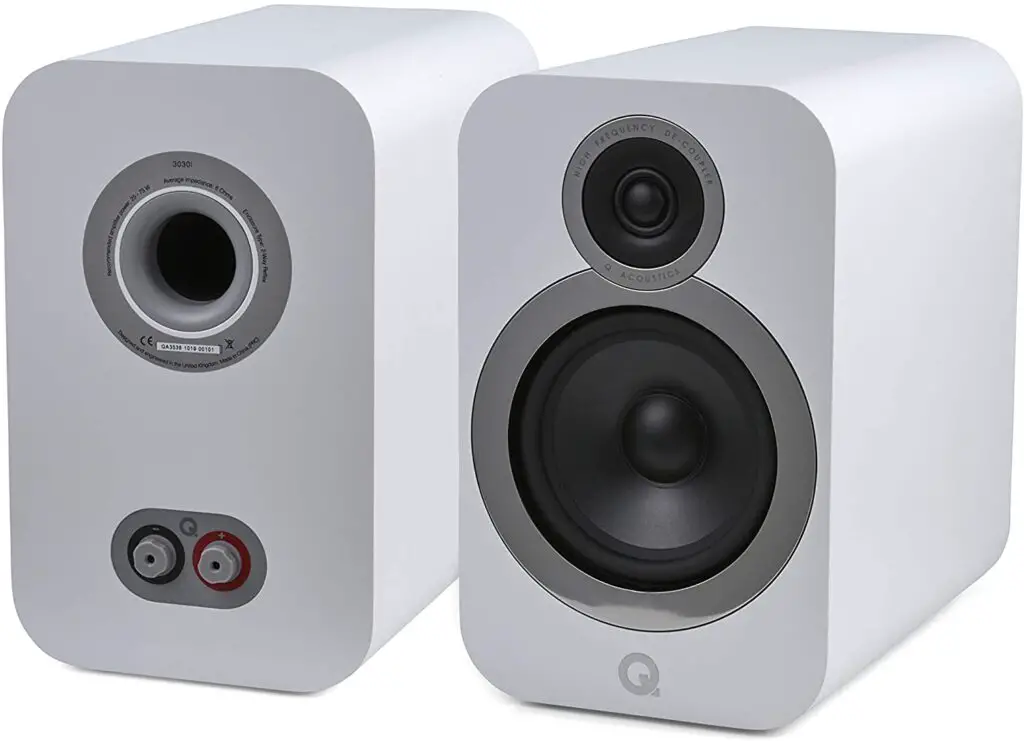 While fanciness is not the key factor to look out for, when looking for a new speaker to buy; the 3030i stand-mount loudspeaker is aesthetically appealing in its different colors.
Looking sleek and portable – would blend into any modern home/room design, and it is strong, thanks to the materials used. Now, let's take you through everything you should know about Q Acoustics 3000i Series.
Q Acoustics 3000i Series
Q Acoustics is a British company, renowned as one of the leading brands in audio equipment manufacturing.
The company was founded by audio experts in 2006, and since its inception, Q Acoustics have produced several reliable speakers and soundbars that are among the best sellers on Amazon and other platforms.
The 3000i series is the company's award-winning series; it houses some of the finest and most-powerful speakers ever produced by the brand.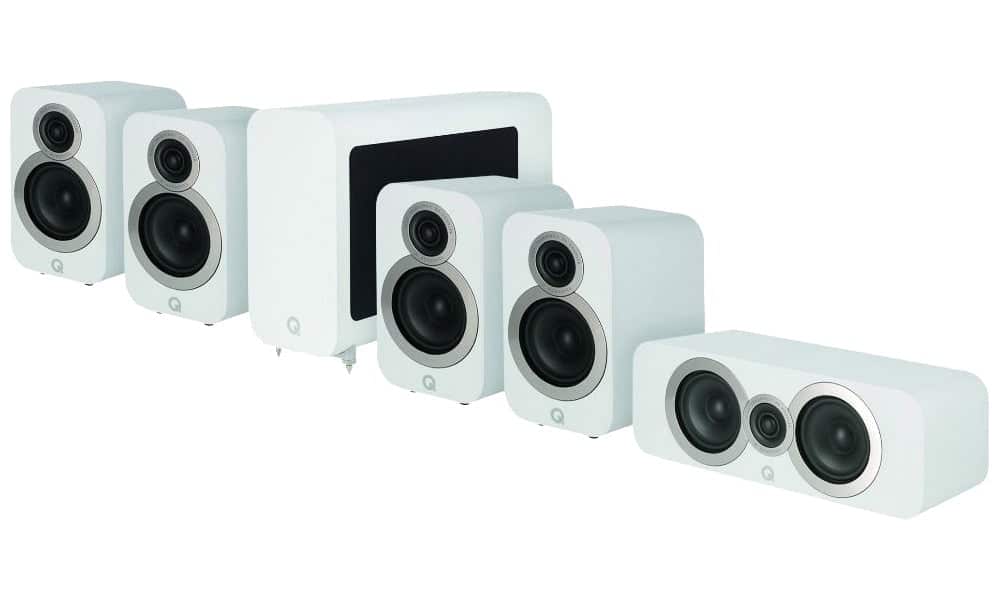 There are about 5 speaker models in Q Acoustics' 3000i series. Firstly, the 3000i series have won several audiophile awards because the speakers in this series deliver astonishing audio.
Also, the Q Acoustics 3000i speakers are portable and typically offer great value for money – with a classy, sleek design to go with it.
See our:
Q Acoustics M2 Soundbase
Q Acoustics Q B12 Subwoofer review
Q Acoustics Concept 500 Review
Q Acoustics Concept 300 Review
Full Review Of Q Acoustics M3 Soundbar
Q Acoustics 3000i speakers are typically built with innovative acoustic enhancing properties; they are just a set of impressive home speakers for everyone, including audiophiles that love the high-level pure sound.
Q Acoustics has the 3000 series; so, the 3000i series is introduced as an upgrade of the 3000 series.
Regardless of the type of home audio setup you'd want to achieve, the Q Acoustics 3000i speakers would work; you could choose the 3030i model being reviewed here.
Q Acoustics 3030i Standmount Loudspeaker
Great sound, impressive performance, unbeatable design, good price, and the list goes on – those are the superb qualities of the Q Acoustics 3030i speaker, which happens to be one of the "very best" models in the 3000i series, so far.
This speaker is not as large as the 3050i, and it's not as "odd" as the 3020i, but it delivers huge, detailed, room-filling sound, along with deep bass – excellent performance for the money.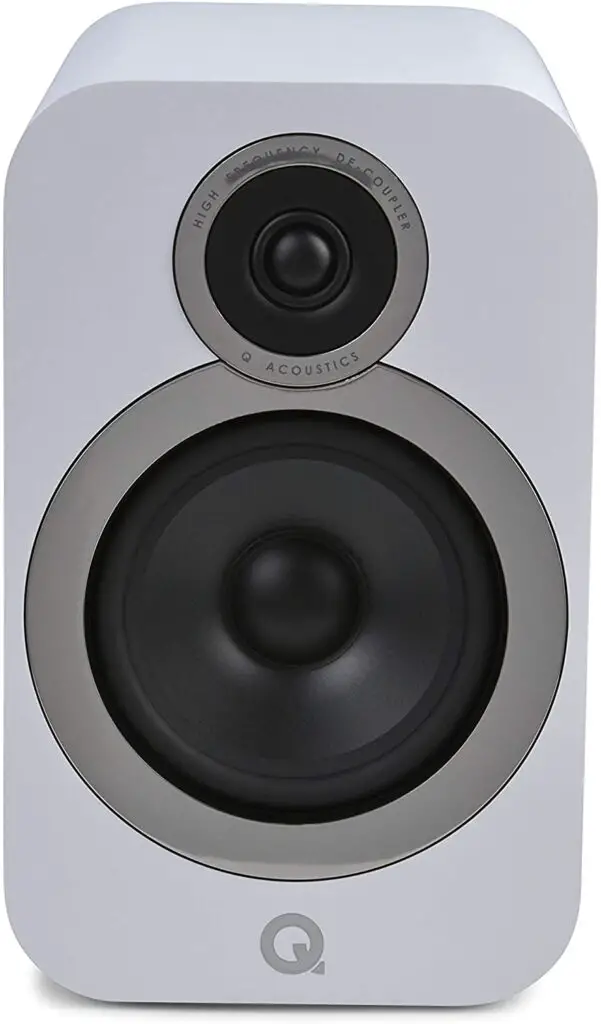 Compared with its comparative models from Bowers and Wilkins and Elac Debut Reference, the Q Acoustics 3030i stand-mount loudspeaker is what you can call a "Beast."
Just the bass outperforms that of other speakers within its price range – from other brands. Can we talk of the design and appearance – simply perfect!
Features of Q Acoustics 3030i
Hereunder, we have arranged the top features of this speaker and the pricing on different stores, where you can buy it.
1. Design and Build
The speaker cabinet is pretty fancy, finished in different attractive colors, but the White variant looks to be the best – and most sorted after variant.
Q Acoustics 3030i is designed to serve as a floor-standing speaker or bookshelf speaker; when you uninstall the mounts, the pair can be placed anywhere as bookshelf speakers, and if you put back the mount, you can place them around the room as floor standing speakers.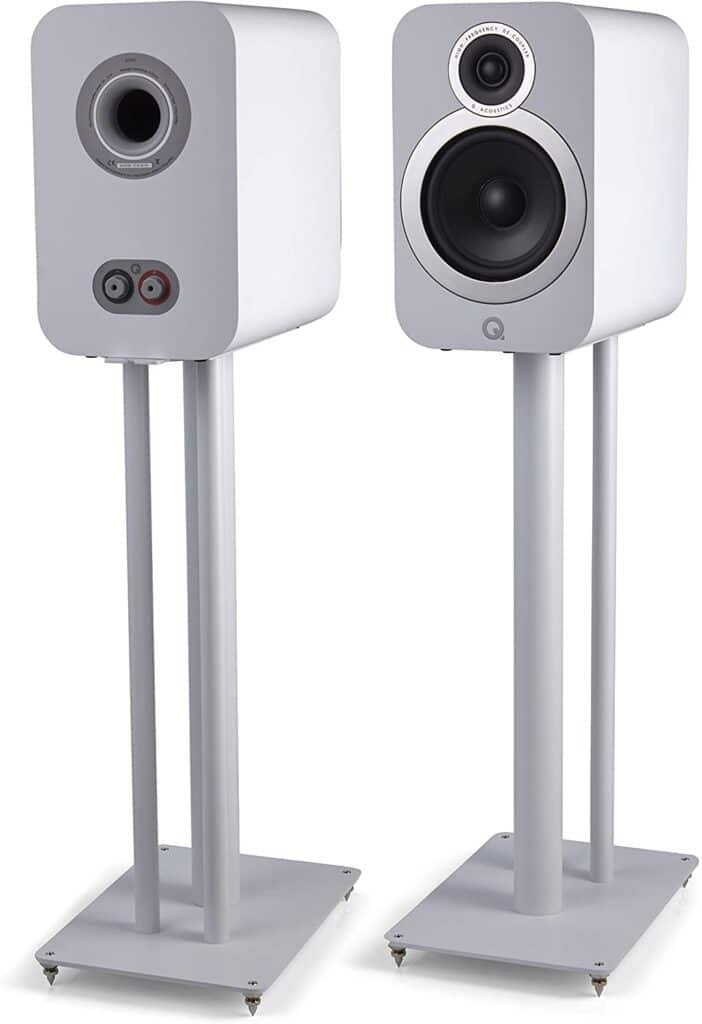 The point-to-point cabinet bracing gives extraordinary rigidity and ensures that distortion never occurs. This speaker features bigger Bookshelf cabinets with floorstander driver units.
2. Performance
Q Acoustics 3030i delivers a 46Hz bass response with excellent 88dB sensitivity. Thanks to the 2-way reflex enclosure, 6.5-in bass driver, and 0.9in tweeter, the 3030i speaker has a frequency response between 46Hz – 30kHz and impedance of 6 Ohms.
Unless you're setting it up in an open space, Q Acoustics 3030i delivers Hi-Fi audio and big bass that could fill any room size. Playing games? No worries, you'd hear every bit of audio from the game.
3. Ease of Use/Setup
The Q Acoustics 3030i is almost ready out of the box. Depending on where you bought it from, you may have to pay extra money to get the standmounts too.
Out of the box, the instructions to set up your new Q Acoustics 3030i are detailed in the manual.
Without the mount, the speakers have four little rubber-like legs to keep them from directly touching the shelf where you'd place them.
Technical Specifications
| | |
| --- | --- |
| Enclosure type | 2-way reflex |
| Bass unit | 165mm (6.5-in) |
| Treble unit | 22mm (0.9-in) |
| Average impedance | 6Ω |
| Stereo amplifier power | 25 – 75 W |
| Crossover frequency | 2.4 kHz |
| Frequency response | (+/-3 dB, -6 dB): 46 Hz – 30 kHz |
| Effective volume | 12.5 L (763 cu in) |
| Dimensions (H/W/D): | 12.8 x 7.9 x 13 inches |
| Weight (per speaker): | 6.4kg (14.1 lbs) |
When You Turn On The Sound…
Q Acoustics 3030i is a set of serious loudspeakers for all kinds of applications. It can be used for a regular home entertainment setup or used in a small studio.
This speaker delivers cinematic audio quality, thanks to the innovative technologies it packed.
To start with, the Q Acoustics 3030i speaker uses P2P (Point to Point) bracing, which supports the speaker enclosure – making it more rigid to improve the stereo image and deliver an astonishingly clean soundstage that is more accurate than ever.
Since it is birthed into the 3000i series, this speaker features magnetic grilles and an attractive chrome finish around each driver.
The 6.5-in mid/bass driver on this speaker was derived from 3050i's driver, but designed along with an optimized motor.
When you turn on the sound – after setting up your Q Acoustics 3030i – what you'd hear would blow you off, and you'd be well-satisfied with the amount you spent to get this speaker.
What More
The Q Acoustics 3030i speaker is a pair of bookshelf speakers and floor-standing speakers.
It integrates several innovative audio technologies from Q Acoustics, and being introduced into the 3000i series, this speaker looks very appealing – you'd hardly get your eyes off it.
When you buy through our links, we may earn a commission.