Turntable
The Best Record Player With Speakers
Looking for the best record player with speakers? Probably you don't know, but there are quite many of them in the market.
Over the years, vinyl record places have come to become an essential device for audiophiles; they are classy, and now integrate modern features as regular media players.
It may interest you to know that most modern vinyl records support Bluetooth connectivity and USB connection ports.
If you're going to buy a new turntable to play your old classic jams, these models reviewed below are worth considering first.
They come with built-in speakers and be further paired/connected with other devices.
Why Do You Need a Turntable With Speakers?
Basically, turntables (Vinyl record players) do not feature built-in speakers; you need to connect to external speakers to play your records.
However, if you set up your turntable to rely on external speakers to play sound, it simply implies that the turntable wouldn't be moved from where is it placed to another location.
This places a restriction on how you can enjoy your classic records. In contrast, if you have a turntable with built-in speakers, you can carry it to any room and play your records without needing to connect external speakers, amp, or receiver.
That said, if you're someone that likes playing vinyl records all the time, you need a turntable with speakers to make things easier for you.
The Best Record Player With Speakers
1. ByronStatics Record Player with 2 Built-in Stereo Speakers
Apparently, you want a turntable that's portable and easy to carry about.
Interestingly, the ByronStatics vinyl record player is lightweight, features built-in speakers, and supports a variety of output options too.
It is a modern record player packed into a vintage suitcase that serves as the storage.
The power handling of this record player is quite impressive. More so, it comes with a replacement needle, and the sound quality is cool.
When packed – when you close the suitcase – no one would ever know you're carrying your record player' they'd think it's a regular suitcase.
Furthermore, considering the features of this player, it's a good buy at the price.
Features Highlight:
3-speed3-speed levels: 33, 45, and 78 RPM
Portable and fancy suitcase storage
2 front-facing stereo speakers
---
2. Victrola Vintage Record Player
The Victrola Vintage Record Player is a fancy, attractive vinyl record player designed for everyone.
Due to its portable and lightweight design, you can carry this turntable with you all the places you go.
Yes, it has built-in stereo speakers, so there's no need to set up an amplifier or receiver to connect external speakers.
More so, this turntable supports both wireless and wired connectivity. It is a 3-speed record play, capable of playing different vinyl record tapes/cassettes.
There's a 3.5mm jack port where you can connect your headphone or earphone for personal listening.
Furthermore, the controls you need to enjoy your playback are available on the turntable suitcase.
Features Highlight:
RCA outputs for seamless connectivity
Supports Bluetooth connections
Built-in stereo speakers for endless entertainment anywhere
Intuitive controls
---
3. Wockoder Vinyl Record Player with Built in Stereo Speakers
This is one of the best, modern turntables for playing vinyl records anywhere, thanks to the built-in speakers that deliver decent sound quality.
The Wockoder vinyl record player is a combination of fashion and luxury design; it adds a vintage look to your room, and it's pretty lightweight so you can move it about.
With this turntable, you can enjoy retro-style music and atmosphere anywhere.
It also supports wireless connection via Bluetooth; plus, for cleaner sound reproduction, this turntable features a belt drive that helps to reduce vibration.
Yes, it can play all vinyl record tapes, regardless of the size.
Features Highlight:
Support three listening speeds
Can play three vinyl record sizes 7-inch, 10-inch, and 12-inc
Includes a 45rmp adaptor
Intuitive controls
---
4. Udreamer Vinyl Record Player with Built-in Speakers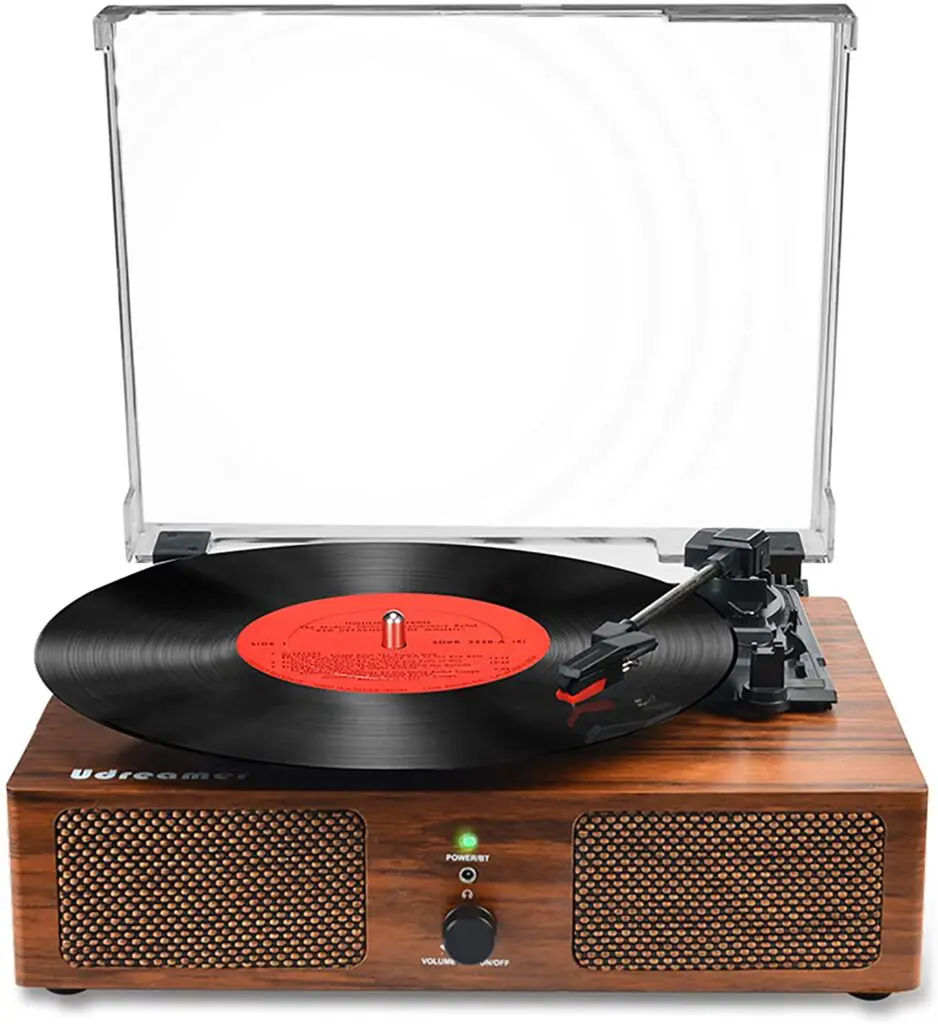 This vinyl record player with built-in speakers is one of the best in the market, and it flaunts a stylish vintage design you'd love.
It comes with a bunch of contemporary features for you to enjoy your old records from anywhere. The Udreamer vinyl record player is belt-driven to absorb shocks for uninterruptible record playback.
The case is made from strong, yet lightweight vintage wood; a removable dust cover is attached to the casing for dust protection.
You can easily keep this player anywhere around a room and enjoy your vinyl records right away, without setting up a receiver or amplifier to connect external speakers.
The 3W speakers are powerful and deliver good sound.
Features Highlight:
2x 3 watts speakers
Auto-stop button
3-speed vinyl record player
Plays all types of vinyl records
USB, RCA, and AUX ports for digital connections
---
5. JOPOSTAR Vinyl Record Player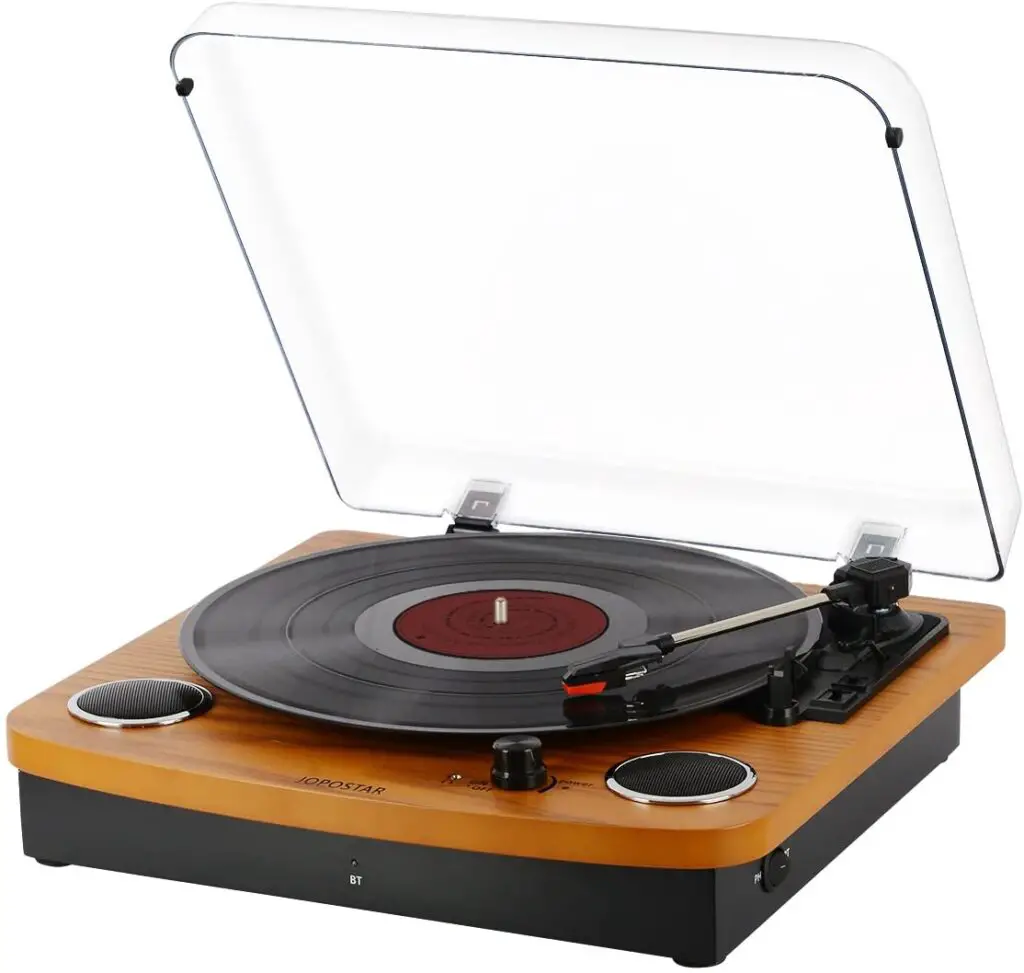 As we continue with this review, the JOPOSTAR Vinyl Record Player is worth mentioning here.
It is a stylish, high-performance turntable with built-in stereo speakers, along with a number of contemporary features.
This turntable is quite beautiful and would add shades of vintage beauty to any room it is placed in.
The JOPOSTAR Vinyl Record Player supports wireless connection via Bluetooth; so, you can hook up your phone and stream from your device.
While the sound quality you'd get from the built-in speakers doesn't match what you'd get from pairing up an amplifier and external speakers, the sound output of this player is quite good.
With this turntable, you can playback any type of record you've got, and it supports 3 speeds (just like the others reviewed above).
Features Highlights:
Dual stereo speakers for endless record playback
Multiple connection ports
Made with vintage wood
Connects to various devices
---
6. ION Audio Max LP Vinyl Record Player with Built In Speakers

The ION Audio Max LP is a 3-speed turntable with a bunch of features you'd expect from a contemporary vinyl record player.
It can play all three types of vinyl records and its design is just "stunning" with a glassy cover to protect the tonearm and groove from dust.
This record player sounds pretty good, but it doesn't support a wireless connection via Bluetooth.
As you may expect, there is an aux input, standard RCA outputs for connecting external HIFI speakers.
Notwithstanding, the built-in speakers can deliver room-filling sound if the player is being used in a small environment.
Yes, you can convert your vinyl records to MP3 with the ION Audio EZ conversion software included with this turntable.
Features Highlights:
Fancy dust protection case
Converts vinyl to MP3
Stereo RCA ports, Aux, and USB
Dedicated headphone port
---
7. Jensen 3-Speed Turntable with Front Loading CD Player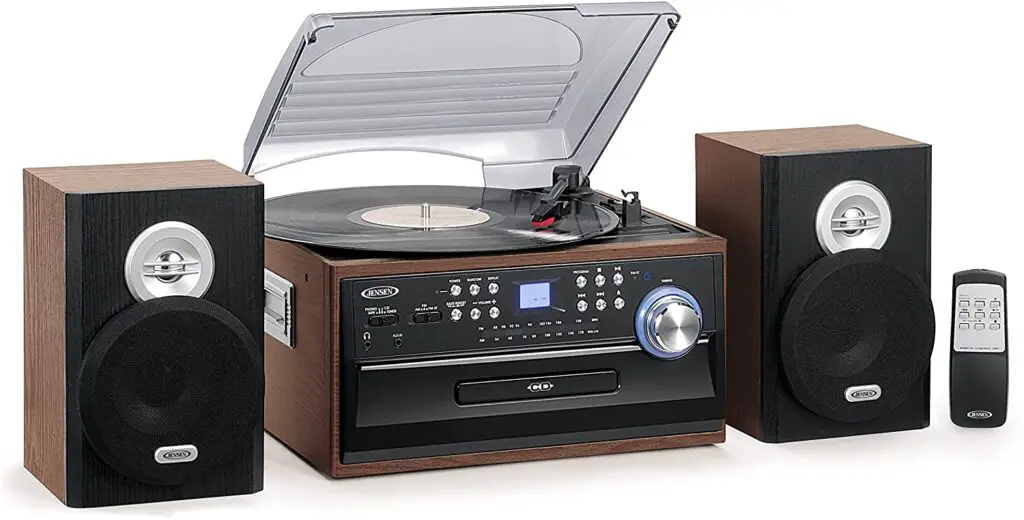 In for something big and classy? Here you go! This vinyl record player from Jensen is an all-in-one turntable; it comes with everything you need to enjoy your classic record in clear, HiFi sound quality.
Thus, this is a set with dual powerful speakers, a remote controller, and a standard built-in amp/receiver.
The Jensen 3-Speed Turntable Music System can play 33, 45, and 78 RPM.
It features a 3.5mm jack for connecting earphones, headphones, and digital audio players.
Furthermore, it integrates a front-loading CD player, which is compatible with CD-R/RW and features several playback controls.
Furthermore, this standard system comes with a dust cover, integrates AM/FM stereo receiver, and has a cassette deck.
You're sure to enjoy the best vinyl record playback with this music system.
You don't need to buy anything else to set up this system; it supports everything you need.
Features Highlight:
Dual powerful speakers
Remote control
AUX, 3.5mm, and many other input connectors
Front-loading CD player
---
8. Audio-Technica USB Turntable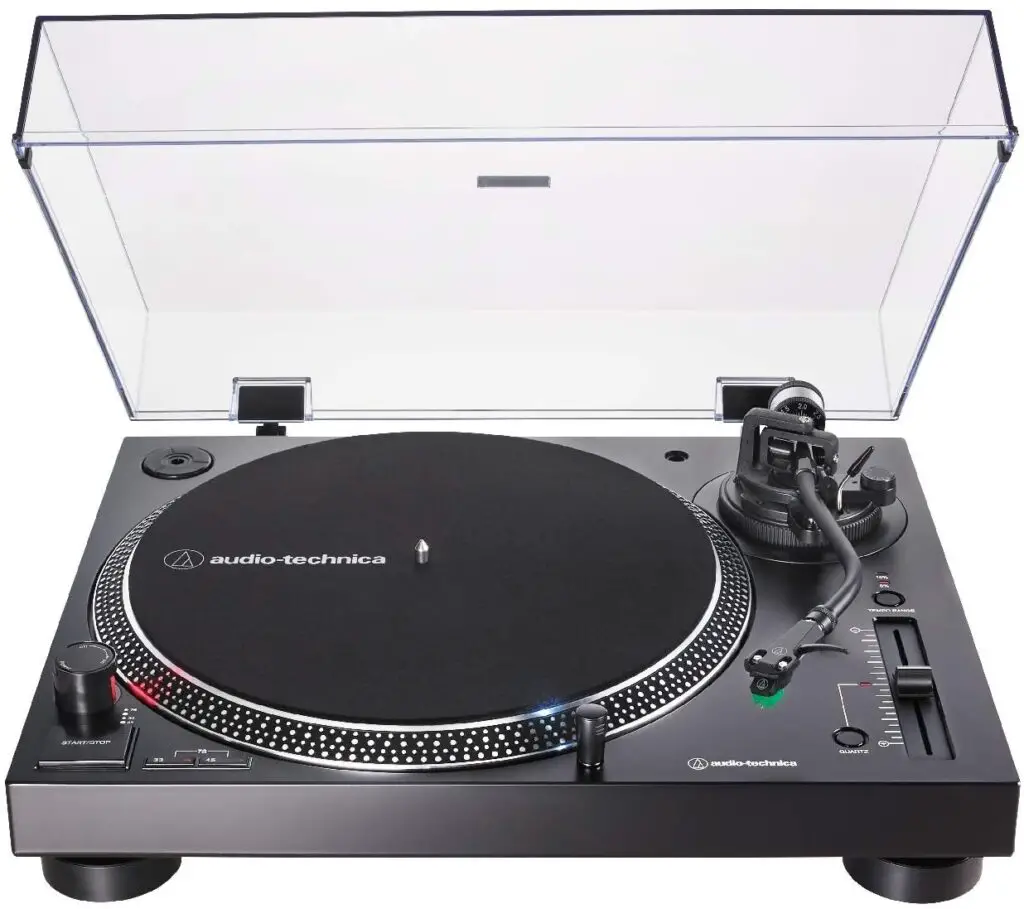 Well, this is an ideal choice if you're not on a fixed budget to buy the "best" record player with speakers.
The Audio-Technica USB Turntable is a complete music system for playing classic records.
It comes with two external speakers and a cleaning kit to clean your records when they get dirty over time.
This sturdy vinyl record player set is powered by a direct-drive, DC servo motor, and it also features an adjustable dynamic anti-skate control, along with a selectable phono preamp.
To better understand how to use this turntable, it comes with a comprehensive operational manual.
You can connect your PC or other devices via the supported input/output ports
Features Highlight:
Built-in phono amp
Dual-magnet phono cartridge with 0.3 x 0.7 mil elliptical stylus
Multiple digital input/output ports
Selectable 33-1/3, 45, and 78 RPM speeds
How To Choose Vinyl Record Players With Speakers
When going to shop for a new turntable for playing your vinyl records, there are things to consider.
First of all, do you need a vinyl record player with built-in speakers or a regular record player you'd connect to a receiver/amp, and then to your speakers?
With this understanding, you can streamline your searches and get to choose from a range of models that suit your need.
If you decided to get a player with built-in speakers, here are some tips you need to know.
1. Flexibility and Design
Some vinyl record players with speakers are bulky because the speakers are external.
If you don't have enough space in the room, such models won't be ideal for you; hence, you should consider getting the ones with integrated speakers.
They're usually designed like suitcases so you can carry them easily from one place to another.
The flexibility we mean here is the number of input/output ports supported by the speaker.
For example, most of the record players with speakers support AUX, USB, and 3.5mm.
However, there are certain models that also include RCA ports and other types of connectors.
2. Speed and Record Type
The best vinyl record player is such that supports 33 1/3, 45, and 75 RPM speeds, and can play all vinyl record types (7-inch, 10-inch, and 12-inch records).
Ensure that you check for this before paying for the turntable. Else, you may end up with a turntable that can't play your 12-inch vinyl records.
Frequently Asked Questions:
Do Vinyl Record Players Convert Vinyl to MP3 Format?
Yes, but not all of them. u003cbru003eThe ION Audio Max vinyl record player comes with integrated speakers and also includes ION Audio EZ conversion software, which lets you convert the vinyl record to MP3 format by hooking up your PC to the record player via USB.
Do Most Record Players Have Built-In Speakers?
Actually, there are more turntables without built-in speakers; regardless, there are a good number of turntables (record players) with built-in speakers.
Summary:
These are some of the top best vinyl record players with a built-in speaker to allow you to enjoy your records anywhere and at anytime.
They are portable- easy to carry about – and support a variety of input/output connectors.
When you buy through our links, we may earn a commission.