Home speakers
Q Acoustics Concept 300: The Brand Most Advanced Loudspeakers.
Q Acoustics has some of the best, most advanced loudspeakers you'd ever get in the market.
Q Acoustics Concept 300 is the brand's most advanced loudspeaker with the finest advanced audio technologies.
The Concept 300 speakers are a great pair of compact bookshelf speakers that brings true hi-fi sound to your home.
Flaunting a superb, well-crafted design, the Concept 300 speaker perfectly blends with any home decor.
Much concerned about sound? This pair of speakers are built with cutting-edge audio technologies and advanced drivers.
See our:
Q Acoustics Q B12 Subwoofer Review
Q Acoustics New 3000i Loudspeaker Series
Q Acoustics M2 Soundbase Review
Q Acoustics 3030i Review.
The pair delivers high-level pure sound that would move any audiophile. Of course, the brand's signature P2P (Point to Point) bracing tech was used on this speaker model.
Hereunder is a comprehensive article that explains everything you need to know about the Q Acoustics Concept 300 speaker pair.
Q Acoustics Concept 300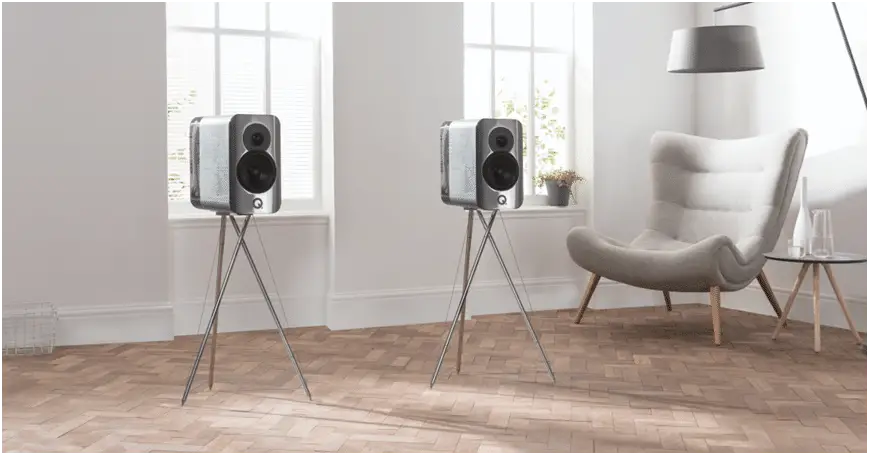 Concept 300 is advertised as Q Acoustics' "most audio advanced loudspeaker." It was built from the success of Q Acoustics' flagship Concept 500 floor-standing speaker.
So, the Concept 300 speaker took some of the advanced techs in its "bigger brother," refined the techs, and coupled it with newer audio technologies that guarantee cleaner sound.
From the design to the performance, and then to the installation methods, Q Acoustics' Concept 300 is an ideal option for audiophile homeowners.
It can be matched with any existing home audio system – not necessarily Q Acoustics' audio system. You can set this pair of speakers as bookshelf L and R or use the standmount.
Design and Build
The pair looks typical of Q Acoustics' speakers; featuring the brand's signature Dual Gel core cabinet construction and internal P2P bracing.
It is highlighted that the speaker conceals some specially designed drivers inside the hood. However, externally, the aesthetic is clean and enticing.
Q Acoustics' Concept 300 speakers feature an isolation base suspension system and are finished with a new stylish silver and ebony dual coating.
The cabinet design combines real wood veneers with multiple gloss lacquer; the dual finish is sophisticated and stylish, so it'd fit seamlessly into any home design.
Cabinet Construction
Speakers' cabinets' construction plays a huge role in the audio performance of the speakers.
Concept 300 is crafted with Q Acoustics' Dual Gel core cabinet construction and internal P2P (Point-to-Point) bracing – the same cabinet construction found on the higher-end Concept 500.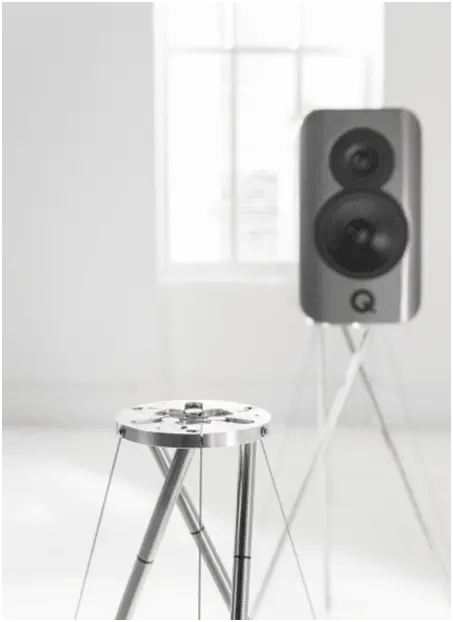 The cabinet features three individual layers separated by a specially developed non-setting gel to effectively dissipate high-frequency vibrations generated by the moving drivers, in order to deliver good sound.
Audio Performance
Put simply, you get what you paid for – even though the Concept 300 speakers are highly-priced.
Concept 300 comes with 16.5cm mid/bass drive units built with a paper cone, coupled with a rubber surround to mitigate unwanted cone resonance and a glass fiber voice coil for dynamic response.
The speaker also conceals a 2.8cm soft dome tweeter built with a wide-dispersion technique.
Generally, the sound and bass output of Concept 300 is just as expected; high level, clean, deep, and almost without distortion.
You can place these speakers anywhere around the room and still enjoy high-level sound reproduction.
Setup and Installation
That Tensegrity tripod stand – which also happens to be an integral part of the speakers' design – is very aesthetically appealing and makes it possible to set up the speakers at any corner of the room.
In a bid to further reduce vibrations, Concept 300 is built with an isolation base plate system integrated into the bottom of the cabinet. This base is crafted to mechanically ground the speakers.
For connecting to your existing sound system, you'd find two sets of speaker binding posts suitable for bi-wiring and can accept banana plugs, bare wires, or spade connectors. The binding posts are decoupled from the cabinet.
Concept 300 Specifications
| | |
| --- | --- |
| Enclosure type | 2-way reflex |
| Mid/Bass Driver | 165mm |
| High-Frequency Unit | 28mm |
| Frequency Response (-6dB) | 55 Hz – 30 kHz |
| Nominal Impedance | 6 Ω |
| Minimum Impedance | 4.7 Ω |
| Sensitivity | 84 dB/W/m |
| Stereo Amplifier Power | 25-200 W |
| Crossover Frequency | 2.5 kHz |
| Effective Volume | 11.4 L |
| Dimensions W/H/D | 220 x 355 x 400mm |
| Weight | 14.5kg (per speaker) |
| Carton Dimensions W/H/D | 320 x 500 x 520mm |
| Packaged Weight | 16.6kg (per speaker) |
Sourced from Q Acoustics official page for the Concept 300 speaker.
Price and Where to Buy Concept 300 Speakers
Well, the Concept 300 speaker is quite pricey; you'd be spending $3,000+ to get any of the available colors.
The Q Acoustics Concept 300 dual finish model (including Tensegrity stand) comes in three finishes: Gloss Black/Rosewood, Gloss White/Oak, and Silver/Ebony – priced at £2,999 / €3,999 / $4,499 (SRP).
Excluding the stand, you'd get the speakers (pair) for £2,499 / €3,299 / $3,499. Getting the Tensegrity stands separately would set you back £699 / €849 / $999 (per pair).
Apparently, these speakers are really expensive, but the design and performance compliment the high price.
The best bet is to buy the speakers along with the stand – even if you won't be needing the stands at the moment, you'd be saving yourself some bucks than buying the stands separately.
Buy from Q Acoustics
Buy from Amazon
Buy from eBay
Buy from Addicted to Audio
Buy from Richer Sound
Summary
If you're a big-budget audiophile, these inventive speakers won't only add beauty to your room, they'd help you get the best exquisite sound – across genres – from your
When you buy through our links, we may earn a commission.