Home speakers
Q Acoustics M2 Soundbase: Transform The Sound On Your TV.
When it comes to designing audio devices and equipment for modern homes, Q Acoustics never disappoints.
Q Acoustics M2 Soundbase is the best within its range. It is very attractive and delivers rich, HiFi sound and bass.
Virtually all Q Acoustics speakers and audio equipment look very beautiful and attractive – you just can't stop starring at them. See our Full Review Of Q Acoustics M3 Soundbar and Review Of the Q Acoustics M7.
Well, beauty is not all that's needed, an audiophile is more interested in the audio quality he hears/gets from his speakers.
Also, Q Acoustics didn't disappoint in this regard; all Q Acoustics speakers deliver true HD, HiFi sound with deep bass.
See our:
Q Acoustics Q B12 Subwoofer Review
Q Acoustics New 3000i Loudspeaker Series
Q Acoustics Concept 300 Review
Q Acoustics Concept 500 Review
Q Acoustics 3030i Review.
The brand, Q Acoustics is simply a premium audio brand that produces premium, good-looking speakers, soundbars, and home theater systems for home audio enthusiasts and audiophiles.
The M2 Sound Base home theater is just another awesome product from the Q Acoustics brand.
Q Acoustics M2 SoundBase

M2 Sound Base is a complete 2.1 home theater system designed for superior home entertainment. It is strongly built – like other Q Acoustics speakers and features the brand's patented audio technologies.
This sound-based system eliminates the need to run multiple wires to connect your Right and Left surround speakers to a subwoofer or center channel to form a standard 2.1 home audio setup.
One of the most impressive reasons to love this sound system is the design; it is pretty compact, concealing premium drivers inside the hood, and includes support for multiple connections.
Yes, you can stream music from your phone to your M2 Soundbase system. It also supports Bluetooth wireless connection and RCA ports to connect your record player.
Regardless of your audio source – TV, video game, or music from your device, M2 Soundbase delivers crystal clear sound – good enough to fill a small/mid-room.
You'd be glad to know that this Sound Base system supports HDMI connections and you can place your TV on top of it; a close competitor to this sound system is the Sonos Playbase, which actually looks fanciers but lacks HDMI support.
Design and Build
Typical of Q Acoustics speakers, the M2 Sound Base sound system is aesthetically appealing. It flaunts an interior-friendly design, compact, yet wide enough to comfortably carry a TV of a maximum 25kg weight.
Also, the height is pretty decent, so you can slide it into a cabinet.
Finished with stunning colors, the Q Acoustics M2 sound base blends seamlessly into any living space and interior design.
Thanks to the HDMI ARC support, you can easily connect your high-end TV and enjoy HD audio transmission with less wire cluster.
This sound system is built with a sturdy wooden cabinet that provides reliable damping and bracing to eliminate unwanted vibrations caused by the full bass sounds.
Sound Quality and Performance
Q Acoustics M2 Soundbase delivers 180-degree room-filling sonics and integrates a subwoofer that delivers solid bass to go along with the clean sound produced from the tweeter drivers.
The M2 Soundbase generally delivers immersive audio performance for movies, music, video games, and watching TV.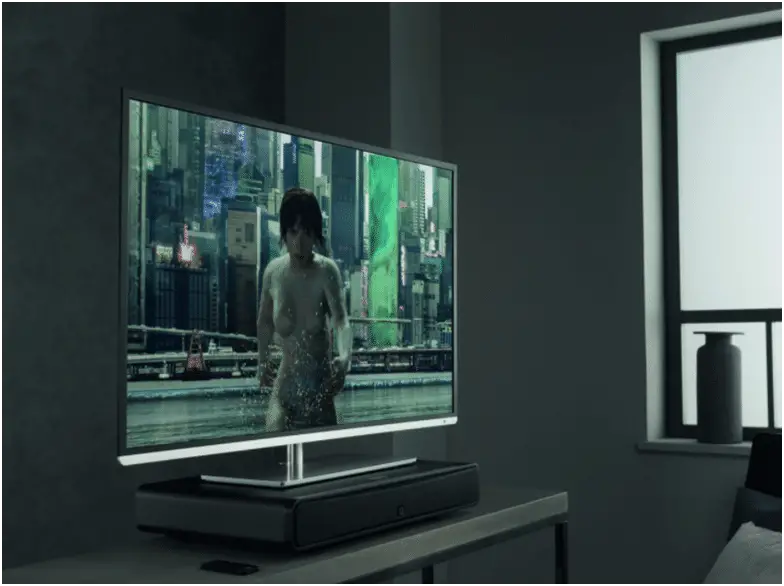 It creates a cinematic environment in small rooms. The powerful down-firing dual voice-coil subwoofer delivers deep, punchy low-end sounds.
More interestingly, you can improve the (bass) sound by activating the MoviEQ function; this function enhances sounds from movie soundtracks and video game actions.
Supported Connectivity Technologies
There are pretty many ways to connect your devices or TV to this 2.1 home theater system.
If your TV supports HDMI ARC connections, you can simply use an HDMI cable to connect the TV directly to your M2 Soundbase and enjoy HD video and audio transmission.
For wireless connections, M2 Soundbase integrates Bluetooth aptX, which makes it possible to stream music wirelessly from your smartphone, tablet, or laptop to this sound system.
Also, this sound base system supports NFC for the one-touch pairing of NFC-supported devices. The RCA ports are for analog connections. There's also an AUX port for auxiliary connections.
M2 Soundbase provides various connectivity options for connecting any audio device you have in the house.
Technical Specifications.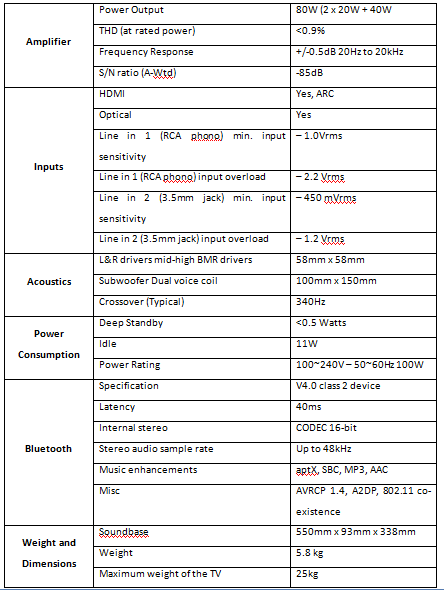 Where to Buy Q Acoustics M2 Soundbase Sound System
Buy from Q Acoustics
Buy from Amazon
Conclusion
One of the most fascinating reasons to get the M2 Soundbase by Q Acoustics isn't the affordable price – it is the design.
It flaunts a stunning design that blends with any home decor and can carry modern TVs that weigh less than 25kg.
This sound system sounds better than setting up a typical 2.1 home theater with two physical speakers (R & L) and a subwoofer or center channel.
More so, it provides multiple connectivity options so you can connect any device you've got.
The Q Acoustics M2 Soundbase is practically better than Sonos Playbase in terms of audio quality.
You can add this sound base to your existing home set up to increase the channels and enjoy a more detailed sound.
When you buy through our links, we may earn a commission.