Home speakers
Comprehensive Review Of The Q Acoustics Concept 500 Speaker.
Well, if you've been using Q Acoustics speakers, you'd easily agree with us that the brand makes some of the finest and most powerful speakers out there – in the market.
Q Acoustics Concept 500 is a pair of HiFi-grade floorstanding speakers you can set up anywhere in a room.
The brand makes different types of speakers, which include bookshelf speakers, center channels, subwoofers, soundbars, and floorstanding units.
Q Acoustics Speakers are designed in series – like the 3000 series, 3000i series, 2000 series, 5000i series, and so on.
See our:
Q Acoustics Q B12 Subwoofer Review
Q Acoustics New 3000i Loudspeaker Series
Q Acoustics Concept 300 Review
Q Acoustics M2 Soundbase
Q Acoustics 3030i Review.
Review Of Q Acoustics M3 Soundbar
The Q Acoustics Concept 500 is a typically floorstanding speaker with so much power inside. It produces clean, high-quality sound that can fill any room, and it is sold in pairs.
This speaker falls into the "High End" category of Q Acoustics' Concept speaker lineup; thence, it is equipped with premium drivers and finished astonishingly.
Here's a comprehensive review of the Q Acoustics Concept 500 speaker.
Q Acoustics Concept 500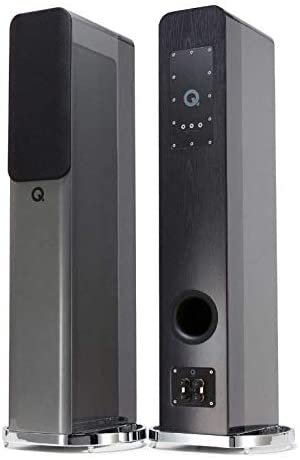 Where To Buy Q Acoustics Concept 500:
Check on Amazon
Check on Q Acoustics
Check on Addicted Audio
Check on Richer Sounds
Yes, this is one of the most expensive floorstanding speakers on the market, but when you consider the sound and bass it outputs, you'd be glad you spent so much to get this elegant-looking home, entertainment killer.
The design of this speaker is not different from how other floorstanding speakers appear; however, the finish is top class and would add beauty to any room you place the speakers.
As a pair, the Q Acoustics Concept 500 may be all you need to enjoy clean sound reproduction at home; you can pair it up with your existing home audio system; the speakers support bi-wiring and bi-amping.
Design and Build
Typically of Q Acoustics speakers, the Concept 500 speaker is well-built and flaunts an elegant, attractive design.
It is built with the P2P bracing technique of Q Acoustics to minimize vibrations at low frequencies.
The speakers are about 115cm tall, crafted with sturdy MDF layers that conceal a soft decoupling material, Gelcore.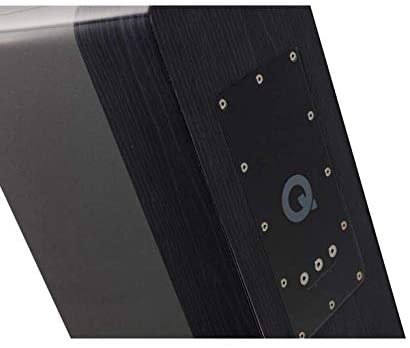 This pair of speakers feature twin 16.5cm paper cone mid/bass drivers, along with a conventional soft dome tweeter.
The suspension and other aspects that complete the physical appearance of this speaker were strategically decided on – including the crossover design.
You won't have any problems regarding where to keep your Concept 500 speakers around the room.
The pair comes with a solid base and you can set the speakers to stand at perfect angles as you want. They could be sitting side by side of your TV furniture, or far – on the rear sidewalls.
Connection Options
There's just one type of connection to use with this speaker. The pair is equipped for bi-wiring or bi-amping with post terminals located at the rear sides.
Interestingly, the terminals accept bare wires, spades, or 4mm banana plugs. So, you can connect this speaker to your receiver and pair it up with other speakers in your setup.
Drivers and Speaker Performance

Every part of this speaker is engineered to make the speaker sound better and clearer.
Starting with the P2P bracing technique for minimal vibration to the Gelcore cabinet walls to turn high-frequency vibrations to heat, and then the Helmholtz Pressure Equalisers (HPE) technology that balances out pressure irregularities.
The Concept 500 speakers deliver good sound with decent mids (bass) responses for movies and games.
Just as we hinted earlier, the pair is enough to deliver full sound for a mid-size room.
This speaker is able to handle a multitude of instrumental strands without losing the overall musical message.
Apparently, it has a lot of detail to offer.
Furthermore, you may love to know that it comes with an impressive crossover design crafted with high-grade components to ensure virtually zero noise and distortion.
The 4th-order Linkwitz-Riley topology gives excellent responses both on and off-axis.
Finish?
What color combinations do you love? The Concept 500 speaker comes in five (5) stunning finishes – they are all modern finishes that blend seamlessly with contemporary home designs. 
Concept 500 Floorstander speaker comes in Gloss Black and White finishes; Gloss Black / Rosewood, Gloss White / Light Oak, and Silver / Ebony finish. Overall, the pair looks stunning, attractive, and elegant.
Well, Q Acoustics speakers are remarkable for their glossy finishes that seamless blend with modern home designs.
This pair of floorstanding speakers would seamlessly fit into any space in your room.
Should You Buy The Q Acoustics Concept 500
Getting this pair of speakers would set you back $6,000+, however, for an audiophile looking for premium speakers that deliver HiFi sound, this pair is a good buy at the price.
They didn't compromise on the sound details; you'd hear every part and instrument played in the music you're listening to.
Q Acoustics Concept 500 is inarguably among the finest floorstanding speakers in the market, and it meets the expectations.
The base is pretty solid to hold the speaker in place regardless of the volume. However, if you're on a budget, you may consider cheaper alternatives.
Where To Buy:
You can get these amazing deals on Q Acoustics Concept 500 speakers from the stores below:
Check on Amazon
Check on Q Acoustics
Check on Addicted Audio
Check on Richer Sounds
Conclusion
Overall, Q Acoustic speakers perform really well, and the Concept 500 Floorstanders didn't disappoint.
They are a pair of powerful home audio speakers that deliver rich, HiFi sound for movies, games, and music playback.
The price is pretty high, but the performance covers up for the high cost.
The Q Acoustics Concept 500 speakers come in different elegant finishes, which blend seamlessly with modern home decors.
You'd be glad you got these speakers because they'd blow your mind. You'd find amazing deals for Concept 500 on Amazon (US) and Richersounds (UK).
When you buy through our links, we may earn a commission.