The Best Budget Bookshelf speakers provide you with high-quality sound providing loud audio from a small set of speakers.
They can be used alone or can be added to the current home theatre system you have in your house.
If you are new to purchasing electronics for your home this can be a very confusing time as there are several things you need to know to make the best choices.
Here we will help you know what you need to look for and how to go about choosing the best bookshelf speakers for your home or office. You will learn about things like impedance, power handling, frequency response, and much more.
If you are not a novice you may learn something you don't already know so keep reading.
You can find your bookshelf speakers in some places including online, at large chain stores, or in specialty or regular electronic stores. No matter where you look here is some information to guide you in making your purchase.
Don't be fooled by the term bookshelf speakers, these can be very powerful and very versatile. They can be placed on shelves, hung on walls, or placed on stands in your room.
They can provide you with top-quality sound without digging too deep into your pockets for larger and more complex speakers that take up a lot of space in your home.
How To Choose The Best Budget Bookshelf Speakers
Speaker Specs
Before you choose any speaker you want to carefully look at all the specifications. If you are a novice what you see won't mean much if you don't do your research beforehand.
Different speakers will have different specifications which all affect the quality of sound that is produced by the speaker.
Knowing what the specifications mean will help you decide if a set of speakers is a good fit for your needs.
Frequency
This will be referred to as either frequency response or frequency range.  This provides a reference for the range of sounds that the speaker can reproduce.
The best bookshelf speakers combine woofers and tweeters to ensure that sound replication is as natural as possible. These speakers can provide high frequencies and low basses.
Impedance
This refers to the amount of resistance that your amplifier and speaker will come across as it relates to electricity. You will see this referred to as 'ohms' and can be 4, 8, or 16.
This helps you to match your speakers together with your amps to ensure your sound won't be distorted. You want to choose bookshelf speakers with an impedance of 8 ohms.
If you are going to be hooking up your bookshelf speaker to an amplifier this is very important. You want your speaker efficiency to be 86 dB or even higher to provide the best efficiency.
A higher decibel ranking is better when hooking up small amps to your bookshelf speakers.
Size
Advances in technology allow for speakers to be small yet powerful while providing great sound quality. And yes, larger floor speakers will produce better sounds, but you can still find a small bookshelf speaker to provide you with adequate sound volume and quality. 
If you don't have much space and have to purchase a very small speaker then you can also purchase a subwoofer to help with sound maximization.
Speaker Accessories
Without other equipment to hook your bookshelf speakers too, they are pretty useless. If you don't have a stereo system or a home entertainment system you will need to purchase the necessary equipment.
If you don't have a bookshelf you will need one of those too, as these speakers are not free-standing. They can also be placed on tables and other types of shelves as well.
Things to Consider When Buying Budget Bookshelf Speakers
Performance
The sound that your speaker provides is what makes or breaks it. You want a speaker that will produce sound from the range of 20 hertz (low) to 20kHz.
Really and truly you won't find a bookshelf speaker with that range, so you have to look to those that come the closest. 
You want to choose speakers that have high-efficiency ratings so they don't use too much electricity while providing high-quality sound.
Design
This refers to the style and size of the bookshelf speaker. The design of the enclosure of your speaker will affect the sound. The enclosure will affect the quality of the bass as well as the quantity produced.
If you choose a speaker with a sealed enclosure you will find that it will produce less bass though it will provide more accurate tonal quality.
The size of the speakers as well as where you place them will also affect the quality of the sound. Larger bookshelf speakers tend to provide bolder bass because they possess larger drivers and woofers.
Drivers
The size of the driver matters as well as the material it is made up of and how it is constructed. Larger drivers will produce lower bass because they can move air at higher pressures. 
Most bookshelf speakers come with low-frequency drivers that produce mid-range tones and bass. You can find a bookshelf speaker with a relatively higher frequency driver if the bass quality is important to you.
Help & Support
This is very important especially if you are new to this world of bookshelf speakers and audio equipment as a whole.
Though these types of speakers don't typically require a lot of customer support since they are easy to install and use, you want to ensure that this is offered and is easy to access through multiple channels.
Choose products that have good warranties as well;  you never know when you are going to get a dud product even when the product has tons of positive reviews.
There is still the possibility that you could get a bad one or one that goes bad quickly by no fault of yours and a warranty protects your purchase in such circumstances.
The Best Budget Bookshelf Speakers
TaoTronics Sound Bar Bluetooth Speaker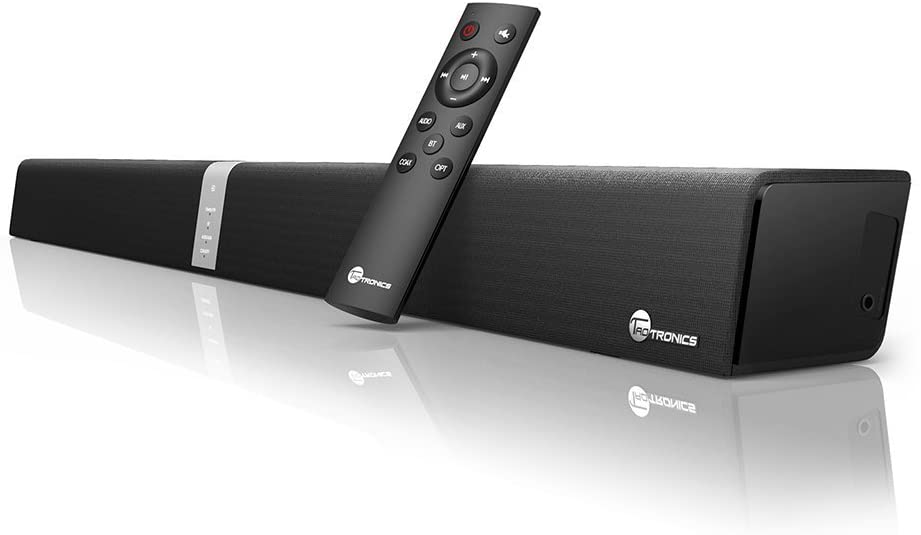 The TaoTronics 20W Boom X Premium wireless speakers offer crystal clear sound and feature an elegant and highly portable design.
They are technologically advanced with Bluetooth capabilities allowing you to connect to any Bluetooth device you want to listen from including your smartphone.
Featuring a rechargeable battery these speakers provide you with up to 6 hours of continuous playback with the audio quality standing firm until the battery dies.
Your purchase of this product comes with a lifetime guarantee so you don't have to worry about making your purchase because you are protected.
Features
The TaoTronics 20W Boom X provides top-quality sound with just two speakers. It is nicely designed and small enough to move around with you from room to room.
The Bluetooth connectivity has a long range of up to 30 feet allowing you to listen while you move around with your mobile device.
Bluetooth Connection Range – With a connection range of up to 30 feet, the equivalent of 10 meters, you can stream music from your mobile devices. You can also connect when watching movies and playing games for superb sound quality.
Sound Quality – These speakers offer crystal clear sound quality. They feature two bass radiators to give you a deep sound. It also provides great highs as well.
Design – these speakers feature an elegant design which also provides portability. They have a sturdy body with a sleek looking aluminum outer case so you can place it in a number of different locations without worrying about damaging the speakers.
Advantages
Portable – these speakers are lightweight and can go anywhere you go. This makes them great for listening to music and other audio from your phone. They can also be used for audio for your phone calls as well.
Great Sound – this tiny package provides clear and crisp sound that is unmatched.
Rechargeable – recharge your batteries when necessary with a full charge allowing you to use the speakers for a consistent 6 hours. The adapter for charging the built in lithium battery is included with your purchase.
Lifetime Guarantee – with a lifetime guarantee you don't have to worry about your purchase. They will replace the item or provide you with a full refund if your system is defective or if you are otherwise not satisfied with the unit.
The TaoTronics 20W speakers are not nearly as great as top brands like Bose where quality is concerned, but they are great for the average consumer.
The Bottom Line
The TaoTronics 20W speakers are a great buy. They are nicely packaged and designed, affordably priced so they won't break the bank, and easy to connect via Bluetooth.
Bluetooth connection is simply turning on your device's Bluetooth and selecting TaoTronics and you are good to go.
It has a built-in rechargeable battery and provides good quality sound within a range of 30 feet.  With a lifetime guarantee you don't have to think twice about your purchase of this product, just go right ahead and try it out for yourself!
---
Micca MB42 Bookshelf Speakers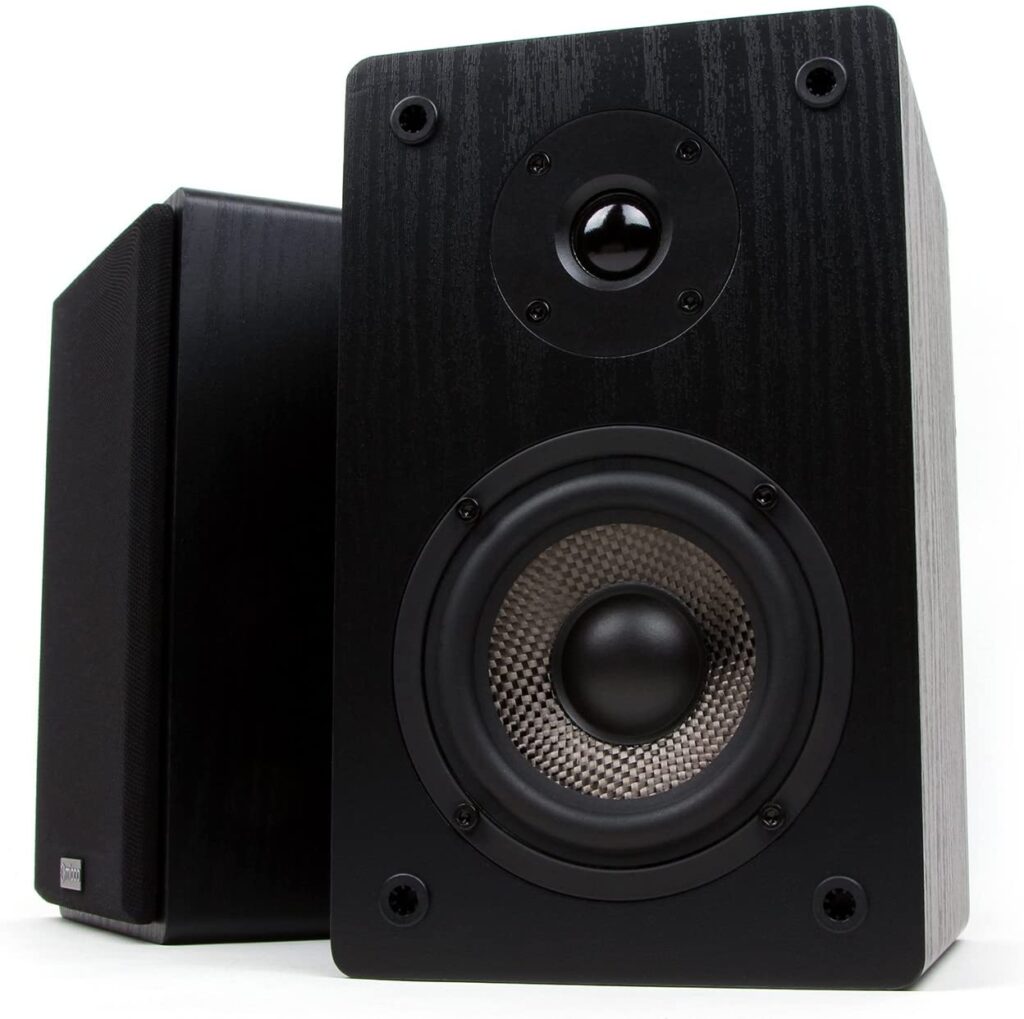 The Micca MB42 bookshelf speakers are what you are looking for if you need a top-quality design, affordability, and great audio quality in one product.
These streamlined speakers don't take a whole lot of space and are nicely styled so they are 100% aesthetically appealing.
It will fall seamlessly into place into almost any type of décor while providing signature sound quality. It features natural textures as well as a classic speaker appearance.
There is plenty of competition in the industry, but the Micca MB42 speakers stand up tall among them all.
Features
The Micca MB42 speakers feature a carbon fiber woofer and silk dome tweeter to make sounds smooth, transient, and impactful.
The enclosure is ported so that the speakers provide low distortion while providing an extended bass response. It is compact so that it is easy to place and blend seamlessly with your room.
Design – The Micca MB42 has a modern and sleek design. Its compact design means it can be placed anywhere you have a little space, on a bookshelf, an end table, the corner of a counter top etc.
Woofer – the woofer in this speaker is made from woven carbon fiber which enhances balance. It helps to provide bass that is impactful as well as transiently enhanced.
Tweeter – the Micca MB42 features a silk dome tweeter that provides high performance and smooth treble sounds as well as imaging that is on point.
Vocal Clarity – the vocal clarity on these speakers are impeccable with accurate and neutral sound signatures for top quality audio clarity.
Advantages
Affordable –the Micca MB42 bookshelf speakers will allow you to have great quality sound without having to dish out too much money for the purchase.
Great Value – not only are these speakers affordable, but they also offer great value for the money you are spending. The quality you get at this price is really great so it is money well spent and you can always return for a full refund if you don't like it.
Sound Quality – This speaker offers distinctive sound quality for both highs and lows, treble and bass. They offer decent audio quality for listening to music or for your movie audio.
Reviewers note that the woofer is weak and you can sometimes hear a buzzing sound. With the full refund policy, you can check this out for yourself.
The Bottom Line
The Micca MB42 speakers are a good buy. They are affordable while still providing high-quality sound. They are highly recommended by consumers having an average online review of 4.6 out of 5 stars.
While you can't expect wonders from a speaker at this price point, you can be certain that the Micca MB42 provides decent sound quality and blends well with almost any décor.
It is small and won't take up too much space or stick out in a room like a sore thumb.
These speakers offer nice speakers and will provide you with great audio quality for listening to your music and movie audio without straining your pocket or your bank account. It is a downright great choice for audiophiles on a limited budget.
---
Pioneer SP-BS22-LR Home Audio Bookshelf Loudspeakers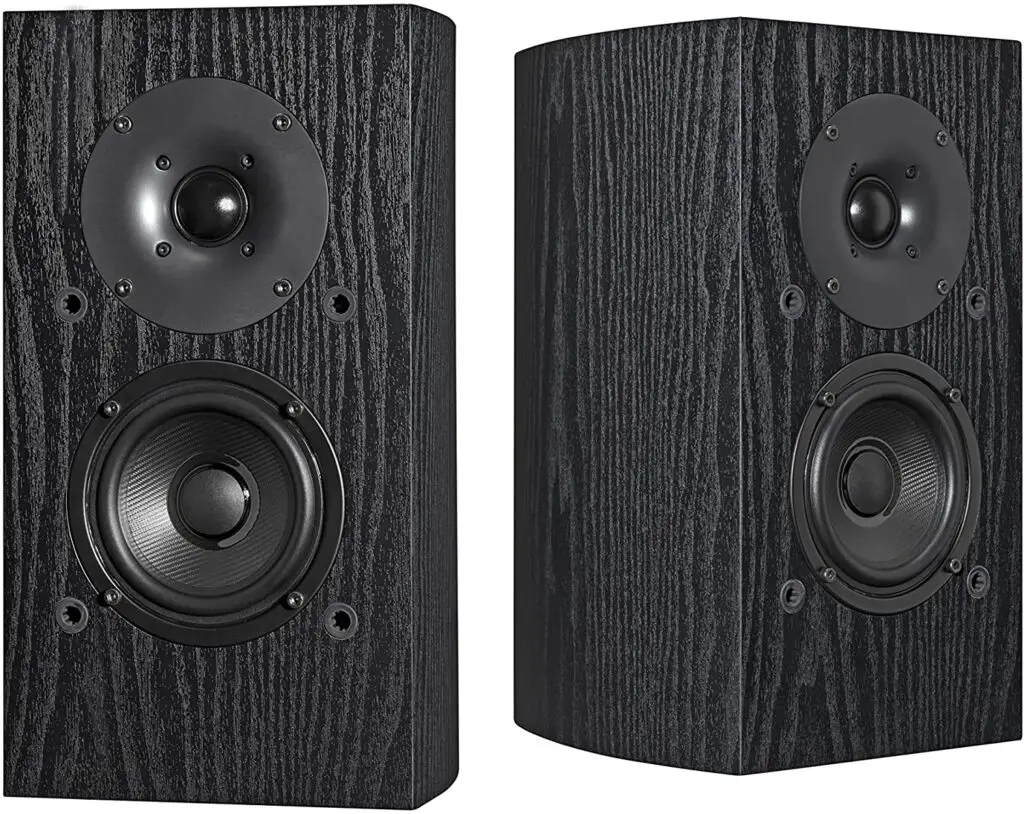 The Pioneer SP-BS22-LR bookshelf speakers are made for bold sound. These Andrew-Jones designed speakers offer good quality sound at a budget-friendly cost.
These speakers are good for use on their own or can be added to your larger audio set up in your home, either way, they do a good job at the price.
They are highly flexible and that is one of their strongest points. The SP-BS22-LR from Pioneer offers clear and concise sound in style.
Features
This pair of speakers has a structured surface woofer that is 4" in size while the dome tweeter measures 1". The speaker offers an impedance of 6 ohms, power handling 80 watts, and a frequency response of 55Hz to 20kHz.
Design – These speakers stand at 12.6 inches tall finished with a smooth wood looking color which is great for syncing with your home décor. They feature a curved cabinet that is RF molded, which enhances design but also helps to improve the delivery of sound as well.
Sound – Being a product from Pioneer you expect great quality and that is what you get. With a 1" dome tweeter that is high efficiency you hear crisp highs. And, with the custom wave guide you get your high frequency sounds delivered with great precision and balance across a wider area. Added to that is a 6 component high quality crossover you won't find in other speakers this size.
Flexibility – These speakers are more powerful than your average speakers and can be used by themselves. However, they can also be added to your current home theater or audio system to enhance your sound quality as you need.
Advantages
Strong Bass – if you take the time to go through some customer reviews you will see that customers are raving about the strong bass that is provided by these speakers.
Price – if you want excellent sound quality you won't get it from speakers that are this affordable, but the Pioneer SP-BS22LR bookshelf speakers give you great audio quality at an affordable price. If you like to purchase high quality products you will find this price a steal.
Minimalistic style – another thing customer's love is the style of the speakers. This is an advantage as it allows you to purchase these for your home no matter what your décor.
A reviewer noted some amount of resonance when listening to audio at a certain frequency but this is not a complaint we saw across the board.
The Bottom Line
When it comes to sound, style, and price the Pioneer SP-BS22-LR Andrew Jones Designed bookshelf speakers meet all the specifications.
It is a great price if you want above-average audio quality from a pair of bookshelf speakers that won't leave a dent in your finances.
It has all the specifications of top speakers in a small streamlined and modern design. This is a great buy for the price and consumers who own this for the large majority seem to be exceedingly happy with their purchase.
---
Micca MB42X Advanced Bookshelf Speakers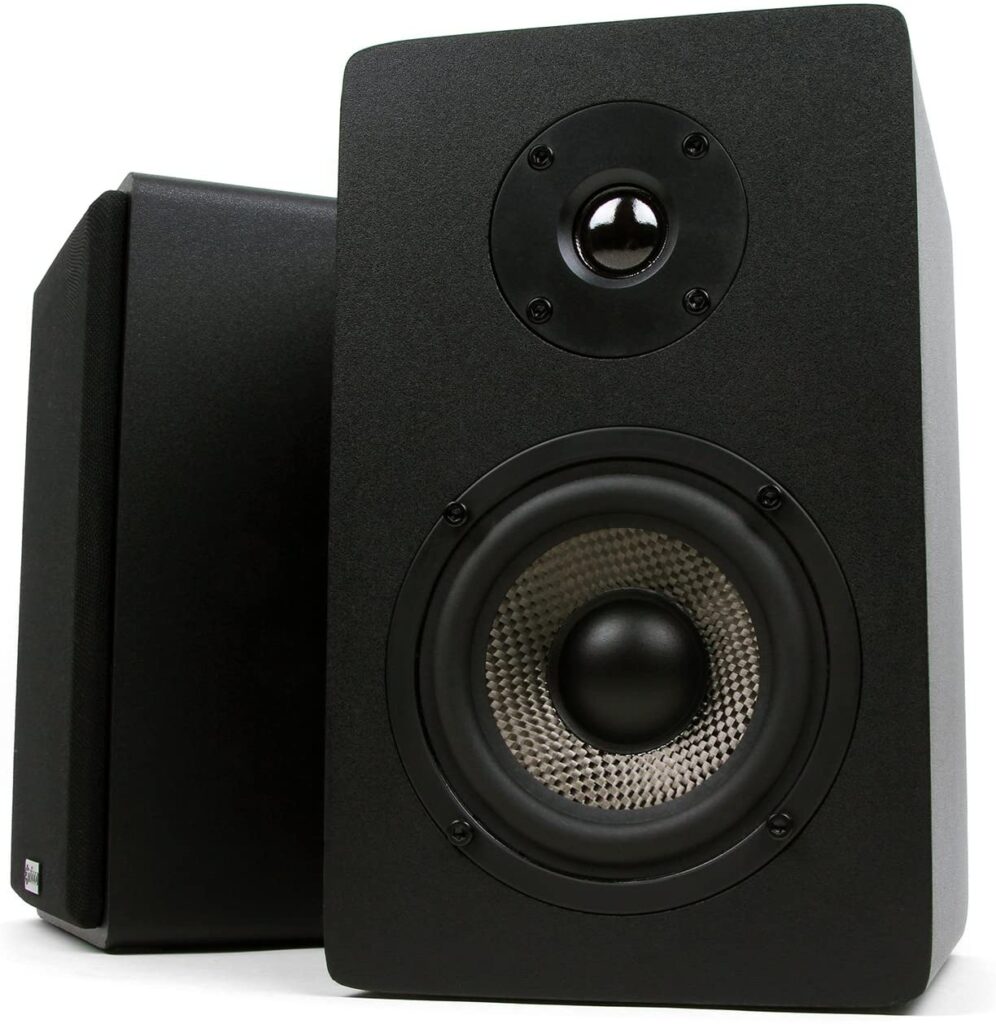 The Micca MB42X bookshelf speakers offer good tonal quality with low sensitivity ratings. Optimally you will want to pair these with a high-quality amplifier since they have a low sensitivity rating.
These speakers feature five-way binding posts for connection and are a pretty small set and maybe one of the smallest we will review here.
These do not provide tinny-sounding audio and while they don't perform like top quality speakers, they are way better than your laptop speakers.
These are only available in black but they are streamlined in a way that they blend well with your décor.
Features
This isn't your most feature-rich set of bookshelf speakers but they do a good job of providing you with quality audio when in use. With 4" carbon fiber woofers, you can expect good quality sounds from these speakers.
They offer a sensitivity rating of 85dB and have a low sensitivity rating handling up to 75 watts of power. Connect via five-way binding posts on the back of the speakers.
Connection – You don't have to be a pro to get these speakers up and running. These speakers connect via five way binding posts on the back – nothing to worry about for you novices. These are efficient for helping to ensure your connection provides clearer audio quality playback.
Power – The Micca MB42X can manage a peak of 75 watts of power. They are a low power unit but they do provide decent sound. They also have a sensitivity rating of 85dB. With this sensitivity rating you will want to add a high quality amplifier to achieve optimum performance.
Size – Because of the small sizes of these speakers you don't have to have a lot of space to set them up. They can be placed in narrow spaces, in between books, on narrow ledges or shelves and countertops without them being an eyesore.
Advantages
Small – their small sizes make them very advantageous. They can easily blend into the background and remain inconspicuous in any situation and match with all types of décor because of their minimalistic size and design.
Inexpensive – these are affordably priced and give consumers a budget option while providing them with decent quality audio in a nice looking package.
Sound – the speakers are small but don't let their small size fool you. They don't produce the typically tinny sound you probably come to expect from small sized bookshelf or laptop speakers.
These speakers cannot be pushed too hard. They will produce sound distortion when used at very high volumes.
The Bottom Line
The Micca MB42X can be a good addition to your home entertainment system or by itself. They offer value for money if you are on a budget while still giving you good quality at medium settings.
When using these you will want to pair them with an amplifier or else your audio will be shaky or distorted at higher volumes. Overall the product is a good buy, backed by good customer reviews and a leading brand in speakers.
---
Pyle Home PCB3BK Mini Cube Bookshelf Speakers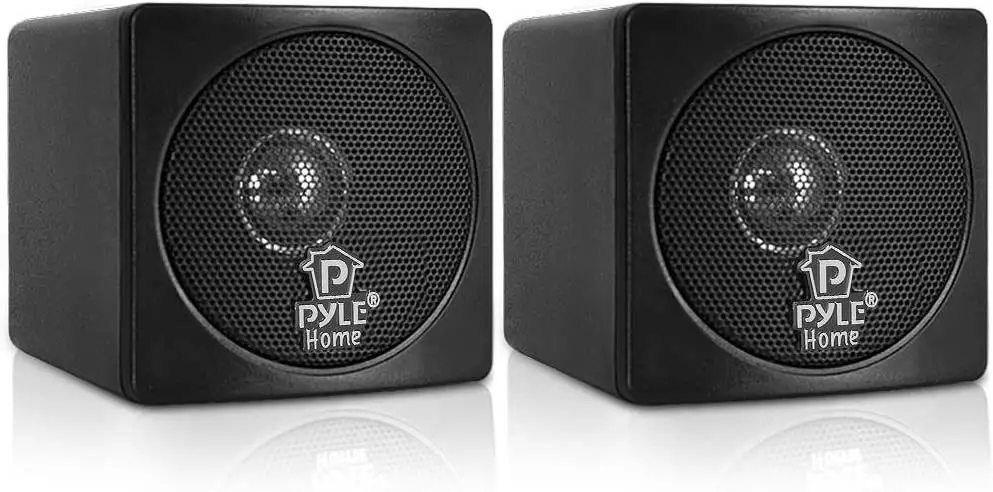 The Pyle Home PCB3BK bookshelf speaker is a mini cube speaker with a full range of theater applications for the home. It comes in a tiny featuring a 3-inch paper cone driver that produces a wide frequency response.
With an impedance of 8Ohms, this is one of the higher-end bookshelf speakers you will find on the market. It also has a 100W  power handling capacity, so you know this baby can pack a punch.
This unit comes in both black and white designs so you can choose the one that will be most suitable for your home's décor.
Features
The Pyle Home PCB3Bk is safe to use besides your video monitors thanks to its magnetically shielded design. Yes, the manufacturers went to great lengths to provide consumers with a top-quality bookshelf speaker.
Inside this compact cube-designed speaker is a 3" paper cone woofer that provides a full range and the little speaker has peak power handling at 8Ohms and 100W.
Compact design – these speakers are really compact. They feature a cube design that makes them a nice fit for small spaces in your home. The plastic case is very aesthetically appealing and available in black or white units.
Full Range – this speaker will provide a full range of audio. They are ideally used in multiples and paired with a subwoofer. They are great picks when you are setting up a surround sound system and they will integrate well with products from other manufacturers.
Magnetic Shield – you don't have to worry about placing these in a spot close to your video monitors. They were designed with a magnetic shield that allows them to be used safely close to all your video monitors.
Advantages
Small – the design of the Pyle Home PCB3BK is very sleek and small. It measures just 3 inches so it is a great option when you want to have surround sound and want multiple speakers without them being too intrusive.
Flexibility – they are made of plastic and are available in two colors; black and white. This allows them to be very versatile with the ability to fit in with various types of décor in your home.
Safe for your video monitors – if you have video monitors and haven't been able to place any speakers close to them you will love this feature of the Pyle Home PCB3BK. They can safely be positioned close to your video monitors without harming them.
These are not good for producing good quality sound or volume on their own; they must be paired with at least a subwoofer.
The Bottom Line
Pyle is versed in making bookshelf speakers, floor-standing speakers, and pro-audio to name a few, so you know off the bat that this is a well-constructed product. Using multiple of these little speakers with a subwoofer is a great choice.
They provide good quality sound, just not on their own so you will want to pair them with an amplifier or receiver to give them some added power.
They are small, affordable, and versatile with a design that can fit well into different types of décor. They have great customer reviews and are a recommended buy.
When you buy through our links, we may earn a commission.