The Q Acoustics brand produces some of the best HiFi speakers in the market, and the brand is remarkable for producing speakers and home audio systems that last very long.
Q Acoustics is a top speaker manufacturer with lots of good models in the market. The Q Acoustics home cinema speaker series would blow your mind.
Q Acoustics speakers are produced in series – each series boasts of a number of speaker models, comprising floorstanding speakers, bookshelf speakers, and center consoles.
The brand also makes soundbars and external subwoofers.
However, if you need to buy a new set of Q Acoustics speakers for home entertainment, you should consider the lifestyle home cinema speaker series.
Yeah, this series is among the best speaker series from the brand. It comprises a set of premium speakers that deliver clear sound and deep punchy bass.
Q Acoustics Home Cinema Speaker Series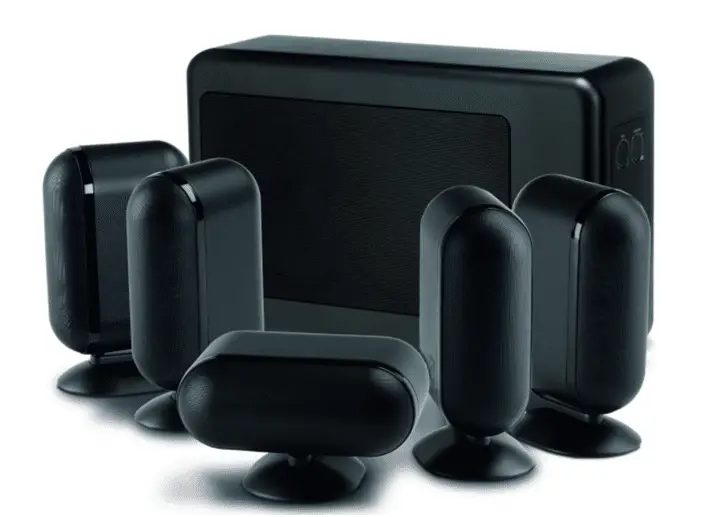 This series from Q Acoustics is a perfect blend of elegance and style, delivering powerful and detailed audio for all types of home audio applications.
Q Acoustics lifestyle home cinema speaker series is majorly the M7 2.1 and 7000i 5.1 Slim speaker systems paired with an all-new slimline subwoofer (7060S) to create a perfect 7.1 audio setup for all kinds of applications.
Actually, the 7060S subwoofer can be integrated into any existing home audio system. It measures 200mm deep – talking about the driver, and it delivers room-shaking bass.
Coupled with the other portable speakers in the series, you'd be getting the best audio experience with the Q Acoustics home cinema speakers.
Coming over to the satellite speakers, you'd love them – honestly.
They are ultra-compact, can be installed/mounted in different ways, and can also be integrated with any existing home audio system.
The design of these speakers would definitely blend with any home decor, thanks to the premium, sleek finish.
More so, you can use the stylish speaker stands to turn these satellite speakers into floor-standing speakers for more flexible placing options around the room.
Whether you're looking for a new set of speakers to complement your setup, or you need a new 7.1 audio system to use for your home audio, the Q Acoustics Lifestyle Home Cinema speakers are an ideal option.
1. The Q Acoustics 7060S Subwoofer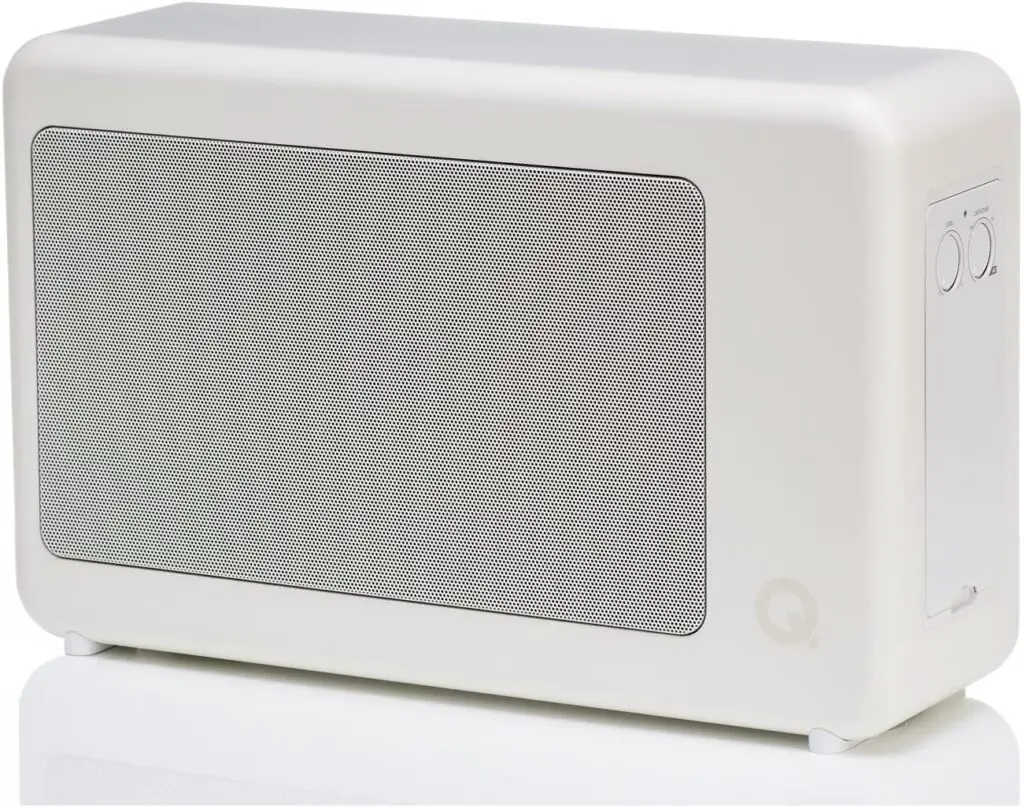 The newly designed 7060S subwoofer comes with a well-designed 200mm low-frequency driver and is powered by a 150W Class D amplifier.
It is fine-tuned to deliver punchy bass response – it faithfully reproduces both the low-end nuances of music recordings and the earth-moving rumble of a blockbuster movie.
Setting up this subwoofer is never a problem – the is designed with rubber feet and metal spikes so it can be placed on any type of floor –  soft carpet or hardwood.
This subwoofer would deliver the exact level of deep bass you need while complimenting your home interior beauty.
Hereunder are the specifications of this awesome subwoofer from Q Acoustics.
200m low-frequency driver (High-Excursion)
150W Class D amplifier
Infinite Baffle enclosure with MDF material
Frequency: 35Hz – 200Hz
Overall Dimensions: (H x W x D) 324 x 480 x 150 (mm)
Weight: 11.0 Kg
Power: 100V-240V 50/60Hz
2. The Q Acoustics 7000LRi and 7000Ci Satellite Speakers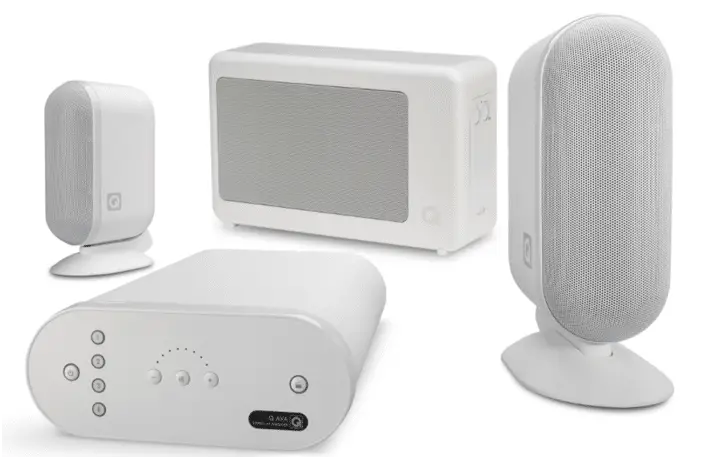 The 7000LRi and 7000Ci speakers are compact – offer flexible installation patterns, and deliver good sound.
They are powerful, thanks to the drivers and fine-tuned components – well-crafted to deliver premium HiFi audio to go along with the deep bass response from the 7060S Subwoofer.
This pair of speakers feature a curved housing design to offer versatile placement.
So, you can mount these speakers to the wall, or have them placed on any flat surface.
There's also a table mount stand that doubles as a bracket for wall mounting these speakers. If you want to turn them into floor-standing speakers, use the optional floor stands.
The curved D-housing is to minimize internal vibrations so the listener can hear precise and dynamic audio.
Also, the speakers feature a built-in ball joint so users can angle the speakers in any direction of their choice.
Why This Speaker Set is Best for Home Cinema Experience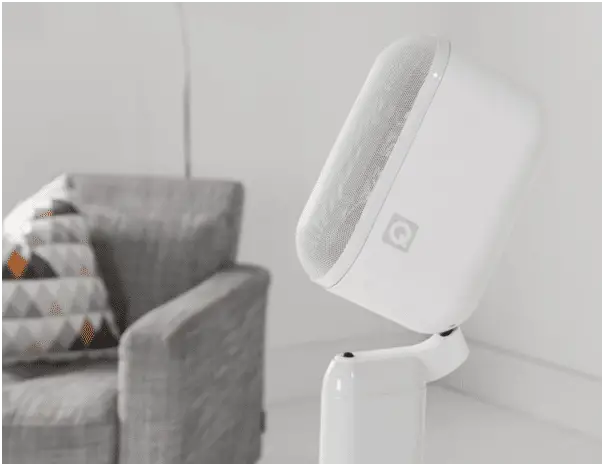 The set comprises a stereo pair of 7000LRi satellites, the 7060S subwoofer, and a stereo amplifier – with the M7 acting as the plug 'n' play channel for swift installation.
Interestingly, this set comes with a compact Q AVA stereo amplifier that delivers 50W per channel.
With the exclusive MoviEQ mode, you'd experience a more impressive bass response that delivers intensive cinematic sound impact.
There is Bluetooth support for wireless streaming from your portable devices or laptop.
The Bluetooth tech stays connected over a long-range and delivers decent-quality audio.
This speaker set is designed for movie lovers who need to get more details from their movies and gameplays.
The 5.1 setup comes with four 7000LRi satellites for the front and rear surround sound, a front center channel (7000Ci speaker), and the 7060S subwoofer for lows and mids.
Apparently, with this set of speakers, you'd get the most out of your movies and games.
You need a receiver to connect the speakers and the subwoofer via AV connections/ To upgrade the setup to a 7.1 system or Dolby Atmos set-up, add more pairs of the 7000LRi satellites speakers.
What More?
The Q Acoustics' lifestyle home cinema speaker series is an awesome addition to any home.
All speakers in this setup deliver stunning clear audio and bass response; they are pretty fancy speakers that complement any home design; more so, these speakers can b set up in different ways and styles.
You can mount the satellite speakers or set them up as floor-standing speakers. The flexibility offered by this sound system is the reason why you need to consider it for home entertainment.
When you buy through our links, we may earn a commission.