Cables
What Is HDMI ARC On Samsung TV
As the day keeps breaking forth, new technologies keep coming out, and the older ones are getting new upgrades. HDMI technology has been around for a long time now, but it wasn't as advanced as it is right now.
What is HDMI ARC on Samsung TV? ARC is a new HDMI feature that makes home entertainment setup much easier and neater.
Initial HDMI only supported video transmission, which implies that you can only use HDMI cables to transfer video signals from one device to another.
Many of us loved this – it was the best way to transmit high-quality videos as AV cables could not carry original videos.
But, using HDMI cables for home audio setup (as of then) means you'd get another cable to transmit audio to your soundbar or audio system; this means there are chances of having multiple wire clusters around your TV furniture.
Well, this may not matter to most people, but it does matter to some of us. In a bid to improve the HDMI technology, and minimize the number of cables required for home entertainment setup, HDMI 1.4 introduced a new feature called ARC – short for Audio Return Channel.
This new feature is one of the best technology upgrades to HDMI technology. It eliminates the need for optical cables for audio transmission.
With the advent of HDMI ARC, users can use a single HDMI cable to transmit both audio and video.
What is HDMI ARC?
To put it in a simpler term, HDMI ARC is one of the features introduced with the launch of HDMI version 1.4 in 2009.
This technical feature makes it possible for devices to transmit and receive video signals, as well as audio signals using the same HDMI cable.
The more interesting thing about this technology is that it doesn't require you to get a new HDMI cable; it can work with your old cable, regardless of the type – high-speed or standard.
Furthermore, ARC supports standard 5.1 surround sound and can transmit the signals without compression.
This means that if your video had 5.1 surround sound, you'd watch it lossless using one HDMI cable to transmit both video and audio.
Sound pretty interesting, right? If you're streaming with your TV that supports HDMI ARC, you can send the HD audio from the movie you're watching to the sound receiver or soundbar connected to your TV. Now, this is sounding like what you really want to know more about.
The truth is, HDMI ARC has a lot of benefits to offer, but the major one is cutting off the need for another cable for audio transmission.
This would make your connection neater, and your TV furniture area won't be clustered with many wires.
However, before you get too excited about HDMI ARC, it is important to say that it also has many limitations, which won't sit well with you.
First of all, before HDMI ARC would work, the two connecting devices must support the feature and have a dedicated port for the connection.
What does this mean? It means that if your TV supports HDMI ARC, your soundbar or audio system must also support HDMI ARC before you can use the feature to transmit audio and video signals between your soundbar and your TV.
Well, this shouldn't confuse you as we made clearer explanations about this in the paragraphs below.
How Does HDMI ARC Work?

It actually works in a simple way using the regular HDMI cable(s) you already know and use. The basic requirement for this technology is that your devices must support the feature.
You'd know your devices support HDMI ARC if you turn the rear side and find an HDMI port labeled "ARC."
If there's no HDMI output/input port labeled ARC on your device, it's safe to say that the device does not support the technology.
Furthermore, peradventure you find the HDMI ARC port on your TV, but can't find it on your soundbar, the connection won't still work.
In the same way, if the HDMI ARC feature is only available on your soundbar and not on your TV, the technology won't also work.
The basis for HDMI ARC to work is that your TV and soundbar must support the feature. In essence, there has to be a dedicated HDMI ARC port on both your TV and soundbar.
If you can find the HDMI ARC ports on both your TV and soundbar, all you need is to get an HDMI cable, connect the ends to the HDMI ARC port on your TV, and connect the other to the HDMI ARC port on your soundbar; that's all, and your TV would send audio to the connected soundbar, as well as receive audio signals from the soundbar too.
Actually, there's nothing complex about connecting HDMI ARC-compatible devices; you don't also need a special cable for the connection.
With much already said about HDMI ARC and how to get it to work for you, let's get over to our main topic of the day.
What is HDMI ARC on Samsung TV?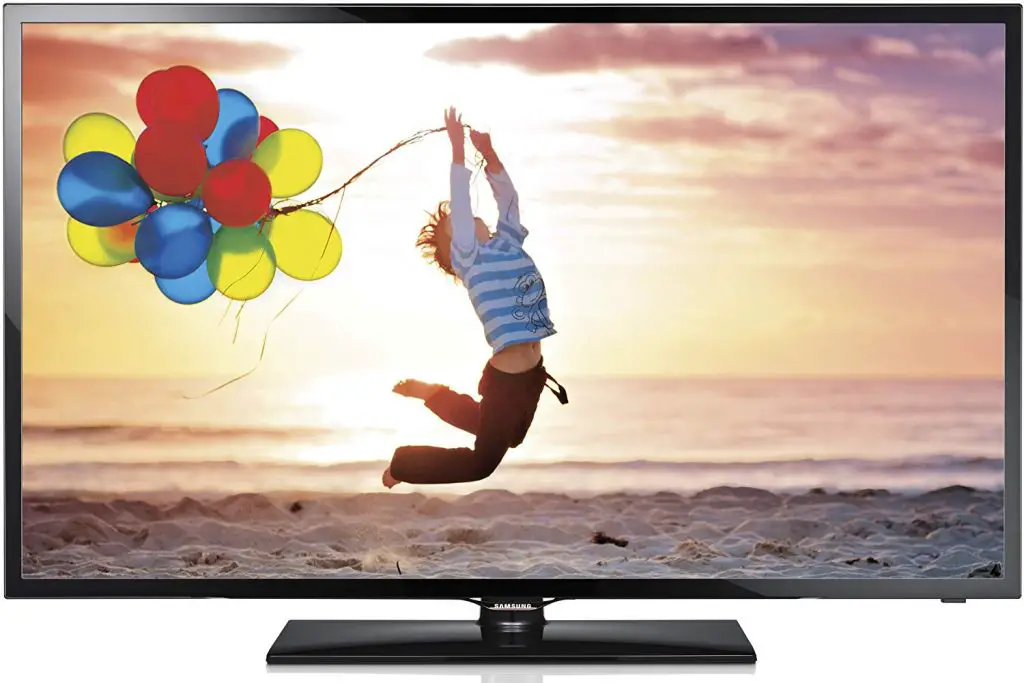 Needless to say? The HDMI ARC port you see on your Samsung TV simply refers to the specific HDMI port for ARC connections with other devices that support the technology.
You won't actually see the ARC port on all Samsung TVs; it is available on your model because you bought a high-end, newer Samsung TV.
However, depending on the Samsung TV you bought, you may see an eARC port against ARC. It's practically the same. eARC is the newer version of ARC with upgraded capabilities.
HDMI ARC is what powers you to get more premium sound on your Samsung TV. Depending on your TV model, you may need to activate the HDMI CEC settings to get the most of your TV's ARC or eARC port.
But, if your TV supports eARC and not ARC, that's pretty interesting because your TV would output uncompressed HD sound to your soundbar or AV receiver.
ARC would rather compress premium 7.1's and other high-quality sound signals before compressing them, but eARC outputs the audio as it is.
Note: just as the ARC feature, your TV and your soundbar or AV receiver must support eARC for it to work on both devices.
You don't need a new cable, you just need both devices to feature the ARC/eARC port and you're all good to go.
How To Use HDMI ARC On Samsung TVs
The steps provided below are directly from Samsung – for connecting the HDMI ARC port on supported TVs.
Get a working HDMI cable
Connect the cable to the TV's HDMI IN (ARC) port at the rear side.
Connect the other end of the cable to the HDMI OUT (TV-ARC) port of your soundbar or AV receiver.
Now turn on the soundbar or speakers that are connected to the TV.
Your TV will now play sounds through those speakers or the soundbar.
Audio Formats Supported By Samsung HDMI ARC
PCM (2 channel)
Dolby Digital (up to 5.1 channel)
DTS Digital Surround (up to 5.1 channel)
Important notice: DTS is only available on models released before 2018.
To get the most of ARC/eARC, the Anynet + (HDMI CEC) feature on Samsung TVs is activated by default on most Samsung Soundbar and Home Cinema Systems.
However, if this setting is not turned on, you can do it yourself following the guide below.
How To Activate HDMI CEC (Anynet) on Samsung TVs
For T/Q, R/Q, N/Q, and M/Q series smart TVs (from 2017): Go to Home>>> Settings>>> General>>> External device management>>> Anynet + (HDMI CEC)
For K series Smart TV (2016): Home>>> Settings>>> System>>> Expert settings>>> Anynet + (HDMI-CEC)
For Smart TV up to the J series (2015): Menu>>> System>>> Anynet + (HDMI-CEC)
Note: For eARC/ARC to work, Anynet + (HDMI-CEC) must be enabled on your Samsung smart TV.
Troubleshooting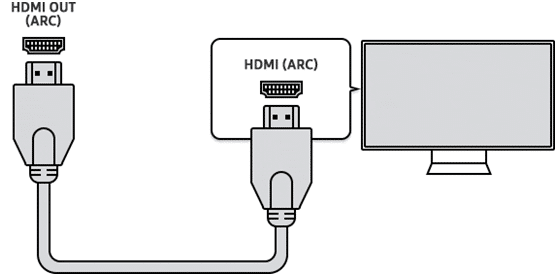 There are certain errors you may encounter while trying to connect your devices via ARC/eARC. These errors you may get can be fixed following the troubleshooting steps below.
Ensure that the HDMI cable is connected to the HDMI port labeled "ARC" on both devices.  
If the ARC/eARC connections seem not working, remove all the external devices connected to your Samsung TV, and try playing your media again. If it worked this time, it means the external devices, which you removed do not properly comply with HDMI connection specifications.
Ensure that the Anynet+ (HDMI-CEC) function is activated on your TV.
You should reset your soundbar and diagnose your smart TV. The steps to achieve these vary from TV to TV and soundbar to soundbar.
The Best HDMI ARC To Buy
These cables are all available on Amazon, eBay, and other popular e-commerce stores that operate online. Nevertheless, you could still buy them from local stores around you.
The IVANKY HDMI cable is pretty fast and compatible with HDMI ARC. It is built to last and can be used on all devices, including projectors, monitors, TVs, DVD players, and even PCs.
More interestingly, this HDMI cable transmits data at a very fast speed, up to 18 Gbps. It is one of the best you would find out there, and it can transmit lossless 7.1 surround sound and 4K videos.
This cable is available in different lengths, from 1ft to 50ft.
---
Merely looking at this cable, you would clearly see the rigidity. The iBirdie 4K HDMI cable is one of the best out there with a decent transfer speed rating.
It can transfer 8GB every second and is fit for use with TVs, gaming console, PCs, and every other place where an HDMI cable is required.
Furthermore, this cable is inexpensive, available in different sizes, and built to deliver the best performance you'd expect from an HDMI cable of such quality.
---
The Best Samsung TV To Buy
We have a list of Samsung TVs that will work very well with HDMI ARC cable, check them out.
Conclusion
So, what is HDMI ARC on Samsung TVs? It simply means that the Samsung TV is ARC-ready, which means you can connect it to another ARC-ready device to transmit video and audio signals using a single HDMI cable.
HDMI ARC is a sort-after feature by home entertainment enthusiasts, and it's more like a standard for modern devices.
Virtually all smart TVs released after 2009 come with this feature – with newer models supporting eARC.
To fully activate the HDMI ARC function on your Samsung TV, you need to enable Anynet + (HDMI CEC) from the settings page.
In summary, you don't need a special HDMI cable to connect two ARC-ready devices.
When you buy through our links, we may earn a commission.