Cables
17 Things To Know About HDMI Cables
HDMI is a cutting-edge connector interface used by many devices for video and audio transmission. It is pretty much more advanced than other types of digital media interfaces.
Virtually all electronic devices of today come with an HDMI connector, and that's because HDMI is widely versatile and reliable.
If you're new to this space, there are pretty many things you need to know about HDMI, how to use the interface to connect your devices, and how the features vary from version to version.
Interestingly, this article explains up to 17 tips and tricks you need to know about High-Definition Multimedia Interface – HDMI.
17 Things To Know About HDMI Cables
1. Will PS5 Work With HDMI 2.0?
Out of the box, Sony's PlayStation 5 comes with an HDMI 2.1 connection port. This allows for a 4K transmission at a decent speed up to 120fps.
Notwithstanding, you can use any HDMI for the connection, including the cable you've been using on your HDMI2.0 devices.
Also, it is important to note that HDMI 2.1 cables still work on devices with HDMI 2.0 connectivity ports.
Hence, put simply, PS5 is compatible with HDMI 2.0 connections and cables; however, if you want to enjoy the maximum viewing capacity and fast speed transmissions, you need HDMI 2.1 TV and cable.
2. How Fast Is HDMI 2.1?
HDMI 2.1 is faster than HDMI 2.0; well, that's what to expect as the former is the newer version of the latter.
The rated speed of HDMI 2.1 is 48 GBPS, that's over 20x the speed of older HDMI versions. You can enjoy a 4K resolution at 120fps with HDMI 2.1.
To get the best of the HDMI 2.1 support on your device, you need to purchase an Ultra High-Speed HDMI cable.
Currently, HDMI 2.1 is the newest and fastest version of HDMI technology.
3. Can You Change HDMI 2.0 to 2.1
Unless you're planning to disassemble your device, remove the HDMI 2.0 connector chip/interface and then replace it with an HDMI 2.1 chip/interface, then it's not possible to upgrade from HDMI 2.0 to 2.1 on the same device.
Updating your device's firmware would not change the HDMI version it has. So, if your device has HDMI 2.0, it'd forever support HDMI 2.0 capabilities.
If you want HDMI 2.1 capabilities, you need to buy the newer device model with HDMI 2.1 support.
The reason is that the HDMI version supported by your device is embedded into the connector interface; it's not software-based, and as such, it can't be updated via a firmware upgrade. 
Sadly, the only possible way to change the HDMI version supported by your device is to change the HDMI interface, and this is not advisable.
4. Best Way To Extend HDMI
The best way to extend your HDMI cables is by using an HDMI extender device, or HDMI adapter.
With either of these devices, you can extend your HDMI connection – connect two HDMI cables to extend the length.
This applies when you need to run an HDMI connection through devices that are far apart.
However, there are 50ft HDMI cables you could buy; 50ft is pretty lengthy.
5. Best HDMI To RCA Converter For Firestick
There are pretty many HDMI to RCA converters you can use to get your FireStick connected to your old TV that doesn't support HDMI connections.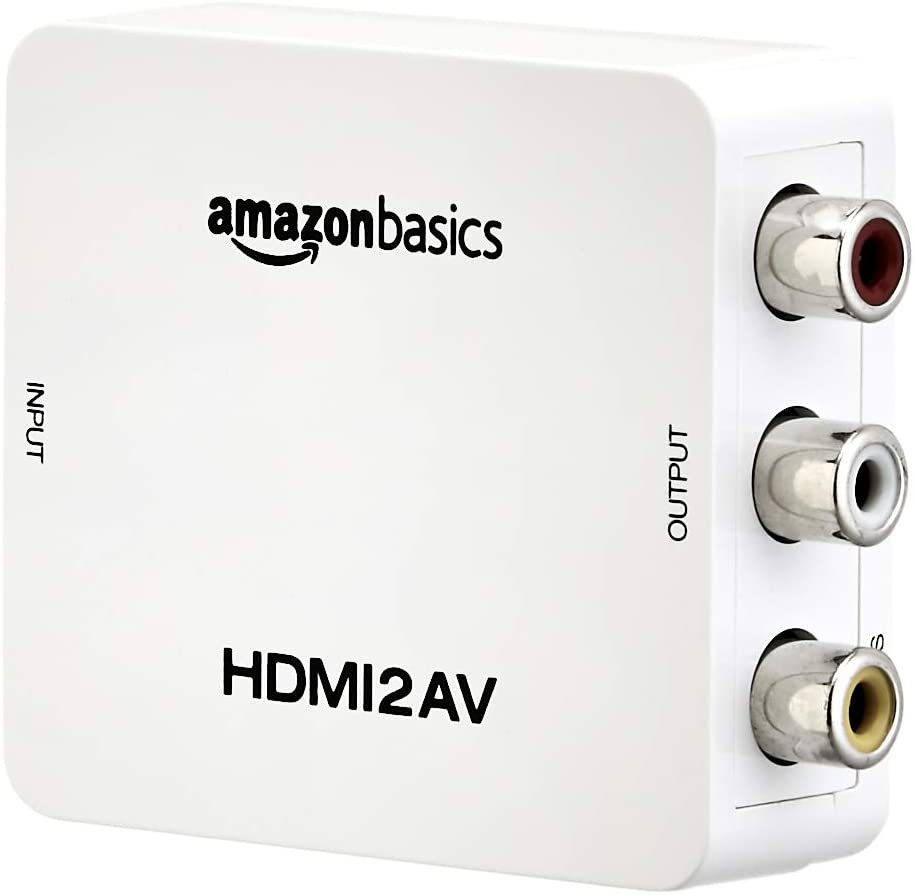 The TaiHuai HDMI to RCA receiver is one of the best options in the market.
It is a plug-and-play HDMI to RCA converter, which implies that it doesn't require any initial setup procedure.
Amazon Basics also has a decent affordable option you can purchase.
The Amazon Basics HDMI to RCA converter supports HDMI 2.0 and does not require any driver installation for the initial setup; it is equally a plug-and-play converter.
6. Best Soundbar With 3 HDMI Inputs
As soundbars are becoming more acceptable than bulky speaker setups, you need the best multi-function soundbar.
Interestingly, these soundbars come with multiple HDMI connectivity ports, so you can connect multiple HDMI devices to one soundbar.
6.1.: Polk Audio MagniFi 2 Sound Bar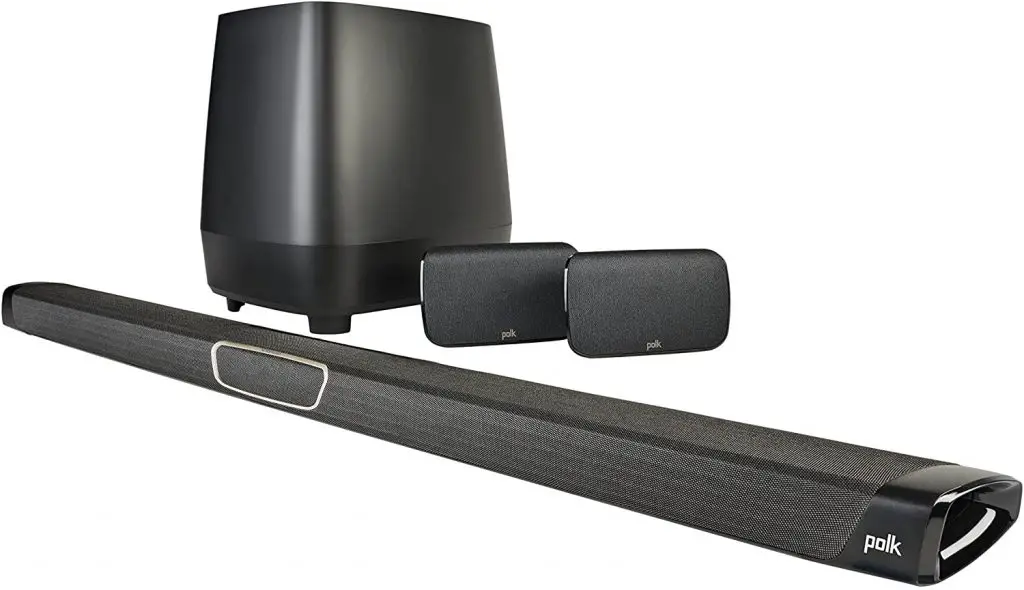 This Polk Audio soundbar comes with a subwoofer unit and it has a total of 4 HDMI ports; 3x 4K HDMI inputs and 1x HDMI ARC output.
This soundbar delivers room-filling sound with thumping bass (through the subwoofer), and it supports various wireless connectivity options.
It goes to supports Google Assistant and comes with a handy remote controller.
---
6.2.: JBL Bar 3.1 – Channel 4K Ultra HD Soundbar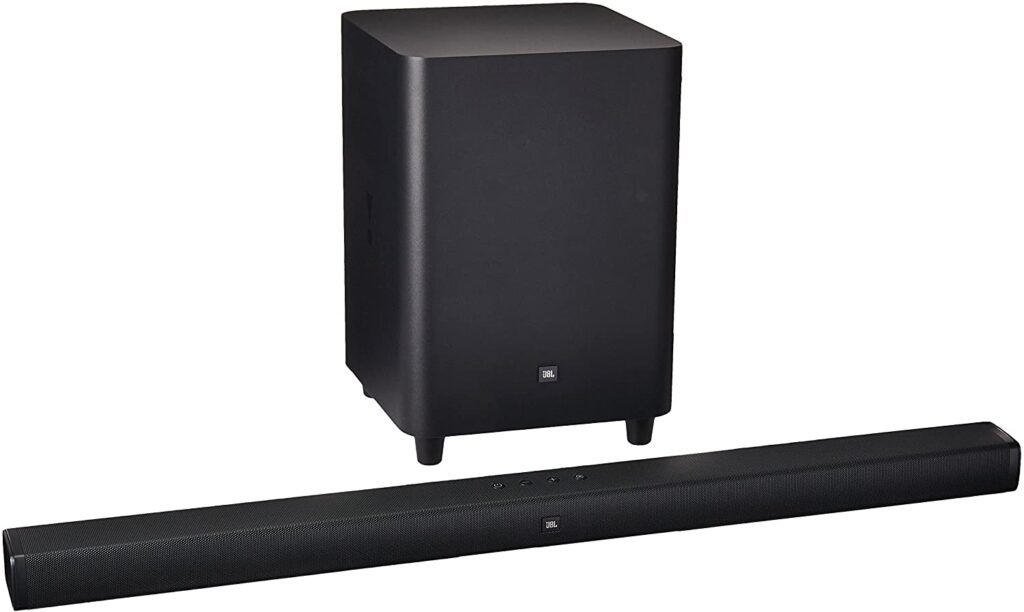 This JBL soundbar is a decent option to go for when you're looking for soundbars with up to 3 HDMI inputs. It is a professional soundbar with a 10-inch driver subwoofer.
Sound and bass from this soundbar can fill any room, and it supports several wireless connectivity options. The available HDMI ports include 3x HDMI inputs and 1x HDMI output (ARC ready).
---
6.3.: VIZIO SB46514-F6 Premium Home Theater Sound System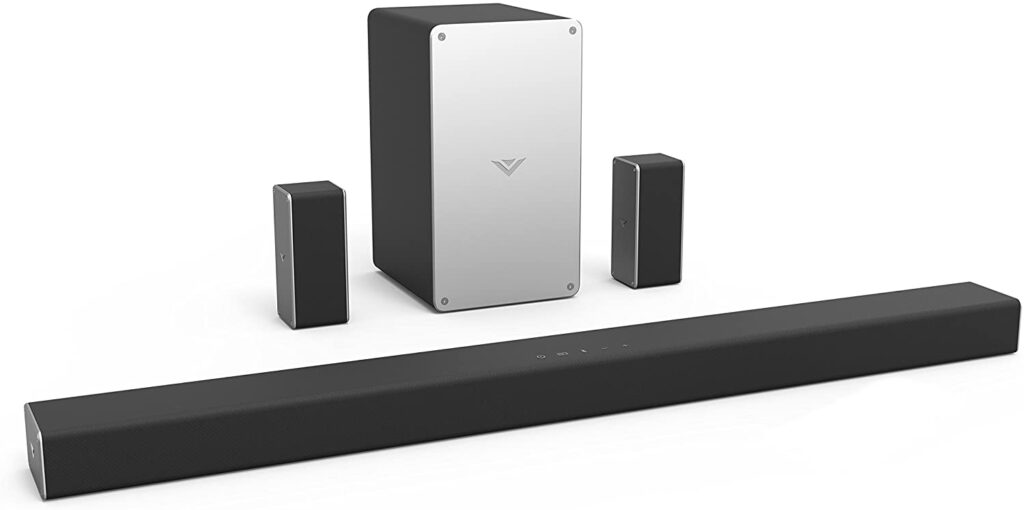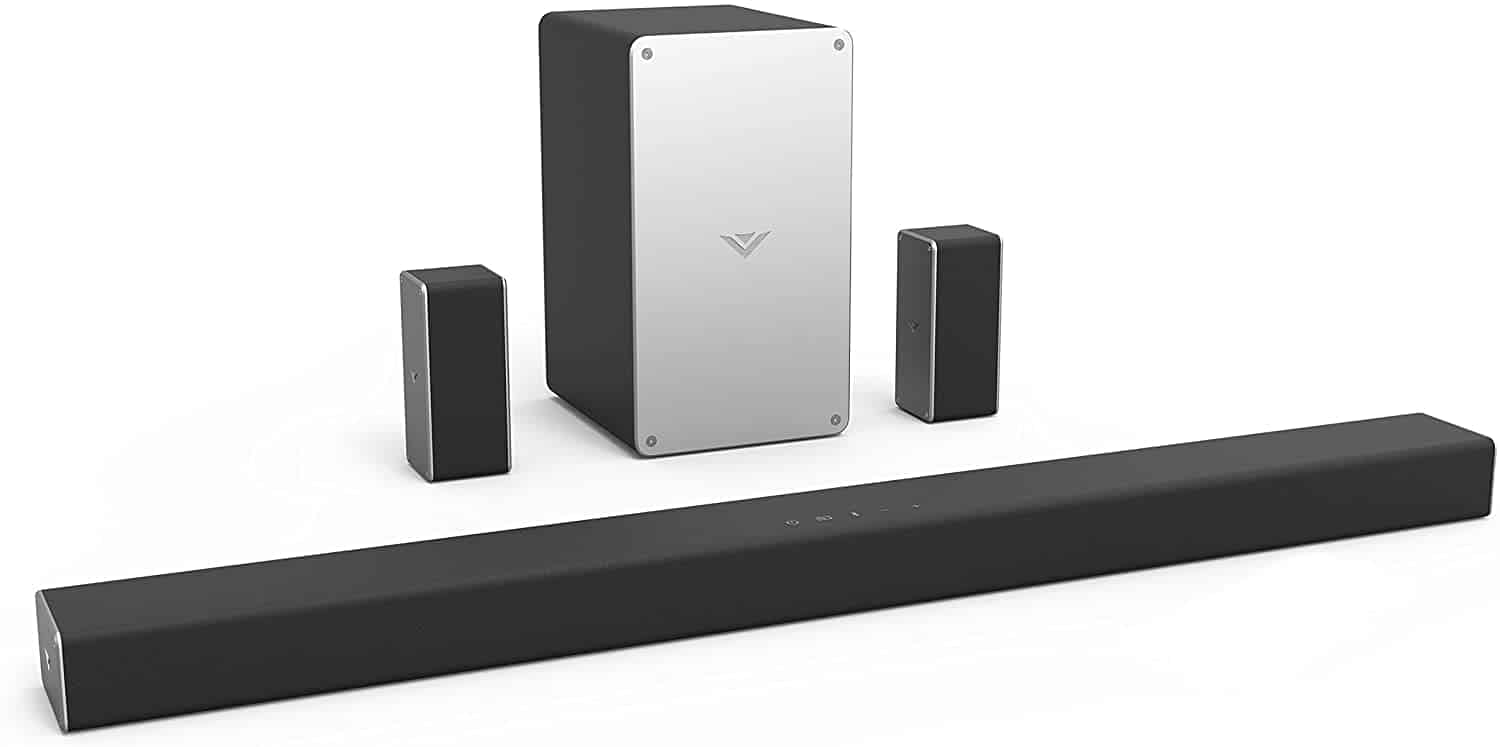 VIZIO is a notable audio equipment manufacturer. This soundbar from the brand comes with a ton of impressive features and connectivity options.
Yes, it has up to 3 HDMI input ports, as well as support wireless connections via Bluetooth and WiFi.
It is a top-quality soundbar with two satellite speakers and a subwoofer to complete a standard 5.1 audio setup.
7. Best HDMI To RCA Composite Converter
There are pretty too many options in the market, but these three are among the top best options you should consider.
They are sturdy, reliable, and compatible with different HDMI cable types:
8. Best Stereo Receiver With HDMI Arc
Interestingly, there are new stereo receivers out there that support HDMI ARC connectivity.
They work like every other receiver unit you know, but with the addition of HDMI ARC/eARC, you can connect your soundbar to such receivers via HDMI.
Currently, the best stereo receiver with HDMI ARC in the market is the Denon S650H AV Receiver.
8.1.: Denon S650H AV Receiver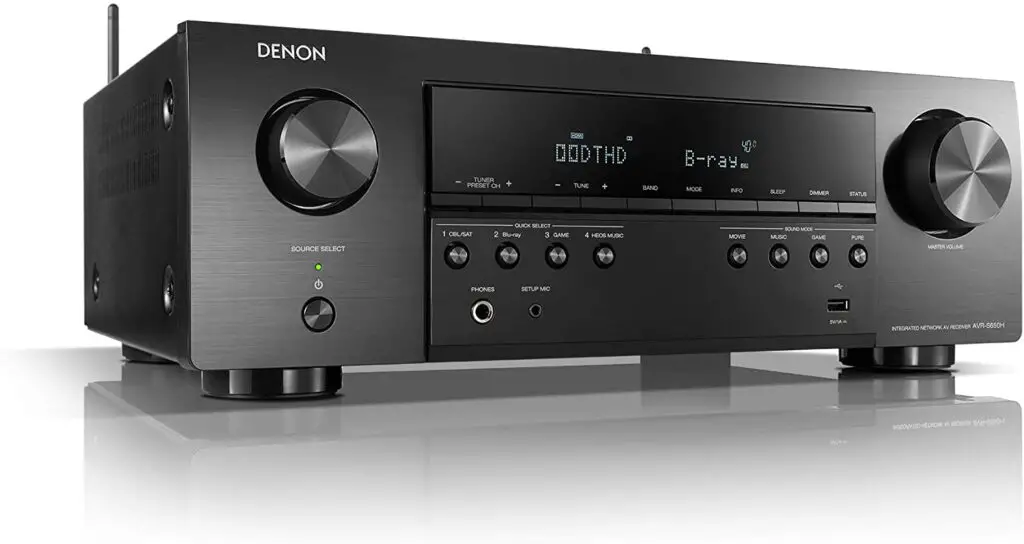 This is a high-end stereo receiver with support for streaming services such as Pandora, Spotify, and Deezer. It is a 5.2 stereo receiver, supporting both Bluetooth and WiFi wireless connections.
If you have 4K UHD devices, this receiver would help you to get the most of them. More so, this receiver supports Google Assistant, Siri, and Alexa.
9. Best HDMI Cable For LG Nanocell TV
Practically any HDMI cable would work on your LG Nanocell TV; however, for faster speed transmissions, you should consider getting an Ultra High-Speed HDMI cable.
The BaseAV Hi-Speed 4K HDMI Cable works well with LG TVs including the 4K NanoCell TV. There are many other decent options in the market too.
You could also consider the Amazon Basics braided HDMI cable; it's a good buy for the price.
10. Best Way To Convert HDMI To VGA
The best way to convert HDMI To VGA is by using an HDMI To VGA converter device. You'd find them in both online and offline stores, and they are typically inexpensive.
More so, some of these converters come with additional features and can be connected to different devices. The Rankie HDTV HDMI to VGA adapter and Benfei Gold-Plated HDMI to VGA adapter are two of the best adapters you can get in the market right now.
11. Are All HDMI 2.1 TVs 120hz
HDMI 2.1 can transmit 4K at 120fps, which makes users guess if all TVs with HDMI 2.1 support a 120hz refresh rate.
Well, arguably, all 4K TVs with HDMI 2.1 will support 120HZ; this is because HDMI 2.1 supports 120fps at 4K. So, with the TV supporting 4K and HDMI 2.1, it is safe to assume that it supports a 12hz refresh rate.
12. Do HDMI Cables Break
First of all, are cables breakable? No, they are not, but they can bend and the insulation may wear out.
HDMI cables are subject to those defects; however, when you buy original ones, they take a very long time to bend or wear out.
Mostly, a cable is said to be broken when it no longer transmits pictures, videos, or sound.
That said, you need to always buy the best HDMI cables when you want to shop for new cables for your devices.
13. How Can i Boost My HDMI Signal
There is no way to "Boost" HDMI signals, except you get a higher speed cable.
There are three categories of HDMI cables; the standard HDMI cables, the high-speed HDMI cables, and the ultra-high-speed cables.
So, if you're using a standard cable and you're not comfortable with the speed, you should get a high-speed cable or ultra-high-speed cable.
Asides from getting a cable with more speed than the current one you use, there's no other way to boost HDMI signals.
Using HDMI extenders can only extend your HDMI cable to a device far away from your playback source. Even so, using HDMI extensions may reduce the quality you'd receive at the endpoint.
14. Are There HDMI Extensions?
Sure thing! There are various types of HDMI extensions and they come in handy in various ways.
If you need to run a connection between two devices up to 50 feet apart, you'd certainly need an HDMI extension to connect two 25ft or 30ft HDMI cables to achieve your setup.
There are many types of HDMI extensions; for example, there are male to male extensions, female to female, male to female, and female to male.
However, using HDMI extensions or couplers may degrade the signals being transmitted. Thus, you may not get lossless quality at the endpoint (where the signal would display or playback).
15. How Far Can HDMI Be Extended?
Generally, HDMI signals start degrading at 50ft; so, when you run an HDMI connection that spans 60ft or longer, chances are that the quality you'd get at the endpoint would be poor.
The HDMI architecture does not support longer distances; hence, what you'd mostly see in stores is 25ft HDMI cables; rarely would you see a 50ft long cable.
So, if you're planning on extending your HDMI connection, have it in mind that the quality may reduce and you need an HDMI coupler/extender.
16. How Far Can a 4k Signal Travel Over HDMI
To get lossless 4K transmission over HDMI, it is advisable to stick with shorter HDMI cables. For example, instead of using a 25ft long cable, go for shorter options like 10ft cables or 12ft.
HDMI signals tend to degrade when sent through longer cables, and for 4K transmission, you need shorter cables – they're the best for lossless 4K transmission via HDMI.
Notwithstanding, you can still use 25ft HDMI cables for 4K connections, but you may not get the perfect picture and sound quality you expected.
17. Do You Need Ultra High-Speed HDMI For 4k
High-speed HDMI cables can carry 4K signals, if that's what you've got, you can use it to connect your 4K TV.
However, with high-speed cables, the maximum speed you'd get for a 4K transmission is 60fps.
If you need to transmit 4K at 120fps, then you need an Ultra High-Speed HDMI cable.
That said, you mustn't use ultra-high-speed HDMI cables before you can get 4K transmissions over HDMI. But if you want to enjoy the best quality and faster speed, then you need an ultra-high-speed cable.
What More?
These are practically all you need to know about HDMI and how you can get the most of your devices/TVs with HDMI support.
The latest version of HDMI supports eARC, a technology that allows transmission of HD audio and 4K video signals over a single HDMI cable.
You practically do not need a new HDMI cable for a new HDMI connection; you only need a new cable if you want to get more speed, or if your old HDMI cable is short and you need a longer one.
HDMI technology is the best digital audio/video interface found on modern devices and TVs.
When you buy through our links, we may earn a commission.