At the price, Q Acoustics M7 is a decent 2.1 home system you can use in any type of room. It delivers good sound and bass with the satellite speakers and subwoofer.
This sound system is one of the finest models of Q Acoustics home sound systems. 
Of course, the set looks stylish – typical of Q Acoustic speakers, and there are many ways to install the sat speakers.
Q Acoustics M7 looks to be a good option for homeowners on a budget. The sub-sat sound system is available in various stores, and the price tag is considerable.
If you're looking for a compact sound system that would deliver stunning clear sounds, and be integrated with a wide range of devices or systems, the Q Acoustics M7 is worth considering.
Full Review Of Q Acoustics M7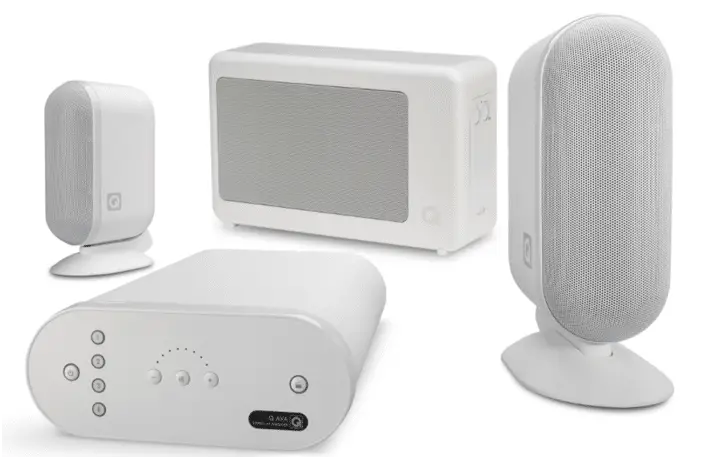 The Q Acoustics M7 is a sound system set that comprises two 7000i satellite speakers, a 7070Si subwoofer, and a dedicated Q AVA amplifier.
It is a complete 2.1 audio system that delivers high-level sound that would satisfy even an audiophile, thanks to the premium drivers.
Instead of getting a soundbar, it might be a better option to get this sub/sat speaker set from Q Acoustics.
This set is available in different colors – the finish looks sleek and premium – so the M7 sound system can easily blend with any home design.
Again, it is very compact, so you don't have to bother about space.
The satellite speakers can be mounted at different angles, or even set up as floorstanding speakers using the floor stand mounts.
Q Acoustics M7 is an ideal definition of when premium appearance meets with decent audio performance for a forgivable price.
– Q Acoustics 7000i Satellite Speakers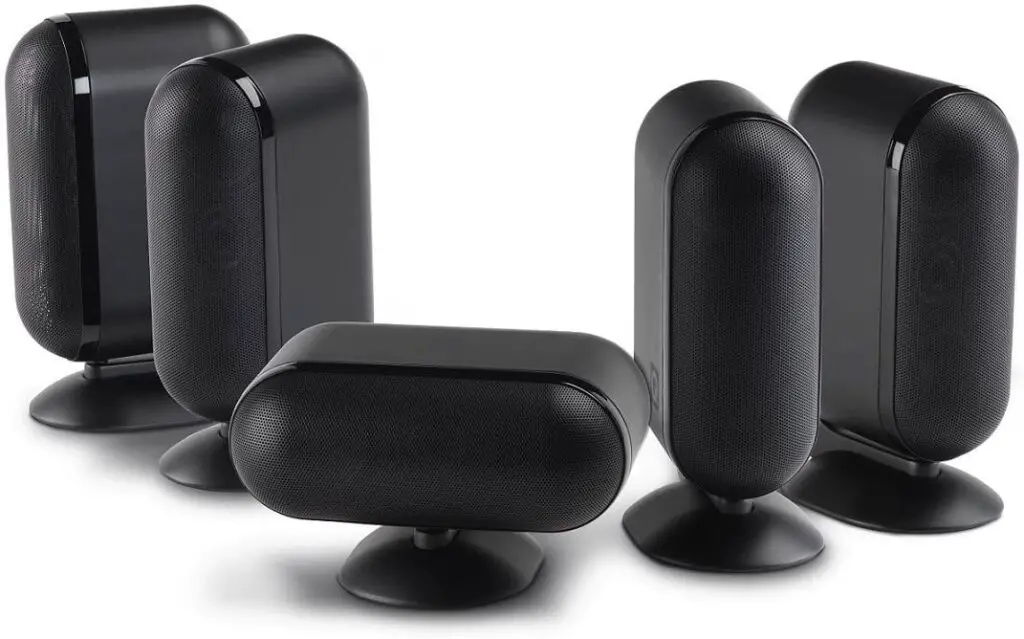 There are two 7000i satellite speakers included in the Q Acoustics M7 sound system package.
These sat speakers are equipped with dual 75mm dynamic units – one sits above the 25mm ring radiator tweeter while the other stayed below.
The pair flaunts a pill-like shape – looking like large drug capsules.
Underneath the sat speakers is a ball-joint table mount – available on each one of the pair – that allows for turning the speakers to any angle within 180 degrees.
Also, the base serves as a wall bracket featuring some keyhole fixings that hang onto screws.
Looking at the physical appearance, the 7000i sats have a pretty impressive design, available in different colors.
The curvy shape and well-crafted rounded metal grille all added up to make the speakers easy on the ear.
Where To Buy
You can get the 7000i Satellite Speakers from various online stores, including Amazon, Peter Tyson.

Buy From Amazon
Buy From Qacoustics.co.uk
Buy From Peter Tyson
Buy From ebay.co.uk
– Q Acoustics 7070Si Subwoofer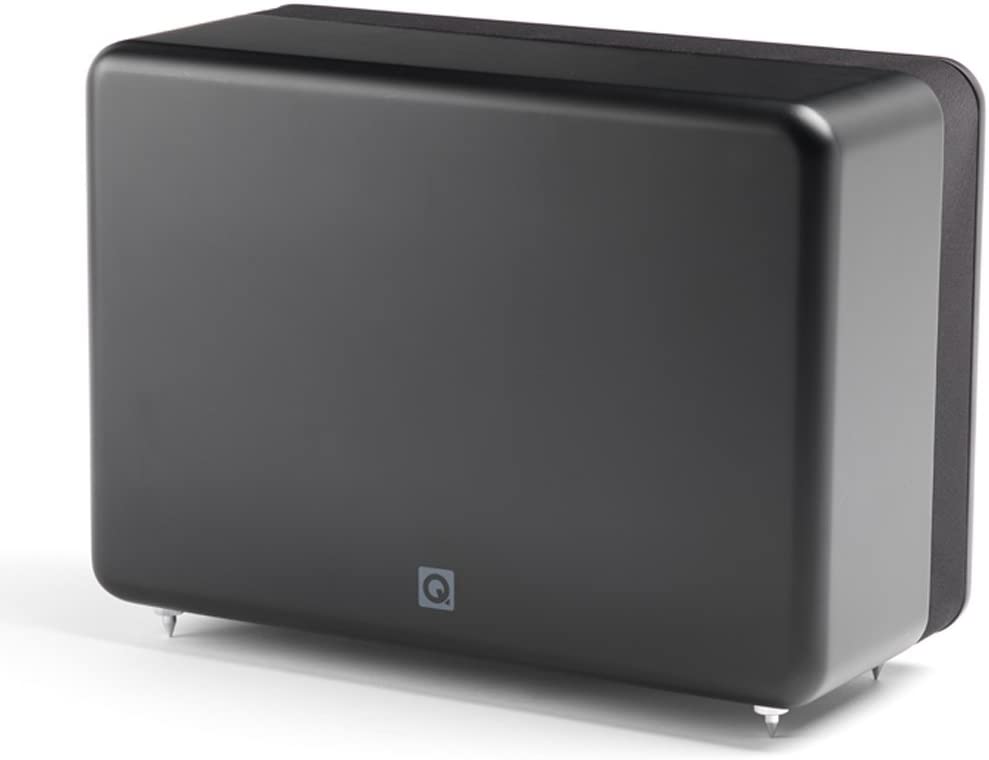 Well, you won't say the 7070Si is part of the "Compact" design of the M7 sound system. It is a 460mm-wide subwoofer – is that compact?
However, this subwoofer looks very nice and stylish – featuring rounded edges and an off-center cloth grille that looks pretty impressive.
The enclosure is crafted with MDF material, very strong and flexible to use; the subwoofer stands on some screw-in spikes, and there are rubber protectors to cover the spikes (if you wish).
This sub's controls are situated on the side to promote a neat design.
Also on the sides are a pair of RCA inputs for connecting the subwoofer to the amplifier. Sadly, there's no HDMI port found here.
However, the subwoofer delivers deep bass to go along with the amplified clean sounds coming from the sats.
Where To Buy
You can get the 7070Si Subwoofer from various online stores, including Amazon, Richer Sounds, and Walmart.
Buy from Amazon
Buy from Richer Sounds
Buy From Q Acoustics
– Q AVA Stereo Amplifier
Q Acoustics M7 comes with a dedicated amplifier system that supports a wide range of connectivity, including Bluetooth support for wireless streaming from your portable devices or laptop.
This amplifier system delivers 50W power per channel; so the two channels deliver 100W.
This amp is designed to match the speakers and subwoofer – featuring rounded edges and neatly arranged controls. All the connectivity options are situated on the rear side.
The Q AVA boasts the same robust build quality as the 7000i sats and 7070Si sub. It is about 175mm wide – pretty compact!
Among the essential controls on the front panel includes a MoviEQ button and dedicated buttons for each input.
When you select an input mode, the dedicated input button would light up to tell that you've activated that particular input source.
Also, this amp features an aesthetically-appealing arc of eight blue lights that indicate the volume level.
At the rear lies some pairs of banana plug-compatible binding posts, optical inputs, 3.5mm input, and a sub output.
Should You Buy The Q Acoustics M7 2.1 System?
Well, overall, the Q Acoustics M7 system looks pretty good at the price. It delivers good performance, and the bass response is decent for any kind of movie or gaming.
This sound system is easy to set up – the satellite speakers can be installed anywhere in the room, and if there's no space to keep them on the floor, you can mount them on the wall.
The only bulky item in this set is the subwoofer; however, notwithstanding, it can still fit into small spaces easily.
Talking about the design and appearance, we all know Q Acoustics speakers look premium and sleek in their well-detailed colors.
Q Acoustics M7 is available in white and black colors, and it's very appealing – would easily blend with any home decor.
The Q Acoustics M7 is really good, but it's not flawless. The midrange and treble responses need more improvement.
Hopefully, Q Acoustics would look into that while making a modified version of this system or probably a whole new system that mimics the look and feel of M7.
Overall, we'd have love to give the M7 a 5/5 rating, but due to its lack of precise details, it's a 4.5/5 2.1 system for homeowners – a good buy for the price.
Oh yeah! Before you go, we forgot to tell you that the Q Acoustics M7 comes with remote control, which makes it possible to control the system from a distance.
You can get the M7 soundbar from various online stores, including Amazon.
Buy from Amazon
Buy from nexthifi
When you buy through our links, we may earn a commission.