Home speakers
These soundbars for Samsung monitor are reliable and easy to set up
Not all soundbars in the market work with Samsung monitors. Thus, you need to carefully streamline your options to buy the best soundbars for the Samsung monitor. Luckily, our experts have scooped these soundbars, and they are impressive.
Soundbars are designed to serve a variety of home audio needs. However, some models tend to work perfectly with specific devices or systems; even though they may still work on every device you connect them to, their performance may be poor and unpleasant if it is not compatible with the device.
Thus, we are putting up this review to show you the best soundbar for Samsung monitors.
These soundbars easily integrate with your Samsung monitor for stunning clear sound reproduction when you watch movies, play music or games on a computer connected to the Samsung monitor.
Why do you need a soundbar for your Samsung monitor?
Most modern computer monitors do not have inbuilt speakers, while some that do have in-built speakers are not quite loud enough to give you the level and quality of sound you want.
This will cause you to look for a way to hear the sounds from your activity on PC, especially when playing a media file or PC game.
Soundbars are specially designed for TVs and Monitors which do not have built-in speakers, and they are just the perfect solution for anyone looking for a means to get the most of the sounds from their computer.
Soundbars connect to Samsung monitors via HDMI. This implies that any soundbar to use with Samsung monitors must support HDMI.
Thus, we placed that at the back of our minds while making these selections. These soundbars being reviewed in this article are compatible with most Samsung monitors because they support HDMI.
Note: these soundbars would still work with your TVs and other digital media systems because they offer a variety of connectivity support, including wireless (not all of them).
The best soundbars for Samsung monitor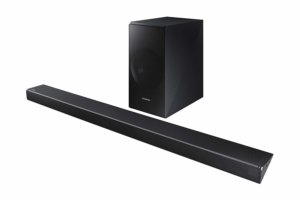 Speaker drivers: eight impressive drivers
Subwoofer: comes with a dedicated subwoofer
Weight:7.94 lb
Dimensions:3.94 x 43.31 x 2.05 in
As you can guess, this soundbar from Samsung works with Samsung monitors to reproduce clear and detailed sounds from your activities or media.
It comes with a dedicated subwoofer that delivers very deep bass. You'll have to connect this soundbar to your Samsung monitor via HDMI. The soundbar conceals up to 8 individual speakers and offers an immense, cinematic experience.
Being a wireless sound system; you can place the soundbar just below your monitor while the subwoofer can be situated at any convenient corner in the room.
Also, this will help to promote tidiness in your room or office as there would be lesser/no wire clusters.
Quick highlights of Samsung HW-N650 Wireless soundbar
It is compatible with all Samsung monitors, as well as other modern monitors without built-in speakers.
This is a wireless computer speaker system that recreates the cinematic experience in your work or game room.
Supports a variety of connectivity technologies; HDMI, Optical Digital, Bluetooth, and USB
It comes along with a remote controller so you can tune the volumes easily
Samsung HW-N650 is a versatile soundbar that's fit for use with most modern PC monitors, and no just Samsung monitors.
The sound quality is suitable for audiophiles, plus, it comes with a wireless subwoofer that performs quite very well. This soundbar is easy to set up and use on many devices.


---
2. Samsung HW-MS550 soundbar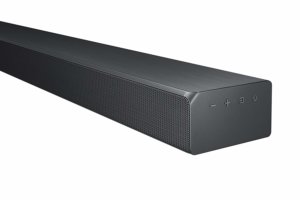 Speaker drivers: six impressive drivers with dedicated amplifiers
Subwoofer: built-in
Weight: 15.21 lb
Dimensions: 5.16 x 35.04 x 2.80 in
Here's another impressive soundbar to connect with your Samsung monitor.
We have not included this soundbar because it is a Samsung product, but, it is here on our list because it is really compatible with Samsung monitors, and its performance is quite commendable. This soundbar comes on its own without including a physical subwoofer.
However, it is an intuitive soundbar that works in a very smart way. Plus, it comes along with a remote controller, making things easier for the user.
The Samsung Sound+ HW-MS550 soundbar conceals six speaker drivers, which it utilizes to reproduce every sound from your monitor in clear, crisp, and precise details.
It is not really bulky; the length at 35.6 inches is typical, and it would perfectly fit under your monitor. Also, this is a wireless soundbar, but, to use the Samsung Sound+ HW-MS550 soundbar with your Samsung monitor, you'll make use of an HDMI cable.
Quick highlights of

Samsung HW-MS550 soundbar
It is very compatible and comes with a remote controller
Supports a variety of input connectivity such as USB, Bluetooth, HDMI, and Optical Digital
This soundbar works with other devices like your smart TVs and laptops
The wireless design promotes tidiness by minimizing the number of wires that cluster on your work table
Overall, this soundbar performs really great, and it is very compatible with Samsung monitors.
It produces great sound with the help of 6 built-in speaker drivers, and it also produces decent bass quality to back up the sound.


---
3. ELEGIANT Soundbar for Desktop Computers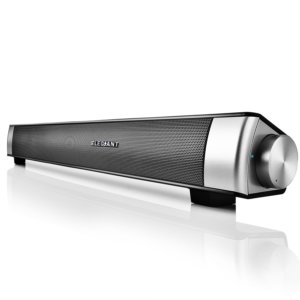 Speaker drivers: dual 5W drivers with passive radiators
Subwoofer: built-in
Weight: 1.38 lbs
Dimensions: 15.7 x 2.2 x 2.4 in
Elegiant soundbars and speakers are remarkably low-priced, yet, they offer great outputs for both sound and bass. Interestingly, this Elegiant wireless soundbar can work with Samsung monitors via aux cable connection.
The soundbar does not support HDMI; however, since it supports quite a bunch of other connectivity means, you can use an aux cable to connect it with your Samsung monitor; plug-in the aux cable to the jack input port (headphone port) on your Samsung monitor and connect the other end to this soundbar.
Elegiant has equipped this soundbar with a strong battery that lasts quite long before the soundbar would go off.
The wireless nature of this soundbar makes it ideal for people who are concerned about neat and tidied work tables; plus, this is a portable soundbar that could fit perfectly under your monitor or any other place you decide to place it.
Quick highlights of ELEGIANT Soundbar
Does not come with a remote controller but feature handy control buttons on its body
The battery is reliable and lasts for a long time after each charge
Sound and bass output from this soundbar is impressive and would definitely satisfy an audiophile
The performance of this soundbar is really impressive (tested on different systems/devices).
It is a portable soundbar with a variety of support/connectivity options. Asides the fact that you'll connect this soundbar to your Samsung monitor via a wired connection, it is a totally wireless sound system (battery-powered).


---
4. TaoTronics TT-SK018PC Soundbar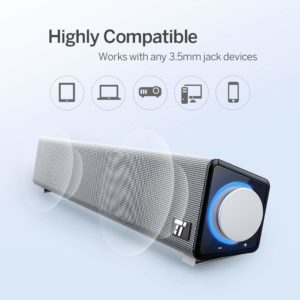 Speaker drivers: dual high-efficiency drivers
Subwoofer: Nil
Weight: 1.42lbs
Dimensions: 16 x 2.5 x 2.8 in
This soundbar is one of the best low-priced computer speakers in the market. It is a USB-powered soundbar that works on any system with support for 3.5mm jack input.
Fortunately, Samsung monitors support headphones, and as such, they feature the 3.5mm output port which is required for this soundbar to work.
However, this is not a wireless soundbar as it does not support any wireless technology. The sound and bass are pretty okay for basic computer users, and not for gamers or an audiophile.
Also, it is important to note that you must plug in the USB cable into a source so the soundbar can be powered because it did not feature a rechargeable battery.
So, to use this speaker with your Samsung monitor, you need to connect the USB cable to the USB port on the monitor, then plug in the 3.5mm jack into the headphone port to transmit sound from your monitor to the soundbar.
The process is not as stressful as it may have already thought. Plus, the wires aren't so thick and long, someone may hardly notice them from a distance not too near to the desk where you have your monitor and the soundbar.
Quick highlights of TaoTronics soundbar
It is very much compatible and will save you a lot of money for buying other things
The sound and bass quality is just what you should expect from a speaker sold below $35
This soundbar flaunts a stylish design that will match your Samsung monitor and room décor.
All controls are available on the body; there is no remote controller
It does not support wireless connectivity (USB powered)
If you're not concerned about high-quality sound and deep bass outputs, then, you can go for this soundbar.
It is best for users who are just interested in hearing sounds from their monitor, and not necessarily bothered about how deep or detailed the sound is.
However, TaoTronics TT-SK018 PC Soundbar performs quite well, and it is convenient to use.


---
5. Yamaha ATS-1070R Renewed Soundbar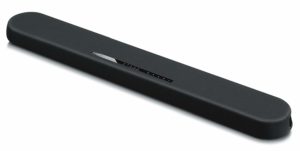 Speaker drivers: dual tweeters
Subwoofer: dual subwoofer drivers
Weight: 7.5 lbs
Dimensions: 5.2 x 35 x 2.2 in
For people who love premium products, this is a great buy. The Yamaha ATS-1070R is a super-sleek and sturdy soundbar that supports quite a variety of input technologies.
It connects to your modern monitor via HDMI, and it does not require any set-up configurations.
This soundbar does not come with a physical subwoofer; however, it features a dual powerful built-in subwoofer which produces impressive deep bass to go along with the sounds produced by the effective dual tweeters.
You can choose to mount this soundbar to the wall using the wall mount (included at purchase).
Nevertheless, it is more beautiful when you place it below your monitor on your work desk.
There is a bass reflex port at one side of the speaker which helps to improve the bass quality; thus, you shouldn't push that particular edge very close to the wall as it may affect the bass quality.
Interestingly, this soundbar comes with a remote controller, and could still be controlled using the smartphone mobile app.
Quick highlights of Yamaha ATS-1070R soundbar
It is an amazing soundbar + subwoofer that produces sufficient sound and bass that will satisfy an audiophile, as well as fill any room size.
This soundbar is compatible with Samsung monitors, as well as other modern monitors and devices with HDMI or digital optical support.
This soundbar supports Bluetooth music streaming
The design is super sleek, and it matches with any monitor, thanks to the premium black finish
Variety of control options; intuitive physical buttons, remote controller, and mobile app control
Yamaha is a brand known for premium products, and this soundbar yet reconfirms this credence.
This soundbar will not only work for playing sounds from your Samsung monitor but will also serve other home audio needs.


---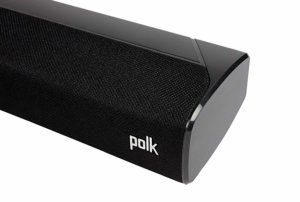 Speaker drivers: up to 5 drivers
Subwoofer: dedicated wireless subwoofer
Weight: 15.25lbs
Dimensions: 12.28 x 6.73 x 2.14 in
If you're an audiophile, you can wish for something less than a premium, compatible, wireless soundbar with up to 5 robust full-range drivers, plus Dolby Digital Decoding technology that helps to create immense room-filling surround sound.
Well, the Polk Audio Signa S2 Soundbar is quite an incredible soundbar for Samsung monitors, and it comes with an external subwoofer, which is very much powerful and effective.
This soundbar is easy to set up; thanks to the low-profile design, it fits perfectly under the monitor while the subwoofer can be stashed at any convenient corner around the room.
Quick highlights of Polk Audio soundbar
The external subwoofer syncs wireless with the soundbar to reproduce impressive deep bass that goes along with the detailed sound from the soundbar's 5 power drivers
Flaunts an attractive, sleek, and sturdy design that will add more beauty to your home
Dolby Digital Decoding helps to create immersive room-filling sound
Polk Audio seems to carefully design this soundbar to meet with the demanding needs of home audio experts and audiophiles.
This soundbar performs great, and it tends to be an ideal choice at its price range.


---
Conclusion:
These soundbars for Samsung monitors are reliable, attested, and easy to set up. They produce good – great sound quality, and they are equally compatible.
Also, these soundbars are not restricted to only Samsung monitors; they work on other modern (and even old) monitors; it all depends on the input/output technologies supported by the monitor. In all, these are the best soundbar for PC monitors.
When you buy through our links, we may earn a commission.