There are different classifications of speakers, which are based on various factors. Neodymium speakers are a type of speaker made with "Neodymium" drivers.
Many audiophiles and home speaker users prefer this type of speaker because it is long-lasting, delivers clean sound, and is typically lightweight.
If you're entirely new to the speakers' world, you may be confused about the various types of speakers you may find in the market.
What Are Neodymium Speakers? They are speakers with neodymium drivers, and they typically deliver purer sound and deep bass.
However, while this article does not focus on the various types of speakers there are, we'd try to highlight the core information you need to know about the most common speaker types, and then detail everything you should know about neodymium speakers.
Understanding The Various Types Of Speakers
The two main types of home speakers are bookshelf speakers and floorstanding speakers.
However, these speakers (both bookshelf and floorstanding speakers) can be designed with unique drivers, which further classifies them into "Passive" or "Active" speakers.
Again, both bookshelf speakers and tower speakers (floorstanding speakers) may feature neodymium drivers.
What Is Neodymium?
Neodymium is a natural chemical element – more like a natural magnet. This element is refined by many manufacturers and used to produce drivers and appliances that require, or work with magnetic fields.
The element is used in speakers because of its magnetic properties.
Speakers function with magnets to create energy fields that generate motion in the speaker coils to process amplified signals.
There are pretty many speakers out there with neodymium drivers, and here's why they are more popular than the others.
What Are Neodymium Speakers?
One can easily assume that all high-end speakers are "Neodymium Speakers," because they typically conceal neodymium drivers.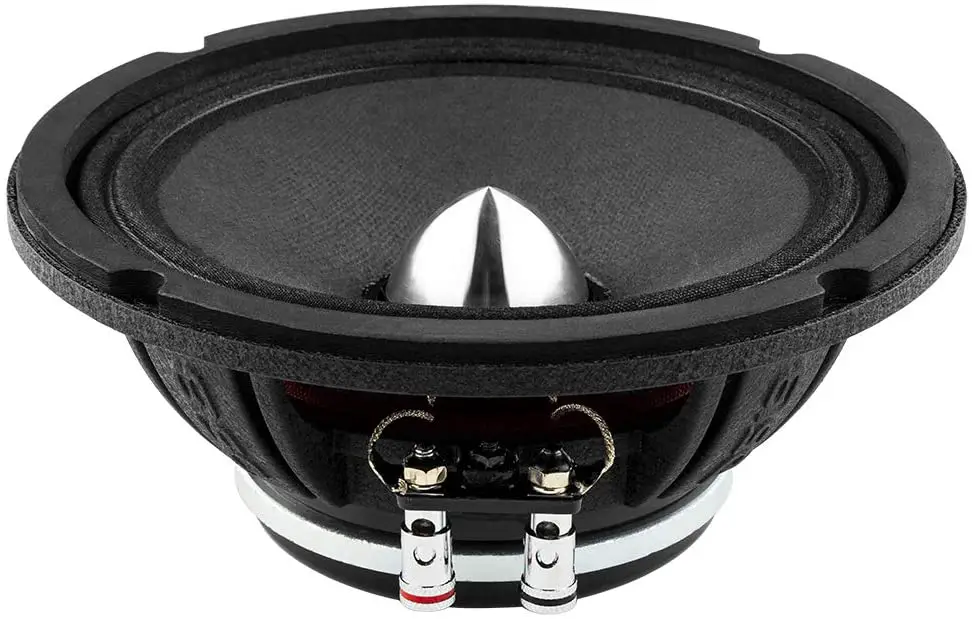 For sounds to play through a speaker, there are various processes the sound waves would pass, and that includes a magnetic field.
Here's how it happens, inside speakers exist an electromagnet field created by suspending an electromagnet above a natural magnet to form an alternating current that runs through the electrically charged magnetic field.
In the course of this, the current typically changes its polarity from positive to negative so the natural magnet can attract and repel the electromagnet in respect to alternating current.
This action is what pushes the speaker cone back and forth, which also causes vibration in the air, and then the sound is produced.
Well, basically, whatever type of magnets are used for this purpose would trigger sound reproduction.
But, neodymium magnets guarantee a stronger magnetic field; and a stronger magnetic field guarantees better sound output.
Thus, it is generally believed that speakers with neodymium drivers are stronger and more powerful.
Interesting Notes About Neodymium Speakers
1. Unbeatable Magnetic Force
The main advantage neodymium has over other types of magnets is the fact that it is the "Strongest" natural magnet in the world.
A neodymium magnet can pull any type of metal or energy; a small neodymium magnet can pack an extraordinary amount of magnetic energy.
2. Lightweight
Neodymium is lightweight; thus, drivers designed with this material are typically light in weight, and yet very powerful.
If a speaker's tweeters are made with neodymium, the speaker would produce cleaner sound with very minimal, or no distortion.
Many speaker manufacturers are rapidly adopting neodymium as their raw material because of its notable potential of contributing to the weight reduction of speakers.
3. Versatility
Another thing that makes neodymium a popular raw material for producing speakers is the fact that it can be used in any type of speaker.
Whether it is a soundbar, tower speaker, bookshelf speaker, or any other type of speaker you know, neodymium can be used in the production.
When used in a big speaker (designed for outdoor purposes), neodymium helps to drastically reduce the speaker weight.
The Best Neodymium Speakers of 2021
Hereunder are the top best neodymium speakers you can consider buying in the market. They are durable and suitable for various applications.
1. PRV AUDIO D3220Ti-Nd Neodymium Speaker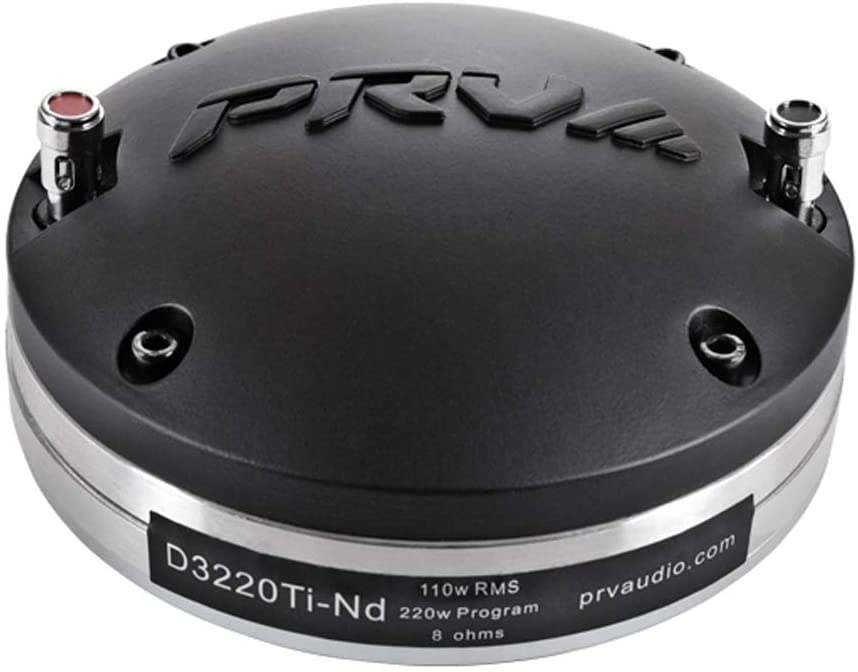 If you need to replace your speaker drivers with a new, more powerful option, this neodymium speaker driver is recommended.
It is a 2-inch driver made with neodymium and it delivers Hi-Fi sound, along with rigid bass. This driver can deliver sound that could fill a large room.
Key Details:
Power Handling: 110 Watts
Replacement Diaphragm: RPD3220Ti
Throat Diameter: 2-inch
Type: Bolt-On
Impedance: 8Ω
Sensitivity (1W/1m): 110 dB
Magnet: Neodymium
Diaphragm: Titanium
---
2. Skar NPX65-8 6.5″ 8-Ohm Neodymium Loudspeaker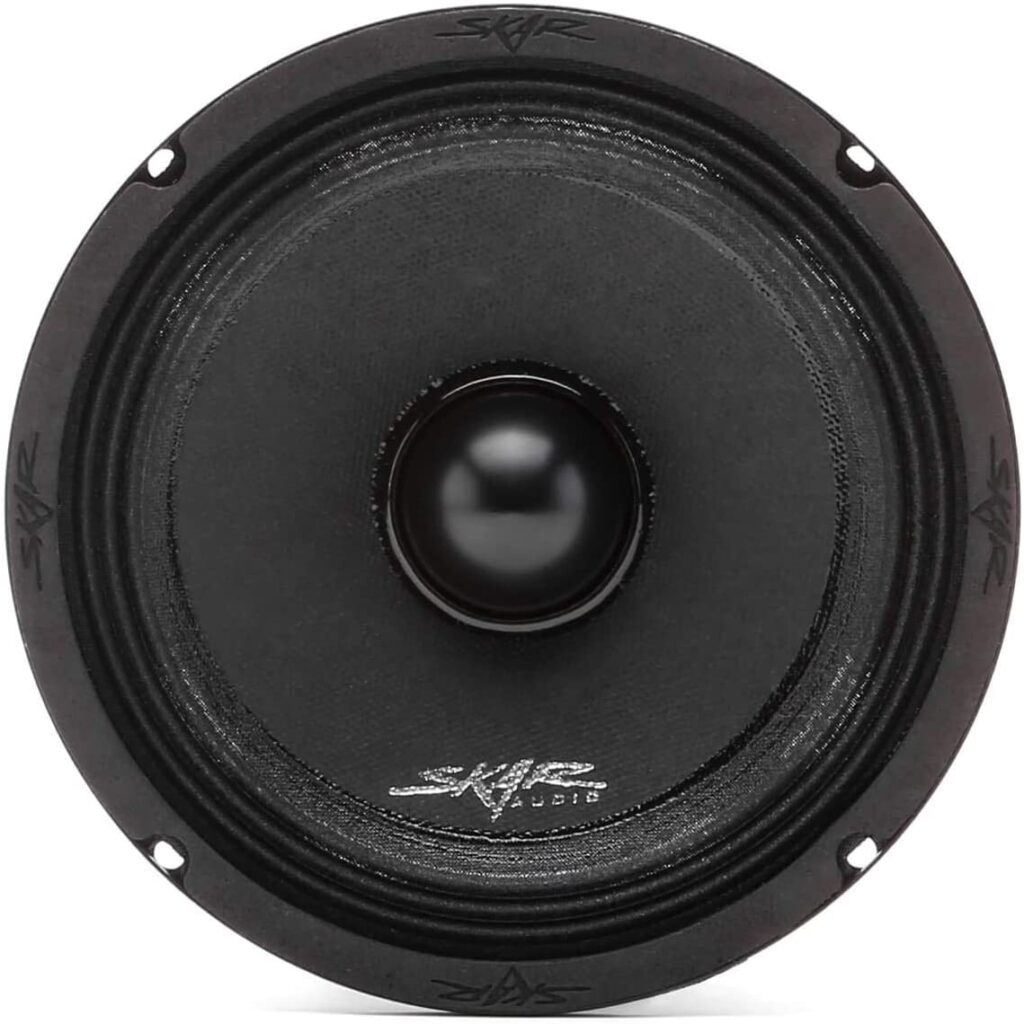 This is yet another impressive neodymium speaker driver you can get for an affordable price on Amazon.
It is a 6.5-inch 8-Ohm mid-range speaker coming from a notable brand, Skar Audio.
This speaker is very light and features a powerful neodymium magnet. It is also very sensitive and can be installed in different speaker cabinets.
Key Details:
Power handling: 300 Watts
Max Power: 150 Watts RMS Power
Driver: Neodymium
Sensitivity: 92.9 dB
Frequency Response: 100 Hz – 8,000 Hz
Weight: 1.8 pounds
What More?
So, what are neodymium speakers? They are simply speakers that feature neodymium drivers/magnets.
Such speakers are often seen to be much better and powerful than other speakers made with other types of drivers.
It is important to note that neodymium speakers can be a complete set of a home audio system (which has neodymium drivers built into the speakers), a pair of bookshelf speakers, tower speakers, or even a soundbar.
Yes, neodymium speakers are typically more expensive in the market.
You could walk into a store, and the salesperson would say "this set of speakers is more expensive because it features neodymium drivers." Well, they are most likely worth the price.
When you buy through our links, we may earn a commission.