HeadPhones
The Best Wireless Headphones Good For Gaming
Wireless headphones help to improve your PC gaming experience; however, not all wireless headphones are ideal for gamers.
The best wireless headphones good for gaming are such that stay connected over a long-range, deliver high-quality audio, and have decent battery life.
If you're looking for the best wireless headphones for gaming, this article reviews the top-quality models in the market.
When choosing a wireless device for any purpose, there are quite a lot of things you may want to consider. This includes the battery life, bandwidth, coverage distance.
Well, the headphones reviewed in this article integrate the core features every gamer would love to have on his/her wireless headphone device.
Some of these headphones are quite expensive, but they are worth the price – considering their features and build quality.
Top 10 Wireless Headphones Good for Gaming
1. Logitech G533 Wireless Gaming Headset
The Logitech G533 is a robust headphone you can integrate with your PC for intense gaming. It flaunts a sturdy design and packs quite several impressive features.
This headphone conceals Pro-G audio drivers, which it utilizes to deliver stunning clear and detailed audio while gaming.
Top Features of Logitech G533 Wireless Gaming Headset
Custom Sound Profiles settings via Logitech Gaming Software
Patent-pending Pro-G drivers
Supports DTS audio, 7.1 surround sound to accurately recreate in-game environmental effects and positional audio
Advanced Hi-Fi lossless digital audio transmission up to 15 meters range
The rechargeable battery can last for up to 15 hours
Compatible with Windows 10, 8.1, 7, and Mac OS X 10.11 or later
From the above-mentioned features, apparently, this headphone makes a perfect buy for the price. It is also backed with the manufacturer's limited 2-year warranty.
Logitech G533 is aesthetically appealing – concealing cutting-edge audio drivers and technologies to produce clear and crystal sound. It is completely wireless, so there's no need for wires.
The headphone can connect to any Windows computer from a 15m range, and that's pretty impressive. For the price, the Logitech G533 is a great buy!
---
2. Xbox Wireless Headset for Xbox Series X|S
Got an Xbox? Here's a headset for you! This wireless gaming headphone is specifically designed for use with Xbox consoles.
It is sturdy, aesthetically appealing, and conceals premium audio drivers that power it to recreate the same exact sound from your game. This Xbox Wireless Headphone is natively compatible with many Xbox models.
Top Features of Xbox Wireless Headset
Delivers solid stereo sound with 40 mm neodymium drivers
Connects via Bluetooth and Xbox Wireless Protocol
Attractive, compact design with premium finish
Up to 4 hours battery life, 30 minutes to full charge
Can connect to your phone and Xbox simultaneously
Auto-mute and voice isolation
The name notwithstanding, this headphone can connect to Windows computers. It is a well-made piece of kit for gamers. Well, the battery life of this headphone is quite poor and it does not connect with Sony's PlayStation 5.
---
3. Razer Kaira Pro Wireless Gaming Headset for Xbox Series X | S
When talking about the best wireless headphones good for gaming, the Razer Kaira Pro headset is worthy of mention.
It is a premium, sturdy gaming headphone with a set of robust drivers that deliver clear audiophile sound quality.
This headphone is top-notch, flaunting an eye-catching, compact design, and available at a decent price. It is completely wireless – you don't need any wires for the connection.
Top Features of Razer Kaira Pro Wireless Gaming Headset
Packed with TriForce Titanium 50mm drivers for clearer sound, richer trebles, and more powerful bass
Integrates flexible HyperClear Cardioid mic for voice capture, along with a hidden (second) mic for answering calls
Breathable memory foam ear cushion for maximum comfort
Quick EQ and Xbox pairing button
Supports Xbox wireless protocol and Bluetooth 5.0
With the features above, the Razer Kaira Pro is inarguably one of the best gaming headphones you'd get below 120 bucks. The battery lasts pretty long – up to 12 hours on a single full charge.
---
4. Audeze Penrose X Wireless Gaming Headset
Audeze Penrose X is a pro-grade headphone with premium drivers and cutting-edge audio technologies. It is a low-latency wireless headphone, compatible with the Xbox series and Windows PCs.
This headphone also conceals the Microsoft security chip and patented Audeze's Mobius 4-inch drivers.
Top Features of Audeze Penrose X Wireless Gaming Headset
The manufacturer's Planar Magnetic drivers for crystal audio
All-new detachable boom microphone designed in consultation with Shure
Connects via Bluetooth 5.0
Low-latency wireless (2.4gHz) with Microsoft security chip
Double-sided magnet arrays for uniform driving force across the entire diaphragm for near-zero distortion.
This headset can connect t your PC or game console over a long distance, thanks to platform support. More so, you can connect the headphone to your device using the USB dongle (included) or via a 3.5mm connection.
It also supports Bluetooth for wireless lovers. With a long-lasting battery that promises up to 15 hours of runtime on a full charge, the Audeze Penrose X is one of the best wireless headphones good for gaming.
---
5. HyperX Cloud II Wireless – Gaming Headset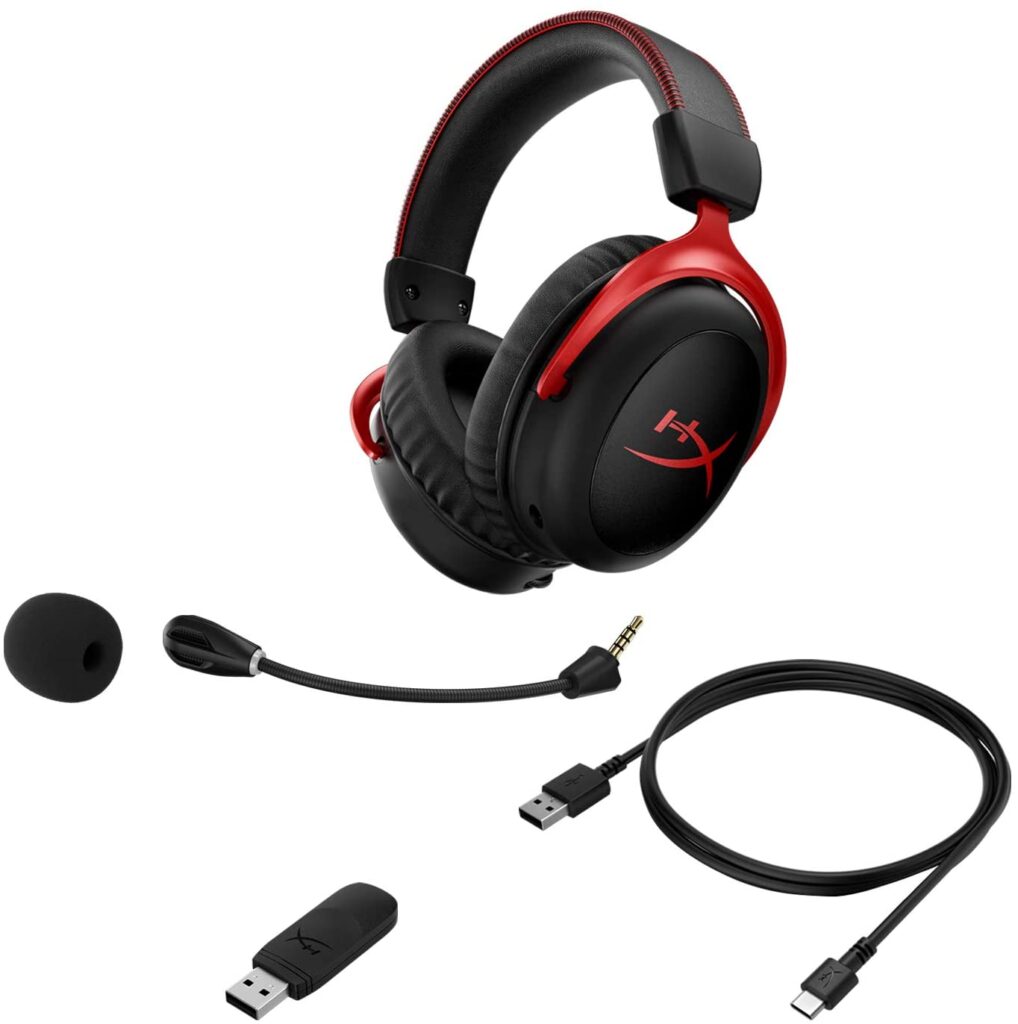 A wireless headphone with a long-lasting battery is definitely what every gamer wants – also a headphone with solid drivers that reproduce crystal clear audio and stays connected over a reasonable distance is what every gamer needs.
The HyperX Cloud II Wireless headphone is a "beast" you'd get to love as a gamer.
Ranging from its intriguing design to the audio quality, and then to the long-lasting battery, this headphone is the real deal for PC and console gamers.
Top Features of HyperX Cloud II Wireless Gaming Headset
53mm drivers for high-quality immersive audio
Made from the durable aluminum frame – tough enough to withstand the perils of daily gaming
Adjustable head size
Detachable noise-canceling mic with LED mute indicator, along with a built-in mic monitoring
Long battery life up to 30 hours
Low-latency 2.4GHz wireless connection connects to a range of up to 20 meters
Designed with signature HyperX comfort – premium memory foam and soft
HyperX 7.1 surround sound
The HyperX Cloud II Wireless headphone is compatible with PCs, PS4s, and Nintendo Switch. You can easily connect to Discord and enjoy immersive audio.
Summary
These are the top best wireless headphones for gaming for PC and console gamers. You can get them from various online stores.
They are really good and reliable – promising steady connection and premium audio delivery. More so, the built-in mics are handy for discussions and chat.
When you buy through our links, we may earn a commission.