Amplifier
HOW TO MATCH SPEAKERS AND AMPS WITH EASY STEPS
How to match speakers and amps? Just like bread and butter, speakers and amps go together.
You need an amplifier to get the most of your speakers; however, that does not mean your speakers won't work without an external amplifier.
Mainly, a speaker comes ready; so, once connected to a system that outputs audio, it'd playback any sound from the system, regardless of where an external amplifier is introduced in the connection.
An amplifier comes in handy when you want to hear your speakers sound better. With the help of an amplifier, your speakers would sound louder, clearer, and generally better.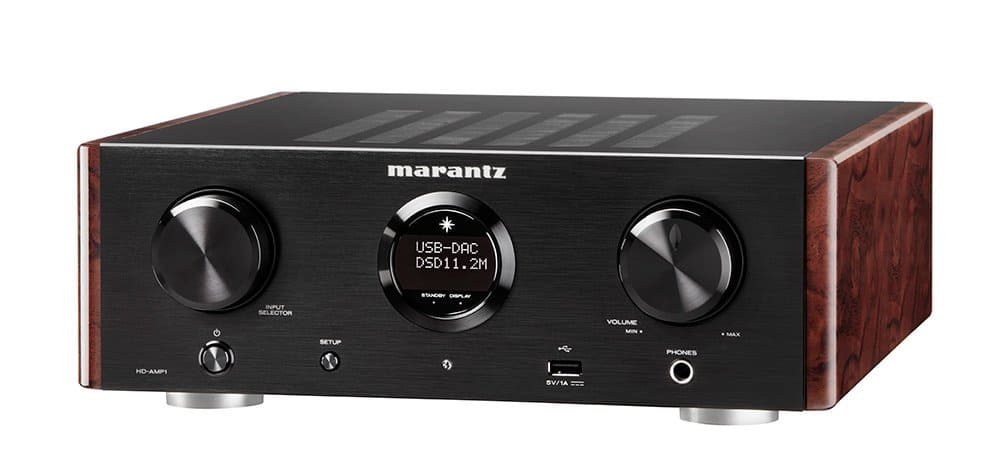 But, in choosing amplifiers, you need to choose carefully. Certain types of speakers are only compatible with certain types of amplifiers.
Nevertheless, all types of amplifiers are basically designed to work with any type of speaker. But in the bid to get better sound production, audiophiles try to match speakers and amplifiers with the factors being discussed below.
How to Match Speakers and Amps?
It is thoughtful to consider these factors when choosing an amplifier you should use with your speakers.
1. Impedance
Talking about impedance, this is the main thing to look out for when pairing speakers with amps. So, what is impedance and how do you know the impedance of a speaker or amplifier?
In every speaker's manual or specs sheet, the impedance is typically represented with the letter "I." However, in some specs sheets, it is written in full. Impedance simply refers to the measure of electrical resistance of the speaker.
Similarly, on amplifiers, you'd clearly see the impedance rating on the manual or spec sheets. It is also the measure of the electrical resistance of the amp.
Impedance is represented with the "Ohms" symbol, "Ω." For example, when you look at your speaker's specs sheet, you may see something like 6Ω or 10Ω – that's the impedance rating.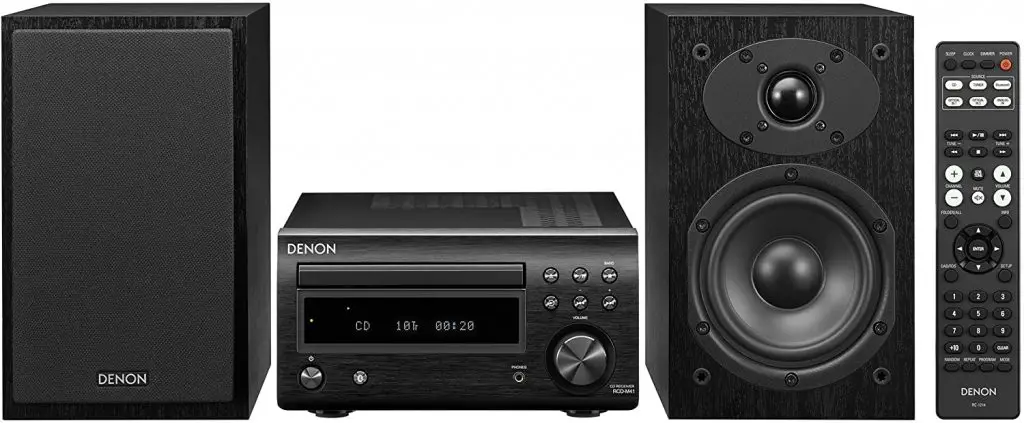 Now, how does the impedance rating of speakers and amplifiers affect their connectivity? Why should you be concerned about this factor when matching an amp with a speaker?
Speakers typically come with 4 – 8 ohms (Ω), while amplifiers can have up to 16Ω, which is about 2x what a speaker may carry.
Well, connecting a speaker with a 6Ω rating to an amplifier with a 10Ω rating would really cause any damage, but you may not get the best sound quality you wished for.
It is better if you connect your 6Ω speaker to a 6Ω amplifier or at most 8Ω amplifier. Furthermore, it is important to note that certain amplifiers output different watts into different ohms.
For example, an amplifier can output continuous 60W per channel into 8 ohms and 4 ohms, respectively.
However, this is mostly called Peak Power, which is the highest power of the amp. So, if the amp is pushed to its peak, it can deliver 80W into 8 ohms and 150W into 4 ohms.
Remember, it is important that you connect speakers with high impedance to an amplifier of high impedance, and low impedance speakers into an amplifier with low impedance.
2. Connectors
Here's another important factor to consider – the connectors on your speaker and amplifier. You have to ensure that the speakers and the amplifier have the same type of connectors.
Connectors are the ports you can use to connect both the amplifier and the speakers; so, it is an important thing to look out for.
The Best Amplifiers To Buy Right Now?
If you're thinking of the best amplifiers you can buy right now for your speakers; these tailored options are among the best you should consider.
1. Donner Bluetooth 5.0 Stereo Audio Amplifier Receiver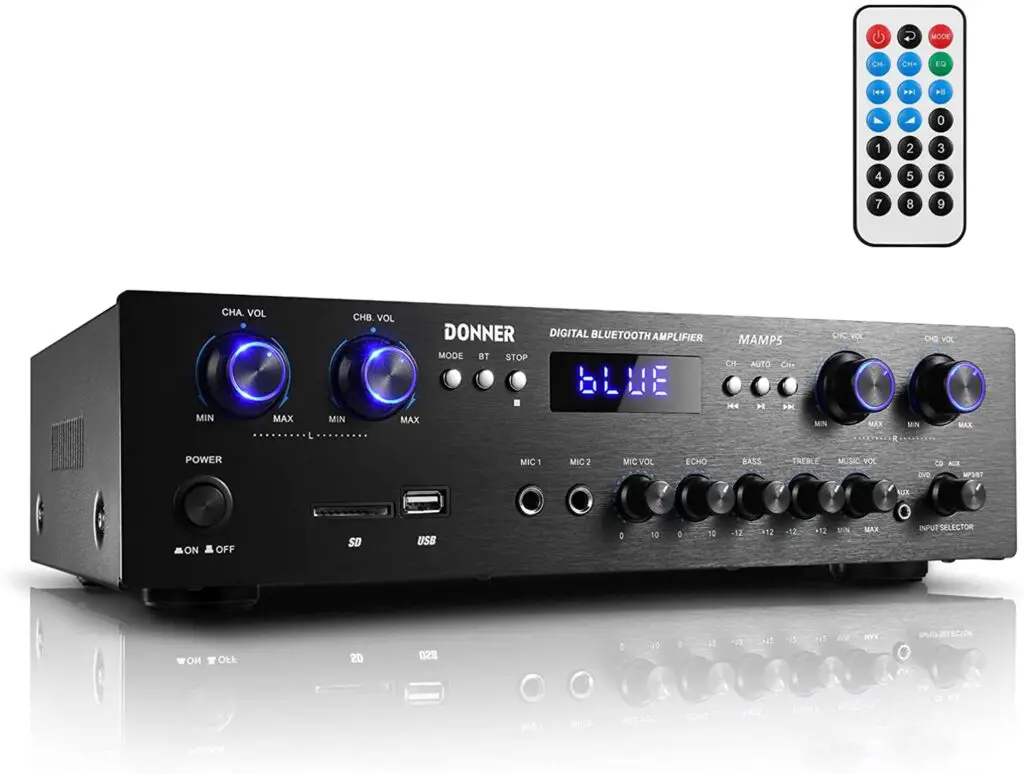 This Bluetooth amp is a 4-channel stereo amp and it supports Bluetooth 5.0. It is a modern amplifier with lots of cutting-edge features you would find handy for the need.
Also, this amp features various input ports for connecting digital audio sources, including an SD card slot.
Interestingly, this amp can power up to 8 speakers with 4-8 ohms and peak power within 50W. It is a great buy for the price, and you can also connect 2 microphones for audio input.
Specs:
AC: 115~230V 50~60Hz
Impedance: 4 Ohm – 8 Ohm
THD: ≤ 0.04%
Frequency: 20Hz – 20kHz (±1 dB)
SNR: ≥ 98dB
Channel: 4.0 CH A+B Left channel/C+D right channel
---
2. Moukey Power Home Audio Amplifier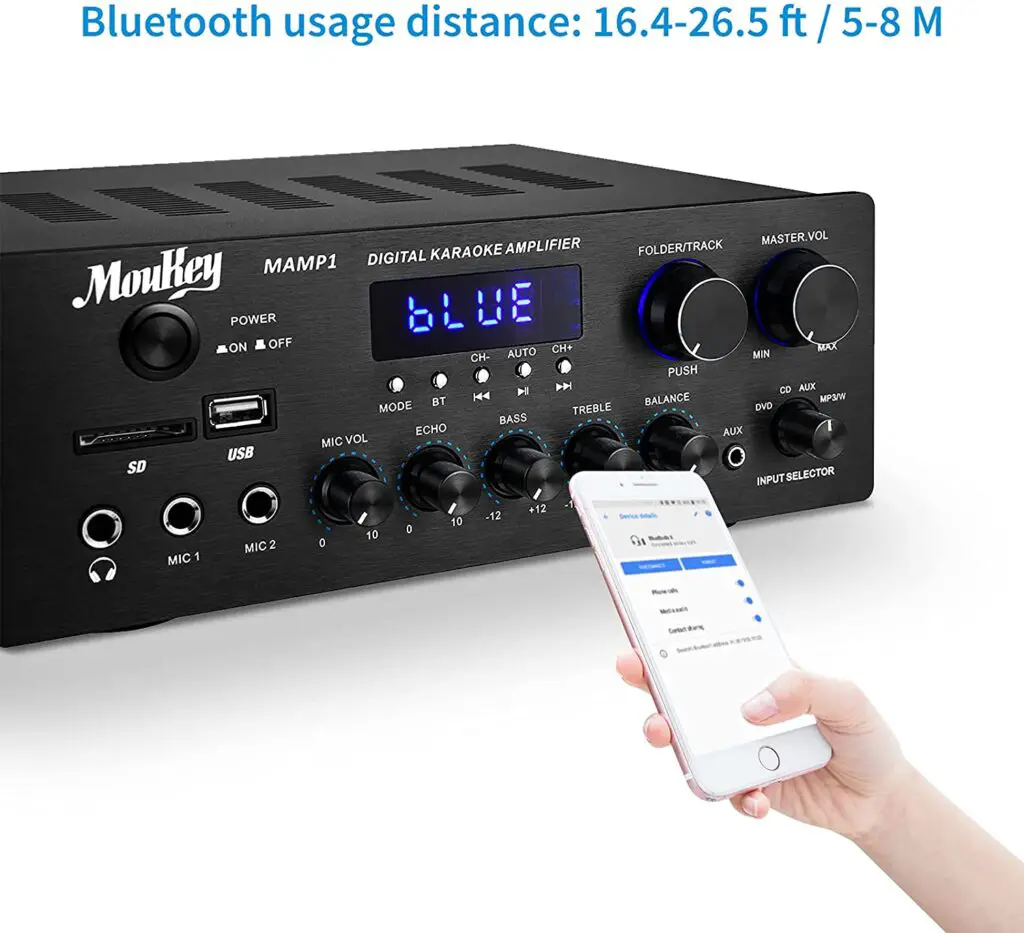 This is another impressive amplifier with Bluetooth 5.0 support. It offers 220W peak power, and it's a dual-pass stereo amplifier.
You can use this amp for your home theater system, karaoke, acoustic sound system, or monitor headphones. Yes, this amplifier supplies enough power for at most 2 sets of speakers.
With Bluetooth support, you can connect this amp wireless, and it features a number of digital input ports, including dual RCA audio inputs for tuner, CD player, x2 2.5-inch / 6.35 cm microphone inputs, tape drive, and more.
Specs:
Watts: 220W
Impedance: 4 Ohm – 8 Ohm
THD: ≤ 0.04%
Frequency: 20Hz – 20kHz (±1 dB)
Bluetooth: v5.0
---
3. Fosi Audio BT20A Stereo Audio Amplifier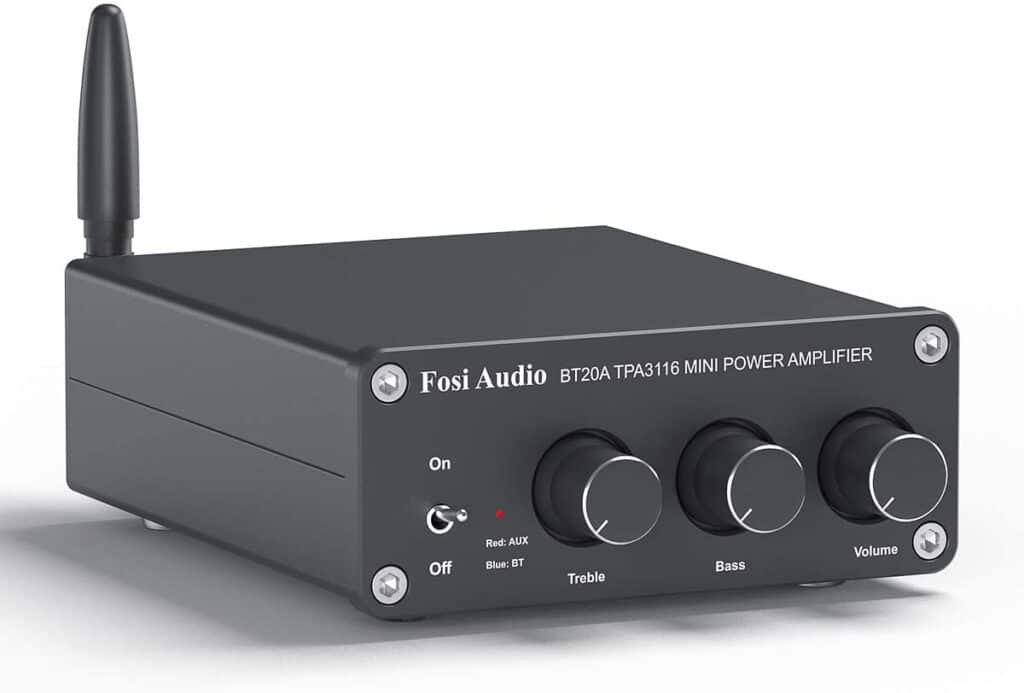 The Fosi Audio BT20A amplifier is a premium amp you could use for any kind of home speaker. Yes, it supports Bluetooth 5.0 technology, and also features a bunch of input and output ports.
This amplifier is a portable and powerful amplifier meant for people who love listening to pure HiFi sound.
Fosi Audio BT20A can power 280W (8 ohm), 320W (4 ohm) passive speakers. It offers 0.04% THD, supports 20 Hz – 20 kHz frequency ranges, and comes with 24V power.
It is ideal for PC speakers, bookshelf speakers, and other speakers you use at home,
Specs:
Impedance: 2 Ohm – 8 Ohm
MAX power output: 100W x 2
THD: ≤ 0.04%
Frequency: 20Hz – 20kHz (±1 dB)
SNR: ≥ 98dB
Input Sensitivity: ≤ 280mV
Input Mode: Bluetooth and RCA
The Other Best Amplifiers To Buy
Summary:
In matching speakers with amplifiers, the most important thing is the impedance. However, any speaker can work with any amplifier, regardless of the impedance rating.
But, the reason for considering this factor is to ensure cleaner sound at different frequencies.
When you buy through our links, we may earn a commission.