Home speakers
Are Pioneers Home Speakers Good, Our Honest Review!!!
Pioneer is one of the oldest speaker brands in the audio industry. With over fifty years of speaker production experience, they have indeed stood the test of time.
Now if you have the intention of getting home speakers and you have pioneered in mind, you are probably wondering if they are good.
Well, we are in luck as we have gone through painstaking research to give you in-depth knowledge about the pioneer speaker brand.
For many years, people have considered the innovation of home speakers a milestone in sound quality. However, there are no good reviews on Pioneers. Is it possible that pioneers aren't as good as you think they are? Here's what we found out after our research!
Read the specs, customer reviews, and compare prices on Pioneer home speakers at myhomespeakers.com. We'll tell you everything you want to know about these speakers. Let's begin.
Are Pioneers Home Speakers Good
History Of Pioneer Home Speakers
The company that produces pioneer speakers is called Pioneer Electronics and it was established in 1937 by Mr. Nozomu Matsumoto. Matsumoto always had a passion for music and technology.
Mr. Nozomu was an audiophile who purchased speakers from other countries to get his desired sound performance.
However, as a technology enthusiast who repaired radios and other audio equipment, Matsumoto decided to create the same types of speakers he bought abroad in Japan.
Matsumoto converted his radio repair shop into a factory where he started manufacturing the first set of pioneer speakers. The production process came fairly easy to him because he was so used to speaker systems.
The time he spent repairing them and looking into their interiors made him understand the technology that makes them work.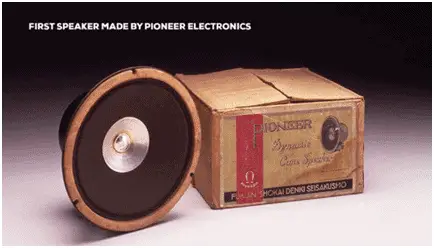 Years since the first pioneer speaker was created by the legendary Matsumoto, the company has maintained its ideology when creating speakers.
Matsumoto's dream was always to use the speakers to reproduce music the way the crooners intended and that is with impeccable sound performance.
Apart from ensuring impeccable sound performance, Matsumoto always ensured that his speakers are affordable so that the common man can afford them. The company has also kept that quality as pioneer speakers are some of the most affordable speakers in the market.
Let us proceed to talk about the process, attention to detail, and work that goes into the production of these speakers.
Production Process And Innovativeness
As I mentioned earlier in this article, pioneer has stood the test of time and they continue to maintain their production standard. Pioneer lives up to its name as they have introduced some home audio and video system into the market.
According to the company's official website, pioneers have introduced technology like; DVD Video Player produced in 1996, Organic Electroluminescent (OEL) which was produced in 1997, and many other electronic innovations.
The company expanded its horizon after five decades in the industry by going into car electronics. Again, staying true to its name, pioneer is the first brand to introduce CD players for cars in 1984.
Yes, that is quite fascinating to think about. The fact that people used to drive around in cars without CD players to play the music of their choice is odd to think about now.
This innovation by Matsumoto dates back to his intention to bring impeccable sound performance to people wherever they are, and what is more convenient than listening to more of your preferred record in your car after getting some of it at home.
It seems normal now when you think about them but I think folks who have back done would have been amazed by the new possibility at the time.
They probably did because CD players in cars became a wildly successful innovation as a plethora of other innovators adopted the idea.
The innovativeness of Matsumoto and Pioneer did not end there, oh no it did not. The company went on to "pioneer" GPS car navigation, this innovation transcended their car audio production beyond music.
Apart from these mentioned, Pioneer has innovated several ideas that have changed the audio and electronic world. Indeed, Matsumoto must have had a vision when he came up with the name "Pioneer."
Pioneer still stands out amongst most of its peers as most of the speakers currently in the audio industry utilize obsolete technology and their production process is quite bland and that will certainly not ensure longevity. Pioneer on the other hand has always come up with their own innovation technology and still do.
Modern-Day Pioneer
Apart from staying true to its name, Pioneer has also employed continuity to its work and it shines through. Over the years, the company continues to work on their audio technology to ensure each of their product is better than the ones before them.
During production, Pioneer utilizes what they call an anechoic chamber, a space built to eradicate every form of reflection. This allows the company to only listen to the sound reproduced by the speaker during tests.
This helps them take note of every little thing and ensures their speakers come out perfectly.
The Pioneer Speaker Technology
At this point, I am certain that you have noticed that the company continues to evolve as they develop themselves. The company continues to work on the technology of their speakers, and it is not just home speakers.
Oh no, they pay attention to both studio, car, and other types of speakers they manufacture. Time, seasons, and people change so the company tweaks its technology to fit into all of that.
For that reason, the company has constantly spent time and money on facilities, engineers, equipment to give their consumers the best results.
One example of their developed technology is the prominent Horizontal Vertical Transforming (HVT) technology. This impeccable technology is commendable as it eliminates unnecessary and destructive speaker vibrations.
Due to that impeccable technology, the pioneer boasts of a subwoofer system that eradicates depth while it still keeps quality production of bass. The HVT technology keeps the engineers and workers on their toes and gives them the required motivation to work.
This workability and attention to detail show in the final products in the market, do not forget that their products remain affordable.
Taking all these features, and the amount of work put into the production of these things it's amazing that these products are still sold at the prices they are sold at.
Getting The "Original" Pioneer Speakers
You may be surprised at that subheader, well there are fake pioneer products out there in the market. The odds are you want to get a pioneer speaker after reading through this article but wait a little longer because not every speaker with "pioneer" written on them was originally produced by the company.
Less creative producers recreate pioneer speakers and sell them with the company's long-standing reputation. This reality is quite sad as it puts the company's supposed and prospective clients at risk of getting a product that will not perform as they intended.
Well do not worry as the company has been able to solve this problem, they have ways you can identify the copy and the original.
The global sound entertainment industry has best practices which pioneer adheres to in their speaker production. The impostors on the other hand do not follow the aforementioned practices during production and it shows.
However, as a client or prospective client, you may not be able to spot the differences between them and may buy the copy ones. However, these copy speakers do not perform like the originals and they are cheaper.
Pioneer speakers are already cheap enough, do not let anyone lure you into buying something fake because of a few extra dollars you will save. Trust me, you will spend double that amount because you will have to return to the market.
Let us look at how you can identify fake pioneers with the help of images.
Icon For Specification
The fonts that specifies the pioneers on the original is a little bit thicker than the copied rendition.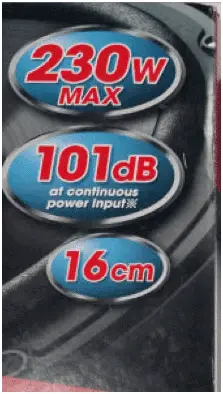 The Pioneer Hologram Sticker The copied speakers utilize a silver sticker formerly used by pioneer. The company currently uses a green 3D hologram sticker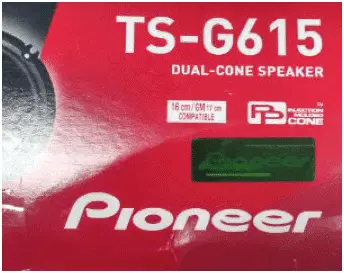 The MRP Sticker And Packaging Design
The box of all pioneer speakers has an MRP sticker. The impostors have started adding their own MRP stickers but the content is mostly thrashed.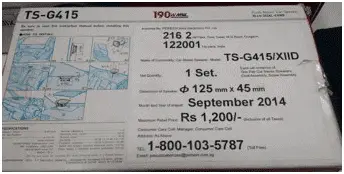 Name Label, Serial Number & Warranty Card
Every pioneer speaker comes with a warranty card. The warranty card has a name label, and serial number are all stated on the warranty card. Ensure to always look at the warranty card when you purchase before you leave.
Other Ways To Spot Fake Pioneers
There are a plethora of other ways to spot fake pioneer speakers. The ones mentioned above are the most unique ways that the impostors cannot duplicate and the pioneer is always one step ahead.
You can spot more differences in the copy and original pioneer speakers via frame shape, cone color, and many more. Apart from visual identification, you can also identify a fake product when you hear a lower price for a particular product you are familiar with the usual price. For clarity's sake, you can check other shops for price comparison to ensure you do not get swindled.
Conclusion
Judging from the content of this article, you can tell that pioneer products are impeccable. They have stood the test of time and you will be making a great choice by getting pioneer home speakers, so yes pioneer home speakers are good.
When you buy through our links, we may earn a commission.