Turntable
How To Set Up A Record Player: The Easy Ways
Setting up a record player simply means getting your new record player (turntable) to play your records. It's a pretty easy task if you know the procedures.
Record players are now one of the most important gears many people add to their vintage home. New turntables are now designed to be portable, easier to use, and fancier.
How to set up a record player? Run your RCA cable from the record player to your preamp or powered speakers, and there you go!
Currently, you'd see a lot of portable turntables (record players) with built-in speakers and other contemporary features that make playback more fun and easier.
This article clearly explains the various possible ways to set up a turntable to play your records.
How To Set up a Record Player?
How you'd set up a record player depends on the type of record player you've got.
For example, if you've got a record player with built-in speakers, you probably do not need to set up an external amplifier or receiver before you can play your records.
On the contrary, if your turntable doesn't have built-in speakers you need to set it up with a receiver/amplifier.
Setup One: Turntable + Powered/Active Speakers
This setup is applicable if you have a turntable that supports an RCA connection.
With the RCA connection, what you need is to get a good RCA cable from a store and connect your active/powered speaker with the turntable.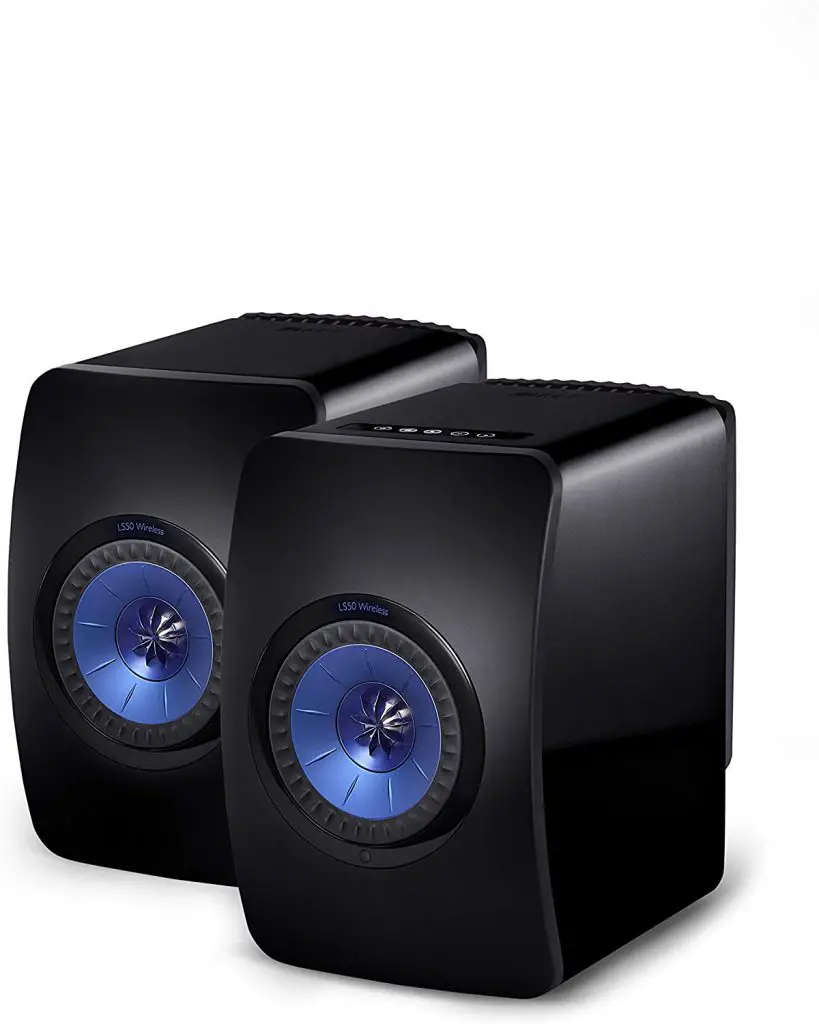 The connection is simple, plug in the RCA cable to the RCA connector on your turntable, and connect the other end to the RCA port on your speaker(s).
This setup saves up space and it doesn't take time.
Note: Powered or active speakers have built-in amps, and turntables that support RCA connections typically come with built-in amps, too. With those built-in "preamps," apparently, this setup won't work.
Setup Two: Turntable + Preamp + Powered Speakers
Adding a preamp to your turntable setup would typically improve the sound you listen to.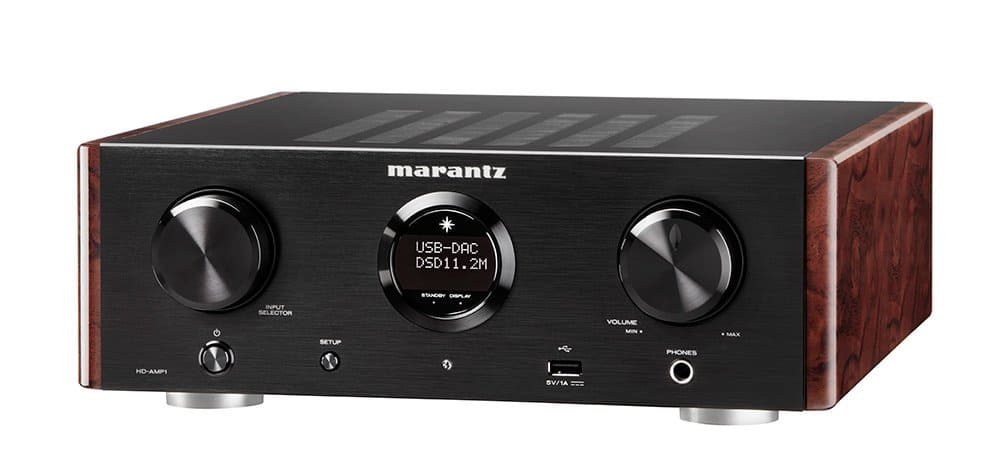 Also., this will give you more freedom to adjust more sound settings and achieve audiophile-level sound.
This setup is likely to take up a small space since you're using a preamp and not a standard receiver.
For this setup, you will need to add a grounding wire – it would run from the turntable to the preamp, and then from the amp to the powered speakers.
This is to avoid humming or buzzing noise. People that opt-in for this setup are those that have turntables without a built-in amp.
Notwithstanding, turntables with a "defeatable" phono stage (that is, turntables you can bypass their built-in preamps) can also work for this setup.
Setup Three: Turntable + A/V Receiver + Passive Speakers
Okay, in this setup, you need a standard receiver unit where you can connect your regular passive speakers (it can be floor-standing speakers, bookshelf speakers, or any other type of passive speaker).
This setup applies when you have passive speakers; it doesn't matter if your turntable has a built-in amp or not.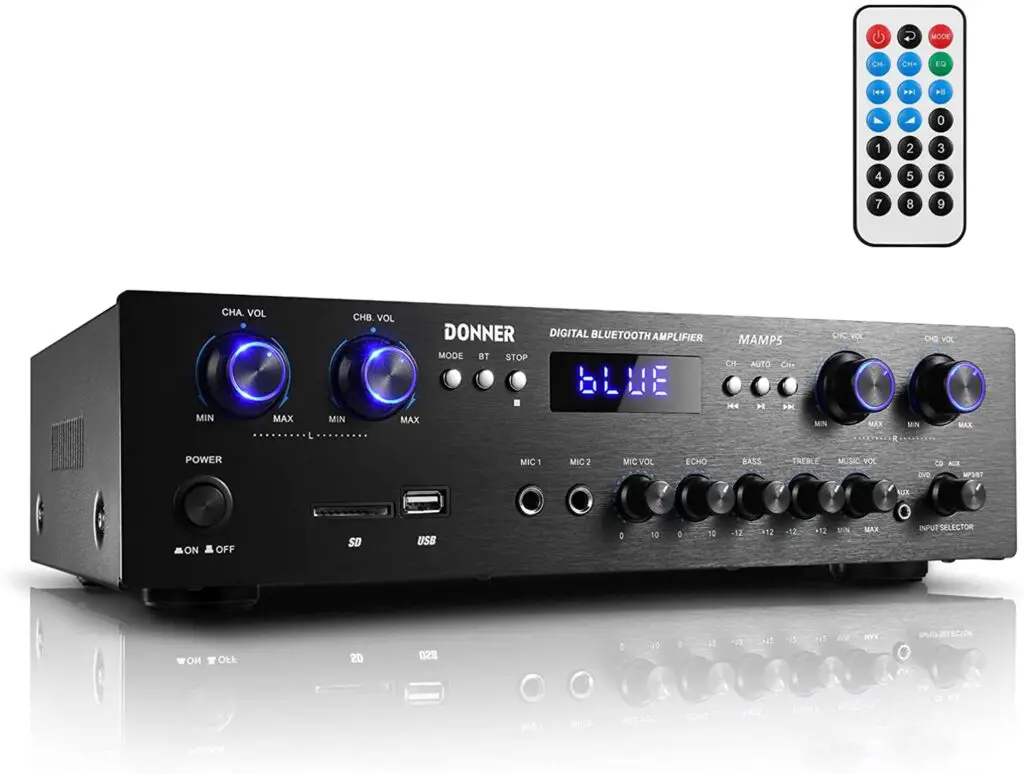 Here, you have to connect your turntable to your A/V receiver, using RCA cables or any other supported audio cable.
Then connect your speakers to the receiver unit. You can adjust the sound signals using the available controls on the receiver. You can connect multiple speakers to the receiver, so you can achieve house-filling sound.
Setup Four: Turntable + Preamp + A/V Receiver + Passive Speakers
This setup is similar to the one above; here, you're adding a preamp because your turntable (record player) does not feature a built-in option.
Most people who do this setup are audio enthusiasts who like to control every detail of the sound from their playback.
It's a bit complicated; you need to connect the preamp to the record player, the receiver, and connect your speakers to the receiver.
Setup Five: Record Player + Bluetooth Speaker/Portable Speaker
Here's the last possible setup. This applies when you have a modern turntable that supports wireless or aux connections.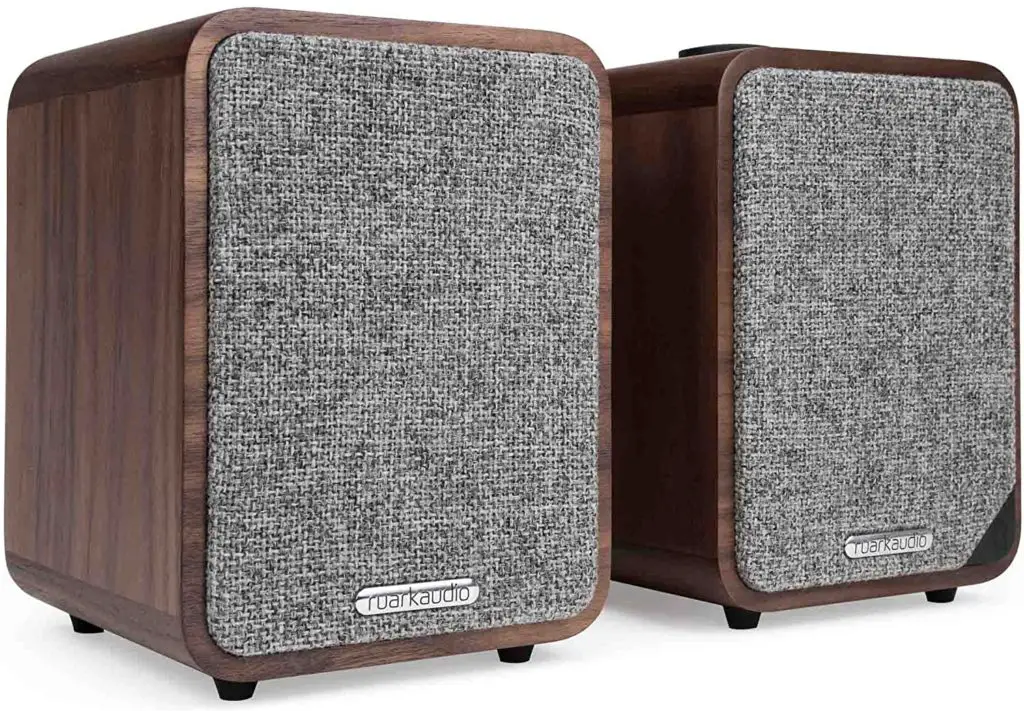 If your turntable supports Bluetooth, you can pair it up with a Bluetooth speaker and your records will be played through the connected speaker.
Similarly, if the turntable supports aux connections, get a 3.5mm cable and connect it to a standalone, portable speaker that supports aux input.
However, you may not get the best sound with either of these connections, and you won't have absolute control to control the sound frequencies.
Key Takeaways:
Every turntable setup requires using the necessary audio cables and connecting the cables into the right ports on the receiver, preamp, or speakers, respectively.
If your record player has built-in speakers; simply connect the power adapter, remove the wrap used to protect the tonearm from dust, place your record on the platter, and set the tonearm to where you want music to start playing. You don't need all these complex setups for record players with built-in speakers; however, except you want to have more control over the sound you hear.
You can connect turntables directly to powered or active speakers – but the turntable must have a built-in preamp.
Record players can connect to computers via USB
If you have stereo (passive) speakers, you need an amplifier or receiver to set up your record player.
How To Protect and Maintain Record Players
Whatever equipment or accessory you have, you need to maintain it properly for the gear to last longer.
For turntables, you should protect them from dust – most especially, the tonearm and platter.
Main sure your records are always dry
Always clean the platter and record
Store your vinyl records in sleeves to keep out dust
Always handle the tonearm gently
The Best Record Players To Buy Now.
Summary
Conclusively, this article has explained the various possible ways to set up turntables (A.K.A record players).
So, depending on the type of turntable you've got, and the speakers you wish to you, you may need an AV receiver.
When you buy through our links, we may earn a commission.