In a time like this, technology innovations have got many people asking several questions so they can know about how some things are done.
One of the common questions quite a lot people ask is – how do wireless headphones work with car DVD.
Although almost everyone can connect a wireless headphone to mobile devices, pairing up any wireless gadget or accessory with a car DVD is not as easy as you may have thought. However, this is something that is very much possible, and you should know how to do it.
WARNING!!! If you own a car and there is a DVD stereo or media player installed on the car, pairing up your wireless headphone with the DVD is against the driving rules/regulations in many countries because you may wear the headphones and not hear when other vehicles are horning.
Well, while drivers are not supposed or allowed to wear headphones while driving, for passengers, headphones can help to make their journey great and remarkable.
For example, headphones help passengers to enjoy their movies or games all by themselves without distracting the driver. It is a handy luxury for passengers, and this is why you need to understand how it works with car DVD players.
Car headphones are the same in size, functions, and many other features or components. They vary depending on the manufacturer and models.
However, there are quite different types of car headphones which you can buy; however, they are either wired or wireless car headphone.
Wired car headphones are connected with their wire (usually 3.5mm jack) while the wireless ones connect with Bluetooth, IR, and RF technologies.
Wireless car headphones
Our focus is wireless car headphones which work with your car DVD player. These headphones are specially designed with technologies for their match.
Bluetooth car headphones
These headphones are designed with Bluetooth technology to pair with your car DVD. However, your DVD player must have support for Bluetooth pairing before these headphones can work for its need.
Also, Bluetooth headphones can work with radio frequencies. Still, they are different from typical RF car headphones. Interestingly, some Bluetooth headphones support hands-free calling.
Infrared car headphones
Some wireless car headphones are powered by an IR processor; they connect to your car DVD via infrared. IR headphones receive signals via an infrared spectrum just like TV remotes or any other kind of remote.
However, these headphones are limited in quite a several ways, and they make use of batteries to keep functioning. You may not enjoy a steady quality sound using IR headphones because of channel issues.
RF car headphones
As you would expect, these headphones are battery-powered and work quite similar to IR headphones. Yeah, they are wireless headphones, but they operate with radio frequencies.
One interesting fact about RF car headphones is that they are compatible with multimedia systems; however, the systems must be broadcasting on a targeted frequency.
Which type of wireless car headphone is best?
Many things have to be considered before you can choose which of these types of headphones is the best fit for your car DVD.
Firstly, you have to check for compatibility; which is, check to know if your car DVD supports Bluetooth connection, IR connection, or RF connection. Your choice of headphones will lie solemnly on which technology your car DVD supports.
For instance, you can't use Bluetooth car headphones on a system designed to work with infrared connectivity. In the same way, you can't use IR headphones on a car DVD system without support for such connectivity.
Hence, you have to confirm which technology is supported by your system; then, you can go ahead to choose between the best Bluetooth car headphones or the best IR car headphones.
Also, depending on the type of car headphone you purchase, how to connect it with your system may differ.
To this, we will try to make this article cover how you could connect the above-listed types of car headphones.
How to connect wireless headphones to your car DVD
Note: you have to be sure of which technology is supported by your system before buying a car headphone. However, connecting your wireless headphones to your car DVD player system is straightforward and intuitive.
Connecting Bluetooth car headphone speakers
Bluetooth car headphones are not so popular and widely used because they are quite pricey. However, if you've got one, here is how you can quickly pair it up with your car DVD or TV.
Time needed: 2 minutes.
Connecting Bluetooth car headphone speakers
Switch on the devices

First, you have to power up the two devices; the Bluetooth headphone and your car DVD. Both devices must be switched on before any pairing can take place to get your headphone connected.

Keep the headphone nearby

The maximum distance supported by a Bluetooth headphone may vary based on models and manufacturers. So, you have to ensure that the headphone is within range, so it could connect and pair with your car DVD plainly.

Turn on Bluetooth on your car DVD player or TV

Also, depending on the model of your Bluetooth car headphone; you may have to press the Bluetooth button to activate or initiate a pairing request. However, some models would simply activate pairing by default.

Pair the devices

Now, it's time to pair your headphone with your DVD player. To do this, go to your DVD player settings, locate the Bluetooth options, and pair up the devices.

If the pairing is successful, your Bluetooth headphone will blink a certain LED light (either red or blue) to show that the devices are now connected.

On the DVD player, you would see a headphone icon appear on display to prove that sounds from the system are being transmitted wirelessly to a paired Bluetooth headphone.

These two actions from the devices, respectively prove that your connection is successful. On the other hand, if you didn't experience any of those actions, you can go ahead and start from the beginning.
Possible troubleshooting guides: crosscheck if the headphone is powered on and its Bluetooth technology is active. Also, check if your car DVD has its Bluetooth settings activated.
Our recommended Bluetooth car headphone – Sony Noise Cancelling Headphones WH1000XM3
Why do we love this?
Sony WH-1000XM3 Bluetooth headphone for car DVDs look sturdy and comes with quite a lot of features to its match. It comes with Mic and Alexa support; plus, the battery lasts for a very long time after each full charge.
This headphone does not only work on car DVD players; it also works on airplanes and other home gadgets that are compatible with Bluetooth technology.
The Sony WH-1000XM3 headphone is lightweight, flexible, and stocked with intuitive controls; you can as well control this device from a dedicated app.
Getting an IR car headphone to work with your car DVD
IR headphones are the most popular wireless headphones people use with car DVD players.
They are extremely cheaper than their Bluetooth counterparts and still good quality sound. To connect this type of headphones with your car DVD, you have to be sure that your car DVD system supports infrared.
However, almost all car DVDs support infrared because they do come with a remote controller unit.
Things to note;
IR technology aka "Line-of-sight" technology does not require any sort of obstruction between the transmitter and receiver; thus, if your car headphone and DVD uses IR technology, there has to be no obstruction between the two devices before you can hear sounds from the DVD player play on your headphone.
Infrared wireless headphones either come with one channel or dual channel, or both. Those with support for dual-channel allow for two audio signals at the same time.
Depending on which IR headphone you purchase, the IR infrared frequency may vary; you need to buy the IR car headphone which is not designed with special frequency because such ones are not compatible with car systems. Most IR headphones support the following frequencies which are compatible with your vehicles;
Channel A: 2.3MHz and 2.8MHz
Channel B: 3.2 MHz and 3.8MHz
Our recommended IR headphones:
XO Vision IR620 IR Infrared Wireless Headphone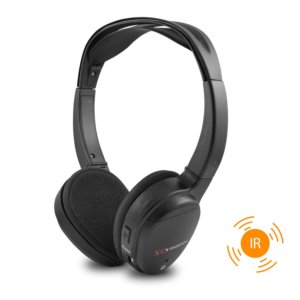 This headphone is very much flexible and can be folded. It is a universal IR infrared headphone that can be used with car DVDs or even in-car TVs.
Also, you can use these headphones with any other system that supports IR infrared connection technology. There are quite a variety of color options available for this gadget, and the price is very much affordable.
We love this IR car headphone, not just because of its low price, but also for its compatibility with OEM and aftermarket in-car DVD systems.
It features handy intuitive controls with also features an auto shut-off function that helps to save battery.
This headphone apparently fits everybody; because of its flexibility, it can be adjusted to fit any head size (kid or adult).


Here is a great pair of IR infrared car headphones sold at a budget-friendly. It supports dual channels and comes with detachable/adjustable headbands.
Also, this set supports the auto shut-off features, as well as includes an audio cable for versatile usage.
Channel A: Left: 2.3MHZ, Right: 2.8MHZ
Channel B: Left: 3.2MHZ, Right: 3.8MHZ.
We recommend this because;
It is portable
Flexible and compatible
Best for two kids
Works with car DVD, TVs, and other electronic gadgets with IR support
Buy SIMOLIO wireless car headphones (2 pack)
---
Connecting RF car headphones to your car DVD
RF headphones are really costly, but they look premium and studier than Bluetooth or IR wireless car headphones. Getting this type of headphone for your car, TV or DVD will add more luxury.
There are quite a bunch of RF headphones that are a perfect fit for your car DVD player need.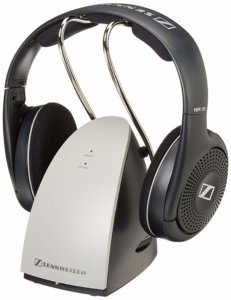 The Sennheiser RS120 On-Ear Wireless RF Headphones are one of the best you can get. It comes along with a charging cradle; however, the battery is strong; thus, the headphone goes on for long hours before it shuts down.
Also, this headphone is sold at a budget-friendly price, supports up to 100 meters (300 feet) range with a frequency response rate of 22 – 19500Hz, and an impedance of 24 ohms.
This is a high-quality car headphone for your needs. On the body of these headphones are intuitive controls to guide the bass and volume levels.

Alternatives to the Sennheiser RS120 On-Ear Wireless RF Headphones are the Sony MDR-DS6500 Digital Wireless 3D Surround Headphones and ARTISTE Wireless TV Headphones Over-Ear Headsets. These alternatives are great and best for their price range.
However, you should know that before an RF headphone would work with your car DVD, the DVD must have support for such technology.
RF connects wireless, and the sound quality being transmitted is high and great. So, if you've got an RF-compatible DVD player or in-car TV, these RF headphones are handy.
What more?
You should understand these terms very well; IR represents Infrared while RF stands for Radio Frequency. Unlike the two, Bluetooth is different and does not work with any frequency or channels.
These wireless technologies are used to design car headphones; be careful when buying them. Always keep in mind which one is compatible with your system.
Interestingly, these wireless headphones we have recommended in this article are attested and proven by many people.
RF works with your car radio frequency
IR needs to be pointed straight to the receiver (car DVD) without obstruction
Bluetooth is more flexible and has a farther connectivity range
Conclusion
We have tried to be extensive in this article to cover all the aspects you would ever want to know about How Do Wireless Headphones Work With Car DVD
It is also important to note that drivers are not allowed to put on headphones while driving; this action is against driving rules in all countries.
These headphones are for passengers or your kids who may want to enjoy watching movies while embarking on long journeys.
When we talk of car DVDs, in-car TV are slightly involved; plus, for all headphones listed here, they can work with your in-car TVs as well if they support the corresponding technologies.
When you buy through our links, we may earn a commission.